Here is a selection of films with deep meaning that will help you look at many things in a completely different way.
Druk
IMDB Rating – 7.8
Genre: Drama, comedy
Production: Denmark, Sweden, Netherlands / 2020
World Box Office: $12,467,792
Director: Thomas Vinterberg
Starring: Mads Mikkelsen, Thomas Bo Larsen, Magnus Millang, Lars Rante, Maria Bonnevi, Helena Reingor Neumann, Sousse Wold, Magnus Sjorup, Silas Cornelius Van, Albert Rudbeck Lindhardt
Martin, a boring history teacher, is celebrating his colleague's 40th birthday at a restaurant with other teachers. During dinner, one of the teachers tells the hypothesis that having a small amount of alcohol in the blood helps a person become happier and more efficient.
The colleagues decide to test the hypothesis and get down to business. It would seem that what could go wrong?
The scenario is based on a theory expressed by the Norwegian psychiatrist Finn Skærderud.
Gisaengchung
IMDB Rating – 8.6
Genre: Drama, thriller, comedy
Production: Korea Southern / 2019
Budget: $11,800,000
World Box Office: $266,600,532
Director: Bong Joon-ho
Starring: Song Kang-ho, Lee Sung-kyung, Cho Yo-jung, Choi Woo-shik, Park So-dam, Jang Hye-jin, Jeon Ji-so, Jeon Hyun-jun, Lee Jong-un, Park So-jung
An ordinary Korean family, Kim lives in a dirty basement in the slums of Seoul, stealing Internet from their neighbors and making a living from odd jobs. One day, Ki-woo, the son of the family, thanks to a friend and a forged diploma, manages to get a job as a tutor for a high school girl in the wealthy Park family. He soon comes up with a great idea on how to employ his whole family.
The film with a meaning, imbued with a subtle humor, won four nominations at the Oscar 2020 and received the palme d'être at the 72nd Cannes Film Festival.
Jagten
IMDB Rating – 8.3
Genre: Drama
Production: Denmark, Sweden / 2012
Budget: $3,800,000
World Box Office: $15,843,274
Director: Thomas Vinterberg
Starring: Mads Mikkelsen, Thomas Bo Larsen, Annika Vedderkopp, Lasse Vogelström, Sousse Wold, Anne Louise Hassing, Lars Rante, Alexandra Rapaport, Sebastian Bull Sarning, Steen Ordell Guldbrand Jensen
Lucas, a child care provider struggling with loneliness and hardship, gradually begins to get his life together. After a divorce, he meets a new love and receives good news about custody of his son.
But at one point, an innocent lie by a five-year-old girl who accuses Lucas of sexual molestation that he did not commit completely shatters the hero's life.
"The Hunt" was warmly received by the jury at the Cannes Film Festival, and was nominated for an Oscar in the category "Best Foreign Language Film."
Wonder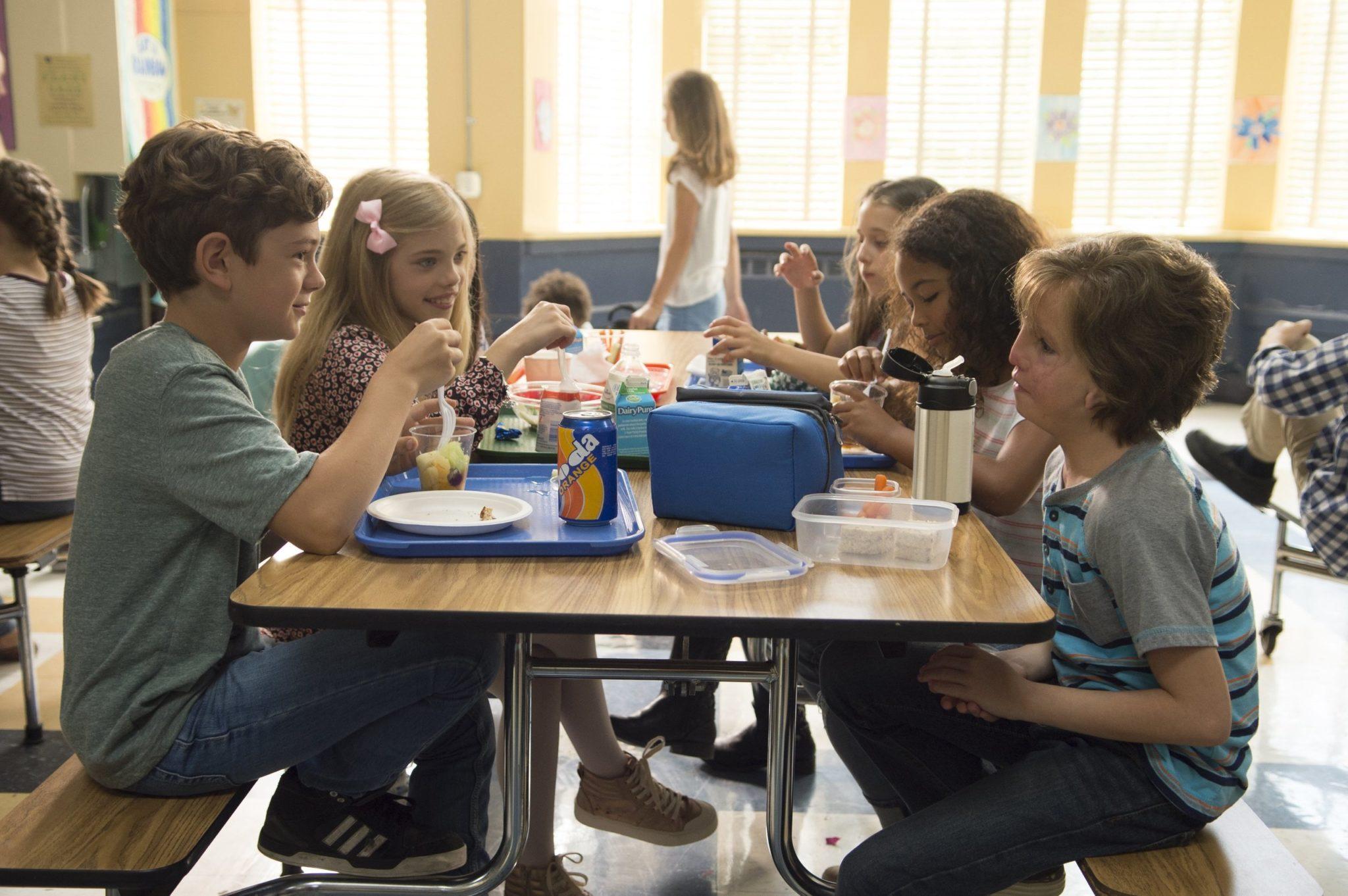 IMDB Rating – 8.0
Genre: Drama, Family
Production: USA, Hong Kong, Canada / 2017
Budget: $20,000,000
Worldwide box office: $305,937,718
Director: Stephen Chbosky
Starring: Jacob Tremblay, Owen Wilson, Isabela Vidovich, Julia Roberts, Mark Dotslav, Rukia Bernard, Jennifer March, Mandy Patinkin, Noah Jupe, Bryce Geisar
On the one hand, Auggie is a normal 11-year-old boy who enjoys watching Star Wars movies, playing computer games, and spending time with his older sister.
On the other hand, the boy is very different from his peers. Auggie was born with a rare condition that deformed his face. The boy had to undergo 27 surgeries. For the first time, after homeschooling, he will have to go to school with other children.
The screenplay is based on the novel of the same name by American writer Raquel Palacio.

At the 2018 Oscars. The film received a nomination in the category "Best Makeup and Hairdressing" at the 2018 Oscars. The disease the hero suffers from is called Treacher Collins syndrome.
Interstellar
IMDB Rating – 8.6
Genre: fantasy, drama, adventure
Production: UK, Canada, USA / 2014
Budget: $165,000,000
World Box Office: $677,896,797
Director: Christopher Nolan
Starring: Matthew McConaughey, Anne Hathaway, Jessica Chastain, Mackenzie Foy, Michael Caine, David Gacy, Wes Bentley, Casey Affleck, John Lithgow, Matt Damon
In the year 2067, space is practically mastered by humans, but with it, drought, dust storms and plant extinctions have started a global food crisis.
A group of explorers and scientists are sent through a wormhole near the orbit of Saturn in order to overcome the space-time barrier and find a planet with conditions suitable for people in the shortest possible time.
Do you like space themes? Check out a selection of the best space series.
Out of five Oscar 2015 nominations, the film won one – Best Visual Effects.

Initially, the role of Cooper (Matthew McConaughey) was to be played by Will Smith.

The script was based on the scientific work of theoretical physicist Kip Thorne.
Boyhood
IMDB Rating – 7.9
Genre: Drama
Production: USA / 2014
Budget: $4,000,000
Worldwide box office: $48,137,666
Director: Richard Linklater
Starring: Ellar Coltrane, Ethan Hawke, Patricia Arquette, Lorelei Linklater, Libby Villari, Elijah Smith, Stephen Chester Prince, Bonnie Cross, Sydney Orta, Marco Perella
The plot of this serious film with meaning covers twelve years in the life of the main character named Mason (from his first day of school until he goes to college), and tells the story of his childhood and teenage years.
Six-year-old Mason lives in Texas with his mother and older sister. His parents are on the verge of divorce because of his father's constant drinking. Frame by frame, the protagonist grows up, learning about the world and experiencing new situations.
The non-professional actor Ellar Coltrane, who played the lead role, was seven years old at the beginning of filming and 18 at the end.
The Devil All the Time
IMDB Rating – 7.1
Genre: thriller, drama, crime
Production: USA / 2020
Director: Antonio Campos
Starring: Tom Holland, Donald Ray Pollock, Bill Skarsgard, Riley Keough, Jason Clarke, Sebastian Stan, Hayley Bennett, Eliza Scanlen, Mia Wasikowska, Robert Pattinson
After returning from the battlefield of World War II, young American soldier Willard Russell is plagued by horrific visions of the past that literally drive him insane. When his wife is diagnosed with an incurable illness, Willard attempts to cure her through unconventional methods involving blood sacrifice.
Meanwhile, his son Arvin learns how to survive in a world where serial killers are easy to come across, where the clergy indulge in debauchery and the police do not believe in the law.
The script is based on the book of the same name by Donald Ray Pollock.
Click
IMDB Rating – 6.4
Genre: comedy, sci-fi, melodrama, drama
Production: USA / 2006
Budget: $82,500,000
World Box Office: $237,681,299
Director: Frank Koraci
Starring: Adam Sandler, Kate Beckinsale, Christopher Walken, David Hasselhoff, Henry Winkler, Julie Cavner, Jennifer Coolidge, Sean Astin, Rachel Drench, Cameron Monahan
Michael Newman, a successful architect, is so busy with his work projects that he does not devote any time to his family, which results in constant quarrels and irritation with everyday problems.
One day he becomes the lucky owner of an extraordinary remote control that can miraculously rewind or pause any situation in life.
The picture was nominated for "Best Makeup" at the 2007 Oscars.
Disconnect
IMDB Rating – 7.5
Genre: thriller, drama
Production: USA / 2012
Budget: $10,000,000
World Box Office: $3,428,048
Director: Henry Alex Rubin
Starring: Jason Bateman, Hope Davis, Frank Grillo, Mikael Nyquist, Paula Patton, Andrea Riseborough, Alexander Skarsgard, Max Turiot, Colin Ford, Jonah Bobo
The film is divided into three stories that tell the viewer about people trying to build relationships in today's technological world.
An assertive reporter, Nina, finds a teenager doing online striptease on the Internet and interviews him.
Sitting in an online chat room, two friends pretend to be girls and persuade their peer to send an intimate photo in an indecent state.
A young couple who has recently experienced the loss of a child becomes the victim of Internet scammers who swindle them out of all the money they have saved up.
En man som heter Ove
IMDB Rating – 7.7
Genre: Drama, melodrama, comedy
Production: Sweden / 2015
World Box Office: $30,692,889
Director: Hannes Holm
Starring: Rolf Lassgaard, Bahar Pars, Filip Berg, Ida Engvoll, Tobias Almborg, Klas Villegård, Katharina Larsson, Björje Lundberg, Stefan Gödikke, Johan Widerberg
After the death of his beloved wife, Uwe Lindahl has become a grumpy old nuisance. At the slightest sign of disorder he immediately becomes enraged: garbage thrown in the wrong place, a wrongly parked car, toys scattered in the sandbox, even a loose gate.
But most of all, he is tormented by the noisy family that recently moved in next door. Uwe himself, on the other hand, has his life in order, except that it has long ceased to make sense to him.
The screenplay is based on the book "A Man Called Uwe" by Swedish writer Frederik Beckman.

The film was nominated for Oscar 2017 in two nominations.
The Curious Case of Benjamin Button
IMDB Rating – 7.8
Genre: Drama, Fantasy
Production: USA / 2008
Budget: $150,000,000
World Box Office: $333,932,083
Director: David Fincher
Starring: Brad Pitt, Cate Blanchett, Julia Ormond, Taraji P. Henson, Jason Fleming, Jared Harris, Tilda Swinton, Mahershala Ali, Elle Fanning, Elias Coteas
The film is based on notes from the diary of Benjamin Button. In 1918, an unusual man was born at the age of 80, and then began…to grow younger. The mysterious man, who had the appearance and health of an old man, could not stop time.
This is the story of his unique fate, of people and events, of joyful moments and difficult difficulties that happened on the life path of the hero.
Originally, the lead role was to be played by Tom Cruise.

The film is not allowed to be screened in Bhutan because of the Buddhist faith of its inhabitants.

At the Oscar Awards 2009 the picture won three nominations out of 13.

The adaptation of the short story of the same name by Francis Scott Fitzgerald.
Mr. Nobody
IMDB Rating – 7.8
Genre: fantasy, melodrama, fantasy, drama
Production: Belgium, Canada, Germany, France, UK, Luxembourg, USA / 2009
Budget: $47,000,000
World Box Office: $2,903,622
Director: Jaco Van Dormael
Starring: Jared Leto, Sarah Polley, Diane Kruger, Lin Dan Pam, Rhys Evans, Natasha Little, Toby Regbo, Juno Temple, Claire Stone, Thomas Byrne
The year 2092. Waking up as an infirm, 118-year-old man, Nemo Nobody is the only mortal man on Earth. Mankind has long since become immortal, and now the whole world watches with incredible interest the reality show in which the decrepit and insane man Nemo lives out his last days.
At last, the dying hero decides to share his life story with a journalist, jumping from one life to another, parallel, several times during the story managed to die.
The Peanut Butter Falcon
IMDB Rating – 7.6
Genre: Drama, comedy, adventure
Production: USA / 2019
Budget: $6,200,000
Worldwide box office: $23,712,090
Director: Tyler Neilson, Mike Schwartz
Starring: Shia LaBeouf, Zach Gottsagen, Dakota Johnson, John Hawkes, Bruce Dern, Jon Bernthal, Thomas Haden Church, Mick Foley, Jake Roberts
Zach, 22, who has Down syndrome, lives in an institution where he is cared for by Eleanor, a social worker. The boy constantly watches videos of wrestling matches and dreams more than anything else of becoming a professional wrestler.
One night he escapes from the orphanage through a window and heads out into the big and uncharted world to make his dream come true. On his way, Zach meets runaway thief Tyler, who promises to help the boy get to the wrestling school of his idol, Salty Redneck. Eleanor goes in search of Zach, who will not only help him realize his dream, but also find his love.
Capharnaüm
IMDB Rating – 8.4
Genre: Drama
Production: Lebanon, USA, France, Cyprus, Qatar, UK / 2018
Budget: $4,000,000
Worldwide gross: $64,398,132
Director: Nadine Labaki
Starring: Zein Al Raffea, Yordanos Shiferow, Boluwatife Treja Bankole, Qawsar Al Haddad, Fadi Yusef, Haita "Sedra" Izzam, Alaa Chuchnye, Elias Khoury
12-year-old Zane, living in the slums of Beirut, looks at the world with undisguised envy. Instead of studying, the young protagonist works illegally in a shop, helps his elders, watches over the younger ones and looks for a way to leave the country.
His parents are about to marry off his 11-year-old sister, Sahar, in exchange for a roof over their heads. Zane hopes to save his sister and run away with her abroad, but all his plans fall apart because of his five-year prison sentence. He has no choice but to sue his parents for giving him life.
An incredibly moving film with a deep meaning was made with the help of nonprofessional actors. All of the children and adults involved in the film were simply found on the streets of the city and asked to answer a few questions in front of the camera.
Manbiki kazoku
IMDB Rating – 7.9
Genre: Drama
Production: Japan / 2018
Worldwide box office: $67,999,335
Director: Hirokazu Koreeda
Starring: Riri Franki, Sakura Ando, Kirin Kiki, Mayu Matsuoka, Kairi Jio, Miyu Sasaki, Sosuke Ikematsu, Yuki Yamada, Moemi Katayama, Daisuke Kuroda
A small family of a poor Japanese worker lives practically on his grandmother's pension. Because of the lack of money, some of the relatives are forced to get their groceries by stealing them from the store.
One day, the head of the family steals a hungry little girl from her irresponsible mother, who does not care at all about her child, and brings her home. The wife is not too happy about her husband's action, but accepts the girl nonetheless.
The lack of money does not prevent the family from living happily ever after, and when they see an advertisement on TV about a missing child, they decide not to give her up.
Collateral Beauty
IMDB Rating – 6.8
Genre: Drama, melodrama
Production: USA / 2016
Budget: $36,000,000
Worldwide Box Office: $88,528,280
Director: David Frankel
Starring: Will Smith, Edward Norton, Kate Winslet, Michael Pena, Helen Mirren, Naomie Harris, Keira Knightley, Jacob Latimore, Ann Dowd, Lisa Colon-Zayas
In the life of Howard Inlet, the head of a New York advertising agency, a terrible tragedy occurs. He loses his young daughter, which makes him feel that he can no longer be with his wife, and leaves her.
The hero falls into a severe depression and ceases to engage in creative work. Friends and colleagues try by all means to support Howard and come up with a very unconventional plan.
In order to get him back to normal life, they involve the actors of a small theater. Their plan works, but in a very unexpected way…
Pay It Forward
IMDB Rating – 7.2
Genre: Drama
Production: USA / 2000
Budget: $40,000,000
World Box Office: $55,707,411
Director: Mimi Leder
Starring: Kevin Spacey, Helen Hunt, Haley Joel Osment, Jay More, James Caviezel, Jon Bon Jovi, Angie Dickinson, David Ramsey, Gary Werntz, Colleen Flynn
An incredibly sincere movie with deep meaning tells the story of a boy, Trevor McKinney, who, no matter what, believes in the kindness and sincerity of people. Extremely good-natured and sympathetic seventh grader decides to start a so-called "chain of kindness.
Her action is to ask the person who has done you a substantial favor to thank not you, but three other people, who in turn will thank the next.
This, Trevor believes, is how to change a cruel world by spreading warmth and kindness on a large scale.
The film is based on the novel of the same name by Catherine Ryan Hyde.
We Need to Talk About Kevin
IMDB Rating – 7.5
Genre: thriller, drama, detective
Production: UK, USA / 2010
Budget: $7,000,000
World Box Office: $9,232,318
Director: Lynn Ramsey
Starring: Tilda Swinton, John C. Reilly, Ezra Miller, Jasper Newell, Rock Der, Ashley Gerasimovich, Siobhan Fallon, Alex Manette, Kenneth Franklin, Leslie Lyles
Successful writer Eva Khachaduryan decides to put her career aside and devote her life to raising her son. However, the relationship between mother and child turns out to be very difficult from the very beginning.
As a teenager, Kevin commits a terrible crime and gets a prison sentence. Eva is tormented by a sense of responsibility and desperately tries to figure out what she missed in raising her son.
Day after day she asks herself the same question: Did she love her child enough? How much of what Kevin did was her fault?
Le scaphandre et le papillon
IMDB Rating – 8.0
Genre: Drama, Biography
Production: France, USA / 2007
World Box Office: $19,777,647
Director: Julian Schnabel, Laura Obiols
Starring: Mathieu Amalric, Emmanuel Seigner, Marie-José Croz, Anne Cossigny, Patrick Chenet, Niels Arestrup, Olatz Lopez Garmendia, Jean-Pierre Cassel, Marina Hands, Max von Sydow.
The film follows the difficult fate of Jean-Dominique Bauby, the 43-year-old editor of the French glossy magazine ELLE, who has suffered a stroke. The serious illness completely immobilized Jean-Dominique's body, leaving only his left eye functioning.
For months, a faithful assistant wrote down the right letter of the alphabet as he winked with his non-paralyzed eye. In this way, Jean-Dominique was able to tell others what was going on in his soul, from the unbearable pain of his locked consciousness in his immobile body, to the imaginary stories of worlds he visited only in his dreams.
Den brysomme mannen
IMDB Rating – 7.3
Genre: fantasy, drama, comedy, detective
Production: Norway, Iceland / 2006
Budget: NOK 14,000,000
World Box Office: $379,331
Director: Jens Lien
Starring: Trond Fausa Aurvaag, Petronella Barker, Per Schaaning, Birgitte Larsen, Johannes Joner, Ellen Horn, Anders T. Andersen, Sigve Bøe, Hannah Lindback, Ivar Lukke
Under unusual circumstances, Andreas, 40 years old, finds himself in a very strange city – all around is peace and tranquility, clean streets, and prosperous inhabitants. He is hired for a high-paying position in the office of a large company, where all colleagues are very friendly and the boss is ready to provide any working conditions.
Andreas easily gets himself a wife with a model appearance, and even a mistress. Soon the hero begins to feel uncomfortable with this "ideal" world, in which people have no emotions. One day, he stumbles upon the dead body of a coworker who threw himself out of an office window. What made him take this step?
The Tree of Life
IMDB Rating – 6.8
Genre: Fantasy, Drama
Production: USA / 2010
Budget: $32,000,000
Worldwide Box Office: $54,303,319
Director: Terrence Malick
Starring: Brad Pitt, Sean Penn, Jessica Chastain, Hunter McCracken, Laramie Eppler, Tye Sheridan, Fiona Shaw, Jessica Fuseler, Nicholas Gonda, Will Wallace
At the center of the story is the life story of 11-year-old Jack, and his pure and immediate view of the world. At the very beginning of the boy's life journey, everything seems wonderful. His mother teaches her son about kindness and unselfish love, while his father tells him that he must first take care of himself and put himself first.
Jack's parents view the world around them differently, and each of them tries to win the child to his side. The little hero's reality becomes darker when he has to face death, pain, and suffering. The perfectly clear and transparent reality becomes uncontrollable and foggy for him.
Little Miss Sunshine
IMDB Rating – 7.8
Genre: Drama, comedy
Production: USA / 2006
Budget: $8,000,000
World Box Office: $100,523,181
Director: Jonathan Dayton, Valerie Faris
Starring: Abigail Breslin, Greg Kinnear, Toni Collette, Paul Dano, Steve Carell, Alan Arkin, Bryan Cranston, Dean Norris, Julio Oscar Mechoso, Mark Turtletaub
Olive, a seven-year-old girl, is the smallest and clumsiest member of the large, motley Hoover family. Olive is eager to compete in the Little Miss Happiness beauty pageant. Her family would love to help the child, but they are each immersed in their own problems.
But after a phone call in which an assistant invites Olivia to come to California next Sunday and compete in the pageant, the whole crazy family embarks on a fascinating journey in a yellow van
The picture was nominated for the 2007 Oscars in four categories, in two of which it managed to pick up a statuette.
Synecdoche, New York
IMDB Rating – 7.6
Genre: Drama
Production: USA / 2008
Budget: $20,000,000
World Box Office: $4,297,030
Director: Charlie Kaufman
Starring: Philip Seymour Hoffman, Catherine Keener, Sadie Goldstein, Tom Noonen, Peter Friedman, Charles Techman, Josh Pace, Daniel London, Robert Seay, Michelle Williams
The main character is the theater director Cotard, who recently received the MacArthur "grand genius" after a successful production. However, afterwards comes a creative crisis, which prompts the hero to reconsider his life.
After a while, figuring it is not worth wasting precious days, Cotard decides to stage an "important and sincere play." He assembles the company in an abandoned warehouse in Manhattan's theater district and erects a real live model of New York.
Eternal Sunshine of the Spotless Mind
IMDB Rating – 8.3
Genre: Melodrama, Sci-Fi, Drama
Production: USA / 2004
Budget: $20,000,000
World Box Office: $72,042,875
Director: Michel Gondry
Starring: Jim Carrey, Kate Winslet, Jerry Robert Byrne, Elijah Wood, Thomas J. Ryan, Mark Ruffalo, Jane Adams, David Cross, Kirsten Dunst, Tom Wilkinson
A fantastic movie with a meaningful touch on the theme of human feelings, their nature and the reason for their occurrence. Shy and melancholic Joel lives a quiet, gray and unremarkable life. But one day, instead of going to work, he takes a train in the opposite direction and goes to the sea.
On the beach, Joel spots a pretty girl with blue hair. On his way back, he sees her in the same carriage and decides to meet her. After a brief chat, the two characters feel that they have a lot in common. Soon Joel realizes that he really did know his companion, moreover – they once loved each other.
The Fountain
IMDB Rating – 7.2
Genre: fantasy, drama, melodrama, detective
Production: Canada, USA / 2006
Budget: $35,000,000
World Box Office: $15,978,422
Director: Darren Aronofsky
Starring: Hugh Jackman, Rachel Weisz, Ellen Burstyn, Mark Margolis, Stephen McHattie, Fernando Hernandez, Cliff Curtis, Sean Patrick Thomas, Donna Murphy, Ethan Sapley
Talented oncologist Thomas Creo desperately tries to save his wife, who is dying of a brain tumor. Realizing that classical medicine cannot prolong her life, Tom travels to Central America in search of the mysterious Tree of Life, whose extract, as the legends say, grants eternal life.
Initially Brad Pitt was approved for the role of the main character, but because of disagreements with the director he left the project, and his place was taken by Hugh Jackman.

The last name of the couple Creo – translates from Latin as "I create", and from Spanish – "I believe".
Gone Baby Gone
IMDB Rating – 7.6
Genre: thriller, drama, crime, detective
Production: USA / 2007
Budget: $19,000,000
World Box Office: $34,612,443
Director: Ben Affleck
Starring: Casey Affleck, Michelle Monahan, Morgan Freeman, Ed Harris, Amy Ryan, John Ashton, Amy Madigan, Titus Welliver, Michael Kenneth Williams, Edie Gathegi
An unemployed single mother living in a Boston suburb calls the police after her four-year-old daughter, Amanda, goes missing. A three-day search fails, and authorities drop the case.
The aunt of the girl decides not to give up hope, and begs two private investigators, Patrick Kensi and Angela Gennaro, to continue the investigation. At first they are not eager to take on a hopeless case, but soon they encounter the horrifying details of the missing child. Now not only their professional activities but also their lives are at stake.
The Man Who Wasn't There
IMDB Rating – 7.5
Genre: Drama, Crime
Production: USA, UK / 2001
Budget: $20,000,000
World Box Office: $18,916,623
Director: Joel Cohen, Ethan Cohen
Starring: Billy Bob Thornton, Frances McDormand, James Gandolfini, Michael Badalucco, Catherine Borowitz, John Polito, Scarlett Johansson, Richard Jenkins, Tony Shalub, Christopher Chrisa
Silent and perpetually somber Ed Crane lives in a small California town and works as a hairdresser. His wife Doris, a big drinker, works as an accountant in a haberdashery and is cheating on Ed with her boss, Big Dave, who has recently saved up for a new store.
One day, a certain salesman who stops by the barbershop suggests that Ed raise money on a new dry-cleaning business, but it requires initial capital. The hero decides to swindle the needed amount by blackmailing Big Dave. Soon, however, his quite perfect plan ruins his life.
Fight Club
IMDB Rating – 8.8
Genre: thriller, drama, crime
Production: USA, Germany / 1999
Budget: $63,000,000
World Box Office: $100,853,753
Director: David Fincher
Starring: Edward Norton, Brad Pitt, Helena Bonham Carter, Mit Loaf, Zack Grenier, Holt McCallany, Jared Leto, Aion Bailey, Richmond Arquette, David Andrews
A 30-year-old insurance company employee (a typical white-collar worker suffering from insomnia), is agonizingly trying to break free from the humdrum of his gray days. One day on an airplane, he meets Tyler, a soap maker and salesman who lives by a completely different set of rules.
Tyler is convinced that self-improvement is the lot of the weak, and that all one should strive for in life is self-destruction. Together they organize the Fight Club, where anyone can come and feel the joy of simple physical brutality.
A screen adaptation of the book of the same name by contemporary American writer Chuck Palahniuk.
The Shape of Water
IMDB Rating – 7.3
Genre: Sci-fi, drama
Production: USA, Canada, Mexico / 2017
Budget: $19,400,000
Worldwide box office: $195,333,312
Director: Guillermo del Toro
Starring: Sally Hawkins, Michael Shannon, Richard Jenkins, Octavia Spencer, Michael Stuhlbarg, Doug Jones, David Hewlett, Nick Searcy, Stewart Arnott, Nigel Bennett
The film is set in the 1960s during the Cold War between America and the Soviet Union. Silent woman Eliza lives a boring monotonous life and works as a cleaner in a secret laboratory in Baltimore.
Within the walls of the institution there is work on the study of the amphibian man caught from the waters of the Amazon. Scientists are conducting cruel and inhumane experiments on the creature. Eliza develops feelings for the unusual creature and helps him escape.
The film was nominated for the 2018 Academy Awards in 13 categories and received four statuettes.
The Double
IMDB Rating – 6.5
Genre: thriller, drama
Production: UK / 2013
World Box Office: $1,662,515
Director: Richard Ayoade
Starring: Jesse Eisenberg, Mia Wasikowska, Wallace Shawn, Yasmin Paige, Noah Taylor, James Fox, Cathy Moriarty, Phyllis Somerville, Gabrielle Downey, John Corks
Simon, a humble working man, is an unremarkable man who does boring and monotonous work at the office. His coworkers don't notice him, and his dream girl simply ignores him. It seems that this state of affairs will never change, but once the unforeseen happens to him: a new employee named James joins the office.
Outwardly he is absolutely indistinguishable from Simon, but internally he is his exact opposite. Confident, charismatic James, to Simon's horror, gradually begins to take over the hero's life…
The plot is based on the novel of the same name by Fyodor Dostoevsky.
Eat Pray Love
IMDB Rating – 5.8
Genre: Drama, melodrama, biography
Production: USA / 2010
Budget: $60,000,000
World Box Office: $204,594,016
Director: Ryan Murphy
Starring: Julia Roberts, Javier Bardem, Billy Crudup, Viola Davis, Mike O'Malley, James Franco, Richard Jenkins, Christine Hakim, Sophie Thompson, Hadi Subiyanto
Thirty-year-old Elizabeth Gilbert seemed to have everything a modern woman could dream of: a big house, a loving husband, and a great job. However, at one point she comes to the realization that she is not living the life she wanted.
The heroine files for divorce and goes on an exciting trip around the world. The unexpected trip gives Elizabeth new experiences, opens up new horizons for her and, ultimately, helps her to know herself.
A screen adaptation of the autobiographical novel by American writer Elizabeth Gilbert.