On March 12, 2023, Los Angeles' famous Dolby Theater hosted the 95th Academy Awards, the most prestigious motion picture award.
Here's a complete list of feature film nominees and winners of the American Academy of Motion Picture Arts Award, including those with only one person nominated for an Oscar at this celebration of life. Best of all, the nominees for best foreign film, at the bottom of the list!
Everything Everywhere All at Once
Rating IMDB – 7.8
Genre: Fantasy, comedy, action, adventure, drama
US production / 2021
Budget: $25,000,000
Worldwide gross: $139,314,743
Directed by Dan Kwan, Daniel Scheinert
Cast: Michelle Yeoh, Jamie Lee Curtis, Ke Huy Kuan, Stephanie Xu, James Hong, Tally Medel, Jenny Slate, Harry Shum Jr., Biff Whiff, Sunita Money
The undisputed leader of the last Oscar was the acclaimed sci-fi action film All at Once. This appealing satire on superheroism in the realities of neglected everyday life is a really great movie, which, however, is difficult to understand from the get-go.
The film consists of three distinctive chapters – hence the title. In the first part, Chinese immigrant Evelyn Wong is torn between her own laundry, her daughter's problems, her father's whims and the endless worries of home life. And then one day her husband is inhabited by the same man, but from a parallel universe, explaining to Evelyn that there are so many worlds and only she can save them all.
This surrealism has 11 nominations and seven wins.
Im Westen nichts Neues
Rating IMDB – 7.8
Genre: War, action, drama, history
Production Germany, USA, UK / 2022
Directed by Edward Berger
Cast: Felix Kammerer, Albrecht Schuch, Aaron Hilmer, Moritz Klaus, Adrian Grunewald, Edin Hasanovic, Daniel Brühl, Thibault de Montalembert, David Striesow, Andreas Döhler
A magnificent film about World War I, a modern interpretation of Remarque's immortal classic. In 1917, four friends Paul, Ludwig, Franz and Albert enlist in the German army. The young buddies are patriotic idealists who dream of valor and glory.
Their enthusiasm is quickly shattered by the realities of the grisly war, when they are forced to wear the uniform of the dead, when death roars around, and Ludwig dies in the first shelling, never having had the chance to feel like a soldier. And then things only get worse and worse.
This austere and tough picture has 9 nominations and 4 wins.
The Whale
Rating IMDB – 7.7
Genre: Drama
US production / 2022
Budget: $10,000,000
Worldwide gross: $54,720,929
Director Darren Aronofsky
Cast: Brendan Fraser, Sadie Sink, Ty Simpkins, Hong Chau, Samantha Morton, Satya Sridharan, Jaycee Sink, Wilhelm Shalaudek
Brendan Fraser's triumphant return to the screen was highlighted at the ceremony. His character is obese Charlie, a withdrawn and complicated professor nicknamed Keith, who is unbearably self-conscious about his appearance and leads a reclusive life, tirelessly admiring the technology that allows him to teach remotely.
Because of his lifestyle, Charlie finds himself on death's doorstep. Liz and Thomas, a nurse and missionary who are seriously concerned about Charlie's indifference to his own health, try to save him. But there is one thing Charlie is trying to fix–he once abandoned his family, and now dreams of mending his relationship with his now quite grown-up daughter, Ellie.
The film has three nominations and 2 wins, including Best Actor for Brendan Fraser.
Top Gun: Maverick
Rating IMDB – 8.3
Genre: Action, drama
US production / 2022
Budget: $140,000,000
Worldwide gross: $1,493,491,858
Directed by Joseph Kosinski
Cast: Tom Cruise, Miles Teller, Jennifer Connelly, Jon Hamm, Glen Powell, Val Kilmer, Bashir Salahuddin, Charles Parnell, Monica Barbaro, Lewis Pullman
The sequel to the airman movie, which came out 36 years after the iconic original, was one of the movie highlights of 2022. Few people remember the young and feisty Tom Cruise as the desperate aviator Pete Mitchell in 1986's Top Gun. That hit ends with Pete's reassignment as a TOPGUN base instructor.
In the sequel, the same Tom Cruise, a solid older man, returns to his role. Pete Maverick Mitchell works as an instructor at the same naval school, and among his charges appears Bradley Bradshaw, son of that same Goose Bradshaw, Pete's best friend whose death was blamed on him. Except that Maverick has promised the boy's mother that he will never become a pilot and will not risk his life.
This sumptuous airdrama has six nominations and a single Best Sound statuette.
Black Panther: Wakanda Forever
Rating IMDB – 6.7
Genre: Fantasy, action, drama
US production / 2022
Budget: $250,000,000
Worldwide gross: $859,208,836
Director Ryan Coogler
Cast: Letitia Wright, Lupita Nyong'o, Danai Gurira, Winston Duke, Angela Bassett, Tenoch Huerta, Martin Freeman, Julia Louis-Dreyfus, Dominic Thorne, Florence Kasumba
The sequel to the superhero Black Panther elaborates on the status of the ruler of Wakanda. A magical country exists as long as it has a protector, so many believe.
But Shuri, princess of Wakanda believes that this is ancient prejudice. She tries to develop technology and brushes aside the exhortations of her mother, who begs her to continue her research on the heart-shaped herb in order to revive the Black Panther, protector and ruler of Wakanda.
This fantastic story has 5 Oscar nominations and only one win, a statuette awarded to designer Ruth Carter for Best Costume Design.
Avatar: The Way of Water
Rating IMDB – 7.7
Genre: Fiction, fantasy, action, adventure
US production / 2022
Budget: $350,000,000
Worldwide gross: $2,320,250,281
Director by James Cameron
Cast: Sam Worthington, Zoe Saldana, Sigourney Weaver, Stephen Lang, Kate Winslet, Cliff Curtis, Joel Moore, CC Pounder, Edie Falco, Brendan Cowell
Another insanely ambitious and ambitious project by James Cameron continues the story of Jake Sully, an earthling who becomes the chief of the Omaticaya tribe. Having expelled the greedy humans from his home planet from Pandora, Jake enjoys a life surrounded by family and devoted friends.
However, the dying Earth has not abandoned plans to colonize the alien thriving planet. Jake must endure another battle for the integrity of this world, while also getting to know the underwater tribes of the amazing and endlessly beautiful Pandora.
The film has only four nominations and one win. Of course, in the Best Visual Effects category.
Women Talking
Rating IMDB – 6.9
Genre: Drama
US production / 2022
Worldwide gross: $8,961,702
Directed by Sarah Polley
Cast: Rooney Mara, Claire Foy, Jessie Buckley, Judith Ivey, Ben Whishaw, Frances McDormand, Sheila McCarthy, Emily Mitchell, Kate Hallett, Liv McNeil
Based on the true events described in Miriam Toews' book, Women Speak is about a secluded Mennonite community where repeated rapes of local women have been occurring over the past two years.
The local women get together and try to figure out what has been happening to them lately. Heavy and unabated drug sleep, memories of abuse, men's claims that it's demons punishing the women for their sins – all this, of course, cannot go on. These unfortunates have little choice, but they are determined to find a way out.
The film was nominated for two Oscars and won one for Best Adapted Screenplay.
RRR
Rating IMDB – 7.8
Genre: Action, drama, history
Production India / 2022
Budget: $69,000,000
Worldwide gross: $150,121,761
Director S.S. Rajamouli
Cast: NTR Jr., Ram Charan Teja, Ajay Devgan, Alia Bhatt, Spandan Chaturvedi, Olivia Morris, Shriya, Ray Stevenson, Alison Doody, Samudira Kani
A powerful Indian epic about two men who were first on opposite sides of the barricades and then became friends and inspired a revolt against the colonial authorities in India. The film is set in the 1920s.
Komaram Bhim is a warrior and protector of the Gond tribe. When the British governor forcibly removes a girl of that tribe to Delhi, Bhim sets out to follow in his footsteps. Colonial police officer Rama Raju starts hunting for Bhim, trying to get a promotion. As luck would have it, they save a child together, and the men become friends.
This film has the only nomination that it won – Best Film Song. Listen to this song, Naatu Naatu, you won't regret it!
The Banshees of Inisherin
Rating IMDB – 7.7
Genre: Drama, comedy
Production UK, USA, Ireland / 2022
Budget: $20,000,000
Worldwide gross: $49,262,687
Directed by Martin McDonagh
Cast: Colin Farrell, Brendan Gleeson, Kerry Condon, Barry Keoghan, Pat Short, Gary Lydon, John Kenny, Sheila Flitton, John Carty, Oliver Farrelly
Irish director McDonagh's gripping black comedy tells the bizarre story of friendship and hatred on the made-up Irish island of Inisherian. It begins with an unexpected spat between two old drinking buddies, the elderly fiddler Colm and the peaceful farmer Patrick.
Colm threatens to mutilate himself if Patrick ever speaks to him, and the latter gets drunk and goes on a rampage. A real commotion begins on the little island – there has never been a worse conflict. Everyone tries to reconcile the old buddies of yesterday, which only makes their quarrel worse.
This film has probably the most disappointing result: 9 nominations and not a single gold statuette.
Elvis
Rating IMDB – 7.3
Genre: Biography, music, drama
Production USA, Australia / 2022
Budget: $85,000,000
Worldwide gross: $287,740,048
Directed by Baz Luhrmann
Cast: Austin Butler, Tom Hanks, Olivia DeJong, Helen Thomson, Richard Roxburgh, Calvin Harrison, David Wenham, Cody Smith-McPhee, Luke Bracey, Daker Montgomery
A biographical film about the life of Elvis Presley, played by young actor Austin Butler, a rising Hollywood star. The film collected a record box office, becoming the second film after Bohemian Rhapsody, earned many awards, a high rating and was included in the top ten films of 2022.
The action takes the form of a memoir by King's former manager, Tom Parker, who on his deathbed recalls his acquaintance with Elvis, a talented guy from a poor neighborhood, and their shared long journey against the backdrop of historical upheaval.
The film has eight nominations, including a submission for the Austin Butler Award, but alas, Elvis did not pick up a single Oscar.
The Fabelmans
Rating IMDB – 7.6
Genre: Drama
Production USA, India / 2022
Budget: $40,000,000
Worldwide gross: $45,485,279
Director Steven Spielberg
Cast: Gabrielle LaBelle, Michelle Williams, Paul Dano, Seth Rogen, Julia Butters, Judd Hirsch, Jenny Berlin, Robin Bartlett, Mateo Zoryan, Keely Karsten
Steven Spielberg's autobiographical creation about growing up. In the main character, little Sammy, it is easy to identify the director himself, and in the people around him – the family of Spielberg, who delayed this project for 20 years for fear of hurting his loved ones.
It all began on a winter night in 1952. Sammy hit the movie theater for the first time and became forever ill with moving pictures. While his father invented new technology, his sisters played with dolls, and his mother immersed herself in her music, the boy's only passion was movies – and it remains so to this day.
The film has seven nominations and not a single win. That's a shame.
Tár
Rating IMDB – 7.5
Genre: Drama, music
US production / 2022
Budget: $35,000,000
Worldwide gross: $28,576,571
Directed by Todd Field
Cast: Cate Blanchett, Noémie Merlan, Nina Hoss, Sophie Cauer, Mark Strong, Allan Korduner, Mila Bogodzhevich, Marie-Lou Sellem, Julian Glover, Adam Gopnik
An utterly mesmerizing psychological drama starring the already twice Oscar-winning Cate Blanchett as the tough and bossy woman Lydia Thar, accused of sexual harassment. The long, nearly three-hour film unfolds before the viewer the story of the fall of a fictional, but no less impressive character.
Lydia Thar is the first female conductor of the Berlin Symphony Orchestra. She is world-famous, has enormous influence in the music world, and is wealthy and professional. Except that Lydia allows herself to manipulate the fortunes and careers of musicians based on her own sexual preferences. This ultimately leads her to a huge fiasco in life.
Six nominations, including, of course, a statuette for Cate Blanchett. But, alas, not this time, not a single win.
Babylon
Rating IMDB – 7.2
Genre: Drama, comedy
US production / 2022
Budget: $78,000,000
Worldwide gross: $63,379,032
Directed by Damien Chazelle
Cast: Diego Calva, Margot Robbie, Brad Pitt, Jovan Adepo, Li Jun Li, Jean Smart, Olivia Hamilton, P.J. Byrne, Lukas Haas, Max Minghella
Babylon is a historical epic about an elephant at the party. It was the way bohemians entertained themselves in the distant '20s of the last century. Everyone involved in any way in the rich movie industry had fun living their lives in drugs, sex, and exotic entertainment.
The plot centers on Jack Conrad, a shining silent movie star and aspiring actress Nellie Laroy, willing to do anything for fame. Only the era changes, and in the art of moving pictures comes His Majesty the Sound. Disaster for the former celebrities, who will have to build their careers anew. Or perish forever in endless revelry.
This crazy carnival has three nominations and not a single award.
The Batman
Rating IMDB – 7.8
Genre: Detective, crime, drama, thriller
US production / 2022
Budget: $200,000,000
Worldwide gross: $770,962,583
Director by Matt Reeves
Cast: Robert Pattinson, Zoë Kravitz, Paul Dano, Jeffrey Wright, John Turturro, Peter Sarsgaard, Barry Keoghan, Jamie Lawson, Andy Serkis, Colin Farrell
A new Catwoman, a new Batman, darker shades and endless doubts of a superhero unwilling to get into a fight without a clear rationale for the villainy of his opponents.
Batman 2022, a superhero movie starring Robert Pattinson, is a whole new vision of the iconic hero. Instead of the impetuous vigilante without fear or reproach, viewers see a living man trying to make sense of himself and figure out who he can trust. Nothing is black and white, categorical and non-judgmental.
The fresh version of Batman has three Oscar nominations and, unfortunately, zero wins.
Triangle of Sadness
Rating IMDB – 7.3
Genre: Drama, comedy
Production USA, Sweden, UK, Germany, France, Turkey, Denmark, Greece, Switzerland, Mexico / 2022
Worldwide gross: $25,942,808
Directed by Ruben Ostlund
Cast: Harris Dickinson, Sharlby Dean, Zlatko Buric, Dolly de Leon, Henrik Dorsin, Vicki Berlin, Woody Harrelson, Tobias Torvid, Giannis Mustos, Timoleon Gketsos
A black satire mocking the modern elite, who have gone on a supercruise on a kick-ass luxury yacht. The eccentric and eccentric rich people try hard to show how much control they have over everyone and everything with their money, until they get caught in a completely uncontrollable storm.
On a desert island, where all the honest company crawls out after the shipwreck, the gloss quickly slips off, revealing their fears, doubts and helplessness. And only Abigail, a recently despised janitor, becomes the unhappy elite's chance for survival.
This brilliant tragicomedy has three nominations without a single win.
Living
Rating IMDB – 7.2
Genre: Drama
Production UK, Japan, Sweden / 2022
Worldwide gross: $12,183,772
Directed by Oliver Hermanus
Cast: Bill Nighy, Alex Sharp, Adrian Rawlins, Hubert Burton, Oliver Chris, Michael Cochrane, Anant Varman, Aimee Lou Wood, Zoey Boyle, Leah Williams
A spectacular drama based on a script by Nobel laureate Kazuo Ishiguro, with superb actor Bill Nye as the elderly Rodney Williams. Mr. Williams is a high-ranking official who lives in London in 1953 and rigorously abides by the strict rules of his bureaucratic office.
When Rodney learns from his doctor of his terminal illness, he decides to simply kill himself. But fate decides otherwise. A few chance encounters force Mr. Williams to reflect on the drabness and emptiness of his life, and he decides to change everything, if only for the few days he has left, and do something really good.
Two nominations, including Best Actor for Naya, and no wins.
Aftersun
Rating IMDB – 7.7
Genre: Drama
Production UK, USA / 2022
Worldwide gross: $8,228,061
Directed by Charlotte Wells
Cast: Paul Mescal, Frankie Corio, Celia Rawlson-Hall, Sally Messam, Ice Parlak, Sofia Lamanova, Brooklyn Toulson, Spike Fern, Harry Perdios, Frank Corio
Charlotte Welles is a talented Scottish woman director who made her debut thoughtful, nostalgic drama about growing up, which received high critical acclaim from all the major publications. However, this film is worth watching only for connoisseurs of unhurried peaceful narration, who do not expect bright events and abrupt turns in the plot.
The plot centers on 31-year-old Sophie Paterson who remembers a tourist trip to Turkey with her father Calum when she was 11 years old. As an adult, she realizes many things that were beyond the child's comprehension and tries to understand what her father was like at the time.
Actor Paul Mescal was nominated for an Oscar for Best Actor, but could not win the award.
Blonde
Rating IMDB – 5.5
Genre: Biography, drama
US production / 2022
Budget: $20,000,000
Directed by Andrew Dominik
Cast: Ana de Armas, Adrien Brody, Bobby Cannavale, Xavier Samuel, Julianne Nicholson, Evan Williams, Toby Huss, David Warshofsky, Caspar Phillipson, Dan Butler
A biographical film with Ana de Armas, and this is the best role of the young Cuban actress. Incredible reincarnation! The film exhaustively tells about the life of the legendary Marilyn Monroe.
The plot begins in 1933, when 7-year-old Norma Mortenson is given a picture of a man for her birthday by her mentally ill mother, claiming to be Norma's father, a famous Hollywood actor. Soon the girl finds herself in an orphanage and her mother in a hospital for the mentally ill. And even then Norma chose a vocation for herself, not knowing how dramatic a resounding fame would become for her.
Ana de Armas was nominated for Best Actress. She lost to Michelle Yeoh (All, Everywhere and At Once), but for a young actress, an Oscar nomination is already a serious achievement.
To Leslie
Rating IMDB – 7.1
Genre: Drama
US production / 2022
Worldwide gross: $209,307
Directed by Michael Morris
Cast: Andrea Riseborough, Allison Janney, Marc Maron, Andre Royo, Owen Teague, Stephen Root, James Hebert, Catfish Jean, Scott Subiono, Blake Robbins
Michael Morris's surprising and haunting directorial debut, a low-budget drama about the sudden success that ordinary housewife Leslie Rowlands couldn't handle.
Leslie is a single mother from Texas who has always lived rather modestly. One day she wins a huge amount of money in the lottery and starts planning her happy future. The woman dreams of opening a diner and finally living in comfort.
Six years later, Leslie rents a room in a penny hotel, is addicted to alcohol, has a falling out with her adult son, and is left with nothing but a diseased liver from her winnings. She returns to her hometown, trying to start her life anew.
Actress Andrea Riseborough, who played Leslie, was a candidate for the statuette in the Best Actress category, but lost.
Causeway
Rating IMDB – 6.6
Genre: Drama
US production / 2022
Directed by Laila Neugebauer
Cast: Jennifer Lawrence, Brian Tyree Henry, Danny Wolohan, Jane Hodishell, Neil Huff, Nguyen Anh Huu, Natalie Pilli, Linda Emond, Fred Weller, Sean Carvajal
A dramatic story of two people who support each other after multiple traumas. Perhaps overdramatic. The writers put so much anguish on the main characters that somewhere in the middle of the movie the empathy just falls asleep.
Lindsay fought in Afghanistan, and is now trying to cope with the effects of a severe brain injury by re-learning basic things. She cleans swimming pools to earn a living, frustrated by her mother's indifference and her brother's criminal tendencies who won't get out of jail.
One day Lindsay meets a black mechanic, James, who drunkenly caused an accident on a lake bridge that killed his nephew and nearly killed his sister. James himself lost his leg because of it, and soon his wife, who does not want to live with an invalid.
Brian Tyree Henry, who played James, was nominated for Best Supporting Actor, but lost out to Ke Hugh Kwan (All, Everywhere, All At Once).
Glass Onion
Rating IMDB – 7.1
Genre: Detective, comedy, crime
US production / 2022
Budget: $40,000,000
US fees: $13,280,000
Director by Rian Johnson
Cast: Daniel Craig, Edward Norton, Janelle Monáe, Kathryn Hahn, Leslie Odom Jr., Kate Hudson, Dave Bautista, Jessica Henwick, Madeline Kline, Noah Segan
Another sequel on this list is Ryan Johnson's second detective, who has promised to turn his films into a lengthy franchise with Daniel Craig as private investigator Benoit Blanc.
Benoit finds himself at a fun-filled murder mystery game party thrown by an oddball rich man named Miles Bron at his posh estate called The Glass Onion. Needless to say, the game will end in a real murder, and the presence of the detective, who got here by accident, will come in handy?
The film was nominated for an Oscar in the category Best Adapted Screenplay, but lost to Women Speak.
Mrs. Harris Goes to Paris
Rating IMDB – 7.1
Genre: Drama, comedy
Production UK, Canada, France, Hungary, Belgium / 2022
Worldwide gross: $30,877,284
Directed by Anthony Fabian
Cast: Lesley Manville, Isabelle Huppert, Lambert Wilson, Alba Baptista, Lucas Bravo, Ellen Thomas, Rose Williams, Jason Isaacs, Anna Chancellor, Bertrand Ponce
A very sweet drama about an elderly woman who dreams of a luxurious dress. Ada Harris is an ordinary visiting cleaner who lost her husband in World War II and found her life's purpose in dreaming of an exclusive Dior dress, which she once saw in her rich client's closet.
Ada saves her money, calculatingly plays the dog races, buys lottery tickets, saves on everything, and folds her bills. And then one day she goes to Paris to fulfill her dream. Not only will this trip be a wonderful adventure for Ada herself, but it will also present many good things for the people around her.
A nomination for Best Costume Design. The outfits in the film are really great!
Empire of Light
Rating IMDB – 6.6
Genre: Drama, melodrama
Production UK, USA / 2022
Worldwide gross: $11,395,604
Directed by Sam Mendes
Cast: Olivia Colman, Sarah Stewart, Michael Ward, Colin Firth, Toby Jones, Tom Brook, Tanya Moody, Hannah Onslow, Crystal Clark, Monica Dolan
A wonderful existential drama film starring Olivia Colman and Colin Firth. It is set in the small coastal town of Margate in the 1980s. Hilary is in love with movies and works at the only local movie theater.
The woman is rather withdrawn and moody, she takes pills for neurosis and sometimes sleeps with her boss. And then one day a new employee shows up at the movie theater, a dark and charming Stephen, with whom Hilary begins an affair that refreshes her life a great deal.
The film was nominated for Best Cinematography, but failed to win an Oscar.
Bardo, falsa crónica de unas cuantas verdades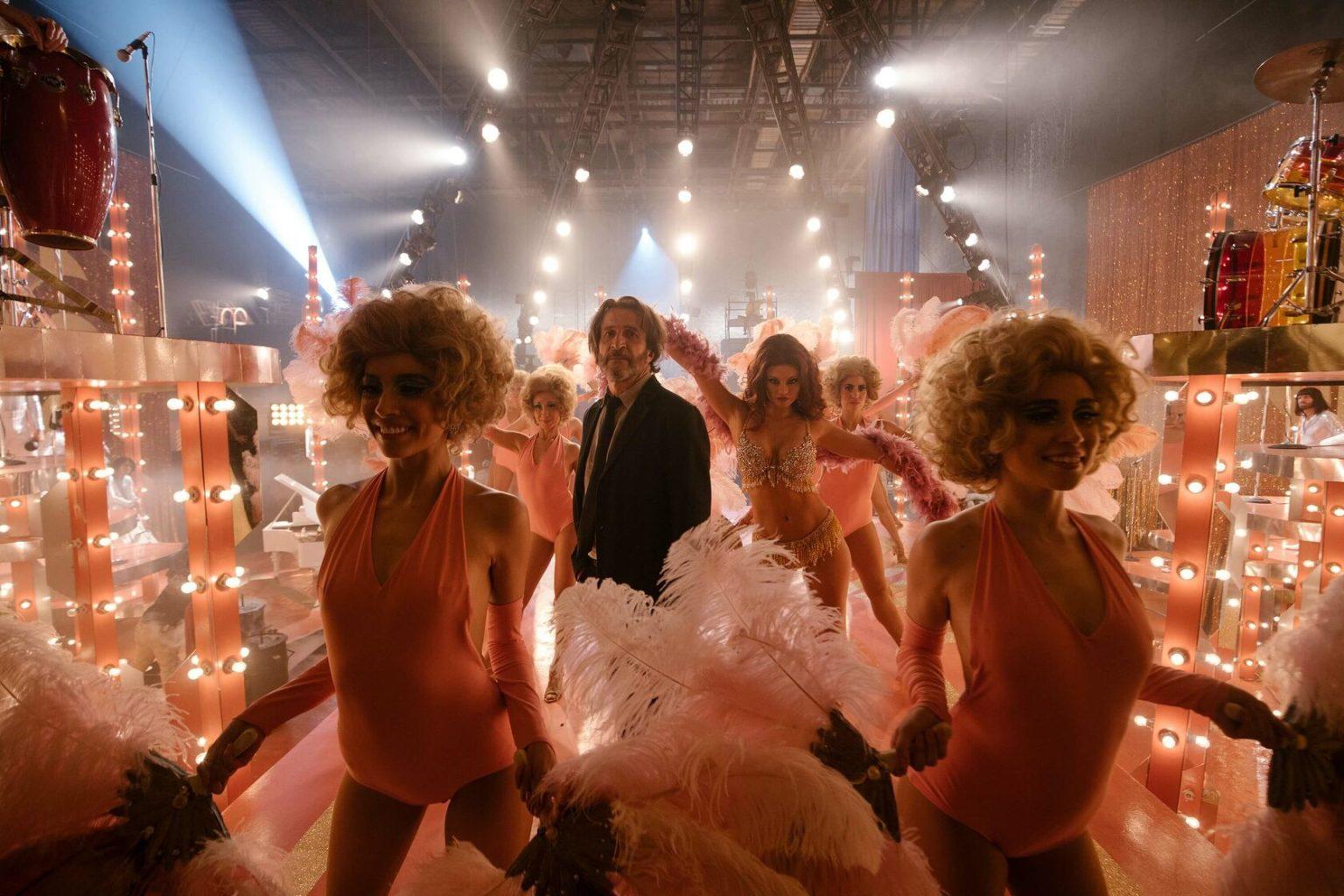 Rating IMDB – 6.7
Genre: Drama, comedy
Production Mexico / 2022
Worldwide gross: $38,190
Directed by Alejandro González Iñárritu
Cast: Daniel Jimenez Cacho, Griselda Siciliani, Jimena Lamadrid, Iker Sanchez Solano, Luis Couturier, Luz Jimenez, Andrés Almeida, Clementina Guadarrama, Jay O. Sanders, Francisco Rubio
This nostalgic film by the famous Mexican filmmaker Iñárritu tells the story of Silverio, a journalist who has been living in the United States for many years and has achieved a lot of success, but has almost forgotten his homeland, Mexico. There are autobiographical notes of the director in this story.
Rich, successful, influential Silverio decides to visit his homeland, but he does not recognize Mexico today. Everything there is already a stranger to him. The film raises many pressing social issues and ponders the role of the homeland in a person's life.
The film was unsuccessfully nominated for a statuette for Best Cinematography.
Argentina, 1985
Rating IMDB – 7.6
Genre: Drama, history, biography
Production Argentina, UK, USA / 2022
Worldwide gross: $905,893
Directed by Santiago Mitre
Cast: Ricardo Darin, Peter Lanzani, Alejandra Fleischner, Claudio Da Passano, Santiago Armas Estevarena, Gina Mastronicola, Norman Briskey, Hector Diaz, Carlos Portaluppi, Laura Paredes
An impressive historical drama co-produced by Argentina, Britain and the United States. It is the story of the incredible civic conscience shown by a few people after the fall of the military junta in 1985.
Public prosecutor Julio Cesar Strasser begins the trial of members of the junta, which ruled by methods of repressive dictatorship and was responsible for numerous tortures, murders and kidnappings of its own citizens. This trial was a deadly risk for all those involved, but it was brought to an end and the main perpetrators were punished as they deserved.
The picture was nominated for an Oscar for Best Foreign Language Film.
Close
Rating IMDB – 7.8
Genre: Drama
Production Belgium, Netherlands, France / 2022
Worldwide gross: $5,196,689
Directed by Lucas Dont
Cast: Eden Dambrine, Gustav De Waele, Emily Dekenn, Lea Drucker, Kevin Janssens, Igor van Dessel, Marc Weiss, Leon Bataille, Serine Ayari, Robin Keijert
A Belgian drama about a tainted childhood friendship that ended in tragedy. Leo and Remy are two 13-year-old boys who have been very close since childhood. Their parents are friends, and the boys often spend time together, sleeping in the same bed, drinking from the same mug. They are like twins.
Except at school, their closeness arouses negativity and suspicion. Friends begin to be teased and ridiculed, suggesting an unconventional relationship between them, which is hardly possible at age 13. Leo tries to become an insider and distances himself from Remy, who takes the loss of a loved one hard.
Unsuccessful nomination for Best Foreign Language Film.
Eo
Rating IMDB – 6.8
Genre: Drama
Production Poland, Italy, UK / 2022
Worldwide gross: $2,330,641
Directed by Jerzy Skolimowski
Cast: Hola, Tak, Marietta, Hector, Rocco, Mela, Sandra Drymalska, Tomasz Organek, Mateusz Kościukiewicz, Lorenzo Zurzolo
A funny, beautiful and addictive film about animals from Poland, with good music and picturesque visuals. More precisely, it is a view of our world through the eyes of a quiet, industrious gray donkey who travels in the world of humans.
Eeyore is a circus donkey freed by animal advocates and transported to a farm. Barely able to cope with the bitterness of losing his home, which he thought the circus was, the donkey escapes from the farm and rushes off wherever he can see. There are almost no words in the film, yet it is a wonderful and profound parable about such different humanity.
The film received the same nomination as the previous two and also lost.
An Cailín Ciúin
Rating IMDB – 7.7
Genre: Drama
Production Ireland / 2021
Worldwide gross: $5,518,489
Directed by Colm Bareid
Cast: Catherine Clinch, Carrie Crowley, Andrew Bennett, Michael Patrick, Kate Nick Conan, Caroline Bracken, Norette Leahy, Joan Sheehy
A touching Irish film about how love can solve many problems in child-rearing, and how it is easy to earn real trust – all it takes is sincere attention.
Kate is a real quiet girl. She lives in a dysfunctional family, she is alien to her peers and behaves very reserved. The girl is severely depressed by the fact that she still sometimes urinates in bed, and her parents do not care about her. So one day she is sent for a while to stay with distant relatives, Evelyn and Sean, who become very attached to Kate and change her life.
The film was nominated for Best Foreign Language, but did not win the prize.