Pictures, where intergalactic ships furrow space, have long been loved by the audience. But sometimes you want to give up the bright scenes and jokes. Those who want to immerse themselves in a gloomy atmosphere, it is worth paying attention to a selection of horror movies about space. Here the heroes will have nowhere to escape from deadly alien creatures.
Sputnik
IMDB Rating – 6.4
Genre: Fantastic, Horror, Drama
Production: Russia / 2020
Budget: ₽ 190,000,000
Worldwide Box Office: $354,023
Director: Egor Abramenko
Starring: Oksana Akinshina, Peter Fedorov, Fedor Bondarchuk, Anton Vasiliev, Vitalia Kornienko, Natalia Shvets, Alexei Demidov, Alexander Marushev, Alexander Sham, Pavel Ustinov
List of the best horror movies about space opens domestic picture. Events unfold in 1983. The inhabitants of the USSR rejoice at the return of the spacecraft. But not everything is so rosy.
The leadership hides that only one of the pilots survived. Cosmonaut Veshnyakov is transported to a secret base to assess his condition, as well as to deal with a new form of life. And this important task is entrusted to neurophysiologist Tatiana Klimova.
The crew managed to recreate the atmosphere of the USSR due to the fact that they used a lot of Soviet equipment in the scenes.
Prometheus
IMDB Rating – 7.0
Genre: Fantastic, Horror
Production: USA, UK / 2012
Budget: $130,000,000
Worldwide Box Office: $403,354,469
Director: Ridley Scott
Starring: Noomi Rapace, Michael Fassbender, Charlize Theron, Idris Elba, Guy Pearce, Logan Marshall-Green, Sean Harris, Rafe Spall, Iman Elliott, Benedict Wong.
In the year 2093, the ship Prometheus finally reaches its destination. The crew regains consciousness after anabiosis. At the same time, they get acquainted with the purpose of the journey. It turns out that in the distant past, Earth was visited by alien beings. And the team has to find them to get answers to questions.
Astronauts land on a small satellite planet. Here they are in for an unpleasant surprise. The planet is dotted with ancient structures, but they are empty. All the aliens have died fleeing an unknown danger. The team manages to find the body of one alien, and they take him back to Prometheus.
This picture was originally supposed to be a prequel to "Alien".
Life
IMDB Rating – 6.6
Genre: Horror, sci-fi, thriller
Production: USA, UK / 2017
Budget: $58,000,000
Worldwide Box Office: $100,541,806
Director: Daniel Espinosa
Starring: Hiroyuki Sanada, Ryan Reynolds, Rebecca Ferguson, Jake Gyllenhaal, Olga Dykhovichnaya, Erion Bakare, Jesus Del Orden. Allen McLean, Leila Grace, Marie Gwelesiani
The authors, inspired by "Alien", created a beautiful picture, which took an honorable place in the top of horror films about space. Teams of astronauts are often sent to the nearest planets to conduct research. And one such mission to Mars ends in success – a living organism was found.
Astronauts returned to the ship, where they have to start preparing for the journey home. But first, they decide to get a better look at the new life form. It's not long before the team realizes they've found something dangerous. The organism is rapidly evolving and becoming a threat. The astronauts can't let this creature get to Earth.
Pandorum
IMDB Rating – 6.7
Genre: Horror, Fantasy, Action, Thriller, Detective
Production: UK, Germany / 2009
Budget: $33,000,000
Worldwide Box Office: $20,645,327
Director: Christian Alvart
Starring: Dennis Quaid, Ben Foster, Cam Gigandet, Antje Traue, Cung Le, Eddie Rouse, Norman Reedus, Andre Hennicke, Friederike Kempter, Niels-Bruno Schmidt.
The story centers around two members of a starship crew. They have just awakened from cryosleep. But because of a malfunction in the equipment, they do not remember anything about the mission. Astronauts do not even guess how long they slept and where they are.
And very soon they realize that the ship has been taken over by strangers who destroy everything in their path. The team has to come up with a rescue plan – the fate of humanity is at risk.
Ben Foster dared to eat real insects for the movie.
Europa Report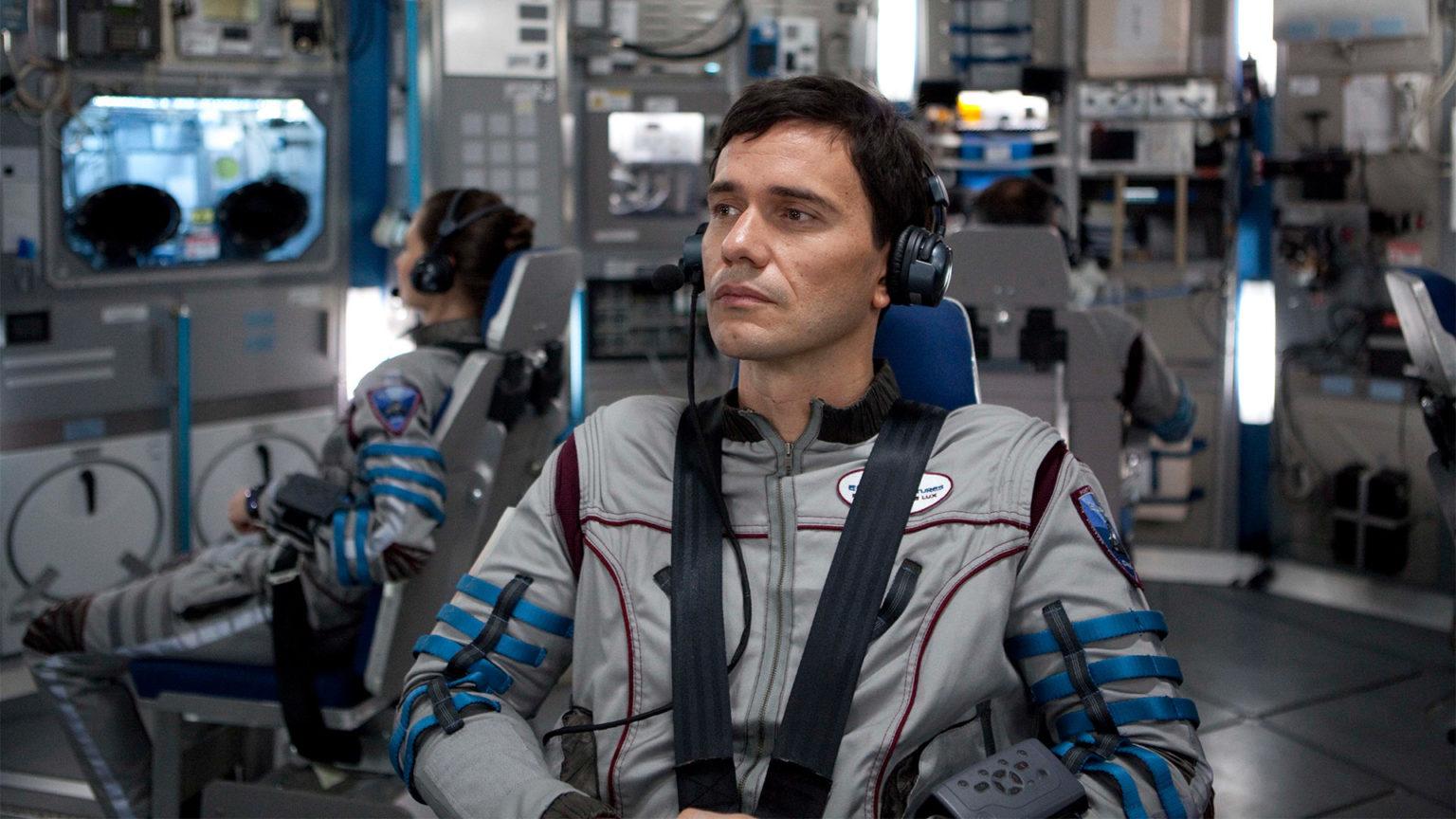 IMDB Rating – 6.4
Genre: Fantasy, Action, Thriller, Drama, Detective
Production: USA / 2012
US box office receipts: $125,687
Director: Sebastian Cordero
Starring: Christian Camargo, Anamaria Marinka, Mikael Nyquist, Daniel Wu, Caroline Otter, Sharlto Copley, Embeth Davidz, Isaiah Whitlock Jr.
The next picture on the list of space horror movies is quite unusual. It is built in the form of documentary recordings from a ship that was sent to Europa – a satellite of Jupiter. The expedition was sponsored by a private firm.
And the sixth satellite was chosen for a reason. Scientists believe it's where new life forms can be found. But the crew is caught in a solar storm and communications are cut off. Management learns what happened to the crew when they get their hands on the videotapes.
Not all viewers believe that such an atmospheric picture was filmed in Brooklyn.
Pitch Black
IMDB Rating – 7.1
Genre: Horror, Fantasy, Action, Thriller
Production: USA, Australia / 1999
Budget: $23,000,000
Worldwide Box Office: $53,187,659
Director: David Tuohy
Starring: Vin Diesel, Radha Mitchell, Cole Hauser, Keith David, Lewis Fitz-Gerald, Claudia Black, Rianna Griffith, John Moore, Simon Bourke, Les Chanterie.
This is the first movie that tells the adventures of Riddick. After the ship's systems fail, the crew decides to land on the nearest planet. But due to malfunctions, the landing does not go according to plan: many passengers, crew members and the captain die.
The survivors remain on an unknown planet, which is illuminated by three suns. The passengers are surrounded by desert, and there is nothing living around. They have to trust each other and learn to work as a team to fix the ship. Except when darkness comes, the humans are hunted by deadly creatures.
The Thing
IMDB Rating – 6.2
Genre: Horror, Fiction, Detective
Production: Canada, USA / 2011
Budget: $38,000,000
Worldwide Box Office: $31,505,287
Director: Mattis van Heynigen Jr.
Starring: Mary Elizabeth Winstead, Joel Edgerton, Ulrich Thomsen, Eric Christian Olsen, Adewale Akinnoye-Agbaje, Paul Brownstein, Trond Espen Seim, Kim Babbs, Jørgen Langhelle, Jan Gunnar Røjse.
During an expedition in Antarctica, a team of scientists finds an alien ship. People decide to penetrate the ship and explore it. But only the curious scientists do not even realize that at this moment they open Pandora's box.
Because of them, the "Something" wakes up. It comes to its senses and begins to pursue the scientists. And very soon, having gained strength, organizes a real massacre. The team will have to come up with a plan to seal the "Something" on the ship and prevent it from moving to the Big Earth.
Unlike the original movie, here the protagonist was a woman.
Origin (TV show)
IMDB Rating – 7.1
Genre: Horror, sci-fi
Production: UK / 2018
Director: Paul W. S. Anderson, Mark Brozel, Juan Carlos Medina
Starring: Natalia Tena, Tom Felton, Sen Mitsuji, Nora Arneseder, Fraser James, Philip Christopher, Madalyn Horcher, Siobhan Cullen, Edelayo Ededayo, Wil Coban
The passengers of a spaceship heading towards Theia come out of anabiosis. And while they are trying to come to their senses, it turns out that there is no one else on the ship but them. The captain and the entire crew have vanished without a trace. People can not understand how this happened and what to do next.
Strangers are forced to rally to survive and get to their destination. Except that soon they learn that among them there is a passenger who is hiding something. "Origin" – one of the best series about space.
Alien
IMDB Rating – 8.4
Genre: Horror, sci-fi, thriller
Production: UK, USA / 1979
Budget: $11,000,000
Worldwide Box Office: $99,932,689
Director: Ridley Scott
Starring: Sigourney Weaver, Tom Skerritt, Ian Holm, John Hurt, Harry Dean Stanton, Veronica Cartwright, Yaphet Kotto, Bolaji Badejo, Helen Horton, Eddie Powell.
In the year 2122, the spaceship Nostromo is traveling toward Earth on autopilot. The entire crew is immersed in anabiosis. But an automated system awakens the crew when it detects a constantly repeating signal. The crew assumes it's a call for help. The astronauts can't get past it. They change course to find the source of the signal.
The team lands on a desert planet where an alien ship is discovered. On its board, the crew finds some kind of vessels that look like eggs. One touch of them sets off a chain of events. And very soon the crew will have to fight for their lives and the safety of all mankind.
In the original version of the script, Ripley was a man.
Doom
IMDB Rating – 5.2
Genre: Horror, sci-fi, action movie
Production USA, UK, Czech Republic, Germany / 2005
Budget: $60,000,000
Worldwide Box Office: $55,987,321
Director: Andrzej Bartkowiak
Starring: Karl Urban, Rosamund Pike, Deobia Oparey, Ben Daniels, Razaak Adoti, Richard Brake, Al Weaver, Dexter Fletcher, Brian Steele, Dwayne Johnson.
The movie, based on the game, tells the events of 2026. Expeditions to Mars have long been successful. And now the planet is used for dangerous experiments. Once from the Martian laboratory received a distress signal. On Earth, a special team was quickly formed, which included experienced marines. The team was sent to Mars, to move using the Ark gate.
But on the planet the marines are waiting for the real chaos. It turns out that Dr. Carmack's experiments are out of control. And now the team needs to conduct a thorough cleanup of the laboratory. Only they are opposed by genetically modified mutants. Will the team manage to survive and prevent the invasion of monsters on Earth?
Apollo 18
IMDB Rating – 5.2
Genre: Horror, Fiction, Thriller, Detective
Production: USA, Canada / 2011
Budget: $5,000,000
Worldwide Box Office: $26,236,153
Director: Gonzalo Lopez-Gallego
Starring: Warren Christie, Lloyd Owen, Ryan Robbins, Michael Kopsa, Andrew Airlie, Kurt Max Runte, Jean Bos, Kim Wiley, Noah Wiley, Eli Liebert
In 1974, a secret mission is launched – Apollo 18 is sent to the Moon. The crew successfully lands on the spot, and after that strange things begin to happen. The astronauts install detectors, collect soil and fulfill the mission. But it seems to them as if there is someone on the moon.
They notice strange footprints, samples appear to have been moved without their knowledge. The team decides to find out who lives on the moon. The tracks lead them to the Soviet Proton spacecraft. But the cosmonaut is dead and his helmet is broken. The team realizes that they have discovered extraterrestrial life. However, they have no time to rejoice. A strange wound appears on the body of one of the astronauts.
To achieve the right atmosphere, the entire movie was shot on cameras with lenses from the 70s.
Cargo
IMDB Rating – 6.1
Genre: Fantasy, Thriller, Detective
Production: Switzerland / 2009
Budget: CHF 4,500,000
Director: Ivan Engler, Ralph Etter
Starring: Anna Schwabroch, Martin Rapold, Regula Grauwiler, Youngzom Brauen, Pierre Semmler, Claude-Oliver Rudolph, Michael Finger, Gilles Tschudi, Maria Bottner, Noah Struppler.
By 2267, Earth had become uninhabitable. All survivors have moved to space stations. Those who have money can start a new life on the planet Rhea. To get there Laura Portam becomes a crew member on the Cassandra. The cargo ship will fly to the station for 8 years. Of these 8 months the girl will have to be on duty.
At first everything goes quietly. But at the end of the shift Laura begins to hear a strange noise from the distant compartments of the ship. She wakes up the rest of the crew to thoroughly investigate all the holds. By chance, Laura discovers what they are actually carrying. And that's when the crew members start dying.
Infini
IMDB Rating – 5.4
Genre: Horror, sci-fi, thriller
Production: Australia / 2015
Budget: $800,000
Director: Shane Abbess
Starring: Daniel McPherson, Grace Huang, Luke Hemsworth, Luke Ford, Bren Foster, Dwayne Stevenson, Harry Pavlidis, Luisa Mignone, Kevin Copeland, Richard Huggett
Earth receives a distress call from a team working on a distant asteroid. The rescue mission is entrusted to an elite squad. Arriving at the site, the soldiers see a terrible picture – all the workers are dead. They carefully examine the asteroid, but never find the reason why people died. On the asteroid turns out to be one survivor – Whit Carmichael.
The squad does some research. Turns out there's a deadly virus in the air. And all it takes is one breath to become infected. The team realizes they'll never make it back to Earth. But there's something that the fighters can't get their heads around – how did Whit Carmichael manage to survive?
The budget of the picture was quite limited, so most of the shooting took place on the territory of an abandoned industrial complex.
The Cloverfield Paradox
IMDB Rating – 5.5
Genre: Horror, sci-fi, action, thriller, adventure
Production: USA / 2018
Budget: $26,000,000
Director: Julius Ona
Starring: Gugu Embata-Raw, David Oyelowo, Daniel Bruhl, John Ortiz, Chris O'Dowd, Axel Henney, Zhang Ziyi, Elizabeth Debicki, Roger Davies, Clover Nee
In the near future, the situation on Earth has changed beyond recognition. There are almost no resources, and people are ready to fight for them. At the same time, a group of scientists in space are trying to save humanity. They have created, and are now testing a device that will make it possible to leave the energy crisis in the past.
But so far, the researchers have failed miserably. And there is only fuel left for a few experiments. The team is on the verge of despair when success catches up with them. The device is launched and it would seem that now the world will be saved. But strange things begin to happen on the ship.
In the draft version of the painting was titled "Particle of God".
Event Horizon
IMDB Rating – 6.7
Genre: Horror, Fantasy, Thriller, Detective
Production: UK, USA / 1997
Budget: $70,000,000
US box office receipts: $26,673,242
Director: Paul W. S. Anderson
Starring: Laurence Fishburne, Sam Neill, Kathleen Quinlen, Joely Richardson, Richard T. Jones, Jack Knowe, Jason Isaacs, Jack Noyes. Jones, Jack Noseworthy, Jason Isaacs, Sean Pertuis, Peter Marinker, Holly Chant.
In the year 2047, a distress call is received from the ship Event Horizon, which has been missing for about seven years. The rescue ship Lewis & Clark is headed for Neptune to find survivors.
"Event Horizon" was an experimental project that tested a new generation of power plant. Except none of the crew survived. Rescuers discover only bloody footprints and one frozen corpse. Now the rescue team will have to find out what happened on board the ship.
It was quite a challenge for the actors. Their costumes weighed 25 kilograms each.
The Last Days on Mars
IMDB Rating – 5.5
Genre: Horror, sci-fi, thriller, adventure
Production: UK, Ireland / 2013
Budget: £7,000,000
Worldwide Box Office: $187,191
Director: Rory Robinson
Starring: Liev Schreiber, Elias Koteas, Romola Garay, Olivia Williams, Johnny Harris, Goran Kostich, Tom Cullen, Yusra Warsama, Patrick Joseph Burns, Lewis Macleod.
A team of scientists has been sent to Mars to conduct experiments and collect samples. In just a few days, the astronauts are due to go home. But then they make an incredible discovery. Some soil samples taken from the valley show signs of another form of life.
The scientists didn't report the discovery to their command and wait for the ship. They gathered their equipment and traveled to the valley again to find alien life there. The crew had no idea that they had gotten themselves into serious trouble.
Sally Hawkins was supposed to play Sally Hawkins in this project, but she dropped out and Olivia Williams took her place.
Stranded
IMDB Rating – 3.5
Genre: Horror, sci-fi
Production: Canada, UK / 2013
Budget: CA$ 2,000,000
Director: Roger Christian
Starring: Christian Slater, Amy Matisio, Michael Terriol, Brendan Fehr, Ryland Alexander, Lyndon Bray, Mark Claxton
A meteor shower causes the equipment on the lunar station to malfunction. This leads to serious breakdowns, and one of the astronauts almost dies. The team tries to save a colleague, but because of this an unknown virus penetrates the ship.
At first the crew does not notice anything. But soon people begin to be haunted by strange visions. Astronauts cease to distinguish what is real, and what is just a figment of the imagination. Panic grips the ship. The astronauts can't even trust themselves. But they will have to pull together and quickly find an antidote to survive and return home.
The Dark Side of the Moon
IMDB Rating – 5.0
Genre: Horror, sci-fi, action, detective
Production: USA / 1990
Director: D.J. Webster
Starring: Robert Sampson, Will Bledsoe, Joe Turkel, Camille Mohr, John Diehl, Wendy McDonald, Alan Blumenfield, Ken Lesko
The year is 2022. The crew of the spacecraft are engaged in a rather difficult and dangerous job. They are repairing failed satellites that have stockpiles of nuclear weapons on board. The crew's mission goes smoothly until they receive a distress call that comes from the back side of the moon.
The team discovers an abandoned spaceship. A full scan reveals that there are no living creatures inside. Except that's not entirely true. The undead have already begun hunting the astronauts.
The Dark Side of the Moon was the prototype for the movie "Through the Horizon".
Other Space Horrors
Intersect (2020)
Moontrap: Target Earth (2017)
Doom: Annihilation (2019)
Moontrap (1989)
Terafomazu (2016)
Star Runners (2009)
Savage Planet (2007)