Odessa Young is a rising Australian star born in 1998, the daughter of a musician and a writer. The actress has been involved in theater productions since high school, made her screen debut at age 11, starring in short films and appearing in small series roles.
The career of the young actress is rapidly evolving. At 18, she moved to the U.S., and her short name can already be seen next to the big celebrity names. The girl has great prospects, although there are not many works yet, and we have collected the best of them in our list of movies and series with the charming Odessa Young.
Manodrome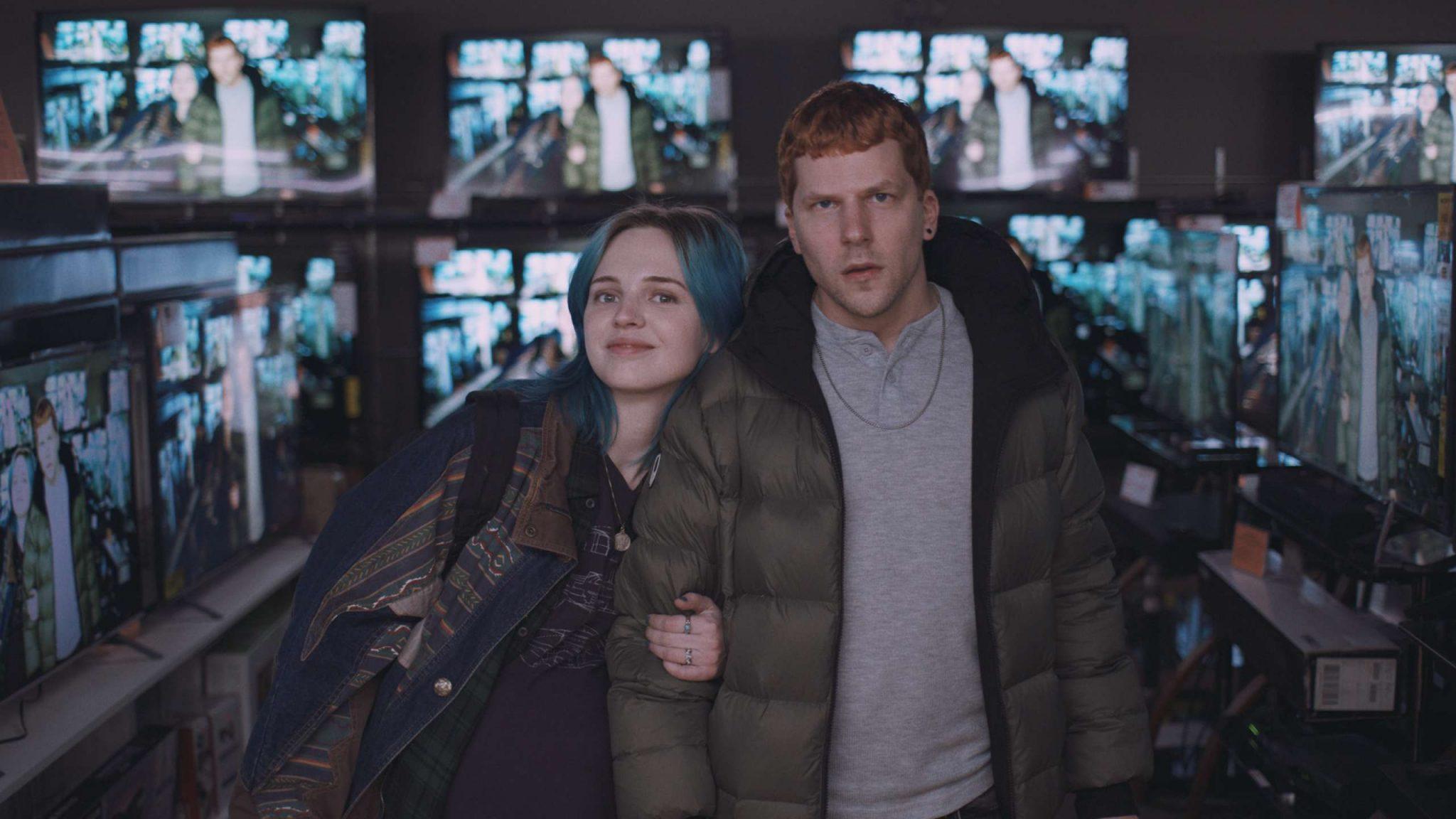 Rating IMDB – 6.0
Genre: Thriller, drama
USA, UK production / 2023
Directed by John Trengov
Cast: Jesse Eisenberg, Adrien Brody, Odessa Young, Philip Ettinger, Ethan Sapley, Evan Jonikit, Caleb Eberhardt, Gheorghe Mureshan, Brian Anthony Wilson
Manodrome is an exploration of toxic masculinity in the English-language debut of South African director John Trengow. Odessa Young plays Sal, the pregnant partner of young cab driver Ralphie, played by Jesse Eisenberg.
For Ralphie, life is going to hell, his earnings aren't enough to do anything and he's terrified about his future. Then one day a friend brings him to a kind of self-help group attended by only men. The group is run by the charismatic and assertive Daddy Dan, played by Adrien Brody, who preaches misogyny.
The film premiered in February 2023 in Berlin.
The Staircase (series)
Rating IMDB – 7.1
Genre: Thriller, drama, crime, detective, biography
USA production / 2022
Directed by Antonio Campos, Lee Gianiak
Cast: Colin Firth, Toni Collette, Michael Stuhlbarg, Patrick Schwarzenegger, Sophie Turner, Odessa Young, Dane DeHaan, Tim Gini, Vincent Vermington, Juliette Binoche
A detective series based on the 2004 French documentary series of the same name. Odessa Young plays Martha, one of the adopted daughters of the main character, thriller writer Michael Peterson (Colin Firth).
Michael is accused of murdering his wife, found at home at the foot of the stairs. The investigation generates a lot of conflict in the family and reveals all the background of Michael and the dead woman. French filmmakers decide to make a documentary based on the investigation, and Michael hires a lawyer to try to defend himself against the charges.
The series has been nominated for several awards, including Golden Globes and Emmys.
Mothering Sunday
Rating IMDB – 6.0
Genre: Drama, melodrama
UK, Germany production / 2021
Worldwide gross: $2 260 859
Directed by Eva Hasson
Cast: Odessa Young, Josh O'Connor, Sope Dirisu, Glenda Jackson, Olivia Colman, Colin Firth, Nathan Chester Reeve, Samuel Barlow, Dexter Raggett, Patsy Ferran
A British historical-romantic drama based on the book by Graham Swift in which actress Young played the title role of Jane Fairchild, a maid in the home of the wealthy Niven family.
One day Jane begins an affair with a neighbor, the offspring of an aristocratic family, Paul Sheringham. The girl knows that their passion is doomed. Years later, she becomes a writer and marries the intelligent Donald, keeping in her heart the trauma of one Mother's Sunday.
At the Cinéfest in Canada, the project won the award for Outstanding Female Film.
The Stand (mini-series)
Rating IMDB – 5.6
Genre: Horror, sci-fi, fantasy, thriller, drama, adventure
USA production / 2020
Directed by Josh Boone, Bridget Palardy, Daniel Crudie
Cast: James Marsden, Odessa Young, Alexander Skarsgard, Whoopi Goldberg, Gordon Cormier, Amber Heard, Jovan Adepo, Owen Teague, Irene Bedard, Brad William Henke
A gripping mystical psychological thriller starring Odessa Young in the important role of Francine Goldsmith, the strong-willed and desperate girl for whom most of the narrative unfolds.
It all starts with the end. The end of the world. A deadly virus bursts out of secret laboratories and wipes out almost all of humanity. Francine sees in her dreams Mother Abigail (Whoopi Goldberg), who tries to rally people in faith. At the same time, Randall Flagg (Alexander Skarsgard) appears in the vastness of a depopulated America, establishing his dictatorship.
The series is based on Stephen King's bestseller with an identical title.
Shirley
Rating IMDB – 6.1
Genre: Thriller, drama, detective, biography
USA production / 2020
Worldwide gross: $275 863
Directed by Josephine Decker
Cast: Elizabeth Moss, Odessa Young, Michael Stuhlbarg, Logan Lerman, Victoria Pedretti, Robert Wool, Paul O'Brien, Orla Cassidy, Allen McCullough
Although this drama tells the story of the famous writer Shirley Jackson, the film cannot be considered a biopic – there is too much fiction in the script. Odessa Young plays Rose, a young woman who rents a room with her husband in the house of the horror novelist.
Rose is an ardent Jackson fan. However, realizing the power she has over Rose, Shirley begins to perform psychological experiments on her in order to more carefully write Paula, the mysteriously missing girl in her new creation. Rose loses herself and moves swiftly toward self-destruction under the heavy control of the queen of horror.
In this film, Odessa Young has her first nude scenes.
The Giant
Rating IMDB – 4.3
Genre: Thriller, Crime, Detective
USA, France production / 2019
Budget: $10 000 000
Worldwide gross: $770 962 583
Directed by David Raboy
Cast: Odessa Young, Ben Schnetzer, Jack Kilmer, Madeline Kline, Danny Ramirez, P.J. Marshall, Samantha Binkerd, Nicholas Cirillo, Ezekiel Ajigbe, Taylor Hanks
Not Odessa Young's most successful project. The acting is good, but the convoluted and superficial narration leaves an unpleasant residue and regret for the time spent.
Charlotte spends the summer before college in a small Georgia town. A year ago, the girl's mother died and her lover disappeared, leaving her with a broken heart. Murders of young girls begin in the area, and at the same time Charlotte begins to see her missing boyfriend on the streets, quickly sinking into a frenzy of emotional stress.
At the San Sebastian Film Festival, David Raboy was nominated for Best Debutant Director.
The Professor
Rating IMDB – 6.7
Genre: Drama, comedy
USA production / 2018
Worldwide gross: $3 645 308
Directed by Wayne Roberts
Cast: Johnny Depp, Rosemary DeWitt, Odessa Young, Danny Huston, Zoey Deutch, Devon Terrell, Ron Livingston, Linda Emond, Matreya Scarrviner, Siobhan Fallon
Great comedy about an eccentric college professor, a film starring Johnny Depp and Odessa Young as father and daughter. Depp portrays Richard Brown, who discovers he has cancer.
Upon arriving home, Richard tries to inform his wife and daughter of his condition, but they won't let him say a word, dumping a mountain of their own news on the father and husband, which seems very important to the women, but to Richard himself, in light of the tragic diagnosis, ridiculous and petty. From now on, the professor decides to live his life the way he wants, not the way "accepted" or "decent"…
The film had its world premiere in Zurich in the fall of 2018.
Assassination Nation
Rating IMDB – 6.0
Genre: Thriller, drama, comedy, crime
USA, Canada production / 2018
Worldwide gross: $2 584 988
Directed by Sam Levinson
Cast: Odessa Young, Abra, Sookie Waterhouse, Hari Nef, Colman Domingo, Danny Ramirez, Joel McHale, Maude Apatow, Cody Christian, Bill Skarsgard
A black comedy in an alternate world setting tells the story of four high school girls living in the fictional town of Salem. Lily (Odessa Young) is the leader of the girls, who spends all her time partying and social networking.
Then one day, an unknown hacker hacks into every computer in town and spills every resident's dirty laundry for all to see. Lily discovers that her best friends are disgusting people, and she herself becomes the object of harassment by the good half of the town, wearing masks and armed with truncheons.
Director and screenwriter Sam Levinson distributed the script to the girls playing the four girlfriends and asked them to make modern and "feminine" adjustments to the images of their characters.
Celeste
Rating IMDB – 5.6
Genre: Drama, music
Australia production / 2018
Directed by Ben Hackworth
Cast: Rada Mitchell, Thomas Cockerell, Nadine Garner, Odessa Young, Emily Weissman, Fernando Camargo, Aaron Davison, Ron Kelly
"Celeste" is an Australian drama about the fate and love of a fictional opera singer who once went off into the wilderness with her lover. But their happiness did not last long–the man died.
Ten years later, Celeste seeks out his son Jack and asks him to come and stay with her on the estate to perform a mysterious task. Odessa Young plays the role of Rita, Jack's girlfriend. The fragile, broken drama set against the backdrop of Queensland's picturesque forests provides a story of love, loyalty and redemption.
 The film was nominated for Best Film at the Adelaide Film Festival.
A Million Little Pieces
Rating IMDB – 6.2
Genre: Drama
USA production / 2018
Worldwide gross: $89 825
Directed by Sam Taylor-Johnson
Cast: Aaron Taylor-Johnson, Billy Bob Thornton, Odessa Young, Giovanni Ribisi, Juliette Lewis, Dash Mayock, Charles Parnell, Ryan Hurst, David Dastmalchian, Tom Amandes
This is about the number of pieces that shatter the life of James, a drunken alcoholic who one day wakes up on an airplane with no memory of the last weeks of his life. Fortunately, the airliner carries him to a rehabilitation clinic, where he is to find more than just treatment.
He gradually becomes close to the wisecracking mobster Leonard and the nervous girl Lilly (Odessa Young), souls just like him, restless and searching for a new purpose in life.
James Frey is a real person, and it was his memoirs that created the script for this film.
High Life (web series)
Rating IMDB – 6.8
Genre: Drama
Australia production / 2017
Directed by Luke Eve
Cast: Millie Allcock, Brendan Donohue, Paul Gleeson, Anita He, Madeleine Madden, Luke Pegler, Olivia Pigot, Odessa Young, Ariel Joy Donohue
The web series High Life is not particularly known to the general public, although it has won many awards. And, by the way, it has a second title: "High Life". Odessa Young plays here the main and challenging role of a 17-year-old girl Genevieve, who suffers from bipolar disorder.
During a high school jazz band rehearsal, Genevieve suddenly impulsively leaves class, and her friend Ben rushes after her. The girl behaves extremely inadequately, unaware that she is having a seizure, and her "antics" gradually start to go too far.
At the Vancouver Web Festival, Odessa Young was announced the best actress of the year in the genre.
Sweet Virginia
Rating IMDB – 6.2
Genre: Action, thriller, drama
Canada production / 2017
Worldwide gross: $14 725
Directed by Jamie M. Dugge
Cast: John Bernthal, Christopher Abbott, Imogen Poots, Rosemary DeWitt, Odessa Young, Joseph Lyle Taylor, Jonathan Tucker, Gary Chock, Jared Abrahamson, Gabrielle Rose
The aspiring noir of Canadian Jamie M. Dugga tells of the friendship between former rodeo champion and Sweet Virginia Hotel owner Sam and visiting boy Elwood and the grim consequences of that friendship. Odessa Young plays the small role of Maggie.
Unbeknownst to Sam, Elwood is actually a hired assassin who carried out the order of a local woman, Lila, to murder her husband, and at the same time shot and killed the spouse of Sam's mistress Bernadette, and is now waiting for the money he was promised for the order.
The film premiered at the Tribeca Festival in 2017.
The Daughter
Rating IMDB – 6.6
Genre: Drama
Australia production / 2015
Directed by Simon Stone
Cast: Geoffrey Rush, Ewen Leslie, Paul Schneider, Miranda Otto, Anna Torv, Nicholas Hope, Sam Neal, Richard Sutherland, Robert Menzies, Eden Falk, Odessa Young
An Australian drama film starring Odessa Young as Hedwig, the half-sister of the protagonist, a minor but key character that gives the film its title and an impressive and touching ending.
Christian Nielsen, a longtime resident of the States, returns to Australia to attend the wedding of his widower-dad Henry to his young housekeeper, Anna. Here he accidentally discovers that Hedwig, his best friend Oliver's daughter, is in fact Henry's daughter. He drinks heavily, shocked by this news and tells both Oliver and Hedwig the whole truth.
For this role, Odessa Young was awarded the Australian equivalent of an Oscar, the AASTA Award.
Looking for Grace
Rating IMDB – 5.2
Genre: Drama
Australia production / 2015
Worldwide gross: $147 164
Directed by Sue Brooks
Cast: Radha Mitchell, Richard Roxburgh, Odessa Young, Harry Richardson, Andrea Gibbs, Vito De Francesco, Terry Norris, Miles Pollard
A family drama, divided into chapters, the events of which are set in the picturesque Australian countryside. Odessa Young played the title role, 16-year-old Grace, who steals her father's stash and leaves with her best friend for a music festival.
Unsure where their daughter has disappeared to, Grace's parents, Dan and Denise hire an elderly absent-minded private investigator, Tom, who is hardly capable of a spectacular investigation, but fills the narrative with retirement humor. Gradually, the real reason for the girl's escape from her gray, depressed life in her parents' house is revealed.
This is Odessa Young's first starring role in a feature film.