This article contains information about the best survival game movies. There is a brief description of each movie and interesting facts that many people don't know about.
Death's Roulette
IMDB Rating – 5.4
Genre: Thriller, Drama, Detective
Production: Mexico / 2023
Director: Manolo Cardona
Starring: Manolo Cardona, Maribel Verdu, Carla Adell, Dagoberto Gama, Juan Carlos Remolina, Fernando Beserril, Adriana Paz, Thiago Correa, Suly Castillo, José Miguel Ramos.
The plot of kidnapped strangers who become participants in a deadly game has been known for a long time. From the cult "Cube" to the impressive "Saw", films of this genre are characterized by powerful intrigue, vivid suspense and unexpected endings.
"Roulette of Death" from Paramount+ is a Mexican movie with the same theme. Viewers are thrown right into the thick of things, in a mansion, where seven bound people come to their senses. A flight attendant, a doctor, a retiree, and others – they've never met. A mysterious voice offers them a deadly game in which perhaps no one will survive.
The movie was directed by popular Colombian actor Manolo Cardona, who played one of the main roles.
The Hunt
IMDB Rating – 6.5
Genre: Action, Comedy, Thriller
Production: USA, Japan / 2019
Budget: $14,000,000
Worldwide Box Office: $8,621,288
Director: Craig Zobel
Starring: Betty Gilpin, Hilary Swank, Ike Barinholtz, Wayne Duvall, Ethan Sapley, Emma Roberts, Christopher Berry, Sturgill Simpson, Kate Knowlin, Amy Madigan
The movie "The Hunt" is an action movie with elements of comedy that keeps you in suspense throughout the entire viewing. A group of people at the beginning of the movie are discussing a manhunt in a chat room without any caution…
Several people wake up in a clearing in the woods with gags in their mouths, having no idea how they got here, and find a nearby crate of weapons they will need to survive.
Universal Studios halted the action movie's August 2019 ad campaign for the time being due to mass shootings in U.S. states.
Ready or Not
IMDB Rating – 6.9
Genre: Thriller, Comedy, Horror
Production: USA, Canada / 2019
Budget: $6,000,000
Worldwide Box Office: $57,615,777
Directed by Matthew Bettinelli, Tyler Gillette
Starring: Samara Weaving. Adam Brody, Mark O'Brien, Henry Cerny, Andie MacDowell, Melanie Scrofano, Christian Bruun, Elise Leveque, Nikki Guadagni, John Ralston
The movie begins with the wedding of a young couple. A girl named Grace wants to quickly become part of a new family in which they honor age-old traditions. She has to fulfill a difficult test – to play hide-and-seek in order to be one of them.
The main character does not take this game seriously, because she does not know that a real hunt for her will begin. Throughout the movie the girl will try to survive until dawn, because then the game will end.
The movie was filmed over 26 days at various locations in Toronto, such as Casa Loma Castle and Clairville Reserve.
Games in the dark
IMDB Rating – 5.4
Genre: Thriller, Drama
Production: Russia / 2013
Director: Ilona Zhunda, Mila Fakhurdinova, Evgeny Belov, Christina Rabotenko, Julia Lysova, Anton Zhadko, Alexey Dvoeglazov, Anton Alexandrov, Yan Fedoseev, Sergey Zotov, Vitaly Shalamov, Yulia Volkova.
Starring: Elena Antipova, Sergei Vershinin, Andrei Ohanyan, Yevgeny Senchenko, Anna Zaryankina, Maria Pozdnyakova, Svetlana Sandrakova, Valery Novikov, Julia Zheleznyak, Yevgeny Galenko.
Terminally ill people are offered the opportunity to extend their lives. They need to play a game that requires 100,000 dollars and confirmation of their diagnosis.
The point is to find a healthy donor who actually collected them. People will only be able to rely on their intuition, eyes and ears. The game will end when the donor is found or when the last sick person dies.
The movie is based on the principle of the literary game of Burimé.
Exam
IMDB Rating – 6.8
Genre: Thriller, Detective
Production: UK / 2009
Worldwide box office receipts: $394,717
Director: Stuart Hazeldine
Starring: Adar Beck, Gemma Chan, Natalie Cox, John Lloyd Fillingham, Chakwudi Iwuji, Pollyanna McIntosh, Luke Mabley, Jimi Mistri, Colin Salmon, Chris Carey
A large company organizes a selection of the 8 most successful students to be hired for a vacant position. To do this, they are brought into a room where there are desks with a pen and a piece of paper on them. They have one question that they have to answer within 80 minutes. The movie forces you to think, because it is unclear what is going on in it.
In September 2012, there was a stage adaptation of the thriller in England.
Fermat's Room
IMDB Rating – 6.7
Genre: Thriller, Detective
Production: Spain / 2007
Worldwide box office receipts: $979,921
Director: Luis Piedraita, Rodrigo Sopeña
Starring: Alejo Sauras, Helena Ballesteros, Lewis Omar, Santi Milian, Federico Luppi, Ariadna Cabrol, San Elamos, Alicia Fernandez, Cesc Cornet, Juanma Falcón.
A stranger gathers four unrelated mathematicians to solve a complex rebus. They meet at the appointed place – the abandoned house of the host, who called himself Fermat.
The guests think they have a puzzle to solve, but fall into a death trap for 2 days, during which the walls of the house will slowly shrink.
The characters were named after 3 great mathematicians – Pascal, Galois, Hilbert and a Spanish writer – Oliva Sabuco.
Squid Game (TV show)
IMDB Rating – 8.0
Genre: Thriller, Drama
Production: Korea South / 2021
Budget: $21,000,000
Director: Hwang Dong-hyuk
Starring: Lee Jong-jae, Park Hae-soo, Oh Young-soo, Jeon Ho-young, Ho Sung-tae, Anupam Tripathi, Kim Ju-ryong, Wi Ha-joon, Yoo Seong-ju, Lee Yoo-mi
"Squid Game" is a South Korean TV series about people who, due to lack of financial resources, are forced to participate in a mysterious survival game. The reward for one winner will be a huge piggy bank with money.
The series has 9 episodes, each of which keeps the viewer in suspense and does not give boredom. It is watched in one breath and there is always a desire to know what will happen next. Squid Game, also takes a worthy place in the selection of the most interesting series.
The phone number present on the cards for the game is real.
Follow Me
IMDB Rating – 5.4
Genre: Horror, Thriller
Production: USA / 2020
Worldwide Box Office: $4,303,832
Director: Will Wernick
Starring: Keegan Allen, Holland Roden, Denzel Whitaker, Ronen Rubinstein, Pavel Lychnikov, George Yanko, Sia, Daniyar, Dimitar Marinov, Emilia Ares Zoryan
Video blogger Cole travels around the world in search of different challenges. He participated in all sorts of quests, and for him it has already become a common thing. Burial alive and other extreme situations are not afraid of him. And now he is invited to a test in Moscow, which will be the most difficult for him, because here you can really die.
The film started shooting on August 29, 2018 and finished on October 1, 2018.
Escape Room
IMDB Rating – 6.4
Genre: Thriller
Production: USA, South Africa / 2019
Budget: $9,000,000
Worldwide Box Office: $155,712,077
Director: Adam Robitel
Starring: Taylor Russell, Logan Miller, Jay Ellis, Tyler Labine, Deborah Ann Wall, Nick Dodani, Yorick van Wageningen, Cornelius Gini Jr, Russell Krauss, Bart Fasch
The main characters are ordinary people who have nothing to do with each other. They receive a puzzle in the form of a black cube. At first they cannot solve it, but then they do. And the heroes find in the puzzle an invitation from a mysterious organization on a quest, the main prize of which will be 10000 dollars.
Without the slightest apprehension all six participants declare to the place of destination, where they face a real danger, which no one expected.
After a fire at a quest in Poland where 5 girls died, the movie's premiere date was postponed in several countries.
13 Sins
IMDB Rating – 6.3
Genre: Thriller, Horror
Production: USA / 2013
Budget: $4,000,000
Worldwide Box Office: $826,913
Director: Daniel Stamm
Starring: Mark Webber, Rutina Wesley, Devon Graye, Pruitt Taylor Vince, Tom Bauer, Ron Perlman, Clyde Jones, Deneen Tyler, Tom Lawson Jr.
A young man, mired in debt, answers a phone call in which he is invited to a unique game show, where you need to perform only 13 tasks. The main prize is a cash prize. He is told to kill a fly – the protagonist easily kills it and gets 1000 dollars.
But further – more interesting, the tasks gradually become more difficult and risky. There comes a moment when the player wants to finish the game, but he can't.
The movie is a remake of the movie "13 Sweethearts."
Cube
IMDB Rating – 7.2
Genre: Fantasy, Thriller, Horror
Production: Canada, USA / 1997
Budget: CA$365,000
US box office: $501,818
Director: Vincenzo Natali
Starring: Nicole de Boer, Nikki Guadagni, David Hewlett, Andrew Miller, Julian Richings, Wayne Robson, Maurice Dean Vint.
"Cube" is a series of thrillers, where a group of people find themselves locked in the center of a cube building, which has hatches for passage to exactly the same other rooms. In each room there are traps, and the main characters need to work together to find the key to get out of them.
In the 1997 movie, most of the scenes were shot with a handheld camera, and the filming itself took place in a recording studio in Toronto.
Battle Royale
IMDB Rating – 7.6
Genre: Action, Thriller, Fantasy, Drama
Production: Japan / 2000
Budget: $4,500,000
Worldwide Box Office: $861,959
Director: Kinji Fukasaku
Starring: Tatsuya Fujiwara, Takeshi Kitano, Aki Maeda, Taro Yamamoto, Ko Shibasaki, Tiaki Kuriyama, Masanobu Ando, Sosuke Takaoka, Takashi Tsukamoto, Yukihiro Kotani
A thriller based on the novel by Koshun Takami. The government sets up a brutal survival game between the students of a school, sending them to a deserted island in the ocean. The schoolchildren are to callously kill each other with every possible method and object they can find. There will be only one winner – the survivor of the bloody island.
This movie shows the social problems of the society. It became one of the most profitable movies in Japan. The actors who starred in it had no understudies.
Truth or Dare
IMDB Rating – 5.6
Genre: Horror, Detective
Production: UK / 2011
Budget: $1,000,000
Worldwide Box Office: $260,588
Director: Robert Heath
Starring: Jenny Jacques, David Oakes, Liam Boyle, Florence Hall, Alexander Vlahos, Jack Gordon, Thomas Kane, David Stern, Jason Mazza, Mark Underwood
The brother of a student who committed suicide decides to establish the reason why his loved one decided to die. For this purpose, the guy gathers five students who were related to his relative in a country house. And begins a game of survival in the form of "Truth or Action", which throughout the plot keeps the audience in suspense.
The tagline of the movie is the phrase "The truth will kill you!"
Guns Akimbo
IMDB Rating – 5.6
Genre: Horror, Detective
Production: UK / 2011
Budget: $1,000,000
Worldwide Box Office: $260,588
Director: Robert Heath
Starring: Jenny Jacques, David Oakes, Liam Boyle, Florence Hall, Alexander Vlahos, Jack Gordon, Thomas Kane, David Stern, Jason Mazza, Mark Underwood
A young man named Miles develops mobile games and considers himself a loser. His hobby is trolling on the internet. After insulting one of the users of a survival reality show, psychopaths break into his house, and he himself becomes a participant in this game.
To his hands are screwed 2 guns, with which the protagonist will have to kill one of the best players – Nix.
Daniel Radcliffe and Ned Dennehy have already starred together in one part of the Harry Potter movie.
Funhouse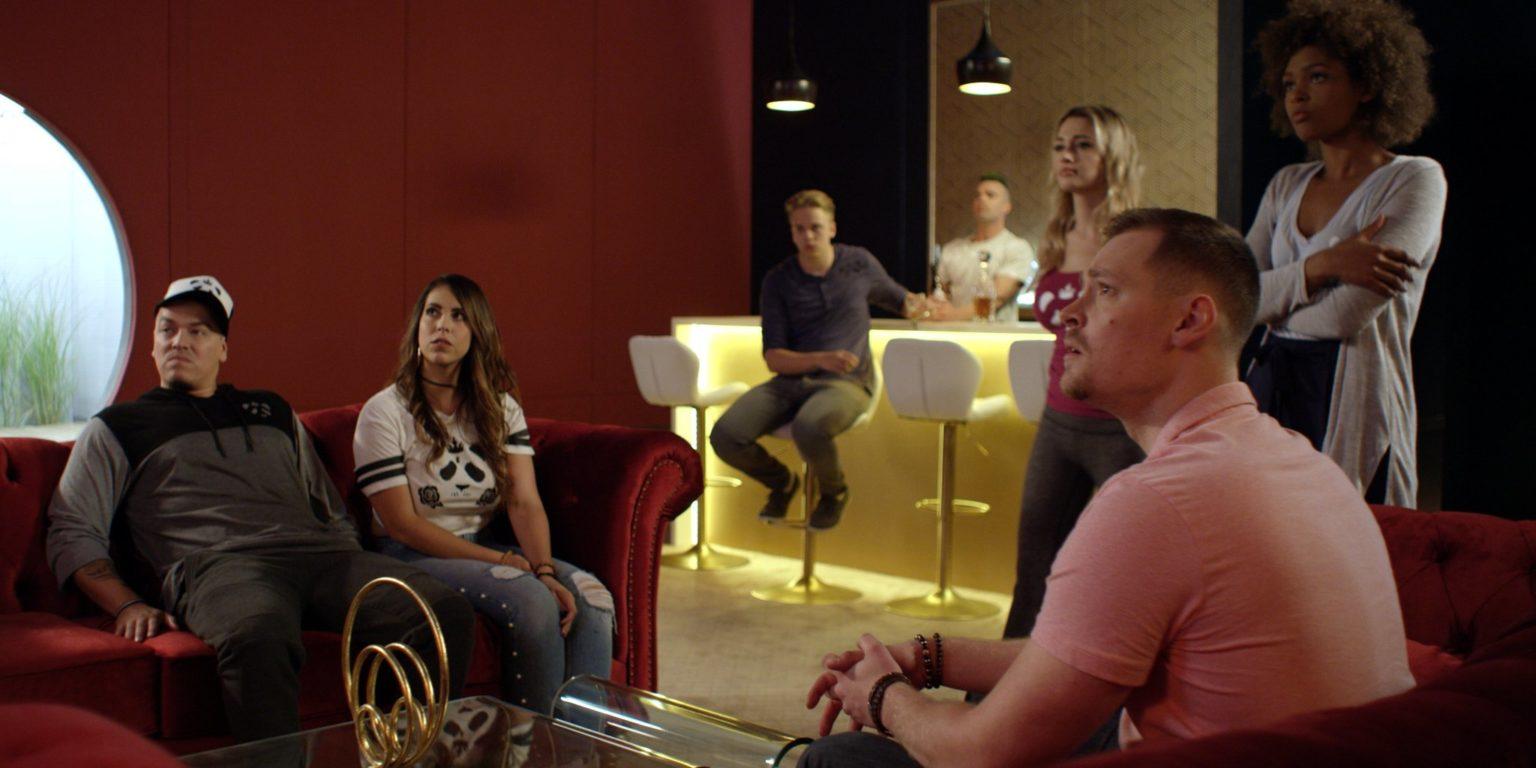 IMDB Rating – 5.5
Genre: Horror, Thriller, Drama, Crime
Production: Sweden, Canada / 2019
Worldwide Box Office: $110,571
Director: Jason William Lee
Starring: Walter Skarsgard, Gigi Sol Guerrero, Carolina Benefield, Christopher Gerard, Chamisa Wilsher, Amanda Howells, Matthias Retamal, Daley Nelson, Jerome Wielinski, Kylie Bush
8 Internet celebrities, who are united by their passion for money, are about to participate in an online show for a cash reward. But what they don't know is that their own lives will be at stake.
The viewers of this project decide for themselves who lives or dies, giving the main characters progressively more difficult and unusual tasks.
The movie's director Jason William Lee is known for his works in the sci-fi genre, such as The Evil Within Us.
The Hunger Games
IMDB Rating – 7.2
Genre: Fantasy, Action, Thriller, Adventure
Production: USA / 2012
Budget: $78,000,000
Worldwide Box Office: $694,394,724
Director: Gary Ross
Starring: Jennifer Lawrence, Josh Hutcherson, Liam Hemsworth, Woody Harrelson, Elizabeth Banks, Wes Bentley, Donald Sutherland, Stanley Tucci, Lenny Kravitz, Amandla Stenberg.
A movie based on the novel of the same name by Susan Collins, telling the story of the survival games watched by all the people in one powerful state. Each year the government recruits 24 contestants by lot, who must fight among themselves, betray and be exposed to a variety of dangers.
When the game is over, there must be one winner who will be rewarded for all the hardships he has overcome.
The action of the movie is set in the invented country of Panem, the name of which comes from the Latin phrase "panem et circenses", meaning "bread and circuses".
The Belko Experiment
IMDB Rating – 6.1
Genre: Horror, Thriller
Production: USA / 2018
Budget: $5,000,000
Worldwide Box Office: $11,084,630
Director: Greg McLean
Starring: John Gallagher Jr, Tony Goldwyn, Adria Archona, John C. McGinley, Melonie Diaz, Owain Yeoman, Sean Gunn, Brent Sexton, Josh Brener, David Dastmalchian
Employees of a large company are locked in a multi-storey building during work, where they are offered to kill 30 of their colleagues over the phone. At first no one takes it seriously, but further circumstances force the employees to change their minds.
From that moment on, the battle royal in the office begins. Every employee of the company has to count only on themselves to survive here.
The idea that pushed director James Gunn to make the movie came to him in a dream, where he saw his future plot.
Nerve
IMDB Rating – 6.5
Genre: Action, Thriller, Drama, Crime, Adventure
Production: USA / 2016
Budget: $19,000,000
Worldwide Box Office: $85,251,425
Director: Henry Joost, Eriel Shulman
Starring: Emma Roberts, Dave Franco, Emily Meade, Miles Heizer, Juliette Lewis, Kimiko Glenn, Mark John Jeffries, Machin Gun Kelly, Brian "Sene" Mark, Ed Squire
A girl nicknamed Vee learns about an online show like "Truth or Dare". Her classmates persuade her to participate in it, because there you can earn decent money. The protagonist, who used to have complexes, decides to go to this game and shows special courage.
With each round the actions become more and more risky and dangerous. There comes a moment when the participants realize that by their own decision to get out of the show will not work. Their fates are now in the hands of the game organizers.
The movie was scripted to have one sexual act that was not filmed so that it would be available for younger people to see.
Unfriended (2015)
IMDB Rating – 5.5
Genre: Horror, Thriller, Detective
Production: USA, Russia / 2015
Budget: $1,000,000
Worldwide Box Office: $62,882,090
Director: Levan Gabriadze
Starring: Shelley Hennig, Moses Storm, Renie Olstead, Will Peltz, Jacob Wysocki, Courtney Halverson, Heather Sossaman, Matthew Borer, Mickey Rivera, Cal Barnes
Young students go into a group chat room after school, but a stranger joins them. At first everyone thinks it's a glitch, until the stranger writes that he wants to know who posted the nasty video of their friend Laura Barnes. After all, she had a meltdown after it.
Classmates don't yet know that just walking out of the conversation isn't going to work. The person who joined the chat room will pursue the truth by any means necessary.
The accounts demonstrated in the movie actually exist and can be found.
Unfriended: Dark Web (2018)
IMDB Rating – 6.0
Genre: Horror, Thriller, Detective
Production: USA, Russia / 2018
Budget: $1,000,000
Worldwide Box Office: $16,024,987
Director: Steven Sasko
Starring: Colin Woodell, Stephanie Nogueras, Betty Gabriel, Rebecca Rittenhouse, Andrew Lees, Connor Del Rio, Savira Vindiani, Douglas Tate, Brian Adrian, Chelsea Elden
In the 2018 movie, the plot is a bit different. Matias – a young man who bought himself a new laptop, finds on it hidden files related to torture and darknet. The previous owner is ready to return the technique to himself at any cost, and threatens to kill the guy's girlfriend.
Circle
IMDB Rating – 6.0
Genre: Horror, Fantasy, Thriller, Drama, Detective
Production: USA / 2015
Director: Aaron Hahn, Mario Misione
Starring: Allegra Masters, Aimee McKay, Ashley Key, Otem Federici, Bill Lewis, Brent Stiefel, Cameron Cruz, Carter Jenkins, César Garcia Gómez, Coli Mustafa Speakes
People who don't know each other wake up in a dark cell. They have no idea how or why they are here. People are standing in a circle. Each of them has his own red circle, beyond which they cannot go, or else they will die instantly.
After a certain amount of time, a device in the center of the large circle kills one of them. During this deadly game, it becomes clear that the participants choose their own victim. The killing ends when there is only one survivor left.
The movie touches on the problems of discrimination against people.
After the Dark
IMDB Rating – 5.7
Genre: Drama, Fantasy, History
Production: USA, Indonesia / 2013
Worldwide Box Office: $1,770,376
Director: John Huddles
Starring: Sophie Lowe, James D'Arcy, Reese Wakefield, Daryl Sabara, Bonnie Wright, Freddie Stroma, Jacob Artiste, Katie Findlay, Abhi Sinha, Hope Olade Wilson
A philosophy professor at the last class of students suggests them to conduct an experiment – to hide the whole group in a safe bunker, imagining that there is a global catastrophe.
But there is one problem: the supplies in the shelter are exactly for a year and for 10 people, and there are 21 of them. We will have to decide who is worthy to stay in this place. This experiment will be the most difficult and unusual in their lives.
The names of several of the main characters are only revealed in the credits after the movie.
Would You Rather
IMDB Rating – 5.7
Genre: Thriller, Horror
Production: USA / 2012
Director: David Guy Levy
Starring: Brittany Snow, Jeffrey Combs, Jonathan Coyne, Lawrence Gilliard Jr., Enver Gyokai, Sasha Gray, John Hurd, Charlie Hofheimer, Eddie Staples, June Schuib.
A young girl named Iris takes care of her sick brother after the death of her parents. One day they are met by a rich man who invites them to his mansion for a dinner party. They accept, as well as other desperate people. But no one knows that the dinner will unexpectedly become a deadly game, the winner of which will receive a cash reward.
The movie starred porn actress Sasha Grey.
Panic Button
IMDB Rating – 5.3
Genre: Horror, Thriller
Production: UK / 2011
Budget: £300,000
Director: Chris Crowe
Starring: Scarlett Johnson, Jack Gordon, Michael Jibson, Helen Rees, Joshua Richards, Vern Ray, Meji McCarthy, Sarah Parks, Christopher Kale, Ree Richards.
A company of four young people have won tickets to New York. They are invited aboard a private jet where they are offered to play a new social game with amazing and luxurious prizes.
They are to answer questions. However, during the game, the protagonists realize that their lives are in danger. After all, they are flying, and it is impossible to escape.
At the beginning of the movie it says that it is based on real events, but there is no information about such a fact on the Internet.
Truth or Dare
IMDB Rating – 5.2
Genre: Horror, Thriller
Production: USA / 2018
Budget: $3,500,000
Worldwide Box Office: $95,330,493
Director: Jeff Wadlow
Starring: Lucy Hale, Tyler Posey, Violet Bean, Hayden Szeto, Sophia Taylor Ali, Nolan Gerard Funk, Landon Liboiron, Sam Lerner, Tom Choi, Aurora Perrineau
Young people get together and play a famous game with the same name as the movie. All would be nothing until one man reveals that he has gathered the company for a reason.
Young people learn that lying, wrongly performed action or refusal to play the game leads to death. In the course of the plot, the main characters will have to perform difficult tasks and learn the bitter truth, as well as understand how to outsmart the game and turn out to be the winner.
"Truth or Action" has been around for quite some time, for example in 1712 it was implemented as a game of questions and teams.
Saw
IMDB Rating – 7.6
Genre: Horror, Thriller, Detective
Production: USA / 2004
Budget: $1,200,000
Worldwide Box Office: $103,096,345
Director: James Wan
Starring: Lee Whannell, Cary Elwes, Danny Glover, Monica Potter, Tobin Bell, Dina Meyer, Ken Leung, Michael Emerson, Shawnee Smith, Benito Martinez.
The horror movie series "Saw" tells about how important it is to value your life in a rather unusual way. The main antagonist of the movies will catch people and arrange survival games for them. Everything is important here: small details, past events that took place during the life of the participants. They will have to pass very difficult tests to stay alive.
The new survival game movie "Spiral: From the Book of Saw" has the lowest rating of all installments.

The film series has become the highest-grossing of all horror films.
No Escape Room
IMDB Rating – 5.1
Genre: Horror
Production: USA / 2018
Director: Alex Merkin
Starring: Jenny Ross, Mark Ganime, Hamza Haq, Katherine Davis, Dennis Andres, Brianna Barnes, Kate Harman, Mark Gallant
"No Escape Room" is an American horror movie where young people decide to sign up for a quest after seeing it in a newspaper advertisement. When they arrive there are several other people there who will also participate in the game.
At first glance, all people face a simple task – to get out of the house. But as the plot progresses, the situation heats up and it becomes clear that there is an evil spirit.
The Game
IMDB Rating – 7.7
Genre: Thriller, Drama, Detective, Adventure
Production: USA / 1997
Budget: $50,000,000
Worldwide box office receipts: $109,423,648
Director: David Fincher
Starring: Michael Douglas, Sean Penn, Deborah Cara Anger, James Rebhorn, Peter Donat, Carroll Baker, Anna Katharina, Armin Mueller-Stahl, Charles Martinet, Scott Hunter McGuire.
A rich and successful man who has everything he needs has a birthday coming up. Nothing surprises him anymore and nothing brings him pleasure. His brother Conrad gives the protagonist a certificate for participation in the quest, guaranteeing that life will become more fun.
After all, the game is customized for each client. The man enters the game, at the end of which an unpredictable ending awaits him. This is one of the best movies with an unpredictable ending.
Canadian actress Deborah Kara Unger broke her leg during filming and visited a dumpster full of real rats.
The Killing Room
IMDB Rating – 5.7
Genre: Thriller, Detective
Production: USA / 2008
Worldwide box office receipts: $467,220
Director: Jonathan Liebesman
Starring: Nick Cannon, Clea DuVall, Timothy Hutton, Chloë Sevigny, Peter Stormare, Shay Wigham, Anoop Kaur Sikand, Bill Stinchcomb, Meade Patton, Luke Sexton
A certain company wants to conduct experiments on human mind control and hires several volunteers, paying each of them 250 dollars. They are brought to a room that no one knows exists, and they themselves are already missing. The participants will have to answer questions correctly and fight each other to survive.
The movie was based on true events and was also officially selected by the Sundance Film Festival.
Escape Room
IMDB Rating – 4.3
Genre: Horror
Production: USA / 2016
Worldwide Box Office: $1,696,568
Director: Peter Dukes
Starring: Skeet Ulrich, Sean Young, Kristin Donlon, Randy Wayne, Matt McVay, Ashley Gallegos, Hailey Goldstein, Iyad Hajjaj, Abraham Justice, Taylor John Pidmont
The movie is about a young man who once had his own popular quest. Over time, the quests are no longer popular and the main character is mired in debt. He decides to go to an antique store to find something unique for his business.
On the counter he notices a skull-shaped jewelry box, which he buys. But he is warned that it contains a demon and should never be opened. Then his friends and girlfriends decide to go on this quest, where one of them opens the box. After that, all participants are threatened with death.
Actor Skeet Ulrich was not the first time he starred in the horror genre. In 1996, the man played the main role in the movie "Scream".
Steel Trap
IMDB Rating – 4.3
Genre: Horror, Thriller
Production: Germany / 2007
Director: Luis Camara
Starring: Georgia MacKenzie, Mark Wilson, Pascal Langdale, Julia Ballard, Joe Bobin, Annabelle Wallis, Adam Rayner, Frank Meyer
"Steel Trap" is a horror movie in which five guests of one party in a large building receive a text invitation to go to a party for the elite, located on the top floor.
They do not know that upstairs awaits them a labyrinth with numerous and dangerous challenges, the way out of which is very difficult to find. After one of the young men is killed, a game of survival begins.
This movie is the first movie made in the horror genre, directed by Luis Camara.
Play or Die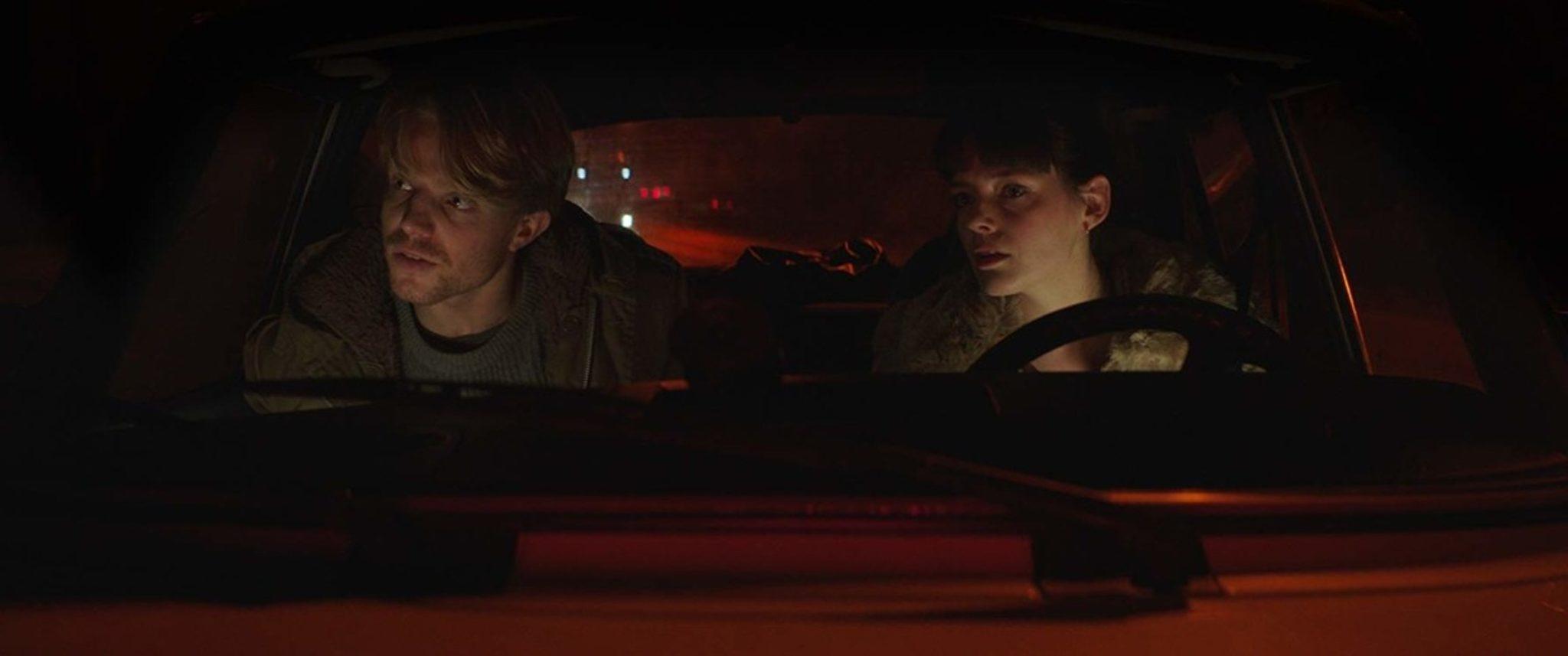 IMDB Rating – 3.7
Genre: Horror, Detective
Production: Belgium / 2019
Worldwide Box Office: $151,381
Director: Jacques Kluger
Starring: Charlie Palmer Rotwell, Roxanne Mesquida, Maria Zabukovek, Thomas Mastin, Daphne Huynh, Hippolyte de Pook, Caroline Donnelly, Koa Edwards, Igor van Dessel, Helena Chambon
The protagonist together with his girlfriend are going to win a difficult quest called "Paranoia" and get a million euros. At the beginning of the game they are warned that they will not be able to leave it without finishing the game. The young man and his beloved will have to pass dangerous tests to survive and get to the end.
The movie is based on Frank Tillier's The Puzzle, which became very popular upon release.