The best films about journalists are mostly très-edits, that is, based on real crimes, or biopics, stories based on a reporter's biography. There are plenty of fictional dramas in this niche as well, no less interesting.
Big scoops, scandalous investigations, sweeping revelations that sometimes change the face of the world – all this is enough in a genre considered one of the most exciting in cinematography. But we should not forget that cinema is a creative eye, which can distort the facts of events quite significantly.
Here are 42 of the most addictive, disturbing and vivid films of recent years about journalists. This is a list of films with good ratings, which perfectly illustrate the modern world and its most burning problems.
Taeksi woonjunsa
Rating IMDB – 7.9
Genre: History, drama, biography
South Korea production / 2017
Budget: $13 000 000
Worldwide gross: $89 997 657
Directed by Jang-hoon
Cast: Sung Kang-ho, Thomas Kretschman, Yoo Hae-jin, Ryu Joon-yeol, Park Hyuk-kwon, Choi Gwi-hwa, Cha Sung-bae, Om Tae-goo, Ryu Sung-hyun, Lee Jong-aeun
The superb acting collaboration between Son-Khan Ho and Thomas Kretschmann tells the real scoop. Jürgen Hinzpeter is the only journalist to have covered the 1980 Gwangju uprising. And the case was this.
Jürgen decides to infiltrate South Korea's most closed city, from which only vague rumors reach. Posing as a religious missionary, he hires a cab driver in Seoul to take him to Gwangju. The two men soon find themselves in the city, where the military is violently suppressing a popular uprising. And now only the life of the West German journalist depends on the cab driver.
The biography of the cab driver in the film is fictional, as his identity was only established after the premiere: Kim Sa Bok, the cab driver's son, showed his picture with Jurgen and reported that his father died of cancer in 1984.
Groundhog Day
Rating IMDB – 8.0
Genre: Fantasy, Drama, Melodrama, Comedy
USA production / 1993
Budget: $14 600 000
Worldwide gross: $70 906 973
Directed by Harold Remis
Cast: Bill Murray, Andy McDowell, Chris Elliot, Stephen Tobolowsky, Brian Doyle-Murray, Marita Geraty, Angela Paton, Rick Dukeman, Rick Overton, Robin Duke
One can't help but mention the cult sci-fi comedy «Groundhog Day», starring Bill Murray and Andy McDowell, in a selection of films about journalists.
Journalist Phil Connors, who once dreamed of writing scoops, is a meteorologist for a Pennsylvania television station. He is a bitter cynic who hates his job, his colleagues, the weather and life in general.
One day, he and his new co-worker, Rita Hanson, travel to Punxsutawney Township to report on his namesake, Groundhog Phil, who is supposed to crawl out of his burrow and herald the coming of spring. Phil the journalist is pissed off about absolutely everything! But Phil the marmot will teach him to love life. 🙂
The movie was actually shot in the town of Woodstock, Illinois. Where Phil kept stepping in a puddle in his time loop, there's even a sign saying «Bill Murray stepped here», and on the street corner, where Phil was constantly being molested by Ned, who recognized him, there's another sign saying «Ned's Corner».
The Life of David Gale
Rating IMDB – 7.5
Genre: Thriller, Drama, Crime
UK, Germany, Spain, USA production / 2002
Budget: $38 000 000
Worldwide gross: $38 955 598
Directed by Alan Parker
Cast: Kevin Spacey, Kate Winslet, Laura Linney, Gabriel Mann, Matt Craven, Leon Rippey, Melissa McCarthy, Rhona Mitra, Elizabeth Gast, Jim Beaver
«The Life of David Gale» is a serious thriller with a powerful ending. Texas professor Gale (Kevin Spacey), obsessed with the idea of abolishing the death penalty, is a great family man and teacher, a social activist. And then one day, accused of raping and murdering a female student, he himself is sentenced to the electric chair.
The professor agrees to a long interview with disgraced young journalist Betsy Bloom (Kate Winslet), and Gale has only three days to tell the story of what brought him to the dock.
The film's main soundtrack was written by director Alan Parker's son, and he himself, after the film's commercial failure, ended his career as a director and died of cancer in 2020.
The Devil Wears Prada
Rating IMDB – 6.9
Genre: Drama, comedy
USA, France production / 2006
Budget: $35 000 000
Worldwide gross: $326 551 094
Directed by David Frankel
Cast: Meryl Streep, Anne Hathaway, Emily Blunt, Stanley Tucci, Simon Baker, Adrian Grenier, Tracy Toms, Rich Sommer, Daniel Sunjata, David Marshall Grant
The American-French drama about how a young, ambitious hick Andy (Anne Hathaway) encounters the rigid despotism of a major fashion magazine owner Miranda Priestly (Meryl Streep) is entirely fictional. However, the powerful performance of two excellent actresses, the excellent humor, the cynical realities of the underneath of glamour and the delightful ending are what make the film worth watching.
Andi dreams of working as a journalist and gets a job at the New York fashion magazine "Runway." She faces the brutal demands of Miranda, who is fanatical about her magazine and judging people by their shoes. Both of them will have to rethink a lot of things in their lives.
After the filming was over, all the costumes were sold to raise money for the cancer foundation. By the way, Anna Wintour, editor of Vogue and prototype of Miranda, appreciated the film.
The Girl with the Dragon Tattoo
Rating IMDB – 7.8
Genre: Detective, thriller, drama, crime
USA, Sweden, Norway production / 2011
Budget: $90 000 000
Worldwide gross: $232 617 430
Directed by David Fincher
Cast: Daniel Craig, Rooney Mara, Christopher Plummer, Stellan Skarsgard, Steven Berkoff, Robin Wright, Jorik van Wageningen, Joely Richardson, Geraldine James, Goran Vishnich
Another fictional story about a journalist, this time a detective story based on the famous books by Swede Stieg Larsson.
Journalist Mikael Blomkvist (Daniel Craig), accused of slander, loses all his savings and his job. He is hired by billionaire Henrik Wagner to search for his niece Harriet, who disappeared 40 years ago, and all these years someone has been sending Henrik the osiban flowers that the missing niece once gave his uncle. Mikael's partner in the investigation is the daring hacker Lisbeth (Rooney Mara).
Daniel Craig, «getting rid» of the James Bond character, gained weight for this film, which was shot in Sweden during the coldest winter in 20 years.
Elle s'appelait Sarah
Rating IMDB – 7.5
Genre: Drama, Military
France production / 2010
Budget: €10 000 000
Worldwide gross: $21 118 093
Directed by Gilles Paquet-Brenner
Cast: Christine Scott Thomas, Melusine Mayans, Niels Arestrup, Frédéric Pierrot, Michel Duchossois, Dominique Fraud, Natasha Maschkevich, Gisele Casadesu, Aidan Quinn, Sarah Behr
This French drama is based on the cult book «Sarah's Key» by Tatiana de Rosnay. The characters are fictional, but the events are real. The action is set in two times and between two people.
Sara, a 10-year-old Jewish girl, lives in Paris in 1942 and gets caught up in the raid on the Vel d'Yves with her family. Julia, a modern journalist who has moved to Paris, tries to investigate the events that took place in France during World War II. Julia explores the biography of the young Sara, telling the complex and difficult story of the Vichy Regime and the ordinary Frenchmen who saved Jews from death.
After the premiere, the film became a top hit in the Netherlands and held that record until it gave way to the drama «1+1».
The Insider
Rating IMDB – 7.8
Genre: Thriller, drama, biography
USA production / 1999
Budget: $90 000 000
Worldwide gross: $60 289 912
Directed by Michael Mann
Cast: Al Pacino, Russell Crowe, Christopher Plummer, Diane Venora, Philip Baker Hall, Lindsay Kraus, Debi Meyzar, Steven Tobolowski, Colm Fiore, Bruce McGill
Where big money decides everything, it is useless to fight for justice. A widespread opinion that the two protagonists of this high-profile story, based on true events of the 1990s, did not want to adhere to. It is no exaggeration to say that Dr. Jeffrey S. Weigand (played by Russell Crowe) and Lowell Bergman (Al Pacino), the lead journalist for ABC News, saved thousands of lives by turning the foundations of the tobacco industry upside down.
So, American biochemist Weigand was developing cigarettes for British American Tobacco that would reduce the risk of household fires, and he stumbled upon shocking facts: an addictive substance was being put into tobacco. He turned to Bergman and together they changed the world, despite threats and harassment from a major corporation.
Mississippi Attorney General Mike Moore played himself in the courtroom scenes.
The People vs. Larry Flynt
Rating IMDB – 7.3
Genre: Drama, biography
USA production / 1996
Budget: $36 000 000
Worldwide gross: $20 300 385
Directed by Milos Forman
Cast: Woody Harrelson, Courtney Love, Edward Norton, Brett Harrelson, Donna Hanover, James Cromwell, Crispin Glover, Vincent Schiavelli, Miles Chapin, James Carville
Larry Flynt is a vivid real-life figure of the '70s, the man who decided to break into conservative tradition and publish the first pornographic magazine. The subject may be controversial, but Milos Forman's biopic is not about loose morals, but about freedom of speech and the absence of censorship. Larry Flynt won these rights through public outrage and a high-profile lawsuit.
Later that same outraged public made Larry a millionaire, vigorously and paidly exploring the world of porn that this businessman and journalist opened to all. A convincing role for Woody Harrelson, who delivered Larry Flint's famous final courtroom speech in the film.
Fun fact: The organizing committee of the Oscars, for which this film was nominated, refused to give Larry Flynt himself an invitation to the ceremony, and then actor Woody Harrelson brought him along as his guest.
Almost Famous
Rating IMDB – 7.8
Genre: Drama, comedy, adventure, music
USA production / 2000
Budget: $60 000 000
Worldwide gross: $47 383 689
Directed by Cameron Crowe
Cast: Patrick Fugit, Billy Crudup, Frances McDormand, Kate Hudson, Jason Lee, Zooey Deschanel, Philip Seymour Hoffman, Anna Paquin, Fairuza Balk, Noah Taylor
This is the hilarious, life-affirming story of William, a teenager who dreams of becoming a journalist and adores the rock band Stillwater. This is a semi-biographical film based on the events of director Cameron Crowe's youth.
Wunderkind William Miller is desperate to find his place in life. His mother Elaine forbids her son to listen to rock, has a negative attitude towards pop culture, so William secretly writes essays on rock for the local newspapers. Due to the popularity of his articles, the boy gets an assignment to write about the band Stillwater, going on tour with it. It's going to be an amazing adventure!
The film won an Oscar for original screenplay, a Grammy for music and two Golden Globes, ranking 79th on the BBC's list of the 100 greatest pictures.
Frost/Nixon
Rating IMDB – 7.7
Genre: Drama, Biography, History
UK, France, USA production / 2008
Budget: $25 000 000
Worldwide gross: $27 426 335
Directed by Ron Howard
Cast: Frank Langella, Michael Sheen, Sam Rockwell, Kevin Bacon, Matthew McFadyen, Oliver Platt, Rebecca Hall, Toby Jones, Andy Milder, Keith Jennings Grant
Ron Howard's historical drama, an artistic reading of the background, preparation and filming of journalist David Frost's series of brilliant interviews with former U.S. President Richard Nixon. This reporter's masterpiece has gone down in the annals of world journalism.
Michael Sheen plays the role of Frost, who in 1977, three years after Nixon's ignominious resignation (Frank Langella), discusses with him the possibility of several interviews that soon become a real sensation – the aging president will reveal many political secrets and admit his role in the Watergate scandal.
Both actors, by the way, played the same roles on the Broadway stage, since the film's script was based on Peter Morgan's famous play.
Spotlight
Rating IMDB – 8.1
Genre: Drama, Crime, Biography
USA production / 2015
Budget: $20 000 000
Worldwide gross: $98 690 254
Directed by Tom McCarthy
Cast: Mark Ruffalo, Michael Keaton, Rachel McAdams, Liv Schreiber, John Slattery, Stanley Tucci, Brian D'Arcy James, Elena Stiteler, Gene Amoroso, Doug Murray
In real life, this investigative journalism, taking place in the early 2000s, won the Pulitzer Prize for the American popular newspaper The Boston Globe and led to the resignation of Cardinal Bernard Law.
The slippery and difficult topic of pedophilia among high-ranking Catholic priests was dealt with by the newspaper's team, called Spotlight. For several months, a story was prepared for which the reporters had to resort to numerous tricks to break the silence of all those involved in the scandal that broke out after publication. These events are the focus of Tom McCarthy's film, starring Liev Schreiber, Mark Buffalo, Michael Keaton and other great actors.
There are small cameos of Sasha Pfeiffer, Walter Robinson, and Michael Rezendes, the real Spotlight employees, in the background of the baseball game scene.
The French Dispatch
Rating IMDB – 7.1
Genre: Drama, melodrama, comedy
Germany, USA production / 2021
Budget: $25 000 000
Worldwide gross: $46 333 545
Directed by Wes Anderson
Cast: Jeffrey Wright, Adrien Brody, Tilda Swinton, Frances McDormand, Timothy Chalamet, Bill Murray, Lina Koudry, Angelica Huston, Benicio Del Toro, Lea Seydoux
Exciting, hilarious, sometimes dramatic stories published in the pages of an American weekly published in the French countryside in the mid-twentieth century–this amusing anthology unfolds before viewers in a remarkable fictional chronicle of the everyday life of the French Herald's editorial staff.
Arthur Hovitzer (Bill Murray), editor-in-chief of the Herald, dies of a heart attack. The app staff mourns deeply and sets to work on the final issue of the beloved magazine…
The Herald covers shown in the final credits were created by Spanish illustrator Javi Aznares.
Minamata
Rating IMDB – 7.2
Genre: Drama, biography
UK, USA, UAE, Japan production / 2020
Worldwide gross: $805 527
Directed by Andrew Levitas
Cast: Johnny Depp, Akiko Iwase, Katherine Jenkins, Bill Nye, Minami, Tadanobu Asano, Ryo Kase, Hiroyuki Sanada, Jun Kunimura, Lily Robinson
Andrew Levitas' brilliant, profound and heavyweight biopic tells the story of the sensational Japanese war correspondent Eugene Smith, played by Johnny Depp.
Eugene thought his time had passed. Deep depression amid debt, alcohol addiction and a difficult relationship with his children led him to contemplate suicide. But one day two young Japanese men knock on his door. Eugene is needed there, in the coastal settlement of Minamata, where one of the biggest ecological disasters of the mid-20th century is unfolding…
The film was made jointly by Americans and Japanese. The music was composed by Ryuichi Sakamoto, a famous composer from the Land of the Rising Sun.
Nightcrawler
Rating IMDB – 7.8
Genre: Thriller, Drama, Crime
USA production / 2014
Budget: $8 500 000
Worldwide gross: $47 398 992
Directed by Dan Gilroy
Cast: Jake Gyllenhaal, Rene Russo, Riz Ahmed, Bill Paxton, Michael Papajohn, Marco Rodriguez, James Huang, Kent Shockneck, Pat Harvey, Sharon Tay
A cautionary emotional drama starring Jake Gyllenhaal. Thief Louis Bloom trades in small stolen goods and dreams of a legal job where he can make good money and not have to work too hard.
One day he sees reporters filming an accident and then their story on the news and realizes that he has found his calling. Trading in his stolen bicycle for a camera, he starts hunting for scandalous incidents. He doesn't mind «eating human flesh» for a sensational report that he can sell for a profit, and sometimes he provokes violent incidents himself, becoming a real vulture of journalism.
Jake Gyllenhaal lost 10 pounds for this role.
For Sama
Rating IMDB – 8.5
Genre: Documentary, War, Biography
UK, Syria, USA production / 2019
Worldwide gross: $1 397 546
Directed by Waad Al-Katib, Edward Watts
Cast: Waad Al-Katib, Sama Al-Katib, Hamza Al-Katib, Afra, Salim, Wisam, Zain, Naya, Taima Al-Hateab, Dana Abed
«For Sama» is an incredible war documentary by the stunning female filmmaker Waad Al-Katib, a Syrian woman who captures the war in its everyday nightmare. A heart-wrenching human tragedy.
Waad lives in Aleppo, with her husband Hamza, who works in a hospital, and her young daughter Sama. In 2011, the Syrian Civil War breaks out and the woman begins to film a diary of the city's wartime daily life, to show her daughter years later the realities of her childhood and the atrocities that the government concealed.
Waad Al-Katib began filming at the age of 21 and has been documenting for five years. In 2016 she emigrated to Turkey with her family and then to Britain.
How to Lose a Guy in 10 Days
Rating IMDB – 6.4
Genre: Melodrama, Comedy
USA, Germany production / 2003
Budget: $50 000 000
Worldwide gross: $177 371 441
Directed by Donald Peetree
Cast: Kate Hudson, Matthew McConaughey, Katharine Hahn, Annie Parris, Adam Goldberg, Thomas Lennon, Michael Michel, Shalom Harlow, Robert Klein, Bebe Newirth
Relax and take a break from the grim days of journalism. This is the lightest comedy romcom about the underbelly of the «women's» press. Kate Hudson and Matthew McConaughey star as a love interest with a hidden agenda.
Journalist Andy Anderson writes a report on the typical mistakes women make in relationships. And she decides to do it visually: seduce handsome Benjamin Barry and then force him to dump her in 10 days, highlighting his misdeeds for female readers. But here's the trouble: By a ridiculous coincidence, Barry has made a bet to make Andy fall in love with him in the same 10 days.
The studio rented more than $14 million worth of jewels for the film. And by the way, many of the comic scenes were improvised by the acting duo.
Zodiac
Rating IMDB – 7.7
Genre: Thriller, Detective, Drama, Crime
USA production / 2007
Budget: $65 000 000
Worldwide gross: $84 785 914
Directed by David Fincher
Cast: Jake Gyllenhaal, Mark Ruffalo, Anthony Edwards, Robert Downey Jr, Chloë Sevigny, John Carroll Lynch, Brian Cox, Elias Coteas, Dermot Mulrooney, Donal Logue
The creator of «The Game», «Fight Club» and «Panic Room» in 2007 delighted fans with another thriller describing the real-life meticulous journalistic investigation of Robert Graysmith of the San Francisco Chronicle, where the mysterious serial killer «Zodiac» began sending coded letters in 1969.
The police investigation went nowhere, finding themselves deadlocked time after time. So Graysmith (Jake Gyllenhaal) began to study the killer's letters himself, trying to crack the cipher. Gradually he becomes obsessed with the Zodiac, losing the support of friends and family. And only policeman Dave Toschi, though not publicly, supports the journalist…
After the release of the film, the Zodiac case was reopened. As of today, early 2023, despite several convincing versions, the identity of this serial killer has still not been established.
Scoop
Rating IMDB – 6.6
Genre: Fantasy, Comedy, Crime, Detective
UK, USA production / 2006
Budget: $4 000 000
Worldwide gross: $39 215 642
Directed by Woody Allen
Cast: Scarlett Johansson, Hugh Jackman, Romola Garay, Ian McShane, Kevin McNally, Woody Allen, Matt Day, Anthony Head, Jim Dunk, Robert Baferst
A wholly ironic tale of the troubled ghost of reporter Joe Stromble, who dies without completing the greatest reportage of his life. But even in purgatory, his thoughts of an unscripted scoop and an unmasked killer, Peter Lightman, do not leave him.
With the help of aspiring journalist Sondra Pransky, who has come to London to visit friends, Joe hopes to complete his work. Sondra is the only person who hears Joe, though only through the mediation of the illusionist Chudini. The inimitable trio of actors Scarlett Johansson, Ian McShane and Woody Allen in pursuit of Hugh Jackman's sly character.
Woody Allen also directed this film. By the way, this is the second project of the Hollywood master shot in London.
Nothing But the Truth
Rating IMDB – 7.2
Genre: Thriller, Drama, Crime
USA production / 2008
Budget: $11 500 000
Worldwide gross: $198 133
Directed by Rod Lurie
Cast: Kate Beckinsale, Matt Dillon, Vera Farmiga, David Schwimmer, Angela Bassett, Noah Wiley, Alan Alda, Courtney B. Vance, Floyd Abrams, Preston Bailey
Director Rod Lurie for his film was inspired by the example of Judith Miller, who even under threat of imprisonment refused to reveal her source to a federal grand jury investigating a leak of classified government information. Lurie said he had to tell the world about women journalists fearlessly doing their duty, and made Nothing but the Truth.
The U.S. accuses Venezuela of attempting to assassinate the president. Soon journalist Rachel Armstrong, citing a classified report by a CIA agent, publishes a sensational article that Venezuela's connection to the assassination attempt is unproven and the charges are at least far-fetched. Rachel is immediately hunted and threatened to reveal her source…
The real events with Judith Miller were adapted more accurately in the 2010 film Fair Game.
Mad City
Rating IMDB – 6.3
Genre: Thriller, Drama, Crime
USA production / 1997
Budget: $50 000 000
Worldwide gross: $10 541 523
Directed by Costa-Gavras
Cast: John Travolta, Dustin Hoffman, Mia Kirchner, Alan Alda, Robert Prosky, Blythe Danner, William Etherton, Ted Levine, Tammy Loren, William O'Leary
John Travolta and Dustin Hoffman in a suspenseful hostage thriller from Greek-French director Costa-Gavras. This is the story of amoral journalist Max Brackett, who dreams of sensation and fame. And one day fate throws him an opportunity.
During a routine report from the museum, the institution's former security guard Sam Bailey, shaking a shotgun, takes hostage the children on the tour and the museum director, Miss Banks. Quickly figuring out what's going on, Max hides in the bathroom and reports live from the scene.
Sam quickly identifies the journalist, but he swears to Sam that he'll get him out of the mess. Max lies his ass off in anticipation of the blood and gore that will make him a celebrity…
Curiously, the pastor who appears in the news montage is real, from a church near where the shooting took place. Incidentally, Hoffman did not like the film, although it was listed as a «best 101 film by renowned Australian film critic David Stratton».
[Rec]
Rating IMDB – 7.4
Genre: Horror, thriller, detective
Spain production / 2007
Budget: €1 500 000
Worldwide gross: $30 448 914
Directed by Jaume Balaguero, Paco Plaza
Cast: Manuela Velasco, Ferran Terrasa, Jorge Yamam Serrano, Pablo Rosso, David Werth, Vicente Gil, Marta Carbonel, Carlos Vicente, Maria Teresa Ortega, Manuel Bronchud
It is impossible not to mention in our list the sensational zombie horror film «[Rec]», whose plot centers on the fearless reporter Angela Vidal, who has become a rather famous fictional character and appeared in several sequels of the original film.
Angela, along with cameraman Pablo, shooting a night story about the work of firefighters in Barcelona, witnesses the rapid spread of the zombie virus, and leads her sensational report by all the canons of hot journalism – right from the center of events, surrounded by fierce zombies and among the chaos into which the city turns.
The actress Manuela Velasco, who played Angela, actually works as a TV presenter in her native Spain. And by the way, the actors were not given the whole script, relying heavily on improvisation, which added to the realism of what was happening.
Good Night, and Good Luck.
Rating IMDB – 7.4
Genre: Drama, Biography, History
USA, France, UK, Japan production / 2005
Budget: $7 000 000
Worldwide gross: $51 306 963
Directed by George Clooney
Cast: David Strathairn, George Clooney, Robert Downey Jr, Patricia Clarkson, Jeff Daniels, Frank Langella, Tate Donovan, Alex Borstein, Ray Wise, Robert Nepper
This historical biopic by director George Clooney tells the notorious story of the tough confrontation between television journalist Edward Murrow and anti-Communist politician Joseph McCarthy.
Violating all civil rights, the zealous McCarthy became famous for his utterly cynical pursuit of «Soviet agents» in the United States. Outraged by the scandalous senator's methods, journalist Murrow decides to crack down on a politician who is doing more harm than good, rapidly lowering ordinary citizens' confidence in the government. Murrow wins, but it will not be easy.
George Clooney took an unprecedented fee for this film: $1 each for the script, direction and lead role. And all this in order to save the budget of the project.
State of Play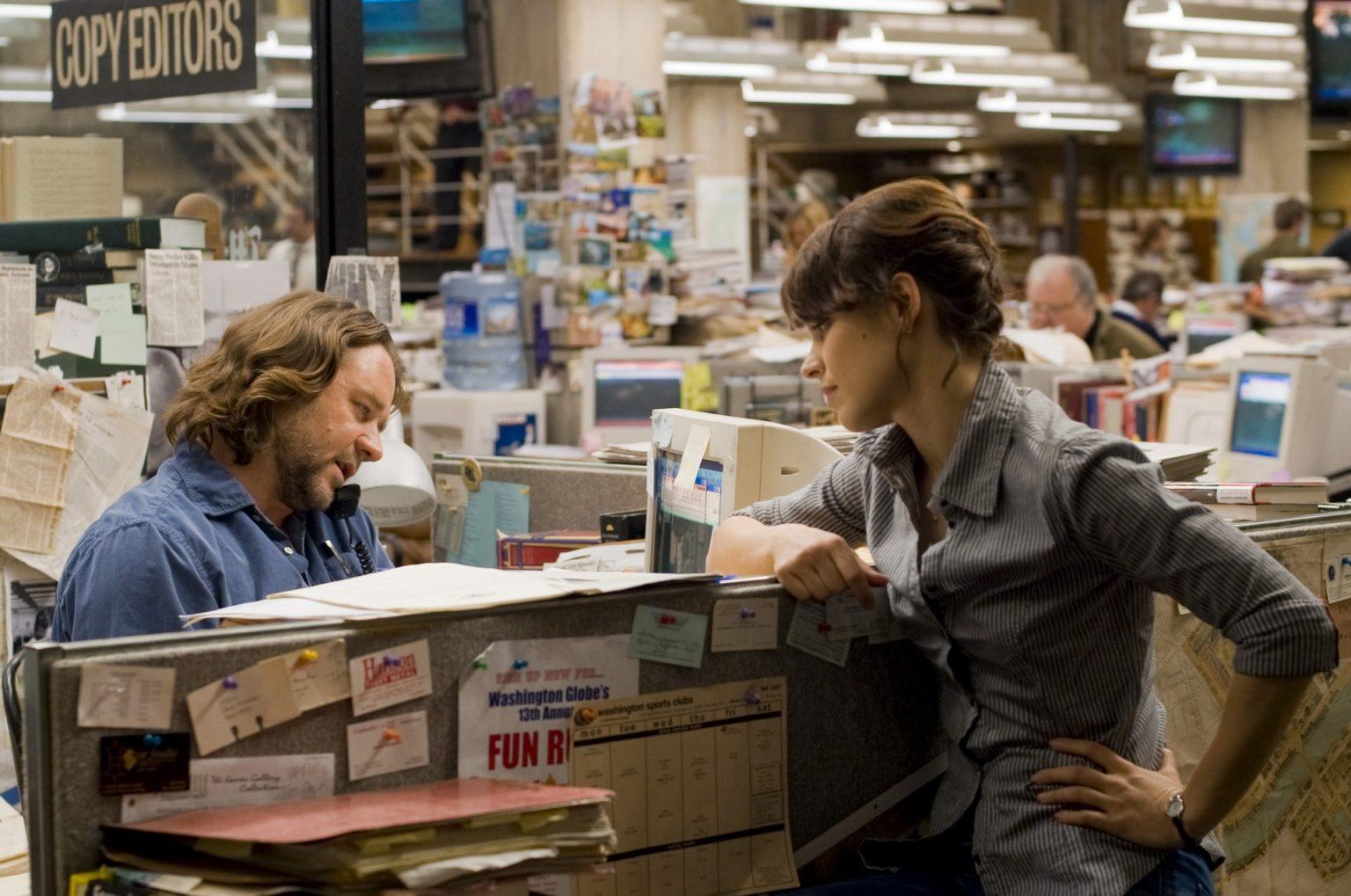 Rating IMDB – 7.1
Genre: Thriller, drama, crime, detective
USA, UK, France production / 2009
Budget: $60 000 000
Worldwide gross: $87 812 371
Directed by Kevin Macdonald
Cast: Russell Crowe, Ben Affleck, Rachel McAdams, Helen Mirren, Robin Wright, Jason Bateman, Jeff Daniels, Michael Burress, Harry J. Lennix, Josh Mostel
This film is a remake of the award-winning 2003 BBC series of the same name. The plot centers on an investigation by crime reporter Cal McCaffrey (Russell Crowe), which began as an attempt to write a report about the murder of a petty crook.
Unraveling the case, the journalist unexpectedly finds himself at the center of a steep conspiracy with numerous dead bodies and a clear trail leading to the highest political circles and a powerful private military company. Now no one will give a penny for the life of an ordinary reporter…
The prototype military corporation PointCorp in the film is Blackwater, accused of misusing mercenaries.
Harrison's Flowers
Rating IMDB – 7.1
Genre: Drama, Melodrama, Military
France production / 2000
Budget: €63 000 000
Worldwide gross: $3 033 646
Directed by Elie Shuraki
Cast: Andy McDowell, Elias Coteas, Brendan Gleeson, Adrian Brody, David Strathairn, Alan Armstrong, Caroline Goodall, Diane Baker, Quinn Shepard, Marie Trintignant
Andy McDowell and David Strathairn in a spooky, scary, and slightly rambling tale of love and journalism from French filmmaker Elie Shuraki.
Pulitzer Prize winner Harrison Lloyd goes to war-torn Yugoslavia in 1991 for a story, where he disappears safely, presumably under the rubble of a collapsed building.
His wife Sarah does not believe in his beloved's death and sets out on his trail to find and return her beloved to his beloved home greenhouse, witnessing a horrific massacre. Despite the slightly implausible flavor of romance, the story of modern warfare looks powerful and impressive.
The Vukovar massacre described in the film took place in November 1991. At that time, some 260 civilians were killed by Serbian volunteers on the Yugoslav side in a hospital in the Croatian city of Vukovar.
Interview
Rating IMDB – 6.8
Genre: Thriller, Drama, Music
USA, Canada, Netherlands production / 2007
Worldwide gross: $1 442 135
Directed by Steve Buscemi
Cast: Steve Buscemi, Sienna Miller, Michael Buscemi, Tara Elders, David Schechter, Molly Griffith, Elizabeth Bracco, James Wilmer, Jackson Lu, Mums Da Shemer
Director Steve Buscemi's appealing muckraking, in which he starred alongside little-known actress and model Sienna Miller.
The pathetic loser Pierre, who fancies himself a great but as yet undiscovered political columnist, is forced to interview low-budget soap opera star Kati on assignment.
Pierre was not going to prepare for this misunderstanding, and preemptively treats his opponent with prejudice, with contempt. However, this unpleasant encounter for both turns into an exciting tennis of emotions and opinions with a tense psychological background.
This film is a remake of a 2003 Dutch film with an identical title. By the way, both the original and the remake have the same cameraman, Thomas Kist.
Holy Spider
Rating IMDB – 7.3
Genre: Thriller, Drama, Crime
Denmark, Germany, France, Sweden, Jordan, Italy production / 2022
Worldwide gross: $1 683 316
Directed by Ali Abbasi
Cast: Zara Amir Ebrahimi, Mehdi Bejestani, Alice Rahimi, Diana Al Hussen, Soraya Helly, Hazem Elian, Arash Ashtiani, Sohaib Kista, Forozan Jamshidnead, Maryam Taleb
At the very beginning of the 21st century in Iran, the story of a serial killer who murdered prostitutes in the streets of the holy city of Mashhad broke. The press gave him the nickname «Holy Spider», and he gained many admirers by "cleansing" the city. Fortunately, the murderer was caught, but he already had the blood of 16 women on his hands.
Amid a wave of protests in Iran for women's rights in 2022, Ali Abbasi, a filmmaker of Iranian origin, released a sharp social film about the «Holy Spider», which immediately became a box office hit.
The main characters are two: Said, aka "Spider" and journalist Rahimi, who tries to make sense of what is happening. The brilliant play of the Iranian actors Zara Amir Ibrahimi and Mehdi Bejestani.
The Iranian government tried to sabotage the filming, and some Islamic organizations accused the director and the actress of «blasphemy» and called for their death penalty. The threats against them continue today.
Beyond a Reasonable Doubt
Rating IMDB – 5.8
Genre: Thriller, drama, crime, detective
USA, Saudi Arabia production / 2009
Budget: $25 000 000
Worldwide gross: $4 337 793
Directed by Peter Hyams
Cast: Jesse Metcalfe, Amber Tamblyn, Michael Douglas, Joel Moore, Orlando Jones, Lawrence P. Beron, Sewell Whitney, David Jensen, Sharon C. London, Crystal Coffey
This is an old made-up story based on some investigative journalism about corrupt politicians back in the middle of the 20th century. The current film is a remake of Fritz Lang's 1956 noir of the same name.
Journalist Nicholas has reasonable doubts about prosecutor Martin Hunter, who plans to run for governor. Hunter has earned a notoriety as an extremely successful prosecutor who has put a huge number of bad guys behind bars. However, Nicholas's investigation uncovers many falsifications in Hunter's convictions, and now the journalist will have to save his life.
The film failed at the U.S. box office, but earned an excellent rating with Russian audiences.
Good Advice
Rating IMDB – 6.2
Genre: Melodrama, Comedy
USA production / 2001
Worldwide gross: $473 626
Directed by Steve Rash
Cast: Charlie Sheen, Angie Harmon, Denise Richards, Jon Lovitz, Roseanne Arquette, Estelle Harris, Barry Newman, Lisa Rinna, John de Lancy, Françoise Surel
Ah, those charming women's advice columns that are so popular in American newspapers! Cindy, the girlfriend of the story's protagonist, Ryan Turner, was the host of a charming advice column in a local publication. But one day the girl got fed up and left for Brazil, giving up both her job and her boyfriend.
Ryan, in dire need of money, decides to run a column under her name. At first his advice sounds harsh, but gradually he gets involved, makes his column famous all over the country and at the same time seduces Paige, the paper's editor-in-chief. And then suddenly Cindy returns. A light and funny story with Charlie Sheen, Denise Richards and Angie Harmon.
It was on the set of this comedy, Charlie Sheen met his next wife Denise Richards. She, by the way, plays Cindy, and their marriage lasted as long as four years.
The Pirates of Somalia
Rating IMDB – 6.7
Genre: Drama, biography
YUAR, USA production / 2017
Worldwide gross: $103 385
Directed by Brian Buckley
Cast: Evan Peters, Al Pacino, Melanie Griffith, Barkhad Abdi, Coral Pena, Philip Ettinger, Russell Posner, Kiana Madani, Darron Calligan, Robert Hobbs
"We're not killers… We're just robbing ships," is a phrase Abdullahi Abshir, one of the central characters in Jay Bahadur's documentary Somali Pirates: Inside Their Hidden World, perhaps capturing the essence of the adaptation, a biopic about the making of this writer-journalist's bestseller. Series actor Evan Peters played Bahadur himself, and the roles of his parents went to stars Al Pacino and Melanie Griffith.
After numerous unsuccessful attempts to get a job at a good publication, young journalist Jay takes a risky trip to Somalia to write a cool report about local pirates.
The real Bahadur appears in a cameo, during Evan Peters' character's sleep.
Shattered Glass
Rating IMDB – 7.1
Genre: Drama, Biography, History
USA, Canada production / 2003
Budget: $6 000 000
Worldwide gross: $2 944 752
Directed by Billy Ray
Cast: Hayden Christensen, Peter Sarsgaard, Chloë Sevigny, Rosario Dawson, Melanie Lynskey, Hank Azaria, Steve Zahn, Mark Blum, Simone-Elise Girard, Chad Donella
The protagonist of this almost non-fictional story is a young ambitious reporter, Stephen Glass (played by Hayden Christensen), who had a fine career at the influential political weekly The New Republic.
His brilliant reporting was popular and discussed all over the country, until the arrogant journalist had a direct confrontation with Charles Lane, the editor of the magazine. And then an unpalatable truth emerged that Glass had falsified and at times simply invented the facts he shared in his reporting.
The real Charles Lane was a consultant on the set. By the way, the lead role in the film was offered to the real Stephen Glass, but he turned it down.
Veronica Guerin
Rating IMDB – 6.8
Genre: Thriller, drama, crime, biography
Ireland, UK, USA production / 2003
Budget: $17 000 000
Worldwide gross: $9 439 660
Directed by Joel Schumacher
Cast: Cate Blanchett, Gerard McSorley, Kieran Heinds, Brenda Fricker, Don Wicherly, Barry Barnes, Simon O'Driscoll, Emmett Bergin, Charlotte Bradley, Mark Lambert
Near the ancient Dublin Castle there is a monument to a woman who Ireland considers a national hero. Veronica Guerin, who turned the life of the country and changed its laws, was a crime reporter of the 90s.
She tried to make people aware of the truth about the drug trade in Ireland, and the mafia declared an official hunt for her. A successful one. However, it was this «success» that buried the country's crime syndicates, whose authorities after the death of the journalist created a special service to counter criminals and toughened the laws against drugs. The magnificent Cate Blanchett as Veronica Guerin.
In the prison where Veronica's killers are held, this film is shown at least once a month, and at the request of other prisoners.
Deu tae-ro ra-i-beu
Rating IMDB – 7.1
Genre: Thriller
South Korea production / 2013
Budget: $2 500 000
Worldwide gross: $35 659 824
Directed by Kim Byung-woo
Cast: Ha Jeong-oo, Choi Dong-moon, Choi Jin-ho, Han Seong-cheon, Jung Hye-jin, Kim Hae-in, Kim Hong-pha, Lee David, Lee Kyung-yeon, Kim So-jin
Yoon Yong-hwa is a cynical radio host in crisis. Recently he was happily married and working as a TV journalist, but overnight he lost everything because of his feisty personality.
One day he receives a call on the radio from an unknown person threatening to blow up the Mapo Bridge. Yoon brushes off the caller, thinking it a silly joke, and then watches in horror at the promised terrorist attack. But he, obsessed with wanting to get back on television, doesn't report to the police, but makes a deal with the terrorist in pursuit of a scoop. A suspenseful thriller by acclaimed director Kim Byung-woo.
In 2021, Bollywood released an Indian remake of this film called Dhamaka.
The Post
Rating IMDB – 7.2
Genre: Thriller, drama, biography, history
USA, UK, India production / 2017
Budget: $50 000 000
Worldwide gross: $179 769 457
Directed by Steven Spielberg
Cast: Meryl Streep, Tom Hanks, Sarah Paulson, Bob Odenkirk, Tracy Letts, Bradley Whitford, Bruce Greenwood, Matthew Reese, Allison Brie, Carrie Coon
Steven Spielberg's suspenseful thriller about journalists based on true events, starring Tom Hanks, Meryl Streep, Sarah Paulson and other stars. In 1971, Catherine Graham, owner of the Washington Post, gets her hands on classified material about the Vietnam War from the Pentagon.
Graham realizes that the publication of these materials, handed to the press by Daniel Ellsberg, would be a real sensation, but it would be a very dangerous venture. So she contacts her rivals at the New York Times. Journalists of two influential newspapers will defend in court their right to freedom of speech and tell the world the truth.
The literary sources for the film's script were the memoirs of the real Katherine Graham, Ben Bradley and Daniel Ellsberg. By the way, original Pentagon documents were used as props in the filming.
Bardo, falsa crónica de unas cuantas verdades
Rating IMDB – 6.7
Genre: Drama, comedy
Mexico production / 2022
Worldwide gross: $38 190
Directed by Alejandro González Iñárritu
Cast: Daniel Jimenez Cacho, Griselda Siciliani, Jimena Lamadrid, Iker Sanchez Solano, Luis Couturier, Luz Jimenez, Andres Almeida, Clementina Guadarrama, Jay O. Sanders, Francisco Rubio
Director Iñárritu's fresh and very visually beautiful Mexican nostalgic drama, Bardo, is also known by its other, more elegant title, The False Chronicle of a Handful of Truths. It's a complex film about past mistakes and the burden of unnecessary success.
Silverio Gama is a journalist who emigrated from Mexico to the United States and became a documentary filmmaker. He lives in Los Angeles with his wife and son. In his mind reality is intertwined with fiction, and he, tormented by guilt over many things, on the wave of his success, recalls the past and sometimes hallucinates…
The film was included in the list of foreign films to be selected for the Oscars and has already won several prestigious awards.
438 dagar
Rating IMDB – 6.7
Genre: Thriller, Drama
Sweden production / 2019
Worldwide gross: $4 076
Directed by Jesper Ganslandt
Cast: Gustaf Skarsgard, Mathias Varela, Josefin Nelden, Faisal Ahmed, Sivuile Ngesi, Philip Sanden, Graham Clark, Stephen Jennings, Jesper Ganslandt, Lena B. Nilsson
In 2011, two Swedish journalists, Martin Schibby and Johan Persson, travel to the oil-rich region of the Ogaden to film a scandalous reportage about the shady operation of a Swedish oil company colluding with the Ethiopian authorities.
Where big money is involved, the laws are not respected, and this is what the characters have to experience for themselves. After crossing the border illegally, they are caught by the military, accused of terrorism and staged execution. And then they imprison the journalists in Ethiopia's cruelest and darkest prison.
The film is based on Shibby and Persson's book of the same name, written by them after their release in 2012, which was made possible by a categorical demand to Ethiopian authorities from Amnesty International.
The Paper
Rating IMDB – 6.6
Genre: Drama, comedy
USA production / 1994
Budget: $6 000 000
Worldwide gross: $48 424 341
Directed by Ron Howard
Cast: Michael Keaton, Glenn Close, Marisa Tomei, Randy Quaid, Robert Duvall, Jason Robards, Jason Alexander, Spalding Gray, Catherine O'Hara, Lynn Thigpen
The New York Sun is the name of a real newspaper that was published from 1833 to 1950 and became world famous, thanks to «The Big Moonshine», a hilarious story that can be found online.
But the movie is a little different. It tells a day in the life of the employees of a newspaper with the same name, but from the '90s. Henry Hackett (Michael Keaton), the paper's editor, is a real workaholic, solving many problems at once. He must, in a short time, stop a publication accusing two innocent guys of murder, fend off the intrusive wrath of a local official, annoyed by the denunciatory material, and survive a shootout, where he is caught completely by accident…
The film depicts the everyday life of journalists quite thoroughly: Steven Koepp, the co-writer of the script, is the editor-in-chief of TIME magazine.
The Hunting Party
Rating IMDB – 6.8
Genre: Thriller, drama, comedy, adventure, military
USA, Croatia, Bosnia and Herzegovina, Mexico production / 2007
Budget: $25 000 000
Worldwide gross: $7 622 251
Directed by Richard Shepard
Cast: Richard Gere, Terrence Howard, Jesse Eisenberg, James Brolin, Diane Kruger, Dylan Baker, Zdravko Kosewar, Mark Ivanir, Joy Bryant, Lubomir Kerekes
Richard Gere and Terrence Howard in Richard Shepard's black journalistic comedy. Simon Hunt and his cameraman Duck are two adventurous journalists who have been to all the armed conflicts of the planet. Not having time to pass one material, the buddies are thrown into a new adventurous journey. But once Simon fails in his career and suddenly disappears.
Five years later, he just as suddenly appears in the life of Duck and convinces him to go on a new adventure – in search of «Fox», the most wanted criminal on the planet. As usual, the journalists have no clear information and no weapons, but it doesn't bother them in the least: a big scoop looms ahead!
The credits mention two Bosnian criminals not caught at the time, Radovan Karadzic and Ratko Mladic, who became the prototypes of «Fox». Both of them have already been found, arrested and sentenced to life imprisonment.
Balibo
Rating IMDB – 7.0
Genre: Thriller, drama, detective, biography, history
Australia production / 2009
Directed by Robert Connolly
Cast: Anthony LaPaglia, Oscar Isaac, Jane Hampson, Bea Viega, Christine Martins, Ana Rosa Mendoca, Mazarela Martins, Nasalo Baptista, Michael Stone, Jose Belo
Australian filmmaker Robert Connolly tells through the lens of fiction the true story of five martyred journalists who died on the eve of one of the bloodiest conflicts of the late 20th century: the Indonesian invasion of East Timor.
The so-called Balibo Five were a group of Australian journalists based in a town 10 kilometers from the border. The Indonesian military shot them, knowing they were ordinary reporters, on orders from above. Immediately Roger East of AAP-Reuters went to Balibo, soon becoming another victim of a brutal invasion…
The film is based on the documentary book «Hiding», by journalist Jill Joliffe, who was acquainted with the victims.
A Private War
Rating IMDB – 6.7
Genre: Drama, War, Biography
UK, USA production / 2018
Worldwide gross: $3 915 207
Directed by Matt Heineman
Cast: Rosamund Pike, Jamie Dornan, Stanley Tucci, Tom Hollander, Alexandra Moen, Faye Marsay, Jesutasan Antonitasan, Raman Srinivasan, Natasha Jaitileke, Nikki Amuka-Bird
For some reason the best war correspondents are women. For some reason, they cover any conflict in terms of humanity and human suffering. And they die.
One such woman is the American Marie Colvin, who covered the siege of Homs, the main opposition stronghold of the Syrian Civil War. She was the first to interview Muammar Gaddafi, writing reports from "hot spots" of the planet: Zimbabwe, Sierra Leone, Chechnya.
In 1999 she helped save 1500 lives in East Timor. The film is dedicated to her, a fragile woman waging her own private war against the vestiges of barbarism – mass murder in the name of political ends.
War correspondent Janine di Giovanni, who knew Marie, criticized the film for the implausible trifles added by the creators for the sake of drama.
Hangman