In frosty and snowy Russia, at home, by a blazing fireplace, it is so pleasant to watch movies about hot tropical countries. Here is a list of new jungle movies, as well as well-forgotten films.
Enjoy the unforgettable atmosphere of impenetrable tropical forests, tickle your nerves with extreme journeys and experience the pleasure of new impressions.
Apocalypto
IMDB Rating – 7.8
Genre: Action, Thriller, Drama, Adventure
Production: USA, Mexico, UK / 2006
Budget: $40,000,000
Worldwide Box Office: $120,654,337
Director: Mel Gibson
Starring: Rudy Youngblood, Dalia Hernandez, Jonathan Brewer, Morris Birdiellohead, Carlos Emilio Baez, Ramirez Amilcar, Israel Contreras, Israel Rios, Maria Isabel Diaz, Espiridion Acosta Cache.
This film is a philosophical parable about the fate of people and civilization. The end of the pre-Columbian era of America is shown on the fate of the Indian "Jaguar's Paw". He lost his tribe overnight, and cruel enemies are going to sacrifice him.
But the young Indian must overcome his fears and try to save his pregnant wife and son, whom he hid deep in the jungle.
One of the most striking scenes in the movie is the hero's jump from a waterfall. In reality, Rudy Youngblood (performing the role of Jaguar Paw) jumped from a 15-story skyscraper. He decided to take such a desperate step only after director Mel Gibson jumped from it himself.
Jungle Child
IMDB Rating – 7.1
Genre: Drama, Adventure, Family, Biography
Production: Germany / 2011
Director: Roland Zuzo Richter
Starring: Stella Kuncat, Thomas Kretschmann, Nadja Uhl, Zina Tkocz, Tom Hosbeck, Milena Czarntke, Sven Gilnik, Emmanuelle Semen, Felix Tokwepota, Range'e Pati
Where civilization ends, the biggest adventure of 7-year-old Sabine Kügler's life began. The linguist Klaus Kügler came to the humid rainforests of New Guinea from prosperous Germany with his wife and three children. Here the girl first saw the real inhabitants of the dense jungle. She learned how ruthless nature can be and how kind man can be.
The feature film is an adaptation of Sabine Kügler's autobiographical book. The girl's family went to Indonesia to study the language of the Papuan tribe Fayu, which was first discovered shortly before.
The Rundown
IMDB Rating – 6.7
Genre: Action, Thriller, Comedy, Adventure
Production: USA / 2003
Budget: $85,000,000
Worldwide Box Office: $80,657,921
Director: Peter Berg
Starring: Dwayne Johnson, Seann William Scott, Rosario Dawson, Christopher Walken, Ewan Bremner, John Grise, William Lucking, Ernie Reyes Jr., Stuart F. Wilson, Dennis Keiffer
Bouncer Beck wants to quit his semi-criminal trade and open a small restaurant. His boss offers him one last, but very unusual task. It is necessary to deliver from the wilds of the Amazon live cargo – his bad son Travis. But the guy is not in a hurry to return home, as he came across the trail of a priceless Indian artifact.
One of the episodic roles is played by Arnold Schwarzenegger. The former governor of California appears for a few seconds in the very first frames of the movie and wishes success to the hero, played by Dwayne Johnson.
Mowgli
IMDB Rating – 6.5
Genre: Fantasy, Drama, Adventure
Production: UK, USA / 2018
Director: Andy Serkis
Starring: Rohan Chand, Christian Bale, Cate Blanchett, Benedict Cumberbatch, Naomie Harris, Andy Serkis, Peter Mullan, Jack Reynor, Eddie Marsan, Tom Hollander
A grim adaptation of R. Kipling's famous book "Mowgli". Mowgli is a human cub raised by a pack of wolves. He understands and accepts the harsh laws of the jungle, as he considers it his home.
But the boy's human nature frightens the beasts, and they drive him away. Mowgli has no choice but to return to humans. But even among his kin the boy feels like a stranger.
In the movie, as in R. Kipling's original work, the panther Bagheera is a male character. In the Soviet animated adaptation, Mowgli's masculine mentor had to turn into an elegant female, since the word "panther" is feminine in Russian.
The Art of Travel
IMDB Rating – 6.3
Genre: Drama
Production: USA / 2008
Budget: $2,000,000
Director: Thomas Whelan
Starring: Christopher Masterson, Brooke Burns, Johnny Messner, James Duvall, Jake Maxworthy, Shalim Ortiz, Angelica Libera, Bijou Phillips, Ernie Lively, Maria Conchita Alonso.
Student Connor Lane, having experienced the first serious disappointment of his life, decides to reboot his life and sets off on a journey. The route chosen at random leads the guy into the wilds of the Darien gap.
Among rotten swamps, poisonous snakes and huge insects, the hero is forever cured of urban moping and finds a new love. At the same time Connor is possessed by a new disease – a passion for traveling.
The Darien Gap is a large tract of undeveloped land in Latin America, covered by humid equatorial forests and swamps. The Darien Gap is the only break in the Pan-American Highway, a highway starting from Alaska and ending in Ushuaia, the southernmost city on Earth.
Tomb Raider
IMDB Rating – 6.3
Genre: Fantasy, Action, Thriller, Adventure
Production: UK, USA / 2018
Budget: $94,000,000
Worldwide Box Office: $274,650,803
Director: Roar Uthaug
Starring: Alicia Vikander, Dominic West, Walton Goggins, Daniel Wu, Kristin Scott Thomas, Derek Jacobi, Alexander Villaume, Tamer Barjag, Adrian Collins, Keenan Errison
A feature film about the first adventure of the legendary Lara Croft. Entering the inheritance after the death of her father, Lara among the things stumbles upon a message. It turns out that Richard Croft began to explore the mythical ruler of the Japanese island of Yamatai.
The girl decides to finish her father's work and goes to the mysterious island. In the evergreen jungle, she is lined with dangers and unplanned encounters await her.
One of the movies based on the Tomb Raider series of computer games. Alicia Vikander, who played the lead role, was heavily into the game as a child.
The Jungle Book
IMDB Rating – 7.4
Genre: Fantasy, Drama, Adventure, Family, Cartoon
Production: UK, USA / 2016
Budget: $175,000,000
Worldwide Box Office: $966,550,600
Director: Jon Favreau
Starring: Neil Sethi, Bill Murray, Ben Kingsley, Idris Elba, Lupita Nyong'o, Scarlett Johansson, Giancarlo Esposito, Christopher Walken, Garry Shandling
A feature film with elements of computer animation and a remake of the 1967 cartoon of the same name. Mowgli wants to save the wolf pack that raised him from the constant attacks of the tough tiger Sherkhan.
He decides to go to the people. The boy will have a long and dangerous journey, on the way he will meet new friends and find implacable enemies.
The film was awarded the Academy Award for Best Visual Effects (2017). The picture became one of the most successful in 2016 and earned almost a billion dollars.
Jumanji: Welcome to the Jungle
IMDB Rating – 6.9
Genre: Fantasy, Action, Comedy, Adventure
Production: USA, India, Canada, UK, Australia, Germany / 2017
Budget: $90,000,000
Worldwide Box Office: $962,077,546
Director: Jake Kazdan
Starring: Dwayne Johnson, Kevin Hart, Jack Black, Karen Gillan, Reese Darby, Bobby Cannavale, Nick Jonas, Alex Wolfe, Ser'Darius Blaine, Madison Iceman
The film is a continuation of the movie "Jumanji" in 1995. This time in the terrible reality of the game get four teenagers, who out of boredom decided to play the found console.
Now, in order to return to their world they need to pass a difficult quest and return the gemstone "Eye of the Jaguar" to its place. The teens must learn the strengths and weaknesses of their game characters, as well as learn how to work as a team.
Tom Holland was supposed to star as Alex Rick, but filming coincided with the start of work on the sequel to Spider-Man: Homecoming. Then Nick Jonas, a popular singer, artist and composer, joined the filming.
Jungle
IMDB Rating – 6.7
Genre: Thriller, Drama, Adventure
Production: Australia, Colombia, UK / 2017
Worldwide box office receipts: $1,906,640
Director: Greg McLean
Starring: Daniel Radcliffe, Thomas Kretschmann, Alex Russell, Jacek Koman, Yasmin Kassim, Paris Moletti, Lily Sullivan, Joel Jackson, Luis Lopez, Angie Milliken
A movie about the confrontation between man and wildlife. Former military man Yossi Ginsberg and two other adventurers set off to Bolivia in search of new experiences.
The raft of inexperienced tourists is broken by a strong current, and Yossi is left alone with poisonous insects, dangerous predators and turbulent rivers. The protagonist was not prepared to fight for his life, but he will have to learn.
The drama is based on real events. The prototype of the main character managed to get out of a deadly nature trap. The other two participants of this hike were not so lucky – no one ever saw them alive again.
A Perfect Getaway
IMDB Rating – 6.5
Genre: Thriller, Drama, Detective
Production: USA / 2009
Budget: $14,000,000
Worldwide Box Office: $22,852,638
Director: David Tuohy
Starring: Steve Zahn, Timothy Olyphant, Milla Jovovich, Kiele Sanchez, Marley Shelton, Chris Hemsworth, Anthony Ruivivivar, Dale Dickey, Peter Navey Tuiasosopo, Wendy Brown.
The perfect thriller about the perfect escape from reality. The future will tell if the newlyweds Anderson's chose the tropical jungles of Hawaii as the right place to spend their honeymoon.
Sydney and Cliff should have considered that sometimes the wilderness isn't as dangerous as a couple of maniacs roaming around somewhere nearby.
Mila Jovovich is of Russian-Serbian descent. Until 1980, the family lived in the USSR and Mila attended an ordinary Soviet kindergarten.
Gold
IMDB Rating – 5.7
Genre: Drama, Adventure, History
Production: Spain / 2017
Budget: €8,000,000
Worldwide box office receipts: $1,528,185
Director: Agustin Diaz Yanez
Starring: Raul Arevalo, Barbara Lenny, Oscar Jaenada, Jose Coronado, Jose Manuel Cervino, Antonio Decent, Juan Jose Ballesta, Luis Callejo, Anna Castillo, Andres Gertrudix
One of the best historical movies about the Amazon jungle. 1538, a group of Spanish conquistadors by order of the Emperor set out in search of the golden Eldorado.
In the course of a hard campaign they cross rivers full of alligators and impassable thickets swarming with poisonous snakes and insects. Internal tensions rise in the group, caused by old grudges and the struggle for leadership.
The screenplay is based on a story by Arturo Perez-Reverte, a contemporary Spanish writer and journalist.
Kong: Skull Island
IMDB Rating – 6.6
Genre: Fantastic, Fantasy, Action, Adventure
Production: USA, China / 2017
Budget: $185,000,000
Worldwide Box Office: $566,652,812
Director: Jordan Voth-Roberts
Starring: Tom Hiddleston, Samuel L. Jackson, John Goodman, Brie Larson, Jing Tian, Toby Kebbell, John Ortiz, Corey Hawkins, Jason Mitchell, Shay Wigham
In the center of the Pacific Ocean, the mysterious Skull Island is discovered, completely covered with tropical rain forests and shrouded in an eternal fog.
The research team could not have foreseen in their worst fantasies that, apart from a giant male gorilla and warlike tribes, they would encounter creatures that have been extinct for millions of years.
Of the American films about King Kong, the tape boasts the largest humanoid ape – 30 meters. In the classic thriller, his height was 7.5 meters. But in the two Japanese versions, the gorilla is even taller – 46 meters.
The Lost City of Z
IMDB Rating – 6.6
Genre: Drama, Biography
Production: USA / 2016
Budget: $30,000,000
Worldwide Box Office: $19,263,938
Director: James Gray
Starring: Charlie Hunnam, Robert Pattinson, Sienna Miller, Tom Holland, Edward Ashley, Angus Macfadyen, Ian McDermid, Clive Francis, Pedro Coelho, Matthew Sunderland
Did British Percy Fossett find the golden city of Eldorado in the impenetrable thickets of the Amazon? This question torments not only his family, but also all the Indians' gold hunters.
All the more so because Percy's wife has direct proof of her husband's successful search – a compass, which he promised to send her if he finds the treasure.
The movie is based on events in the life of the real Percy Fossett, who is the prototype of Indiana Jones.

Initially, the script was written under Brad Pitt, who could not participate in filming due to a busy schedule. Next from the role was forced to refuse Benedict Cumberbatch. In the end, the role went to British actor Charlie Hunnam.
The Legend of Tarzan
IMDB Rating – 6.2
Genre: Fantasy, Action, Drama, Melodrama, Adventure
Production: UK, Canada, USA, Australia / 2016
Budget: $180,000,000
Worldwide Box Office: $356,700,357
Director: David Yates
Starring: Alexander Skarsgard, Margot Robbie, Samuel L. Jackson, Christoph Waltz, Djimon Hounsou, Jim Broadbent, Casper Crump, Hadley Fraser, Genevieve O'Reilly, Simon Russell Beale
A grim new take on the famous story of the ape-man created by Edgar Burroughs. John Clayton III, Lord Greystoke, better known as Tarzan, is forced to return to the African Congo after secular London. Old enemies decided to take revenge on the son of a British aristocrat and kidnapped his wife.
To save his beloved, Tarzan must deny his civilization and remember the forgotten animal beginning.
In order to resemble Tarzan, Alexander Skarsgard trained tirelessly for 4 months, ate a special diet and did not communicate with family and friends.
Medicine Man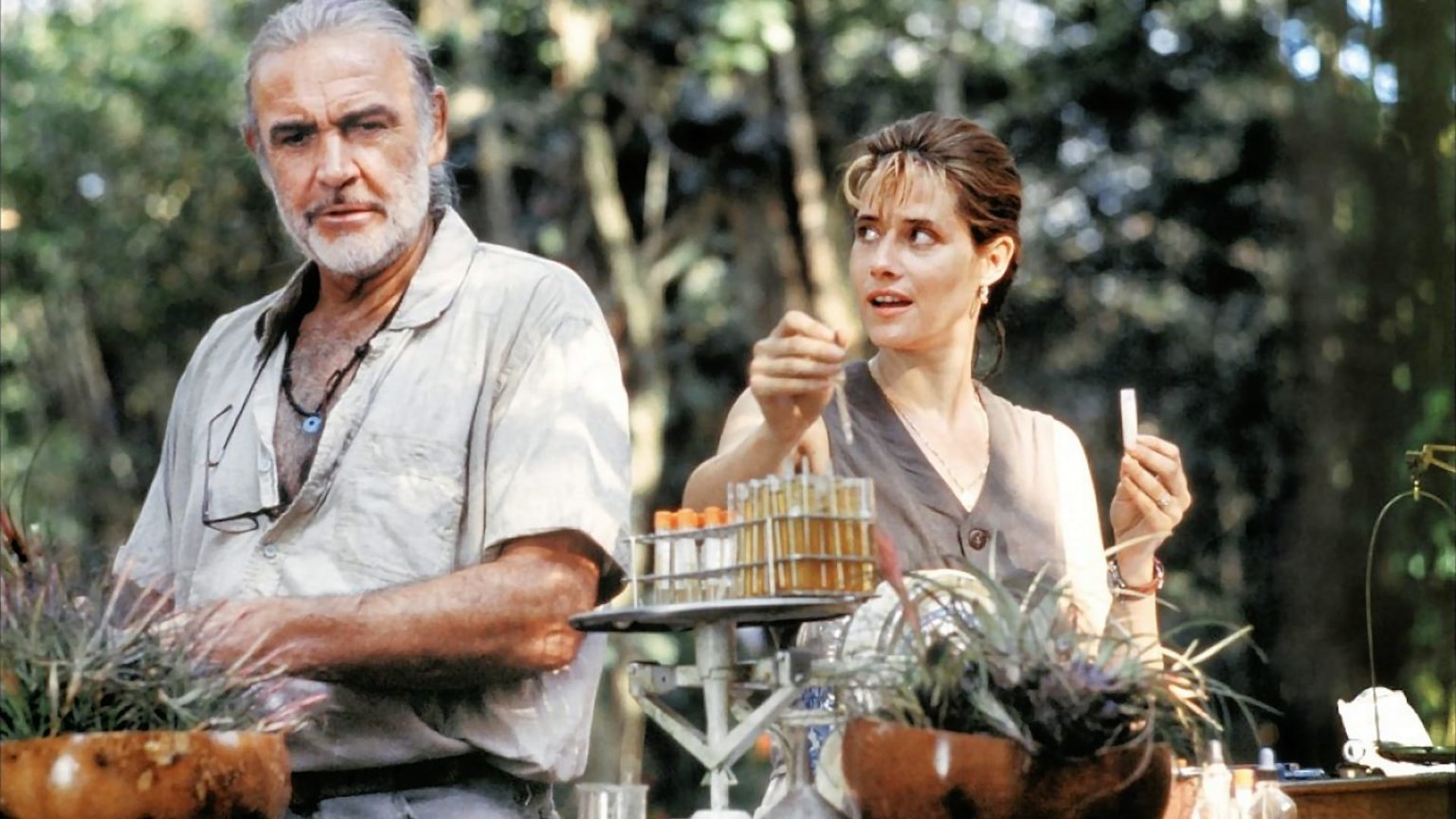 IMDB Rating – 6.1
Genre: Drama, Melodrama, Adventure
Production: USA / 1992
Budget: $40,000,000
US box office receipts: $45,500,797
Director: John McTiernan
Starring: Sean Connery, Lorraine Bracco, Jose Wilker, Rodolfo De Alexander, Francisco Tsiren Tsere Rereme, Elias Monteiro Da Silva, Edinei Maria Serrio Dos Santos, Bec Cana-Re Dos Santos Caiapo, Angelo Barra Moreira, Jose Lavat.
Ambitious Dr. Ray Crane knew that an expedition into the wilds of the Amazonian jungle would not be a pleasure trip. But she didn't suspect that virologist Dr. Robert Campbell, whose work she came to inspect, would turn out to be a bitter misogynist.
But Rae is no pussycat and will get her way. She finds out what Campbell has discovered in the jungle and why he is trusted by the aboriginal tribe.
The director of the movie John Mc Tiernan originally wanted to shoot "The Knower" in the jungles of Borneo, where he previously worked on the movie "Predator". But it turned out that the evergreen trees were cut down and the shooting had to be moved to Mexico.
Dora and the Lost City of Gold
IMDB Rating – 6.1
Genre: Comedy, Detective, Adventure, Family
Production: USA, Mexico, Australia / 2019
Budget: $49,000,000
Worldwide Box Office: $119,682,635
Director: James Bobin
Starring: Isabela Merced, Eugenio Derbez, Michael Peña, Eva Longoria, Jeffrey Wahlberg, Nicholas Coombe, Madeleine Madden, Temuera Morrison, Benicio Del Toro, Madeline Miranda
Family, jungle and adventure feature film. The atmosphere of impenetrable tropical thickets and swamps is much closer to teenager Dora than school and its strange rules. The girl has spent most of her life in the jungle, and now fate itself pushes Dora to return to this mysterious, but so understandable to her world.
The movie is based on the animated series "Dasha the Traveler". The monkey Boots, Dora-Dasha's best friend, was voiced by the brutal Danny Trejo, an actor known for his roles as negative characters.
The Jaguar
IMDB Rating – 6.0
Genre: Comedy, action, adventure
Production: France / 1996
Director: Francis Weber
Starring: Jean Reno, Patrick Bruel, Harrison Lowe, Patricia Velasquez, Danny Trejo, Roland Blanche, Francois Perrault, Francis Lemaire, Alexandra Vandernot, Jill Birmingham.
François Perrin, a swindler, has successfully escaped from his creditors in the distant republic of Peru. A Peruvian Indian, who met François by chance in Paris, has somehow decided that the Frenchman is the chosen one.
Now François must find the lost soul of a strange stranger where no civilized man has ever set foot.
The idea to make a movie with such a plot came to the mind of the film's director Francis Weber after a visit to Paris by the chief of one of the Indian tribes.
Journey 2: The Mysterious Island
IMDB Rating – 5.8
Genre: Fantastic, Fantasy, Action, Comedy, Adventure, Family
Production: USA / 2012
Budget: $79,000,000
Worldwide Box Office: $335,260,290
Director: Brad Peyton
Starring: Dwayne Johnson, Josh Hutcherson, Vanessa Anne Hudgens, Michael Caine, Luis Guzman, Kristin Davis, Anna Colwell, Stephen Caudill, Branscomb Richmond, Walter Bankson
Hank, stepfather to teenager Sean Anderson, is having trouble with his stepson. The boy has it in his head that he's received a signal from an island in the Pacific. But there's no land in that place, and there can't be.
And Hank, who never managed to stop his ward, has to accompany his stepson in a dangerous and unpredictable adventure. Together they will try to discover the secret of the mysterious island, which turns out to be the lost Atlantis.
The film is a sequel to "Journey to the Center of the Earth", both films are based on the works of the famous writer J. Verne.
Sur la piste du Marsupilami
IMDB Rating – 5.5
Genre: Comedy, Adventure, Family
Production: France, Belgium / 2012
Budget: €40,000,000
Worldwide box office: $48,600,000
Director: Alain Chaba
Starring: Jamel Debbouze, Alain Chaba, Fred Testo, Lambert Wilson, Geraldine Nakache, Patrick Timsey, Jacques Weber, Dalip Singh, Gerardo Taracena, Carlos Macias Marquez.
Marsupilami is a mysterious animal, a mix of leopard and koala. The animal is found only in the jungles of the fictional country of Palombia. The charming marsupilami, which can help to preserve eternal youth, is hunted by everyone – from journalists to poachers.
The French family comedy was filmed in Mexico's Catemaco forest, which was the setting for Mel Gibson's majestic 2006 Apocalypse.
The Ardor
IMDB Rating – 5.2
Genre: Drama, Western
Production: Argentina, Mexico / 2014
Worldwide box office receipts: $20,939
Director: Pablo Fendrick
Starring: Gael Garcia Bernal, Alici Braga, Claudio Tolcachir, Chico Diaz, Jorge Sesan, Julián Telho, Lautaro Vilo, Ivan Steinhardt, Jorge Prado, Ruslan Kulchenko
Sometimes ordinary people are more frightening than wild beasts. Farmers settled on the banks of the Paraná River in the Amazon jungle are oppressed by a brutal gang. The thugs take away land plots, and those who disagree are simply killed.
People cry out to the gods for help, and he sends a savior – the master of the jungle. He comes from the rain forest of Argentina and is capable of many things.
One of the historical feature films about the jungle, created jointly by the countries of Argentina, Mexico, Brazil, France and the United States. Mexican actor Gael Garcia Bernal not only played the lead role, but also acted as executive producer of the film.
The Dinosaur Project
IMDB Rating – 4.6
Genre: Horror, Fantasy, Action, Thriller, Drama, Adventure
Production: South Africa, UK / 2011
Box office receipts in Russia: $134,486
Director: Sid Bennett
Starring: Matt Cain, Richard Dillane, Peter Brook, Natasha Loring, Stephen Jennings, Andre Weidman, Abena Ayivor, Sivu Nobongoza
A group of European researchers headed deep into the African swamps to deal with rumors of an extraordinary monster Mokele Mbembe. According to descriptions, the creature may be a plesiosaur, and its discovery will become a world sensation.
The scientists record every step on camera and thanks to this footage the world will learn a shocking solution to the mystery.
The movie was actually filmed not in the Congo, but in South Africa. It was filmed during the cold South African winter. The actors were sprayed with water and oil to simulate sweat.
600 kilos d'or pur
IMDB Rating – 4.5
Genre: Drama, Crime, Adventure
Production: France / 2010
Director: Eric Besnard
Starring: Clovis Cornillac, Audrey Dana, Patrick Chenet, Claudio Santamaria, Bruno Solo, Eric Ebony, Gérard Klein, Mehdi Nebbou, Hubert Saint-Macari, Jean-Pierre Martin.
A very successful operation to expropriate gold from the rich suddenly malfunctioned. The helicopter carrying 600 kilograms of gold crashed in the impenetrable jungles of Guyana.
Can a handful of daredevils make it through the rainforest with a cargo weighing more than half a ton. With each step the gold gets heavier and the companions find it harder to quell the disagreements that arise between them.
Filming of the thriller took place in Guyana – a small country in South America. On the territory of Guyana there are no buildings higher than three floors, and about 90% of the country's territory is covered by humid jungle.
Anaconda
IMDB Rating – 4.8
Genre: Horror, Action, Thriller, Adventure
Production: Peru, Brazil, USA / 1997
Budget: $45,000,000
Worldwide Box Office: $136,885,767
Director: Luis Llosa
Starring: Jennifer Lopez, Ice Cube, Jon Voight, Eric Stoltz, Jonathan Hyde, Owen Wilson, Kari Wuhrer, Vincent Castellanos, Danny Trejo, Frank Welker.
People are always interested in the unknown. A team of television crews heads down the Amazon in search of an indigenous tribe, the People of the Mist. Along the way, they rescue a poacher, Saaron, who volunteers to be a guide.
The filmmakers laugh at the old man's tales of a giant anaconda snake, until they realize that it exists and is hunting… them.
An attentive viewer watching the movie may notice a waterfall that flows upward instead of downward. This is not a phenomenon of South American nature, but a simple mistake of the editor.
George of the Jungle
IMDB Rating – 5.5
Genre: Action, Melodrama, Comedy, Adventure, Family
Production: USA / 1997
Budget: $55,000,000
Worldwide Box Office: $174,463,257
Director: Sam Wiseman
Starring: Brendan Fraser, Leslie Mann, Thomas Haden Church, Richard Roundtree, Gregg Cruttwell, Abraham Benrubi, Holland Taylor, Kelly Miller, John Bennett Perry, John Cleese.
A young boy George, like Tarzan, was raised by monkeys in the heart of Africa. He would have lived in freedom if it hadn't been for Ursula, an adventurer.
Having heard about the ape-man, Ursula sets a goal – to find and bring the guy to San Francisco. The plan succeeds, and George finds himself in the stone jungle of a huge metropolis.
The creators of the picture made many bloopers. As a result, American toucans, Asian orangutans, Australian cockatoos and even an Indian elephant appeared in the African country.
Predator
IMDB Rating – 7.8
Genre: Horror, Fantasy, Action, Adventure
Production: USA, Mexico / 1987
Budget: $15,000,000
Worldwide Box Office: $98,267,558
Director: John McTiernan
Starring: Arnold Schwarzenegger, Carl Weathers, Elpidia Carrillo, Bill Duke, Jesse Ventura, Sonny Landham, Richard Chavez, R.G. Armstrong, Shane Black, Kevin Peter Hall.
A mercenary squad led by a former major in the U.S. Army is on the trail of rebels who have taken high-ranking hostages and spy equipment. The group is already moving to the place of evacuation, when experienced warriors realize that they have become the object of hunting. Someone unseen is killing the soldiers one by one…..
Filming of the action movie was suspended for several days, as the performer of the main role, Arnold Schwarzenegger, flew to his own wedding with Maria Shriver. The honeymoon lasted only three days, then work on the movie continued.
The Lost World: Jurassic Park
IMDB Rating – 6.6
Genre: Fantasy, Action, Adventure
Production: USA / 1997
Budget: $73,000,000
Worldwide Box Office: $618,638,999
Director: Steven Spielberg
Starring: Jeff Goldblum, Julianne Moore, Vince Vaughn, Vanessa Lee Chester, Pete Postlethwaite, Arliss Howard, Richard Attenborough, Richard Schiff, Peter Stormare, Harvey Jason.
The second part of the "Jurassic Park" movie series. After the death of ancient animals on the island of Isla Nublar several years passed. By chance a second island was discovered, where dinosaurs continue to live and reproduce.
The owner of the corporation John Hammond equips an expedition, but the ancient beastmen are interested not only in scientists, but also in dishonest businessmen.
To voice dinosaurs in the studio attracted characters unusual for the film industry. For velociraptors hissed ordinary geese, and for Tyrannosaurus growled Jack Russell Terrier, nicknamed Buster.