Ingmar Bergman is a Swedish theater and film director, screenwriter of his own films, writer, and playwright. He is an outstanding art worker of the 20th century, deservedly recognized as one of the greatest creators of auteur films. Bergman was awarded the Palme d'Or seven times at the Cannes Film Festival, he received four Oscars as the Best Director. On his account are more than sixty feature, documentary and television films, as well as more than a hundred theatrical productions. In this article we have selected only the best Ingmar Bergman films.
Det sjunde inseglet
Rating IMDB – 8.1
Genre: Fantasy, Drama
Sweden production / 1957
Budget: $150 000
Worldwide gross: $55 420
Directed by Ingmar Bergman
Cast: Gunnar Björnstrand, Bengt Ekeroth, Nils Poppe, Max von Sydow, Bibi Andersson, Inga Gill, Maud Hansson, Inga Landgre, Gunnel Lindblom, Bertil Underberg
The film is set in the dark ages of the Middle Ages. The plague ravaging Europe is spreading to Sweden, where the knight Antonius Block and his squire Jöns are returning after a crusade.
Along the way the warrior's soul is plagued by doubts: is there really a God, and why does he allow so much cruelty and ugliness in our world? Unexpectedly a crusader meets Death himself. Can this encounter restore the meaning of life to Antonius?
Bergman took the title of the film from Revelations of John the Evangelist.

When the entire final scene had already been shot, Bergman saw an unusually shaped cloud in the sky. Then he told the actors to put their costumes back on and filmed a new version of the final scene. It was this purely improvisational version that made it into the film.
Smultronstället
Rating IMDB – 8.1
Genre: Drama
Sweden production / 1957
Directed by Ingmar Bergman
Cast: Viktor Sjöström, Bibi Andersson, Ingrid Thulin, Gunnar Björnström, Yullan Kindal, Folke Sundqvist, Björn Bjelfvenstam, Naima Wiffstrand, Gunnel Broström, Gertrud Fried
The film tells the story of a day in the life of an elderly professor of medicine, Isak Borg. He is 78 years old and has worked as a doctor for 50 of those years. And now Isak travels by car from Stockholm to Lund to receive an award for his professional work. Together with his sister-in-law, he will visit the places of his youth, meet old acquaintances, reminisce about the past and reflect on the future.
Like many of Ingmar Bergman's films, this one is largely autobiographical.

If the title "Wild Strawberries" were translated literally, it would mean "strawberry fields". But the word combination can also mean "memories associated with strawberries", which is more appropriate to the content of the film.
Trollflöjten
Rating IMDB – 7.5
Genre: Fantasy, melodrama, comedy, music
Sweden production / 1975
Budget: $650 000
Directed by Ingmar Bergman
Cast: Josef Köstlinger, Irma Urrila, Håkan Hagegaard, Elisabeth Ericson, Britt-Marie Arun, Kersten Vaupel, Birgitta Smeeding, Ulrik Kold, Birgit Nordin, Ragnar Ulfung
The Queen of the Night approaches Prince Tamino with an unusual request: she asks him to save her daughter Pamina, who has been insidiously kidnapped by the wizard Zarastro. The Queen gives Tamino a number of assistants to help him and gives him a magic flute capable of removing all dangers and obstacles in his path. If his mission is successful, the Queen even promises the prince her daughter as his wife.
The film is a screen adaptation of Mozart's opera of the same name.
Scener ur ett äktenskap
Rating IMDB – 8.4
Genre: Drama
Sweden production / 1973
Budget: $150 000
Worldwide gross: $10 146
Directed by Ingmar Bergman
Cast: Liv Ullmann, Erland Jozefson, Gunnell Lindblom, Bibi Andersson, Wenke Foss, Jan Malmschö, Bertil Norström, Anita Wahl, Rosanna Mariano, Lena Bergman
This Ingmar Bergman drama is about the married life of Johan and Marianne. They have been married for many years and their daily life is not marred by disagreements or the monotonous routine of married life. And when Johan announced to Marianne that he was leaving her for another woman, the woman was truly shocked. Marianne tried to find some kind of compromise and keep the family together. But neither remorse nor a desire to reconcile at all costs would prevent disaster.
Since the film's release, there has been a marked increase in divorce in Sweden, and the number of couples seeking marriage counseling has doubled.

Bergman himself was married five times.
Viskningar och rop
Rating IMDB – 8.0
Genre: Drama
Sweden production / 1972
Budget: $400 000
Worldwide gross: $1 522
Directed by Ingmar Bergman
Cast: Harriet Andersson, Kari Sulvan, Ingrid Thulin, Liv Ullmann, Anders Ek, Inga Gill, Erland Jozefson, Henning Moritzen, Georg Orlin, Ingmar Bergman
The three sisters Agnes, Karin, and Maria have been inseparable since childhood. But growing up, the sisters gradually crossed the line from love to latent dislike. But now that Agnes is terminally ill, they live together on a large estate. It is not just the three of them who have to unite – the sick mistress is looked after by the maid Anna, who has served the family faithfully for many years. Memories of their carefree childhood are intertwined with a present filled with oppressive feelings of impending loss.
This Ingmar Bergman film has amassed a collection of various prizes and nominations, such as: "An Oscar (for cinematography: Sven Nykvist), a special Grand Prix at the Cannes Film Festival, the National Board of Review Award for Best Film and Director.
Fanny och Alexander
Rating IMDB – 8.1
Genre: Drama
Sweden, France, Germany (FRG) production / 1982
Budget: $6 000 000
Worldwide gross: $6 783 304
Directed by Ingmar Bergman
Cast: Kristina Adolfson, Börje Alstedt, Pernilla Allvin, Christian Almgren, Karl Bilquist, Axel Dyberg, Allan Edvall, Siv Eriks, Eva Fröhling, Patricia Gélin
This drama is considered the last feature film among Ingmar Bergman's mature works, although he worked on several more television projects after that.
The story is about the children Alexandra and Fanny, who live in an ordinary but happy family. However, when their father dies unexpectedly, their rosy vision of the surrounding reality ceases to please the children. A year later, their mother, simply afraid to raise her children alone, becomes the wife of a priest. For the brother and sister, who are just beginning to learn about the world, the rigid rules of the church become unbearable. This leads to arguments and quarrels with the stepfather and ultimately to tragedy.
In 1983 the director's version was released in Sweden.

After this film, Bertil Gouve (Alexander) decided not to act in films anymore. He became a doctor of economics.
Vargtimmen
Rating IMDB – 7.6
Genre: Horror, Drama
Sweden production / 1968
Directed by Ingmar Bergman
Cast: Liv Ullmann, Max von Sydow, Ingrid Thulin, Gertrud Fried, Georg Rüdeberg, Erland Jozefson, Naima Wiffstrand, Ulf Johansson, Gudrun Brost, Bertil Underberg
This is the only film from Swedish director Ingmar Bergman's list of films in the psychological horror genre.
The artist Johan Borg and his wife Alma come to their small house on the coast. Johan paints pictures, his wife is engaged in housekeeping, they live quietly and monotonously, admiring the local beauties. But one day a couple of mysterious aristocrats, who also live on the island, invite the Borg family to dinner. From that moment on, everything changes.
"Vargtimmen" is a term from psychoanalysis. It is the term used by psychologists to describe the time when a person, left alone, engages in self-discovery.

The film won an award in the United States from the National Society of Film Critics in 1968.
Skammen
Rating IMDB – 8.0
Genre: Drama
Sweden production / 1968
Budget: SEK 2 800 000
Directed by Ingmar Bergman
Cast: Liv Ullmann, Max von Sydow, Sigge Fürst, Gunnar Björnstrand, Birgitta Wahlberg, Hans Alfredson, Ingvar Chellson, Frank Sundström, Ulf Johansson, Vilgot Schömann
A film by Ingmar Bergman starring Max von Sydow. This actor worked with Bergman many times, the director invited him to almost every one of his films.
The married couple, Jan and Eva Rosenberg, are musicians. Their symphony orchestra, which Jan led, was disbanded. And when doctors discovered that Jan had a heart condition, his wife Eva did not hesitate to go with him to the island. They live quietly and peacefully, enjoying each other and the surrounding beauty. Even when a civil war breaks out, the characters do not immediately notice it. Only when it arrives on their doorstep does the couple's peaceful life come to an end.
The film was shot on the small island of Forêt.

This film was Ingmar Bergman's 29th directorial effort.
Höstsonaten
Rating IMDB – 8.1
Genre: Drama, music
Germany (FRG), Sweden, UK production / 1978
Worldwide gross: $2 379
Directed by Ingmar Bergman
Cast: Ingrid Bergman, Liv Ullmann, Lena Nyman, Halvar Björk, Marianne Aminoff, Arne Bang-Hansen, Gunnar Björnstrand, Erland Jozefson, Georg Leckeberg, Mimi Pollak
The drama is recognized as one of the best films of Bergman, a four-time Oscar winner.
Charlotte Undergast has recently buried another husband. Unexpectedly, the elderly pianist feels an atypical need to communicate. And then the world-famous pianist, a moderately well-off woman who has devoted her whole life to her career, asks to visit her eldest daughter Eva.
The reunion of the relatives, who have not seen each other for seven years, at first appears hospitable. But gradually, Eva finds the strength to tell her mother everything: the childhood of the abandoned child, the suffering from the lack of maternal love and, most importantly, the responsibility that Eva has taken upon herself when instead of her mother took care of her younger sister Elena after her stroke.
The film was shot in Norway because at the time Bergman had problems with the Swiss tax authorities.
Jungfrukällan
Rating IMDB – 8.1
Genre: Drama, crime
Sweden production / 1960
Worldwide gross: $1 528
Directed by Ingmar Bergman
Cast: Max von Sydow, Birgitta Wahlberg, Gunnell Lindblom, Birgitta Pettersson, Axel Duberg, Thor Icedal, Allan Edvall, Ove Porat, Axel Slangus, Gudrun Brost
At the edge of a deep forest lives a family with passions simmering inside. Young Karin, the master's daughter, and his stepdaughter, Ingeri, truly hate each other. Karin is spoiled by her parents' love, she dances all night and misses matins in the morning when she has fallen asleep.
But tradition demands that the girl go on a pilgrimage to a distant church. Karin sets out on the journey with her half-sister Ingeri. They must pass through a gloomy forest, where she is destined to have a terrible encounter with three bandits…
The plot of this dramatic film is believed to be based on the Swedish folk parable "The Daughter of Töre of Vängö."
Nattvardsgästerna
Rating IMDB – 8.1
Genre: Drama
Sweden production / 1963
Worldwide gross: $7 095
Directed by Ingmar Bergman
Cast: Ingrid Thulin, Gunnar Bjørnstrand, Gunnell Lindblom, Max von Sydow, Allan Edvall, Kolbjørn Knudsen, Olof Tunberg, Elsa Ebbesen, Lars-Ulof Andersson, Eddy Axberg
The film is set over the course of one cloudy Sunday afternoon. The village priest, Thomas, reads matins to the rare parishioners. He has recently buried his beloved wife, whose loss makes his already shaky faith even weaker.
He is sick and tormented by the fear that he has lost God and will no longer be able to hear him. Consumed by his torment, Thomas fails to notice his local teacher, Märta Lundberg, who follows him around and is passionately in love with him.
The second film in Ingmar Bergman's Trilogy of Faith, which also includes Through the Foggy Glass and Silence.

The film was shot in September, so usually not much material was shot in a day. First, because of the short November days, and second, because Gunnar Bjørnstrand (Thomas Erikson) was not feeling well and could not work long on the set.
Tystnaden
Rating IMDB – 7.8
Genre: Drama
Sweden production / 1963
Worldwide gross: $5 936
Directed by Ingmar Bergman
Cast: Ingrid Thulin, Gunnell Lindblom, Jørgen Lindström, Håkan Janberg, Birger Malmsten, Lissi Åland, Karl-Arne Bergman, Leif Forstenberg, Eduardo Gutierrez, Eskil Kalling
Esther is terminally ill. The woman desperately tries to make everything look better than it really is. And she is irritated by her younger sister Anna, who enjoys all the earthly pleasures instead of devoting herself entirely to raising her only son Johan.
The three of them take the train home. Unexpectedly, the train stops and they have to spend the night in an unfamiliar city in a dilapidated hotel. The silence in the corridors heats up the already tense atmosphere of mutual irritation, and exacerbates resentments accumulated over the years.
In France, the film was released in rolling in a truncated version: they had to cut scenes that offend public morality.

Immediately after the rental of the film in 1963, the owners of the cottage, Bergman rented, refused to rent him a house, reasoning that "decent tenants should not shoot such films.

The film received a very peculiar kind of international "Tystnaden". In America it was called "semi-pornographic", in Argentina the director of the company responsible for distributing the film was sentenced to a year in prison, but in Uruguay the film was shown uncensored.
Persona
Rating IMDB – 8.1
Genre: Thriller, Drama
Sweden production / 1966
Worldwide gross: $68 551
Directed by Ingmar Bergman
Cast: Bibi Andersson, Liv Ullmann, Margareta Krok, Gunnar Bjørnstrand, Jørgen Lindström
Popular theater actress Elizabeth Vogler at the next performance just fell silent and could not say a word. Since then, she was examined by many doctors, but the reasons for the inexplicable stupor and could not identify. Another psychiatrist recommends Elizabeth go to the sea.
The young and talkative nurse, Alma, is assigned to accompany the actress. Elisabeth remains silent and listens as Alma tells her everything, even her most private secrets. The boundaries between the two women gradually blur into a strange attachment.
Ingmar Bergman himself called his Persona one of the most important films of his oeuvre.

Bergman wrote the script for Persona in the spring of 1965, when he was in the hospital with pneumonia.
Larmar och gör sig till
Rating IMDB – 6.9
Genre: Drama
Sweden, Denmark, Norway, Italy, Germany production / 1997
Directed by Ingmar Bergman
Cast: Björje Alstedt, Maria Richardson, Erland Jozefson, Peter Stormare, Pernilla August, Anita Björk, Anna Björk, Agneta Ekmanner, Lena Endre, Gunnell Fred
The action takes place in the 1920s. Carl Okerblum, an inventor, has never been able to get any of his inventions to work, and none of the patent offices approve them. This triggers another uncontrollable temper tantrum in Karl, and the man is placed in a hospital for the mentally ill.
There he meets Professor Vogler who gives Karl another "genius" idea – to make the world's first movie with sound! And when Karl is released from the asylum, he and his bride make a sound film. But the big movie companies don't like it, they are not going to release it. So he travels around the country to show his masterpiece to a wide audience on his own.
The film is based on the events of Uncle Karl's life, described by Ingmar Bergman in his novel Laterna Magica.

The second title of the film is "Larmar och gör sig till".
Såsom i en spegel
Rating IMDB – 8.0
Genre: Drama
Sweden production / 1961
Worldwide gross: $1 848
Directed by Ingmar Bergman
Cast: Harriet Andersson, Gunnar Björnstrand, Max von Sydow, Lars Passgaard
Karin, fresh out of a mental hospital, goes on vacation with her family. Together with her husband, father and younger brother, the four arrive on a small island. The characters outwardly try to show cheerfulness and love, but each of them is lonely in his own way.
Karin is tormented by the fear that she will never recover from her mental illness, and she is gradually losing her identity. Husband Martin suffers from mad love for his wife and an inability to help her. Brother Frederick, nicknamed Minus for his short stature, torments himself with insecurity. Father David is a successful writer, but his inability to express love grieves him deeply.
The film won the Oscar for Best Foreign Language Film.

Only four people starred in the entire film.
Sommaren med Monika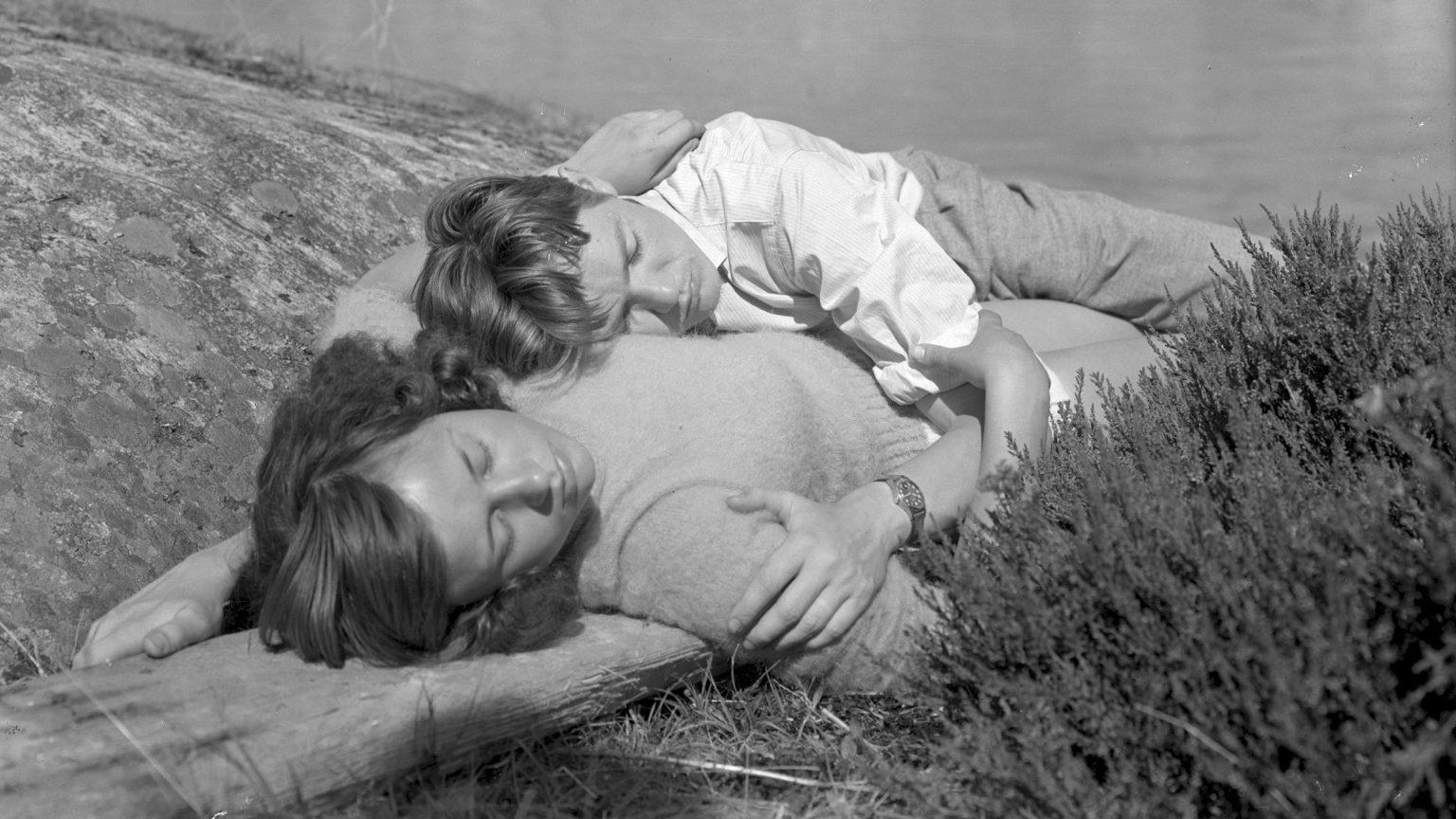 Rating IMDB – 7.5
Genre: Drama, melodrama
Sweden production / 1953
Budget: SEK 484 000
Worldwide gross: $14 316
Directed by Ingmar Bergman
Cast: Harriet Andersson, Lars Ekborg, Dagmar Ebbesen, Ake Friedell, Naemi Brice, Åke Grönberg, Sigge Fürst, John Harrison, Georg Skarstedt, Gesta Eriksson
Monica's father, who works in a fruit warehouse, often drinks, which leads to frequent fights at home. Harry, who is only a year older than Monica, works as a longshoreman in a store and lives alone with his equally boozy father. And when the couple met, they immediately found each other's soul mates.
After another scandal, Monica and Harry steal a boat and run away from home. The young people live on a wild island, make love and dream of a family together. But the idyll ends when Monica realizes she is pregnant. All the couple's dreams are shattered by everyday life and a lack of money not only for the baby, but also to provide for their own needs.
For the 18-year-old Harriet Andersson, it was her first film with Ingmar Bergman. But she was "discovered" at 16 by choreographer and theater director Sven Aage Larsen.
Sommarnattens leende
Rating IMDB – 7.7
Genre: Melodrama, comedy
Sweden production / 1955
Directed by Ingmar Bergman
Cast: Ulla Jakobsson, Eva Dalbeck, Harriet Andersson, Margit Carlqvist, Gunnar Björnstrand, Jarl Kullé, Ake Fridell, Björn Bjelfvenstam, Naima Wiefstrand, Yullan Kindal
Elderly lawyer Fredrik Egerman vacillates between his young wife Anna and secretly dreams of meeting his former lover, Desiree Armfelt. The fates of these characters are closely intertwined with the other characters in the film, each seeking their own path. Their relationships are linked, the film recounts some satirical and just plain hilarious twists and turns.
In 1956, this comedy won the Cannes Film Festival prize.

The film was later adapted into a musical called "A Little Night Music".

The film was made in 55 days, when Sweden was in a heat wave.
Riten
Rating IMDB – 7.0
Genre: Drama
Sweden production / 1969
Directed by Ingmar Bergman
Cast: Ingrid Thulin, Anders Ek, Gunnar Björnstrand, Erik Hell, Ingmar Bergman
A touring troupe of only three artists is summoned for questioning before a judge. This is because their last performance at a variety show included a scene that seemed very obscene to the audience.
The tough interrogation forces the actors to tell some details of their private life. At the same time something about the life of the investigator is revealed. As it turns out, everyone has suffered a lot, which left its mark on their personalities.
The film was shot in only 16 days: seven days of rehearsals and only nine days of shooting.

There were only five actors in the film, and one of them was Ingmar Bergman himself, who played the priest in the confessional.
Aus dem Leben der Marionetten
Rating IMDB – 7.3
Genre: Drama
Germany (FRG), Austria production / 1980
Directed by Ingmar Bergman
Cast: Robert Atzorn, Christina Buchegger, Martin Benrath, Rita Russeck, Lola Mutel, Walter Schmidinger, Heinz Bennent, Ruth Olafs, Karl-Heinz Pelser, Gaby Dom
To those around them, Peter and Marianne Jaegermann are simply the perfect married couple. They are envied and admired. He is a successful businessman who provides for his family, she is an equally successful designer who pursues her dream. But behind the pretence of well-being and imaginary affection, the couple conceal a mutual contempt that causes only impotence.
For Peter, the relationship provokes a rage that turns into a permanent depression. He is so disillusioned with his life that he has a nervous breakdown. However, he does not want to get help and instead decides to express his emotions in a very radical way.
The only Ingmar Bergman film made in Germany.
Fängelse
Rating IMDB – 6.8
Genre: Drama
Sweden production / 1949
Directed by Ingmar Bergman
Cast: Doris Svedlund, Birger Malmsten, Eva Henning, Hasse Ekman, Stig Olin, Irma Christenson, Anders Henrikson, Marianne Löfgren, Bibi Lindqvist, Kurt Masrelis
When filmmaker Martin Grunde is suddenly visited on the set by his old teacher, he is happy to see him. But Martin gradually realizes that the old man is already losing his mind, because he is beginning to speak from "the devil's face."
But this inspires the ambitious director to come up with a movie about hell on earth, run by the devil himself, who hands out instructions to people. Martin shares the idea with his friend Thomas, who introduces him to the prostitute Brigitte. Together they argue and philosophize about the upcoming film.
This is the first film that Ingmar Bergman made from his own script.
Till glädje
Rating IMDB – 7.2
Genre: Drama
Sweden production / 1950
Directed by Ingmar Bergman
Cast: Mai-Britt Nilsson, Stig Olin, Birger Malmsten, Jon Ekman, Margit Carlqvist, Viktor Sjöström, Staffan Axelsson, Ingmar Bergman, Astrid Bodin, Tor Borong
Young violinists Stig and Marta studied together at the conservatory and were even friends. Together they travel to a small provincial town to work in a symphony orchestra. Marta is a romantic, dreaming of being a good wife and a loving mother. Stig, on the other hand, is totally obsessed with work and dreams only of a career.
Despite such different outlooks on life, love flares up between the young people. They get married and continue to work together. But the unexpected news of Marta's pregnancy does not make Stig happy at all, because children can be a hindrance to rehearsals.
Ingmar Bergman's seventh film.

The script for this film is based on Ingmar Bergman's personal feelings about his relationship with his wife.