In everyday life, modern man sometimes lacks emotions, some people get adrenaline with parachute jumps and other extreme pleasures. But you can safely, at any time of day, tickle your nerves, plunge into the mystical atmosphere and experience the primal fear – you just need to watch a good thriller.
We offer you a list of excellent horror movies about the forest and other remote places where anything can happen.
Midsommar
IMDB Rating – 7.1
Genre: Horror, Drama, Thriller
Production: USA, Sweden / 2019
Budget: $9,000,000
Worldwide Box Office: $47,863,365
Director: Ari Aster
Starring: Florence Pugh, Jack Reynor, Wilhelm Blomgren, William Jackson Harper, Will Poulter, Ellora Torchia, Archie Madekwe, Henrik Norlen, Gunnel Fred, Isabelle Grill
The day of the summer solstice is a sacred holiday from ancient times. The smiling, bearded Pelle invites his American friends to his homeland, Sweden.
Snow-white clothes of the locals, flower fields flooded with light, leisurely pace of life – all this fascinates travelers. But they have no idea what a nightmare the Solstice holiday in a Swedish village will turn out to be.
The Scandinavian village setting was built in Hungary, with director Ari Astor taking inspiration from Sergei Parajanov's Soviet films The Color of Pomegranates and Shadows of Forgotten Ancestors.
The Witch
IMDB Rating – 6.9
Genre: Horror
Production: Canada, USA, UK / 2015
Budget: $3,500,000
Worldwide Box Office: $40,423,945
Director: Robert Eggers
Starring: Anya Taylor-Joy, Ralph Ineson, Kate Dickie, Harvey Scrimshaw, Ellie Granger, Lucas Dawson, Julian Richings, Bathsheba Garnett, Sarah Stephens, Daniel Malick
Farmer William's family is banished from the community. In a newly built house on the edge of the forest, the household is haunted by misfortune and tragedy. The couple's unbaptized newborn son is kidnapped and killed by a witch.
The crops die of an unknown scourge, the farmer's eldest son falls ill and dies. Blame for all the troubles of the family is declared the eldest daughter-beautiful Thomasine. Or maybe the house built at the edge of the forest is to blame for the horrors?
In addition to the mystical explanation of the horrors in the movie, there is also a logical one. The farmer's crops were killed by ergot, a fungus that parasitizes grains. Ergot poisoning causes hallucinations and mental disorders.
The Cabin in the Woods
IMDB Rating – 7.0
Genre: Horror, Comedy, Fantasy
Production: USA / 2011
Budget: $30,000,000
Worldwide Box Office: $69,935,600
Director: Drew Goddard
Starring: Kristen Connolly, Chris Hemsworth, Anne Hutchison, Fran Krantz, Jesse Williams, Richard Jenkins, Bradley Whitford, Brian J. White, Amy Acker, Tim DeZarn.
Will five students be able to unravel the secret of a mysterious cabin in the woods, where they wanted to party hard? Young people open the hatch and descend into the underground. At that moment a deadly game begins, losing the game will end in death, and winning the game – the end of the world.
Horror is at the same time a parody of all horror movies put together. Despite the numerous clichés, the thriller has a deep message. The movie makes you wonder if there is a meaning to the existence of mankind on Earth.
The Ritual
IMDB Rating – 6.3
Genre: Horror
Production: UK, Canada / 2017
Worldwide Box Office: $1,785,977
Director: David Bruckner
Starring: Rafe Spall, Arsher Ali, Robert James-Collier, Sam Troton, Paul Reid, Matthew Neham, Jacob James Beswick, Maria Erwolter, Hilary Reeves, Peter Lidell
Sometimes the worst thing is not to die, but to lose loved ones. Four university friends go hiking in northern Sweden to honor the memory of a recently deceased friend. After deviating from the route, the buddies decide to take a shortcut through the forest. This fatal mistake will cost the lives of almost all…
The symbols carved into trees are signs used in the neo-pagan religion of Wicca. The religion came into existence in 1954. Wiccans honor a male deity, the Horned God, and the Triune Goddess, associated with the phases of the moon.
In the Earth
IMDB Rating – 5.2
Genre: Horror, Fantasy
Production: UK / 2021
Worldwide Box Office: $1,330,723
Director: Ben Wheatley
Starring: Joel Fry, Ellora Torchia, Rhys Shearsmith, Hayley Squires, John Hollingworth, Mark Monero
One of the topical quarantine novelizations about a mysterious forest and the horrors that can be experienced in it. Biologist Martin, accompanied by guide Alma, goes into the forest thickets in search of his former lover Olivia, who is studying the reasons for the incredible fertility of the local soil.
The heroes have an unexpected encounter with a dangerous forest dweller, Zack, who believes he is communicating with the forest spirit Parnagh Fegg.
The movie is a typical movie of the pandemic period. The film was shot in only 15 days, with only 6 actors. The location of the movie does not involve crossing with other people.
Backcountry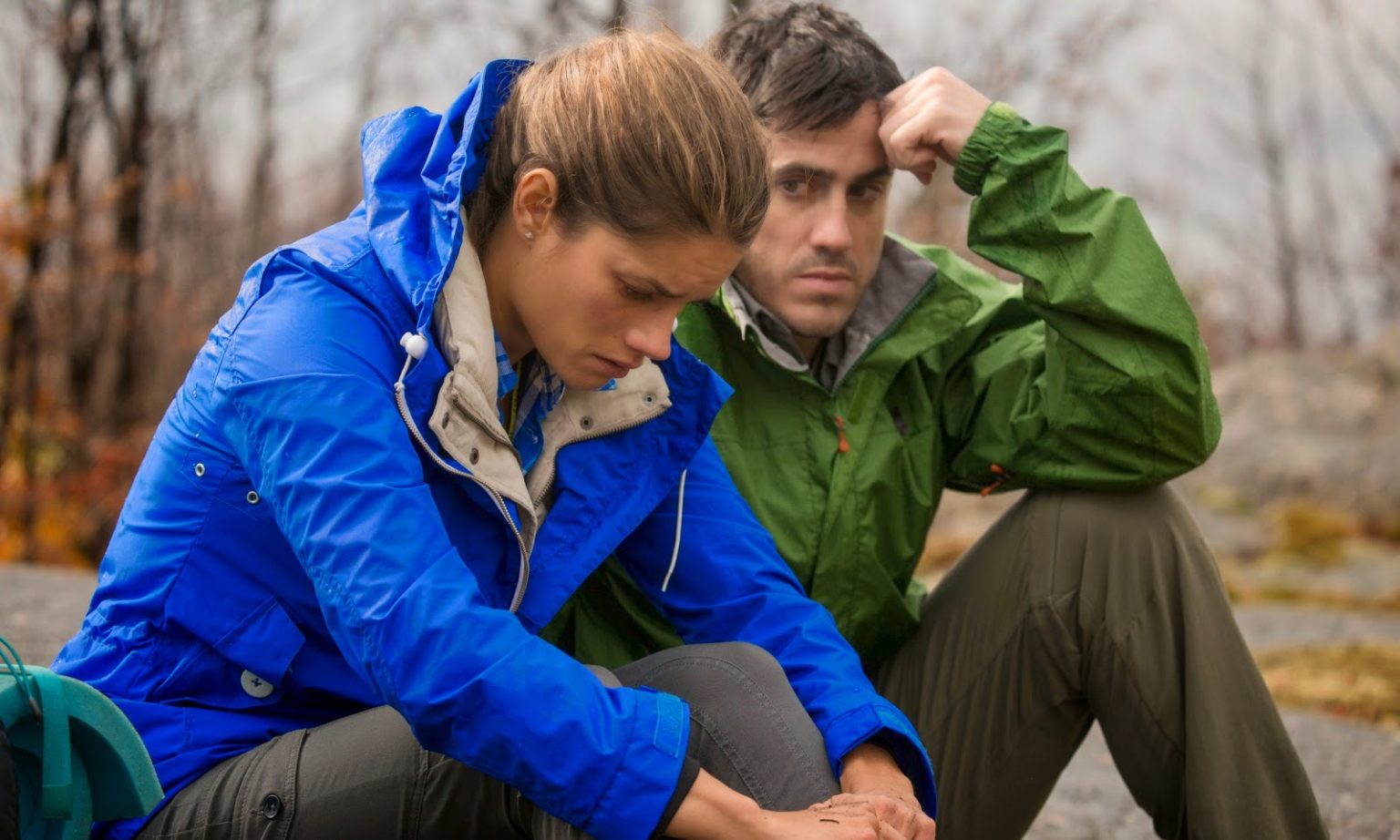 IMDB Rating – 6.0
Genre: Horror, Thriller, Drama, Adventure
Production: Canada / 2014
US box office receipts: $13,848
Director: Adam MacDonald
Starring: Missy Peregrim, Jeff Roop, Nicholas Campbell, Eric Balfour
A motion picture, horrifying with the reality of what is happening. A young man Alex wanted to propose to his beloved Jenn on the background of wild nature. As a result, inexperienced tourists lose their way and become the object of hunting by a man-eating bear.
The feature film is based on real events that took place in Missinaibi National Park in 2005. A married couple was attacked by a predatory bear. The man managed to wrestle his wife away from the predator, but the woman died from her wounds.
The Hallow
IMDB Rating – 5.7
Genre: Horror, Fantasy
Production: Ireland, UK / 2015
Worldwide Box Office: $1,862,407
Director: Corin Hardy
Starring: Joseph Mowle, Bojana Novakovic, Michael McElhatton, Michael Smiley, Gary Lydon, Stuart Graham, Conor Craig Stephens, Charlotte Williams
Careless city dweller Adam Hitchens did not heed the warnings of local residents when he moved with his wife and infant child to a forest home in Ireland. The locals believe that the woods are haunted by ancient spirits that abduct children. Adam together with his wife will have to make every effort to ensure the safety of their young son.
A horror film about a house in the woods won the 2016 Empire Film Award for Best Horror Film. The film award is given by Empire magazine and differs from others in that the winners are chosen by readers, not film critics.
Suicide Forest Village
IMDB Rating – 5.1
Genre: Horror
Production: Japan / 2021
Worldwide gross: $5,649,792
Director: Takashi Shimizu
Starring: Anna Yamada, Mayu Yamaguchi, Fuju Kamio, Yuki Kura, Haruka Kudo, Rinka Otani, Muga Tsukaji, Asuka Kurosawa, Kazuya Takahashi, Yumi Adachi
The creepiest place in Japan is the Aokigahara Forest, or suicide forest. It should be avoided. But a cursed box beckons in the scary forest, and to survive, two sisters will have to unravel its mystery.
Aokigahara or Jukai is a forest on the Japanese island of Honshu at the foot of the Fujiyama volcano. Due to its lowland location and dense trees, the forest has a special acoustics – a "deafening" silence. In addition, compasses do not function in Aokigahara, presumably due to large deposits of iron ore. The forest became infamous in the Middle Ages, when poor Japanese people brought here old people and children who could not be fed.
The Village
IMDB Rating – 6.5
Genre: Thriller, Melodrama
Production: USA / 2004
Budget: $60,000,000
Worldwide Box Office: $256,697,520
Director: M. Knight Shyamalan
Starring: Bryce Dallas Howard, Joaquin Phoenix, Adrien Brody, William Hurt, Sigourney Weaver, Brendan Gleeson, Cherry Jones, Celia Weston, John Christopher Jones, Frank Collison.
Beyond the border of a small Protestant village, in the woods, live "those we do not speak of". The creatures attack anyone who ventures out of the village. But one of the inhabitants of the settlement is injured and needs a cure that is only available in town.
The elders give permission to the girl Ivy to cross the mysterious forest. The thing is that Ivy is blind from birth and will not be able to tell others what she has seen.
To feel the atmosphere of the 19th century, the actors lived for a week in a boot camp.
Eden Lake
IMDB Rating – 6.8
Genre: Horror, Thriller
Production: UK / 2008
Worldwide box office receipts: $3,983,997
Director: James Watkins
Starring: Kelly Reilly, Michael Fassbender, Tara Ellis, Jack O'Connell, Finn Atkins, Jumaine Hunter, Thomas Turgus, James Burrows, Tom Gill, Lorraine Bruce.
A heartbreaking tale of what a monster an ordinary teenager can be. Steve and Jenny go to Paradise Lake hoping to relax. But a gang of local boys interferes with their relaxing time.
To have fun, the guys steal a couple's car, and Steve accidentally kills the dog of the leader of the teenagers. After that the teenagers turn into bloody killers.
The attentive viewer can notice a blatant movie gaffe by the creators of the tape. The leader of the teenagers calls the killed dog a "girl", although it is perfectly clear that the dog is a male.
Cabin Fever
IMDB Rating – 5.6
Genre: Horror, Drama
Production: USA / 2003
Budget: $1,500,000
Worldwide Box Office: $30,553,394
Director: Eli Roth
Starring: Ryder Strong, Jordan Ladd, James DeBello, Serina Vincent, Joey Kern, Eri Vervin, Robert Harris, Hal Courtney, Matthew Helms, Richard Boone.
Another horror about a vacation in the forest and unpredictable horrors that await tourists in the most unexpected places. Students who came to have fun at the lake are frightened by a strange vagrant with signs of disease. But when the young people realize that they are already infected, none of the locals rush to help.
The original dog was so old and lethargic that all the footage had to be reshot. The regular police dog chosen instead was so aggressive that the actors were afraid to be in the same frame with it, and the cameramen operated the cameras by remote control.
The Blair Witch Project
IMDB Rating – 6.5
Genre: Horror
Production: USA / 1999
Budget: $22,000
Worldwide gross: $248,639,099
Director: Daniel Myrick, Eduardo Sanchez
Starring: Heather Donahue, Joshua Leonard, Michael S. Williams, Bob Griffin, Jim King, Sandra Sanchez, Ed Swanson, Patricia DeCoux, Mark Mason, Jackie Hollex.
An accidentally found tape tells about the fate of students who decided to film a term paper about the Blair Witch. They went to a place called "Coffin Rock." According to old-timers, the bodies of her victims are buried there. The boys were never seen again.
The first movie from the series of "mocumentaries" – pseudo-documentaries filmed on the camera of one of the characters. Horror shot on an amateur movie camera, has no special effects and musical accompaniment. The original budget of the thriller amounted to 22 thousand dollars, while it was sold to a distributor company for 1.1 million dollars.
Evil Dead
IMDB Rating – 6.5
Genre: Horror
Production: USA / 2013
Budget: $17,000,000
Worldwide Box Office: $97,542,952
Director: Federico Alvarez
Starring: Jane Levy, Shiloh Fernandez, Lou Taylor Pucci, Jessica Lucas, Elizabeth Blackmore, Phoenix Connolly, Jim McLarty, Sian Davis, Stephen Butterworth, Carl Willetz.
A group of friends tries to rid a girl Mia of drug addiction. To do this, they gather at an abandoned house in the woods. While exploring it, they find the Book of the Dead in the basement and accidentally voice a terrifying spell. If the released demon captures five souls, blood will rain from the sky and the dead will rise from their graves.
A remake of the 1981 Evil Dead media franchise. The production of the horror film used 25,000 liters of artificial blood and 300 liters of vomit fluid.
Wrong Turn: The Foundation
IMDB Rating – 5.5
Genre: Horror
Production: USA, Germany, UK / 2020
Worldwide Box Office: $4,827,706
Director: Mike P. Nelson
Starring: Charlotte Vega, Edain Bradley, Bill Sage, Emma Dumont, Dylan McTee, Daisy Head, Matthew Modine, Vardaan Arora, Adrian Favela, Tim DeZarn.
According to critics' reviews – one of the best movies about a hiking trip in the woods and the horrors it turned out to be. Six young men in the Appalachian Mountains encounter some very unfriendly locals. Going off the trail the group loses one of its members, who finds himself captured by the strange inhabitants of the West Virginia woods.
The seventh installment of the popular "Dangerous Turn" franchise. "Legacy" is not a continuation of the series, but its reboot. Instead of the usual trio of mutants in the movie there are new villains: Wolf Skull, Deer Skull, Boar Skull and Sheep Skull.
Always Shine
IMDB Rating – 5.7
Genre: Horror, Thriller, Drama, Detective
Production: USA / 2015
US box office receipts: $17,102
Director: Sophie Takal
Starring: Mackenzie Davis, Caitlin Fitzgerald, Lawrence Michael Levine, Khan Baikal, Alexander Koch, Michael Lowry, Colleen Camp, Jane Adams, Julian Tolentino, Mason Foste
A horror movie about female jealousy and friendship. Two actress friends Beth and Anna are going on vacation in a remote area of California. Anna is jealous of Beth's professional success and does not hide it. The friends constantly quarrel, and one day a fight between them gets out of control.
The film is shot in the genre of psychological thriller – one of the types of horror films, in which the emphasis is on the change in the internal mental state of a person. Visions, voices, split personality – all this, according to the laws of the genre, sooner or later leads to tragedy.
Gretel & Hansel
IMDB Rating – 5.4
Genre: Horror. Fantasy
Production: USA, Canada, Ireland, South Africa / 2020
Worldwide Box Office: $22,051,055
Director: Oz Perkins
Starring: Sophia Lillis, Sammy Leakey, Alice Krige, Jessica De Gauw, Fiona O'Shaughnessy, Donncha Crowley, Jonathan Gunning, Charles Babalola, Julia Doherty, Jonathan Delaney Tynen.
Never start something you can't stop. A young girl, Gretel, and her brother Hansel are kicked out of their home by their heartless mother. Wandering through the thicket, they stumble upon a cabin where a strange old woman named Holda lives. Her house is always full of delicious food, although the old woman has no vegetable garden or pets. Gretel has to learn Holda's terrible secret.
The German fairy tale "Gretel & Hansel" in a new way. Director Oz Perkins has built a very interesting visual series of the picture. There are a lot of references to triangular shapes in the film, and it is not accidental. In occult sciences triangle is considered a place of imprisonment of magical abilities, besides the corners look disturbing and frightening.
What Keeps You Alive
IMDB Rating – 5.7
Genre: Horror, Thriller
Production: Canada / 2018
Director: Colin Minihan
Starring: Hannah Emily Anderson, Brittany Allen, Martha McIsaac, Joey Klein, Charlotte Lindsay Merron
How well do you know the person who falls asleep next to you every night? Lesbian couple Jackie and Jules come to a cabin in the woods to celebrate their anniversary together. But one of the women is hiding something, and a deadly game of cat and mouse ensues.
Almost just before filming began, the director and screenwriter Colin Minihan changed the concept of the thriller. He replaced the heterosexual couple with a union of two women, and the banal Bluebeard-inspired plot turned into a fascinating spectacle.
Fear Island
IMDB Rating – 5.2
Genre: Horror, Thriller, Detective
Production: Canada / 2009
Budget: $4,000,000
Director: Michael Story
Starring: Aaron Ashmore, Haylie Duff, Lucy Hale, Kyle Schmid, Anne Marie DeLuise, Martin Cummins, Jacob Blair, Jessica Harmon, Jim Thorburn, Brenna O'Brien
After a few days on a secluded island, only the girl Jenna was left alive. Her story came as a shock to those around her. According to Jenna, after a party, a group of friends found the corpse of a caretaker with "Evil" written on his shirt. This corpse was the first, and then a ruthless maniac killed all the others. But should the girl be believed?
The movie is a so-called slasher – a popular subgenre of horror films. The main feature of slashers is the presence of a specific killer, who massacres a group of secondary characters.
Nobody Sleeps in the Woods Tonight
IMDB Rating – 4.9
Genre: Horror
Production: Poland / 2020
Director: Bartosz Kowalski
Starring: Julia Wieniawa-Narkiewicz, Michal Lupa, Wiktoria Gasiewska, Stanisław Ciwka, Sebastian Dela, Gabriela Muscala, Mirosław Zbrojewicz, Piotr Cyrwus, Olaf Lubaszenko
Polish movie about young people and the horrors in the forest, which they did not even know about. Teenagers found themselves in the wilderness without phones and other means of communication, as the camp program implied complete independence from modern gadgets. The teens will have to face their mutant brothers, who are not happy that strangers roam the forest.
The movie was made for Netflix streaming service by Polish filmmakers. Netflix is currently available in 190 countries around the world. In order to actively develop, the channel produces foreign content, in the language of foreign viewers and with actors familiar to them.
He's Out There
IMDB Rating – 5.3
Genre: Horror, Thriller
Production: Canada, USA / 2018
Worldwide box office receipts: $544,674
Director: Quinn Lasher
Starring: Yvonne Strahovski, Anna Pniewski, Abigail Pniewski, Ryan McDonald, Justin Bruning, Julian Bailey, Stephanie Costa
A young woman Laura and her two daughters are enjoying a relaxing weekend at a woodland lakeside cottage. A friendly neighbor warns about the bad reputation of the bungalow, the previous inhabitants of this dwelling had a son disappeared without a trace.
However, Laura does not pay much attention to silly stories. But here one of the girls becomes ill – she ate sweets, which someone diligently laid out in the forest clearing.
At the beginning of filming as the director of the picture was Dennis Ilidis. However, the film was released with a non-existent Quinn Lacher as the director.
The Forest
IMDB Rating – 4.8
Genre: Horror, Thriller, Detective
Production: USA / 2015
Budget: $10,000,000
Worldwide Box Office: $39,712,000
Director: Jason Zada
Starring: Natalie Dormer, Owen Macken, Stephanie Vogt, Osamu Tanpopo, Yasuo Tobishima, Ibuki Kaneda, Akiko Iwase, Kikuo Ichikawa, Noriko Sakura, Joseph Aoki
A young American woman, Sarah, rushes to Japan in search of her twin sister, Jess. The Japanese side assures that Jess has gone to the Aokigahara forest, which has a bad reputation. It is there, at the foot of the volcano Fujiyama, that the highest number of suicides in the country occurs.
The people around her discourage Sarah from going to Aokigahara and even more so from spending the night there. And they are right – in the forest thicket the souls of the dead begin to contact the girl.
Work on the thriller took place in Serbia. According to one version, the Japanese actors did not agree to shoot in the Suicide Forest, according to another – the shooting was not allowed by the government of the rising sun country.
Exists
IMDB Rating – 5.2
Genre: Horror, Thriller
Production: USA / 2014
Worldwide box office receipts: $386,350
Director: Eduardo Sanchez
Starring: Dora Madison, Chris Osborne, Roger Edwards, Denis Williamson, Samuel Davis, Brian Steele, Jeff Schwan, George P. Gacoumis Jr., Stephanie Sanchez.
The hobby of a group of young people is traveling across the country. This weekend, the friends decide to make a trip to East Texas. On the way, the car of young people is hit by an unknown creature, but they do not attach any importance to it.
Reaching a hunting cabin tourists notice something that looks like a Bigfoot. Deciding to capture it on film, the young men set up several cameras. However, it is not they who hunt Bigfoot, but he hunts them. And with good reason.
This mocumentary film was directed by Eduardo Sanchez, whose best-known work was the similar film The Blair Witch: A Course from Beyond. Mocumentary films are considered the best horror about the forest, deserted islands, inaccessible mountains and other remote corners of the wilderness.
Timber Falls
IMDB Rating – 5.2
Genre: Horror, thriller
Production: USA, Romania / 2007
Budget: $2,600,000
Worldwide Box Office: $730,299
Director: Tony Giglio
Starring: Josh Randall, Brianna Brown, Nick Searcy, Beth Broderick, Sasha Rosemann, T.W. Leshner, Brenden R. Morgan, Ryan McGee, Carl Bressler, Debbie Jaffe
How often people don't heed the warnings. The married couple Michael and Sheri were no exception. The couple decided to spend a vacation in the mountains of West Virginia. When they arrive, they find a missing persons notice, but decide to continue their hike. It was the biggest mistake of their lives.
West Virginia has the official name "Mountain State" and has the motto "Mountaineers are always free". The vast territory of the state is occupied by the Appalachian mountain system, and about 80% of the state is covered with forests. West Virginia is also the "whitest state" in the United States, with nearly 94% of the population of European descent.
Friday the 13th
IMDB Rating – 5.5
Genre: Horror, Thriller, Detective
Production: USA / 2009
Budget: $19,000,000
Worldwide Box Office: $91,379,051
Director: Marcus Nispel
Starring: Jared Padalecki, Daniel Panabaker, Amanda Righetti, Travis Van Winkle, Aaron Yoo, Derek Mears, Jonathan Sadowski, Julianne Guill, Ben Feldman, Arlene Escarpeta
Another movie about the hockey-masked killer James Voorhees. As you might expect, the maniac murders citizens peacefully vacationing on Crystal Lake in cold blood and consistently.
A remake of the 1980 film of the same name, the 12th film in the franchise. Originally James was not a maniac, in the first part of the franchise psychopathic killer was his mother. The budget of the legendary first picture "Friday the 13th" was 550 thousand dollars, while at the box office the film earned almost 60 million dollars. The commercial success of the tape prompted the producers to make the secondary character James Voorhees classic maniac.
Shrooms
IMDB Rating – 4.7
Genre: Horror, Thriller, Comedy, Detective
Production: Ireland, Great Britain, Denmark / 2007
Worldwide box office receipts: $3,731,565
Director: Paddy Bretnack
Starring: Lindsay Hawn, Jack Huston, Max Cash, Maya Hadzen, Alice Grechin, Robert Hoffman, Don Wicherly, Sean McGinley, Toby Sedgwick, Andre Pollack.
A chilling horror movie about a forest and a mushroom hike. A group of adventurers go to the forest for hallucinogenic mushrooms, which grow only in one place in Ireland.
At the campfire tourists tell stories and voice a local legend about the Black Brothers. Two brothers once tasted the mushrooms and became brutal killers. A girl Tara accidentally tastes the mushrooms and starts to be haunted by terrible visions.
People have been using the psychotropic properties of some mushrooms since ancient times, mainly in religious rituals. Hallucinations are caused by a natural psychedelic compound contained in mushrooms – psilocybin. Regular and uncontrolled use of psychogenic mushrooms can lead to irreversible consequences for both mental and physiological state of a person.
Funny Games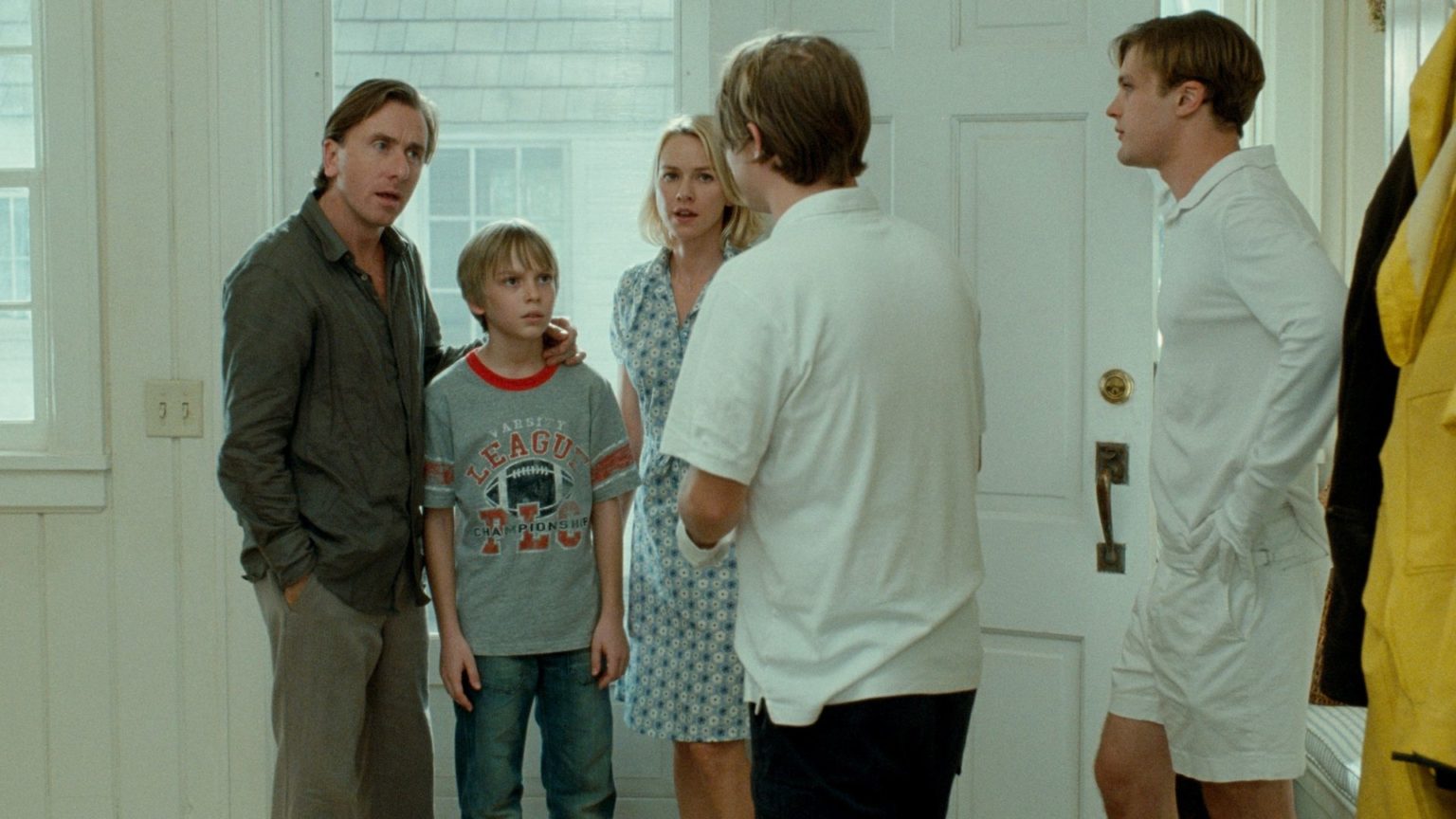 IMDB Rating – 6.6
Genre: Horror, Thriller, Drama, Crime
Production: USA, France, UK, Austria, Germany, Italy / 2007
Budget: $15,000,000
Worldwide box office receipts: $7,938,872
Director: Michael Haneke
Starring: Naomi Watts, Tim Roth, Michael Pitt, Brady Corbett, Devon Gearhart, Boyd Gaines, Siobhan Fallon, Robert LuPone, Suzy Haneke, Linda Moran.
A hard-hitting psychological thriller about what a man with a twisted mind can do to his own kind. The perfect Australian Farber family comes to a country house to go yachting and play golf.
Two cute guys in white gloves knock on their door and ask for small favors. Soon the guys' presence becomes annoying and they reveal their cards. Not 12 hours later, the entire Farber family is dead.
Director Michael Haneke has remade his 1997 film of the same name.
Midsommar
IMDB Rating – 5.7
Genre: Horror, Thriller, Drama, Detective
Production: Denmark, Sweden / 2003
Director: Carsten Millerup
Starring: Christian Leth, Laura Christensen, Tuva Novotny, Jon Lange, Julia Olgaard, Lukke Sand Michelsen, Per Oskarsson, Birgitte Simonsen, Jesper Hildegaard.
During a party, a girl Sofia commits suicide. The sudden death of the girl is hard on her family, especially on her brother Christian. To distract the guy with his friends goes on vacation to a small Swedish town.
Young people are quietly resting, drinking, sunbathing and swimming. And only Christian is restless, it seems to him that his sister gets in touch with him. To understand what the spirit needs, the company decides to engage in spiritualism.
The Ouija board was patented in America as a common board game. Spiritualist Pearl Curran began using it during World War I to communicate with the souls of the dead.
Preservation
IMDB Rating – 4.8
Genre: Horror, Thriller
Production: USA / 2014
Director: Christopher Denham
Starring: Renn Schmidt, Pablo Schreiber, Aaron Staton, Cody Stainnew, Michael Chacon, Nick Sasho
Three young men decide to take a break from city life and go hunting in a nature reserve. Waking up in the morning, they realize that they are not alone in the forest – their equipment and clothes have disappeared. And to all appearances, the uninvited guests are overcome by bad intentions.
One of the killers wears a mask with the MGTOW symbol – "men going their own way". It is an online community of heterosexual men who, to varying degrees, distance themselves from women, especially from marriage.