The best German comedies are unique examples of world cinema, with their own flavor and unique humor of the "dusky German genius. Creating this selection, we have tried to show all facets of German comedy cinema, from bright children's adventures to formulaic crime films, from the most eccentric plots to light banal romcoms.
German cinema is very, very different. Every spectator can choose here something for himself and enjoy pleasant and cheerful film on the most different themes.
Knockin' on Heaven's Door
IMDB Rating – 7.8
Genre: Drama, comedy, crime
Production Germany / 1997
Budget: DEM 4,300,000
World Box Office: $214,139
Director Thomas Jahn
Starring: Til Schweiger, Jan Josef Lifers, Thierry Van Werveke, Moritz Bleibtroy, Hub Stapel, Leonard Lansink, Ralf Herfort, Cornelia Frohöss, Rutger Hauer, Willy Tomczyk
Germany's funniest road buddy movie. And the most poignantly dramatic. This film was a revelation in 1997 and still steadily reigns in the lists and registers of the best tragicomedies of the late 20th century.
At the center of the plot are two opposites – the timid Rudy and the badass Martin. The men meet in a cancer clinic. Knowing that they do not have much time left, Martin encourages Rudy to escape, which turns out to be an insanely funny and incredibly touching adventure.
Slogan of the movie: "A fast car, a million in the trunk and a week of life.
My Blind Date With Life
IMDB Rating – 7.0
Genre: Comedy, drama
Production Germany / 2017
Worldwide box office: $5,276,805
Director Mark Rotemund
Starring: Kostja Ullmann, Jakob Machenz, Anna Maria Mue, Johan von Bülow, Alexander Held, Neelam Farouk, Silvana Krappatzsch, Michael Grimm, Kida Ramadan, Johanna Bittenbinder
A well-adapted and very cunning blind man finds his place in life, which he treats with great humor. This incredible motivating adventure begins with high school protagonist Sally, who is rapidly losing his sight, but persistently trains all his other senses.
His next goal is to get a job as an intern at a prestigious hotel in Munich. When he sends in his resume, he gets a polite rejection everywhere. And then Sally decides on a gamble: he removes the line about his blindness from his resume, gets an invitation to work, and now he needs to fool his superiors by pretending to be sighted.
The film is based on the autobiography of Salia Kahawatte. Yes, yes, this story is real!
Good Bye, Lenin!
IMDB Rating – 7.7
Genre: Drama, melodrama, comedy
Production Germany / 2003
Budget: €4,800,000
World Box Office: $79,316,957
Director Wolfgang Becker
Starring: Daniel Brühl, Catherine Sass, Chulpan Khamatova, Maria Simone, Florian Lukas, Alexander Bayer, Burghart Klaussner, Michael Gwizdek, Christina Schorn, Juergen Holtz
An incredibly cute German family comedy based on an extremely curious premise. Christiane raised her own son and daughter and was a very ideological communist, but just before the Berlin Wall came down, she fell into a coma. She woke up eight months later, when there was nothing left of socialism in Germany.
Except that the mother must not be disturbed, and her loving son Alex and his girlfriend Lara, who came for an internship from the USSR (Chulpan Khamatova) decide to pretend that everything is as it was. And Lenin's cause lives on, and the pioneers are around. They turn the apartment into a real bastion of socialism, loved by Mom, but how long will their care-driven deception last?
The film was so popular that India released a remake of Durdarshan in 2020.
Barefoot
IMDB Rating – 7.1
Genre: Drama, melodrama, comedy
Production Germany / 2005
Budget: € 4 700 000
World Box Office: $14,000,000
Director Til Schweiger
Starring: Til Schweiger, Johanna Vokalek, Nadja Tiller, Steffen Wink, Michael Mendl, Alexandra Neldel, Imogen Kogge, Janine Kunze, Stefanie Stappenbeck, Axel Stein
Another charming film by Thiel Schweiger, a totally non-trivial romcom about a loser who falls in love with a crazy woman. Sounds eccentric, doesn't it? This movie is definitely a comedy, but with deep undertones and evoking light laughter and warm feelings instead of laughter.
Nick, Thiel's character, is a pathological liar, an irresponsible loser, yet capricious and stubborn. He rejects his mother's help, has a falling out with his brother, and constantly hurts girls. But one day he accidentally saves the life of Lila, a wacky simpleton who immediately ties up with him, literally creating a new Nick, the existence of which the hero himself did not even suspect.
The film won Germany's oldest and most prestigious Bambi award.
This Crazy Heart
IMDB Rating – 6.9
Genre: Drama, comedy
Production Germany / 2017
Worldwide box office: $20,118,769
Director Mark Rotemund
Starring: Elias M'Barek, Philip Schwartz, Nadine Writz, Uwe Reiss, Lisa Bitter, Jürgen Tonkel, Bruno Sauter, Max Alberti, Lou Bischoff
A good teen comedy about friendship with heartwarming overtones. Lenny Reinhardt is the offspring of a rich family who is used to living his life in nightclubs and causing trouble for his parents. Well, that's what money is for, to spend it and solve problems, isn't it?
In a fit of temper one day from another of Lenny's antics, his father, a powerful cardiologist, strips the boy of all his money and forces him to become a nurse and companion for his depressed 15-year-old patient David, a boy with a very sick heart for whom any day could be his last. So, Lenny learns responsibility and David learns cheerfulness, and it's very exciting and heartwarming!
The film became the highest-grossing film in Germany after its premiere, second only to another episode of Star Wars over time.
Help, I Shrunk My Teacher; Help, I Shrunk My Parents; Help, I Shrunk My Friends
IMDB Rating – 5.2
Genre: Fantasy, action, comedy, adventure, family
Production: Germany, Austria / 2015
Budget: €7,000,000
World Box Office: $8,477,416
Directed by Sven Unterwaldt Jr.
Starring: Anja Kling, Oskar Keimer, Axel Stein, Justus von Dohnanyi, Lina Hussker, Georg Solzer, Maximilian Ehrenreich, Eloi Christ, Johannes Zeiler, Michael Ostrowski
This is a series of vivid school comedies, which is wonderful for a good family evening, and any adult will bring a lot of pleasure with its light humor and unpretentious fantasy plot.
In the center of events of the first film "Hilfe, ich hab meine Lehrerin geschrumpft!" – is a schoolboy named Felix, who one day desperately wishes that his principal would shrink down to the size of a pinhead. And this wish unexpectedly comes true. Felix and the unhappy principal Schmitt-Gössenwein have to figure out how this happened, how to get it all back, meet the spirit of the school and break an ancient curse.
In "Hilfe, ich hab meine Eltern geschrumpft !" and later "Hilfe, ich hab meine Freunde geschrumpft!" the story is repeated, only the reasons are different each time, and Felix has many amusing adventures with tiny little people.
The films are based on children's books by the German writer Sabine Ludwig.
100 Things
IMDB Rating – 6.3
Genre: Drama, comedy
Production Germany / 2018
Worldwide box office: $14,093,397
Director Florian David Fitz
Starring: Florian David Fitz, Mattias Schweighöfer, Miriam Stein, Hannelore Elsner, Wolfgang Stumph, Katharina Talbach, Johannes Allmeyer, Sarah Frick, Maximilian Meyer-Bretschneider, Maria Furtwängler
Two cronies and successful business partners, Tony and Paul, create a promising IT product and prepare to sell it to Zuckerberg himself for 14 million euros. On the eve of the deal, the buddies get drunk and make a bet. The loser will give away his share of the company to all its employees. The essence of the bet is as follows: you need to last 100 days with a hundred things, and you can take yourself only 1 thing a day.
The friends are to find out in amazement how many unnecessary and meaningless things surround them, fall in love with the same girl and make an incredible discovery: happiness – not in clothes.
The film was inspired by Petri Luukkainen's 2013 documentary My Stuff.
Rabbit Without Ears
IMDB Rating – 6.5
Genre: Melodrama, comedy
Production Germany / 2007
Budget: €4,500,000
World Box Office: $81,303,447
Director Til Schweiger
Starring: Til Schweiger, Nora Schirner, Matthias Schweighöfer, Alvara Höfels, Jürgen Vogel, Armin Rohde, Rick Cavanian, Wolfgang Stumph, Christian Tramitz, Barbara Rudnik
Til Schweiger is of course the most popular German actor and not a bad comedian, so we have several movies with him on our list. "Pretty Boy" is an excellent cautionary romcom with an unconventional plot. The main character of the story is Ludo, a young journalist who thinks he is irresistible and cool.
One day he gets into a ridiculous situation and is sentenced to community service in the kindergarten, where his boss becomes a girl Anna, whom he mocked at school. As luck would have it, the incorrigible womanizer Ludo falls in love with the girl.
The second film continues the theme of Anna and Ludo's relationship, experiencing a crisis and facing a choice: serious responsibility or freedom.
Both films were box office hits in Germany. The first earned several awards, including the Bronze Palm at the Mexican Film Festival.
Lotta & die alten Eisen
IMDB Rating – 6.9
Genre Comedy
Production Germany / 2010
Budget: €1,000,000
Director Edzard Onneken
Starring: Josefina Preuss, Barbara Auer, Heidi Forster, Dagmar von Thomas, Peter Gawaida, Lissi Tempelhof, Friedrich Schoenfelder, Jokel Chirsch, Karim Sheriff, Bernhard Pisk
A true television series of seven life-affirming comedies, beginning with the story "Lotta & die alten Eisen. The young German actress Josefina Proiss, who played Lotta, has become world-famous, and the films have earned high ratings and good reviews from critics. In short, if you like the character and her philosophy of life, this series will be a great pastime for a few evenings.
Lotte is an impulsive girl with endlessly eccentric ideas. Her father grows tired of his daughter's antics and stops funding her. Lotte takes a job at a nursing home, where she suddenly realizes that this is where real life boils, so close to death and sadness.
In the next film, "Lotte and Great Expectations," the heroine becomes pregnant, gets her nursing degree, struggles to keep the nursing home, and tries to decide whether to keep the baby.
Josefina Prois is the star of the popular comedy series Turkish for Beginners.
Double Trouble and the Magical Mirror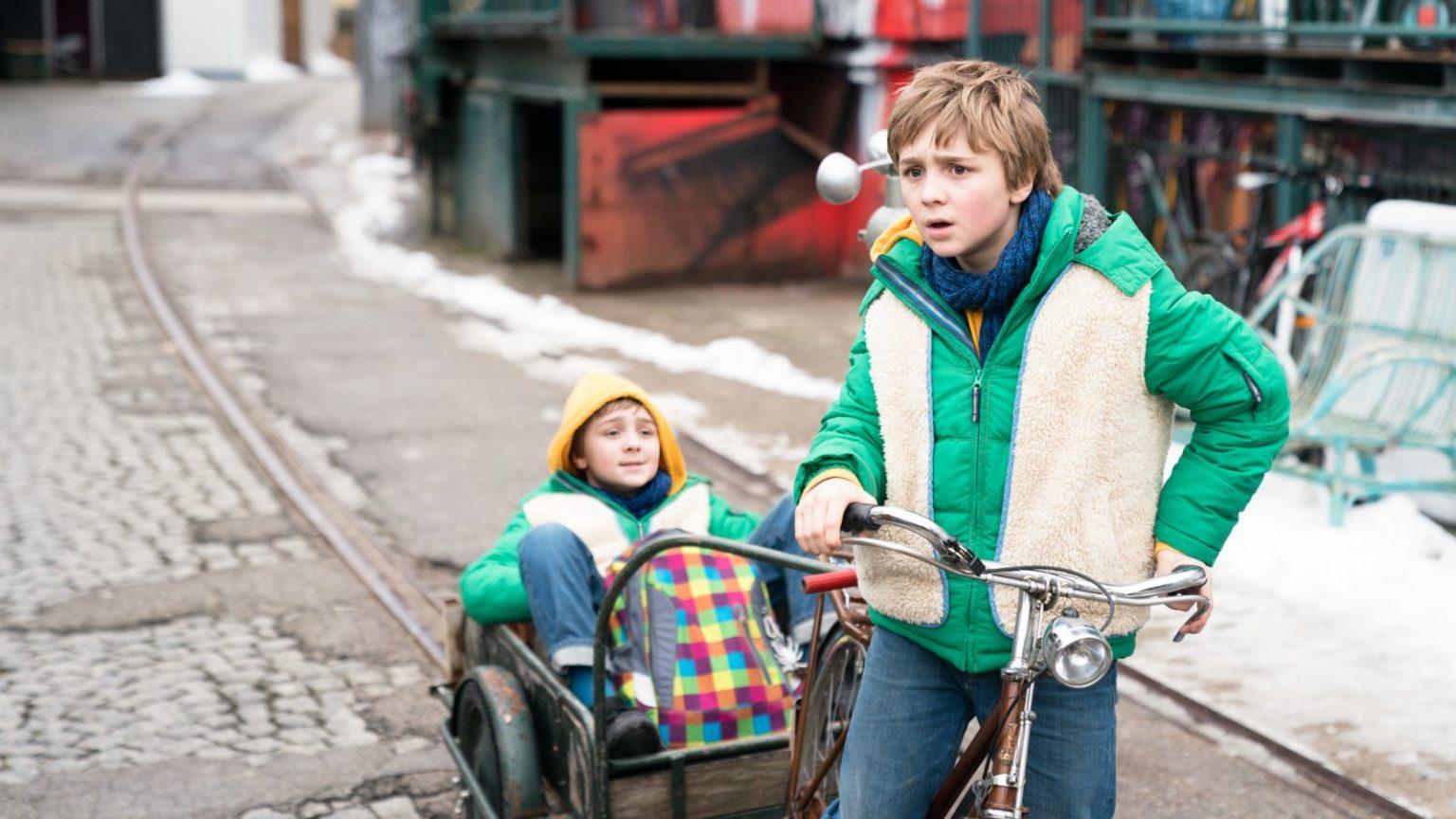 IMDB Rating – 6.2
Genre: Comedy, Family
Production Germany / 2019
Worldwide box office: $61,962
Director Markus Rosenmuller
Starring: Louis Worbach, Jonah Genslen, Margarita Breuch, Marie Leuenberger, Serkan Kaya, Colin Badura, Cleo Dietmayr, Sanna Morgenroth, Xari Wimbauer, Pepe Trebs
Another children's sci-fi adventure comedy that adults will also enjoy watching, especially those who remember the legendary Soviet "Electronik. In the center of the plot is 10-year-old loser Frido, who is worried about his parents' divorce and not very fond of school.
One day at a fair, he looks in a magic mirror and sees his double there, only smarter, more ambitious, and more confident. Frido pulls the twin out of the mirror and takes him home, sending him to school instead. Everyone is thrilled with the new Frido, and soon the boy reveals his secret to his friend Emil, who is also eager to acquire a trustworthy double. But these obedient copies also have desires of their own…
The film was shot in Leipzig and Munich, as well as at the famous Alpamare thermal pool in Bad Tölz.
Single By Contract
IMDB Rating – 6.5
Genre: Melodrama, comedy
Production Germany / 2010
World Box Office: $5,428,839
Director Mark Rotemund
Starring: Anna Fischer, Kostja Ullmann, Inka Friedrich, Ben Brown, Amber Bongard, Josef Mattes, Nina Gummich, Roman Knizka, Michael Keseroglu, Franziska Wolf
One of the best German romantic comedies of the 2010s, telling the love story of a pop star and an ordinary girl. Starring two German singers, Kostja Ullmann and Anna Fischer.
Leela, 17, returns to Berlin after a year spent in the United States. It is very difficult for the girl to adapt to the almost forgotten European culture, and an outlet for her becomes an acquaintance with a mysterious but sweet guy Chris.
Their burgeoning relationship comes to a sudden halt when Lila discovers that her lover is the lead singer of the iconic contemporary band Berlin Mitte, who has the hots for all the girls in Germany, including her younger sister, and is contractually obliged to maintain his image as a lonely hero without a long-term personal relationship.
The band Berlin Mitte was formed for the film with all the songs sung by Frank Ziegler, the former vocalist of the German band Panik. In the film he plays the guitarist of the band.
Bedazzled
IMDB Rating – 6.1
Genre: fantasy, comedy
Production: Germany, USA / 2000
Budget: $48,000,000
World Box Office: $90,383,208
Director Harold Remis
Starring: Brendan Fraser, Elizabeth Hurley, Francis O'Connor, Miriam Shore, Orlando Jones, Paul Adelstein, Toby Hass, Gabriel Kosses, Brian Doyle-Murray, Jeff Doucette
A great American-German comedy, an oldie but cute and funny movie starring Brendan Fraser, a Hollywood star. The actor plays 6 different characters in this wish fulfillment movie, all because his character once made a deal with the devil, or rather, the devilwoman.
Elliot is a handsome young man with a good sense of humor. But it does not save him from eternal failure. The dull office job, the indifference of the beautiful Allison, whom he is in love with – all this makes Elliot one day exclaim that he would give his soul for a bright change in life. Which he is immediately offered by a sexy lady who modestly introduces herself as Satan himself. And, of course, our hero will not be too happy about the devil's embodiment of his dreams.
If you want to get to the origins of this film, take a look at the original 1967 British film of the same name.
Suck Me Shakespeer (trilogy)
IMDB Rating – 6.9
Genre Comedy
Production Germany / 2013
Budget: €6,000,000
World Box Office: $78,400,000
Director Bora Dagtekin
Starring: Elias M'Barek, Caroline Herfurth, Katja Riemann, Jana Pallaske, Alvara Höfels, Yella Haase, Max von der Gröben, Lena Klenke, Gizem Emre, Aram Arami
A great comedy consisting of an uncomplicated plot and solid humor, including racy, criminal and high school jokes. The protagonist of the trilogy is Zeki Muller, a hardened criminal who is released after another prison term.
Zeki hopes for a stash hidden by his girlfriend, which will help him start a new life. But it turns out that a school gymnasium has been erected on the spot where the money is buried. Zeki gets a job as a schoolteacher to get to the money, and that's where his insanely fun adventures begin.
The first film about a teacher instantly became a box-office leader in Germany and then broke box-office records all over the world.
Granny Nanny
IMDB Rating – 6.5
Genre Comedy
Production Germany / 2020
Worldwide box office: $4,654,655
Director Wolfgang Groos
Starring: Maren Kreumann, Heiner Lauterbach, Barbara Zukova, Pauline Rozinski, Julius Weckauf, Tim Oliver Schulz, Paula Kalenberg, Julia Koschitz, Astrid Ebert, Dominik Racke
The incredibly hilarious premise of this family comedy tells the story of a tireless retired grandmother searching for her vocation. Karin dedicates her whole life to finding new hobbies. Nordic walking, traveling and other leisure activities no longer tempt her, and she decides to use the services of a new agency offering to become a foster grandmother for other people's children.
Karin's husband is not thrilled with this idea, he prefers peace and quiet. And then Karin decides on a gamble, posing at the agency as her husband old Gerhard, a friend of her youth. Soon the pensioner is heartily enjoying real family problems among the children, who are delighted with their foster grandmother.
A sequel, "Enkel für Fortgeschrittene," is expected to premiere in 2023.
Kokowääh (dilogy)
IMDB Rating – 6.3
Genre: Melodrama, comedy
Production Germany / 2010
Budget: €5.650.000
World Box Office: $44,800,000
Director Til Schweiger, Thorsten Künstler
Starring: Til Schweiger, Emma Schweiger, Jasmine Herath, Samuel Finzi, Meret Becker, Friederike Kempter, Miranda Leonhardt, Anna Julia Kappelsperger, Jessica Richter, Michelle Maticevich
Sometimes handsome, sometimes seductive – Til Schweiger is still good in the role of a femme fatale, the object of desire of the ladies around him. But his macho characters do not cause admiration, only laughter. Because of their irresponsibility, they get into stupid mishaps and change for the better.
"Seducer" Henry is a screenwriter in crisis, trying to repair his relationship with his ex-girlfriend Katharine. But suddenly a young Magdalena shows up at his house, claiming that she is Henry's own daughter and that she will now live with him. This begins a radical change for a character who himself did not think he could be a responsible father and a faithful husband.
In the second part, Henry resolutely fights the temptations of the past and makes the final choice between carefree freedom and the warmth of family.
The baby Magdalena was played by the real-life daughter of Thiel Schweiger, Emma.
Soul Kitchen
IMDB Rating – 7.2
Genre: Drama, comedy
Production: Germany, France, Italy / 2009
Budget: €4,000,000
World Box Office: $17,872,796
Director Fatih Akin
Starring: Adam Bousdux, Moritz Bleibtroy, Felina Roggan, Anna Bederke, Birol Yunel, Dorcas Grillouche, Wotan Wilke Moehring, Lukas Gregorowicz, Demir Gokgel, Cem Akin
Fatih Akin's tragicomedy arthouse is about a small restaurant located somewhere in the outskirts of Hamburg. Zinos Kazanzakis, the owner of the eatery, is famous for his inexpensive good cooking and has regular customers.
And then one day poor Zinos is faced with a heap of problems that need to be sorted out at the same time, and even yesterday. His brother gets out of jail and urgently needs a job to avoid going back to prison, his girlfriend is having fun in Shanghai and needs to be rescued from it, the new chef loves throwing knives and scares away customers with his exotic menu, and a competitor who has his eye on the restaurant building sends one inspection after another to Zinos…
The film won two awards at the Vienna Film Festival and was one of the five best foreign films of 2009 in the United States.
Four for Venice
IMDB Rating – 6.6
Genre Comedy
Production Germany / 1998
Budget: DEM 4 300 000
Director Vivian Nefe
Starring: Heino Ferch, Aglaia Schiskowitz, Gedeon Burkhard, Hilde Van Meeghem, Pamela Marquardt, Jan Gregor Kremp, Daniel Legler, Katharina Zapatka, Robert Giggenbach
A hilarious romcom about jealousy and children. Eva has given up her favorite hobby of painting to provide for her family, her husband Luis, looking for his inspiration, and her two children while working in a restaurant.
Then one day Eva learns that her hubby is going to spend a romantic week in Venice with his mistress Charlotte, who has a husband of her own, Nick. The enraged woman kidnaps Nick and travels with him and the children to Venice to expose the cheater. On the way, the car breaks down and the company is forced to hitchhike to their destination, growing closer and closer.
The film was shot entirely in Austria.
Frau Ella
IMDB Rating – 5.8
Genre: Comedy, melodrama, drama
Production Germany / 2013
Director Markus Goller
Starring: Matthias Schweighöfer, Ruth-Maria Kubitschek, August Diehl, Anna Bederke, Anatole Taubman, Sahin Eriilmaz, Anna Talbach, Luc Feith
A kind, sweet, enjoyable family tragicomedy about the usefulness of an outsider's perspective. Sasha is a cab driver, a young free guy, who is shocked by the news of his girlfriend Lina's pregnancy. His emotions drive him into a car accident and then into the hospital.
Here he meets the charming older Ella, who genuinely sympathizes with the guy. At first irritating Sasha, the old woman gradually becomes his friend, and for the sake of Frau Ella he is ready for a lot, including a crazy trip to France, where Frau spent the best years of her youth.
The film is based on the novel by Florian Becerhoff.
25 km/h
IMDB Rating – 7.2
Genre: Drama, comedy, adventure
Germany / 2018
Director Markus Goller
Starring: Lars Eidinger, Bjarne Medel, Sandra Hüller, Franka Potente, Alexandra Maria Lara, Jella Haase, Jordis Tribel, Wotan Wilke Moehring, Matti Schmidt-Schaller, Mateusz Kosciukiewicz
A heartwarming and funny buddy movie about two brothers who, after years of separation, meet at their father's funeral, reconcile, and decide to live out their childhood dreams. Christian is a businessman who has spent many years traveling. Georg is a carpenter who has stayed home in the small Black Forest and looks after his father.
Georg tries to whip his brother, who is late for a funeral, but then they have a drink together, saddle up on prehistoric mopeds, and embark on an existential journey along the German roads, heading for the Baltic Sea.
The mopeds from the film were sold to charity for 3,000 euros.
Look Who's Back
IMDB Rating – 7.0
Genre: fantasy, drama, comedy
Production Germany / 2015
Budget: €2,956,960
World Box Office: $25,513,752
Director David Wnendt
Starring: Oliver Masucci, Thomas M. Keppl, Marc-Marvin Israel, David Gebigke, Paul Busch, Fabian Busch, Gerdy Zint, Nancy Maria Bruning, Lars Rudolph, Franziska Wolf
A comedy film about Hitler, who suddenly wakes up in a Berlin wasteland in 2014 and tries to find himself in a changed world. When the Führer tries to explain to people who he is, he is met only with misunderstanding and laughter.
Of course, no one believes him, and a little later he is found by a film maker who fights for the ratings of his channel, mistaking Hitler, like everyone else, for a slightly deranged but very authentic actor in character. Hitler, who dislikes "all this tolerance," realizes that there is no better place for him to find like-minded people who are focused on the greatness of a single people than television, and becomes the star of the local TV channel.
The European Film Academy nominated this film for Best Comedy of 2015.
Summertime Blues
IMDB Rating – 6.2
Genre: Comedy, Family
Production Germany / 2009
Director Lise Marie Rich
Starring: François Ghesk, Sarah Beck, Zoe Moore, Caroline Eichhorn, Alexander Beyer, Christian Nickel, Maya Schöne, Charlotte Krome, Martin Titien, Luisa Ransome
A young romcom, a cute family tragicomedy about 15-year-old Alex, who is going through his parents' divorce with great difficulty. However, the adults themselves are not at all worried about the divorce. His father is already pregnant with his young assistant, and his mother is planning to spend the summer with her new lover in the English county of Kent.
So Alex finds himself with his mother in the quiet village of Stodmarsh, where, to his mind, absolutely nothing happens. And then he meets two attractive and interesting girls, falling into an emotional love triangle that perfectly exorcises boredom.
The film is based on the novel by Julia Clarke.
Popugay, govoryashchiy na idish
IMDB Rating – 7.0
Genre: Drama, comedy, adventure, war
Production Germany, USSR / 1990
Director Ephraim Sevela
Starring: Ramaz Ioseliani, Avangard Leontyev, Marina Politseymako, Semen Farada, Algis Matulionis, Audrius Hadaravicius, Anna Afanasyeva, Julia Menakerman, Karina Moritz, Vadim Zhuk
It's not an easy subject – a comedy on the theme of World War II. But Ephraim Sevele, a Russian Jew, succeeded. The film is a joint effort of Russia and Germany. At the center of the plot is a kind of Jewish "Ivanushka," Yankel, who was born in Vilnius.
When the war begins, of course, he goes into the army, and he will be in many hypostases and places. He will be a Polish soldier, a prisoner in Siberia, a mercenary in Africa, a prisoner of war in Thailand, a gladiator in Indochina. Everywhere, his sense of humor and a stray soldier's good fortune keep him safe from death.
The film is based on Sevela's own series of short stories.
Faraway
IMDB Rating – 6.7
Genre: Drama, melodrama, comedy
Production Germany / 2023
Director Vanessa Jupp
Starring: Naomi Krauss, Goran Bogdan, Adnan Maral, Bahar Balci, Artem Gilz, Davor Tomic, Mladen Vasari, Paula Schramm, Christian Schneller, Buz Buse
A fresh female comedy from Netflix Germany tells the story of Zeynep, who is tired of her perpetually demanding environment. She is pressured by her husband, her father, and her capricious daughter. After burying her mother, the woman decides to escape her hard life in Munich and travels far, far away to a Croatian island to the house her mother bequeathed her.
Here, Zeynep plans to rest, find the meaning of life, and sort out her future. But in the house, she finds Josip, who has lived in the empty house for years and has no intention of moving out.
Toni Erdmann
IMDB Rating – 7.3
Genre: Drama, comedy
Production: Germany, Austria / 2016
Budget: €3,000,000
Production worldwide: $11,784,207
Director Maren Ade
Starring: Sandra Hüller, Peter Simonischek, Michael Wittenborn, Thomas Leubl, Tristan Pütter, Ingrid Bisu, Hadewich Minis, Lucy Russell, Victoria Kochas, Alexandru Papadopol
Winfried Conradi is an elderly, eccentric music teacher and master of practical jokes. After the death of his dog, he feels lonely and decides to reunite with his adult daughter Ines, whom Winfried has not seen for years.
However, the first attempts at communication come out extremely unsuccessful. After pretending to leave, Winfried returns as old Tony Erdmann and tries to get close to his daughter. Ines, of course, recognizes her father, glimpsing nearby now and then, but her acquaintances are unaware of his identity. Ines gets angry and doesn't know how to react to this harassment, and then begins to appreciate her father's constant unobtrusive and positive interference in her life.
The comedy was nominated for an Oscar, a Golden Globe and a BAFTA.
The Goldfish
IMDB Rating – 6.6
Genre Comedy
Production Germany / 2019
Worldwide box office: $5,961,121
Director Alireza Golafshan
Starring: Tom Schilling, Klaas Heufer-Umlauf, Lisa Bitter, Sabrina Dietl, Christian Ammermüller, Paul Dickhaut, Michael Kranz, Stefan Merki, Maria Happel, Yella Haase
A light, grotesque road movie in which a group of people with disabilities go on a smuggling trip. The main character of the story is the banker Oliver, a heartless jerk who is only interested in money.
After getting into an accident and becoming disabled, Oliver hatches a plan to profit by deciding to smuggle a suitcase of "dirty money" into Switzerland under the guise of a sightseeing trip for disabled people from a rehabilitation center. The road will be filled with adventures in which Oliver will lose all his selfishness.
The German Film Evaluation Agency in Wiesbaden gave this film a "Special Value" rating.
Men in the City (dilogy)
IMDB Rating – 6.3
Genre Comedy
Production Germany / 2009
Director Simon Verhoeven
Starring: Christian Uhlmann, Nadja Uhl, Til Schweiger, Wotan Wilke Moehring, Maxime Mehmet, Jana Pallaske, Florian David Fitz, Liana Forestieri, Justus von Dohnanyi, Ines Björg David
Simon Verhoeven's wonderful comedy tells the story of five men who attend the same sports club in Berlin. They all come from different social backgrounds, but they have one thing in common: their inability to communicate with the opposite sex. Trying to help each other and solve their own problems, they get into a lot of funny situations.
In the second part, all the heroes, who seem to have got their lives together again, begin to cross paths and experience new, quite mind-boggling difficulties, from which they cannot get out without their friends.
The soundtracks of both films were released on separate albums.
Lammbock
IMDB Rating – 7.3
Genre: Comedy, Crime
Production Germany / 2001
Director Christian Zubert
Starring: Lukas Gregorowicz, Moritz Bleibtroy, Marie Zielke, Julian Weigend, Elmar Vepper, Alexandra Schalaudek, Christoph Wackernagel, Antoine Monod Jr.
Stoner buddy comedy about two buddies, Kai and Stefan, who own their own pizzeria, selling pizza with "special" weed additives. Simply put – dope, disguised as a legitimate business.
One day they are horrified to discover that their secret herbal plantation mercilessly destroys a rare aphid. Seeking the help of Achim, a consultant for a large headshop, they get his advice and insects that can destroy the aphids. However, the buddies have no idea that Achim is an undercover cop, but upon learning this, they find a way to neutralize him with psychedelic mushrooms…
Director Christian Zubert is a fan of Kevin Smith, and his characters are inspired by the couple Jay and Silent Bob.
Woman in Love
IMDB rating -5.7
Genre: Comedy, melodrama
Production Germany / 2011
Budget: €5 000 000
Directed by Detlev Buk
Starring: Matthias Schweighoefer, Alexandra Maria Lara, Detlev Buch, Maximilian Bruckner, Dennis Mosquitto, Max von Thun, Max Girman, Jenny Moore, Dejan Buchin, Gerd Pape
This German film brilliantly continues the tradition of hilarious situation comedies with cross-dressing, such as "Tootsie" or the Soviet "Hello, I'm Your Aunt. Alexander Honk is an ambitious young actor dreaming of a big role. However, he is not taken anywhere.
Alexander plays a female role in a small theater, and one day he decides to go to the casting of a new major Hollywood project in the female character. He succeeds, the director chooses him for the role, as Alexander. Except that everything is complicated by the fact that Honk is madly in love with the lead actress of the project, Sarah, who knows him as a man, and has no idea who is hiding under the guise of Alexandra.
The film was among the ten most successful films of 2011 and was nominated for the prestigious German Film Award.
Not My Day
IMDB Rating – 6.5
Genre: Action, comedy, crime, adventure
Production Germany / 2014
World Box Office: $101,309
Director Peter Torvart
Starring: Moritz Bleibtreuil, Axel Stein, Jasmine Herath, Anna Maria Mue, Nelia Kipper, Ben Rüdinger, Kasem Hodge, Bekim Guri, Tobias Nied, Max Richter
Another comedy title at the Russian box office is "Not My Day. It is the story of a bored man, finally caught up in crazy adventures and more than once in this chaos with sad memories of glorious boring days.
Till Rainer is an ordinary bank clerk who increasingly thinks about the meaningless years spent in a dull marriage and an unloved job. Then one day, he is taken hostage by Nappo, a nervous criminal who needs a driver after a bank robbery. This is where the fun begins.
The strip club in Amsterdam where the characters find themselves is actually the Pascha nightclub in Cologne.
The Hairdresser
IMDB Rating – 6.5
Genre: Drama, comedy
Production Germany / 2010
Director Doris Durrie
Starring: Gabriela Maria Schmayde, Natascha Lavitzus, Il-Young Kim, Christina Grosse, Rolf Zaher, Maria Happel, Maren Kroehmann, Tobiasch Lehmann, Heiko Pinkowski, Katharina Derr
A life-affirming authorial comedy about a fat girl who finds her place in life. Katya, a makeup artist, eats a lot and does not worry about her shape until she loses her job. Trying to get a job in another salon, she gets an outrageous rejection because of her size.
Kati, a divorced woman with a child, decides to open her own business right next door to the salon that rejected her. It is not easy, but the heroine is not discouraged and, laughing, she breaks through all the barriers on the way to her dream, finding true friends and even love.
The film was nominated for the Golden Duke in Odessa 2010.
How About Adolf?
IMDB Rating – 7.0
Genre Comedy
Production Germany / 2018
Worldwide box office: $8,947,326
Director Sönke Wortmann
Starring: Christoph Maria Herbst, Florian David Fitz, Caroline Peters, Justus von Dohnanyi, Janina Uze, Iris Berben, Serkan Kaja, Christian Skibinski
In the original, this family comedy of surprises is called "The Name"-just as the child's name started the mad scramble in this hilarious story. Stefan and Elisabeth, a very respectable couple, gather in their house for dinner a small company of their closest friends and relatives, who are no less snobs than the hosts.
The only person who stands out from the general stiffness is the younger brother of Elisabeth Thomas, who informs them that he and his wife are expecting a child and have already thought up a name for him – Adolph. This comes as a shock to everyone present, and a heated discussion ensues, turning into a wild scandal with dirty laundry being thrown around.
This film is the fifth adaptation of the French theatrical production of the same name.
Turkish for Beginners
IMDB Rating – 5.8
Comedy genre
Production Germany / 2012
World Box Office: $21,349,838
Director Bora Dagtekin
Starring: Josefina Proiss, Elias M'Barek, Anna Stiblich, Adnan Maral, Pega Feridoni, Arnel Tachi, Katharina Kaali, Nick Romeo Reimann, Frederik Lau, Sonja Gerhardt
A full-length spin-off of the popular youth series of the same name, an absolutely stereotypical "below the belt" comedy, in which you can see familiar characters from the series.
The plot centers on the depressing 19-year-old Lena, who is given a trip to Thailand by her mother. But the plane crashes over the ocean, and Lena finds herself on a deserted island in the company of a stuttering Kostya, a concerned Muslim Chem and his religious sister Yagmur. Meanwhile, Lena's mother, who has successfully flown to Thailand, meets Metin, Chem and Yagmur's father, at a hotel.
The film was nominated in Germany for the Audience Award.
Dampfnudelblues
IMDB Rating – 6.9
Genre: Comedy, Crime
Production Germany / 2013
Director Ed Herzog
Starring: Simon Schwartz, Sebastian Betzel, Eisie Gulp, Ernst Hannawald, Gerd Lomayer, Thomas Kügel, Michael Ostrowski, Frederik Linkemann, Max Schmidt
A good crime comedy with a very tasty title tells the story of Franz Eberhofer, a former metropolitan detective who messes up on the job and is relegated to the boondocks as punishment.
Here, in a small town, Franz lives with his deaf grandmother, who loves to cook goodies, and his feisty father, whose cannabis plantation Franz has to endure stoically. One day someone writes "Die, pig!" on the wall of the local school principal's house, and the next day the principal turns up dead. It's up to Franz to solve this case, which has a million suspects, local gossip and fantasy buffs who can confuse any investigation.
The film is based on the novel by Rita Falk of the same name.
Nightlife
IMDB Rating – 5.7
Genre: Melodrama, comedy
Production Germany / 2020
World Box Office: $14,141,641
Directed by Simon Verhoeven
Starring: Elias M'Barek, Julian Loehmann, Frederic Lau, Nicholas Ofcharek, Christina du Rego, Pauline Rozinski, Simon Verhoeven, Milena Dreisig, Grit Boettcher
A positive and unpretentious German comedy about two nightclub bartender friends who decide to change their lives and fall under the scrutiny of the Mafia. Milo is a sensible and calm guy, his buddy Renzo is a simple-minded gadfly who skillfully finds adventures in his own backyard.
Tired of the wild nightlife at work, the guys are thinking of opening their own business, settle down and have families. But Renzo once again gets into trouble, this time with the Russian mafia, disrupting Milo's date and dragging his friend into an incredible race with danger through shiny and beautiful night Berlin.
Actors Elias M'Barek and Frederic Lau, who played the main characters, often appear together with German films.
The Kangaroo Chronicles
IMDB Rating – 5.2
Genre Comedy
Production Germany / 2020
Worldwide box office: $5,081,127
Director Dani Levy
Starring: Dmitri Schaad, Rosalia Thomas, Adnan Maral, Volker Michalowski, Tim Seifi, Carmen-Maya Anthony, Bettina Lamprecht, Henry Hubchen, Mark-Uwe Kling
Dani Levy's amusing absurdity at the intersection of real cinema and animation thrusts the viewer into the story's stunning premise with a sweep. Mark Uwe is an unemployed, shy musician living alone in his neglected apartment.
One night, as Mark was lying on the couch, suffering from migraines and contemplating the meaninglessness of his existence, his doorbell rang. It was the starting point of a crazy adventure in which politics, social life, romance, and the real show were intertwined.
Oh yes, there was a kangaroo at the door. A real one, alive, talking and very unhappy with what was going on around it. Soon the kangaroo moves into Mark's apartment and becomes his constant companion.
The Communist Kangaroo is a popular character in Germany by Mark-Uwe Kling, who first appeared in radio shows, then in books, and finally made it to the screen version of his invented story.