The Spanish film industry has long held a strong place in the hearts of viewers around the world. Spanish serials are not inferior to Hollywood competitors, and sometimes even surpass them in the intensity of passion and intricacy of the plots.
La casa de papel
Rating IMDB – 8.2
Genre: Action, thriller, drama, crime, detective
Production Spain / 2017
Directed by Jesús Colmenar, Alex Rodrigo, Coldo Serra
Cast: Ursula Corbero, Alvaro Morte, Itziar Ituño, Pedro Alonso, Miguel Herran, Jaime Lorente, Esther Asebo, Darko Peric, Enrique Arce, Alba Flores
A mysterious man plans to commit the heist of the century. His target is the Royal Mint of Spain, and the estimated jackpot is several billion euros. Of course, no one can pull off such a job alone. Therefore, the Professor (so the hero calls himself) collects a team of experienced criminals who do not know each other.
Each of the participants of the future robbery chooses a pseudonym according to the name of the city. After 5 months of careful preparation, Moscow, Rio, Helsinki, Denver, Oslo, Nairobi, Berlin and Tokyo, working as a single organism, penetrate the building of the Mint, taking the employees and visitors hostage. The police immediately announce the start of a special operation. But no one outside the national mint even imagines what the daring robbers are really up to.
The masks of robbers depicting Salvador Dali were not chosen by chance. The Spanish surrealist is a famous master of epatage. The same can be said about the actions of the Professor and his charges.
El embarcadero
Rating IMDB – 7.1
Genre: Drama, detective
Production Spain / 2019
Directed by Alex Rodrigo, Jorge Dorado, Eduardo Chapero-Jackson
Cast: Alvaro Morte, Veronica Sanchez, Irene Arcos, Cecilia Roth, Roberto Enriquez, Marta Milans, Antonio Garrido, Paco Manzanedo, Mikel Fernandez, Judit Ampudia
Until recently, Alejandra considered herself a perfectly happy person. After all, she had everything any woman could dream of. An interesting and well-paid job, respect from her colleagues and superiors, kind friends, a house – a full cave and, most importantly – a loving and caring husband by her side. But a sudden night call from the police department once and for all changed the life of the heroine, dividing it into a "Before" and "After.
The officer on duty informed Alejandra that her husband Oscar had committed suicide. But even in the shock of the grief that had befallen her, the young widow did not believe the official report and decided to get to the bottom of the truth. It would have been better if she had not. After all, the results of her own investigation were even more shocking. Alejandra found out that the man she almost idolized was a cheat, a swindler, and had been living a double life for years.
El internado
Rating IMDB – 8.1
Genre: Thriller, drama, detective
Production Spain / 2007
Directed by Jesús Rodrigo, Alexandra Graf, Marco A. Castillo
Cast: Martinho Rivas, Jon Gonzalez, Blanca Suarez, Ana de Armas, Daniel Retuerta, Elena Furiase, Marta Thorne, Raul Fernandez, Luis Merlo, Amparo Baro
El internado is an elite school attended by the heirs of Spain's most powerful and wealthy families. Another vacation has come to an end, and the students return to their alma mater. Over the years they have become accustomed to seeing the same faces within the walls of the school, so it is a real surprise for everyone to see the newcomers.
Marcos, 17, and his younger sister Paula lost their parents not long ago. And since there were no other close relatives nearby, the orphaned children were taken care of by Hector de la Vega, their legal guardian, and at the same time – the founder and director of the boarding school. At first, the new arrivals do not feel very comfortable in unfamiliar surroundings. But soon strange events begin to occur at the school that bring all the students together.
A computer game of the same name was created based on the series. Its release date coincided with the release of season 5.
Élite
Rating IMDB – 7.4
Genre: Thriller, drama, crime
Production Spain / 2018
Directed by Dani de la Orden, Ramon Salazar, Ginesta Gindal
Cast: Maria Pedraza, Itzan Escamilla, Miguel Bernardo, Miguel Herrán, Mina El Hammani, Jaime Lorente, Alvaro Rico, Aron Pieper, Esther Exposito, Omar Ayuso
Las Encinos is the most elite school of the Spanish capital, where the "golden youth", the heirs of famous families study. It is almost impossible for children from ordinary families to get into this school. But one day the chance to get a certificate of a prestigious institution falls to three teenagers from ordinary families. Samuel Dominguez, Nadia Shana, and Christian Expocito believe they have caught a lucky break.
But very soon they have to question their own luck. The atmosphere within the walls of the school is very challenging. Pompous, arrogant kids from rich families bayonet the newcomers and try every possible way to complicate their lives. The situation heats up even more when the murder of one of the older students takes place at school. Everyone around the school is convinced that Samuel is the culprit.
Skam España
Rating IMDB – 7.4
Genre: Drama, melodrama
Production Spain / 2018
Directed by Begoña Alvarez Rojas, Jose Ramon Ierra
Cast: Alba Planas, Hadjar Brown, Irene Ferreiro, Nicole Wallace, Celia Wallace, Alexander Quinn, Fernando Lindes, Thomas Aguilera, Alvaro Cobas Gonzalez, Gonzalo Pendolema
The heroes of this Spanish youth series are ordinary 16-year-old teenagers. They are young, ambitious, and full of energy. Each of them dreams of finding their way to a happy future. But it's still a long way to adulthood. Eva, Nora, Lucas, George, Amira, Elvira and Chris act like their peers around the world.
They hang out at parties, go shopping, hang out on social media for followers and likes, try to prove their coolness and originality to others, fight with their parents and peers. They also fall in love for the first time, face betrayal and deception, learn how to make decisions, and day by day they gain experience that will come in handy in the future.
Física o química
Rating IMDB – 6.3
Genre: Drama, comedy
Production Spain / 2008
Directed by Javier Quintas, Juan Manuel Rodriguez Pachon, Carlos Navarro Ballesteros
Cast: Ana Milan, Andrea Duro, Javier Calvo, Angie, Ursula Corbero, Nuria Gonzalez, Gonzalo Ramos, Maxi Iglesias, Bart Santana, Sandra Blasquez
On the eve of another school year, several new teachers are coming to Surbaran College. Only yesterday they were sitting at the student's bench, but now they will "sow good and eternal" in the minds and hearts of students. Young professionals are excited about the future and have no idea what problems they will encounter in the near future.
Racism, homophobia, juvenile violence, bullying, generational conflict, sex and drugs – the school clearly demonstrates all the problems that exist in today's society. The students of yesterday will have to deal with the conflicts that arise among their charges day by day. And they will also realize that getting a university degree does not guarantee an easy life and that they still have a lot to learn.
El barco
Rating IMDB – 7.2
Genre: Fantasy, drama, detective, adventure
Production Spain / 2011
Directed by David Molina Encinas, Sandra Gallego, Jesus Colmenar
Cast: Juan José Artero, Mario Casas, Blanca Suarez, Irena Montala, Luis Callejo, Neus Sanz, Juan Pablo Shuk, Ivan Massage, Marina Salas, Bernabe Fernandez
Who doesn't dream of an unforgettable voyage on a real sailing boat? Endless water surface, gentle sun, romance. After the summer vacations there will be something to tell your friends. That's exactly what the cadets of the training ship Polar Star were counting on. But dreams of an exciting adventure had to say goodbye at the moment when it became known of the global disaster.
As a result of the hadron collider explosion, the entire land was under water. And the passengers of the Polar Vessel may have been the only survivors on the planet. They don't know what lies ahead. And they're not sure if they have a future at all.
Los protegidos
Rating IMDB – 6.4
Genre: Fantasy, drama
Production Spain / 2010
Directed by Jose Ramos Paino, Alfonso Arandia, Alvaro Ron
Cast: Antonio Garrido, Ana Fernandez, Luis Fernandez, Mario Marzo, Prissila Delgado, Daniel Aviles, Gracia Olyo, Francisco Javier Mendo Flores, Oscar Lador, Angie Cepeda
In the rating of the best Spanish series, this project takes one of the leading positions. The story begins when strangers kidnap Blanca, the daughter of Jimena Garcia. The unfortunate woman turns to the police for help, at the same time conducting her own investigation. In the course of her search she meets Sylvester, who explains to her the reason for what happened.
It turns out that there are teenagers with superpowers in the world, and a certain secret organization is on a real hunt for these children. And since Blanca has the gift of foresight, she became a victim of kidnapping. To wrest her daughter from the clutches of the intruders, Jimena teams up with Mario Montero, whose son is also in danger because of his unique abilities. And later they are joined by several other gifted teenagers.
Merlí
Rating IMDB – 8.6
Genre: Drama, melodrama, comedy
Production Spain / 2015
Directed by Eduard Cortes, Menna Fite
Cast: Francesc Orella, Pere Ponce, Carlos Cuevas, Marta Marco, Candela Anton, Albert Baro, Elisabeth Casanovas, Marcos Franz, Adrian Grosser
Merli Bergeron is a philosophy teacher in an ordinary high school. But unlike his colleagues, he is not rigid and has not become a slave to the system. There is an air of freedom in each of his classes, because he does not require his students to memorize the subject by rote, but encourages them to think, analyze, and express themselves freely.
His lectures turn into a real intellectual battle, during which students learn to interpret familiar things in unconventional and unpredictable ways. But philosophy is not the only issue raised in class.
Bergeron also helps his students to deal with difficult situations in life, gives wise advice, encourages, and, if necessary, criticizes. But even in this case, his every word is respected by the younger generation.
Ángel o demonio
Rating IMDB – 6.8
Genre: Fantasy, melodrama, comedy
Production Spain / 2011
Directed by Vicente Peñarrocha, Jaime Botella, Daniel Sebrian
Cast: Aura Garrido, Jaime Olias, Mar Saura, Manu Fuyola, Carla Nieto, Jorge Suquet, Jaime Pujol, Pablo Orteu, Maru Valdivielso
One day young Valeria accidentally learns that, in fact, she is a Malak, an undecided angel between light and darkness, and that her mission on Earth is to help those in need. From that moment on, the fight for her soul begins. Demons daily set traps, tests, trying to dislodge the inexperienced girl from the path of light, to lure her to the side of evil.
But her mentor, Nathael, always stands guard. He directs, advises and helps her to rid herself of temptation. But whether he can keep Valerie from making the wrong moves, if the fallen handsome angel Damian, intent on making the heroine fall in love with him, enters into action.
Las chicas del cable
Rating IMDB – 7.5
Genre: Drama
Production Spain / 2017
Directed by Antonio Hernandez, Carlos Sedes, Roger Gual
Cast: Blanca Suarez, Jon Gonzalez, Ana Fernandez, Nadia De Santiago, Ana Maria Polvorosa, Nico Romero, Martino Rivas, Concha Velasco, Maggie Sivantos, Angela Cremonte
1928. In the Spanish capital, a new building of the largest telephone company is about to open. Thousands of girls and women from all over the country apply for telephone operator positions. But in order to get the coveted job, applicants will have to pass the most difficult tests and surveys. After all, those who will provide a clear and uninterrupted communication between people must have not only a beautiful and clear voice. They need to have quick reactions, observation and be resistant to stress.
Finally, all the tests are behind them. And the team of new telephone operators gets down to business. It would seem that nothing can prevent them from performing their duties. But suddenly the secrets of the past emerge, threatening to disrupt the usual rhythm of life.
Gran Hotel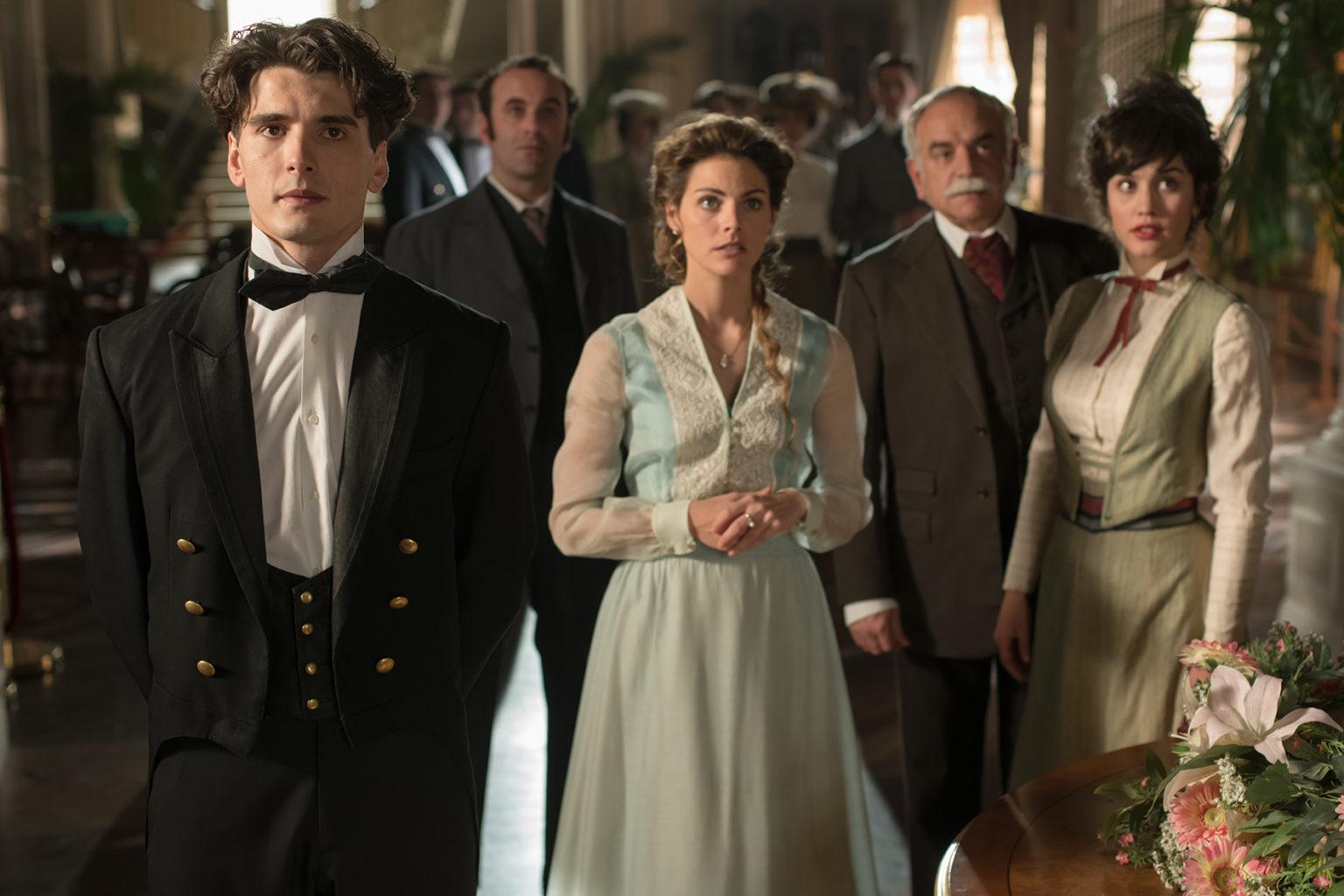 Rating IMDB – 8.3
Genre: Detective, drama, crime
Production Spain / 2011
Directed by Sylvia Ker, Carlos Sedes, Jorge Sanchez-Cabesudo
Cast: Adriana Osores, Amaya Salamanca, Yon Gonzalez, Eloy Azorin, Fele Martinez, Pep Anton Muñoz, Pedro Alonso, Luz Valdenebro, Llorence Gonzalez, Marta Larralde
The beginning of the twentieth century is at hand. Poor but noble Julio Olmedo is on his way to the Grand Hotel, located on the outskirts of the town of Cantaloa. Not long ago, his own sister disappeared under mysterious circumstances from this hotel. The police investigation deadlocked, and now the young man is eager to get to the bottom of the truth himself and understand what happened to his relative.
To avoid unnecessary attention, Julio pretends to be a waiter and gets a job at a hotel restaurant. He soon realizes that the walls of the respectable establishment hold horrible secrets. But to get them out into the light of day, he cannot do without help. Olmedo finds an unexpected ally in the hotel owner's daughter, with whom he develops a romantic relationship.
Velvet
Rating IMDB – 8.1
Genre: Drama
Production Spain / 2013
Worldwide gross: $34,609
Directed by David Pinillos, Carlos Sedes, Manuel Gomez Pereira
Cast: Paula Echevarria, Miguel Angel Silvestre, Aitana Sanchez-Gijon, Manuela Velasco, Marta Asas, Javier Rey, Cecilia Freire, Adrian Lastra, Miriam Giovanelli, José Sacristan
There is a unique place in the center of Madrid that all lovers of beautiful clothes dream of visiting. It is a large and very expensive store, Galeria Velvet, with its own workshop and fashion shows twice a year. Every year here are born masterpieces, which even royalty wouldn't refuse to wear.
Don Rafael Marquez, the brand's founder, ruled the ball with an iron fist. And after his death the family business was inherited by his son Albert. The young man intends to continue his father's business, though with some changes. Following the trends of the time, he hires new talented designers, whose ideas literally explode the world of fashion.
Arde Madrid
Rating IMDB – 7.6
Genre: Drama, comedy
Production Spain / 2018
Directed by Paco Leon
Cast: Inma Cuesta, Paco Leon, Debi Mazar, Anna Castillo, Julian Villagran, Ken Appledorn, Osmar Nunez, Fabiana Garcia Lago, Moreno Borja, Elena Dueñas
The early 1960s. Hollywood actress Ava Gardner, tired after a series of exhausting projects, decides to escape for a while from the intrusive attention of directors, the public and journalists. She settles in a luxury apartment in the Madrid suburbs and indulges in a life of debauchery.
She is interrupted by long parties with gypsies, unfamiliar men and alcohol pouring down the river only for a short night's sleep. From time to time her neighbors, General Juan Perón and his wife Isabel, who had to flee Argentina after the coup, drop in on the dissolute Hollywood star. In addition, the Spanish authorities, concerned about the behavior of the American diva, send spies to her.
Polseres vermelles
Rating IMDB – 8.1
Genre: Drama, comedy
Production Spain / 2011
Directed by Pau Freixas, Oriol Ferrer, Marta Paissa
Cast: Alex Monner, Joana Vilapuj, Igor Shpakovsky, Marc Balaguer, Miquel Iglesias, Neil Cardoner, André Rife, Xikou Maso, Marta Angelat, André Benito
One of the best Spanish soap operas of recent times tells the story of teenagers with various diseases, forced to stay almost constantly within the walls of the hospital. The daily tests, painful injections, and the constant supervision of doctors have become a daily routine for the kids.
To diversify their leisure time a little, they unite in a peculiar club Red bracelets, named after the bracelets they wear on their hands. For seriously ill teenagers, this red piece of plastic becomes more than just a symbol. It's a kind of reminder that you can't give up, no matter how hard it is. And that there are people ready to support them at any moment.
Vis a vis
Rating IMDB – 8.2
Genre: Action, thriller, drama, adventure
Production Spain / 2015
Directed by Sandra Gallego, Jesús Colmenar, Jesús Rodrigo
Cast: Alba Flores, Maria Isabel Diaz, Marta Aledo, Naiva Nimri, Berta Vasquez, Jesus Castejon, Laura Baena, Ramiro Blas, Alberto Velasco, Inma Cuevas
Until recently, Macarena Ferreiro had an ordinary life, just like millions of other people. She got up in the morning, ate breakfast, ran to work. In the evenings she relaxed at home with a good glass of wine, and on weekends she went out with friends. But one day her measured life gave out a crack.
The girl's immediate supervisor, on whose orders she had repeatedly made illegal payments, accused her of financial fraud. After a short trial, Macarena ended up in jail. And the first day in the cell, surrounded by hardened criminals, showed the heroine that her life is not worth a penny. And to survive among this wolf pack, she needs to learn how to hit first.
Sé quién eres
Rating IMDB – 7.5
Genre: Detective, thriller, drama
Production Spain / 2017
Directed by Pau Freixas, Joaquin Llamas, Jorge Coira
Cast: Francesc Garrido, Blanca Portillo, Aida Folch, Carles Francino, Antonio Decent, Nancho Novo, Eva Santolarya, Martinho Rivas, Alex Monner, Noa Fontanals
Julián Elías, a university professor and well-known lawyer, wakes up on the side of the road and realizes with horror that there has been a traffic accident. Fortunately, he himself only sustained minor bruises. The police arrived on the scene and examined the interior of the professor's car and found numerous blood stains and someone else's cell phone.
Soon the policemen find out that the gadget belongs to Ana Saura, Julian's niece who disappeared a few days ago. The professor is immediately suspected of the crime. He is required to explain, but he cannot explain anything because of the amnesia resulting from the car accident. To prove his innocence, the lawyer must remember what happened, and the help of a specialist is required.
Luna, el misterio de Calenda
Rating IMDB – 7.2
Genre: Fantasy, detective
Production Spain / 2012
Directed by Jesús Rodrigo, José Ramon Ayerra, Alexandra Graf
Cast: Belen Rueda, Daniel Grao, Alvaro Cervantes, Fran Perea, Marc Martinez, Belen Lopez, Lucia Guerrero, Macarena Garcia, Cesar Goldi, Alex Maruni
Judge Sara Cruz moves with her young daughter Leire from the Spanish capital to the small town of Calenda, where the head of the family had already moved some time before. And the first night in the new place there is a terrible event. David, hearing strange sounds coming from the street, goes to check what happened and disappears. A short time later, his body is found in the woods.
The widow demands that the police investigate, although the locals persuade her not to. They assure her that there are werewolves roaming around, and it is better not to mess with them. But Sarah is skeptical of such remarks. She has no idea that the supernatural is already close to her daughter.
Bajo sospecha
Rating IMDB – 7.5
Genre: Action, thriller, drama, crime, detective, adventure
Production Spain / 2014
Directed by Sylvia Ker, Jorge Torregrossa, Jorge Sanchez-Cabesudo
Cast: Yon Gonzalez, Vicente Romero, Lewis Omar, Luis Martin, Gonzalo De Castro, Olivia Molina, Unax Ugalde, Hugo Becker, Mar Sodup, Maria Botto
The Vega family is happily rejoicing: today their 7-year-old twins, Alicia and Pablo, are about to receive the sacrament of communion for the first time. But the excitement is replaced by terror when the girl disappears under mysterious circumstances. For more than two weeks the best detectives try to find the kidnappers, but to no avail.
The head of the investigation Commissioner Cassas concludes that the perpetrator of the crime may be hiding among the baby's relatives. To get to the bottom of the truth, he develops a cunning plan. Detectives Victor and Laura, pretending to be a married couple, settle not far from Vega's house. Their aim is to get acquainted with the relatives of the missing Alicia and find out all the secrets.
La zona
Rating IMDB – 6.5
Genre: Horror, thriller, drama, crime, detective, adventure
Production Spain / 2017
Directed by Jorge Sanchez-Cabesudo, Gonzalo Lopez-Gallego
Cast: Edouard Fernandez, Alvaro Cervantes, Alexandra Jimenez, Alba Galocha, Manolo Solo, Marina Salas, Maria Cantuel, Luis Saera, Carlos Rodriguez, Emma Suarez
Three years ago, a monstrous explosion occurred at a nuclear power plant, killing thousands of people. Radiation spread for many kilometers and made the area uninhabitable. Since then, the government has taken the necessary steps to minimize the consequences as much as possible.
Every year new groups of volunteers are sent to the epicenter of the disaster to carry out reconstruction work. Unfortunately, after such work, many brave people fall ill. Ekor Uriya has been to the place of destruction before. And now he will have to go on another mission to the very center of radiation hell. But he will have not only to deal with the consequences of the explosion, but also to investigate a strange brutal murder.
Isabel
Rating IMDB – 8.3
Genre: History, biography
Production Spain / 2011
Directed by Jordi Frades, Oriol Ferrer, Salvador Garcia Ruiz
Cast: Michelle Henner, Ramon Madaula, Rodolfo Sancho, Jordi Diaz, Ainoa Santamaria, Sergio Peris-Mencheta, Luis Soler, Elisabeth Gelabert, Andrés Herrera, Pedro Casablanc
An interesting Spanish historical series tells the story of the life of Isabella of Castile, who ruled the country in the XV century. After being at a young age at the royal court of Enrique IV and going through a whirlpool of intrigues, conspiracies and power struggles, the princess firmly decided that the purpose of a true queen is to rule, and not to be in the background.
By marrying Ferdinand of Aragon, Isabella initiated the unification of the disparate kingdoms that eventually led to the formation of the Spanish Empire. She did not become a silent shadow of her beloved husband, but together with him wisely ruled a vast country.
El tiempo entre costuras
Rating IMDB – 8.3
Genre: Drama, melodrama, detective, adventure, history
Production Spain / 2013
Directed by Iñaki Mercero, Norberto López Amado, Iñaki Peñafiel
Cast: Adriana Ugarte, Mari Carmen Sanchez, Tristan Ulloa, Francesc Garrido, Hannah New, Alba Flores, David Venancio Muro, Carlos Santos, Raul Arevalo, Elvira Minges
Cira Quiroga is a hereditary dressmaker. She is non-conflictive and soft, so everyone who is lazy takes advantage of her kindness. Her strict mother disposes of her life as her own, her friends have chosen her fiancé, a petty official, and he, in turn, sees in his bride only an obedient puppet. And it is he who eventually becomes the one who pushes Cira into the arms of the handsome Ramiro.
The girl throws herself headlong into a new relationship, breaks her engagement to Ignacio, quarrels with her mother, and leaves for Morocco with her lover. For the first few days she enjoys an unfamiliar feeling of happiness, but soon she begins to realize that Ramiro is not at all who he says he is. He robs the heroine of her money and disappears in an unknown direction. Broken and humiliated girl has nothing to do but return to her native Spain. But on her return she finds herself in an even more difficult situation, finding herself in the middle of an international spy network.
La peste
Rating IMDB – 7.2
Genre: Action, thriller, drama, crime, detective
Production Spain / 2018
Directed by Alberto Rodriguez, David Ulloa, Paco R. Baños
Cast: Pablo Molinero, Patricia Lopez, Sergio Castellanos, Cecilia Gomez, Manuel Moron, Jesús Carrosa, Estefania De Los Santos, Tomas del Estal, Paco Leon, Manolo Solo
Late medieval Seville is not a pleasant place. A plague is raging in the city. The Inquisition wields unchecked power and sends all unwanted people to the stake on any far-fetched pretext. And unknown criminals one after another are brutally murdering respectable citizens.
In the midst of all this bacchanalia only a few are able to think sensibly. Mateo Nunez, an officer who publishes forbidden literature, is one of them. Only he can unravel the mysterious bloody crimes. But the matter is complicated by the fact that the brave soldier was condemned not long ago by the Inquisition for disseminating redemic ideas and now he languishes in prison.
30 Monedas
Rating IMDB – 7.1
Genre: Horror, fantasy, thriller, drama, detective
Production Spain / 2020
Directed by Alex de la Iglesia
Cast: Edouard Fernandez, Megan Montaner, Miguel Angel Silvestre, Macarena Gomez, Pepon Nieto, Manolo Solo, Cosimo Fusco, Manuel Tagliafe, Naiva Nimri, Alvaro Manso
This new Spanish series explores the theme of crime and the paranormal. Every atrocity has its price, the most famous of which is the 30 pieces of Judas' silver coins. One of these cursed coins pops up one day in a Spanish backwater. And with her appearance in the town begins to happen terrifying things.
The birth of a human baby from a cow is one thing. Exorcist priest Vergara tries to stop the madness. But he himself is full of skeletons in the closet, so the situation heats up to the limit. Evil is creeping in everywhere and threatens to bury the peaceful lives of ordinary citizens.
El ministerio del tiempo
Rating IMDB – 8.2
Genre: Fiction, fantasy, action, thriller, comedy, adventure
Production Spain / 2015
Directed by Mark Vigil, Jorge Dorado, Koldo Serra
Cast: Cayetana Guillen Cuervo, Juan Gea, Francesca Pignon, Jaime Blanch, Nacho Fresneda, Aura Garrido, Hugo Silva, Rodolfo Sancho, Julián Villagran, Susana Cordoba
The Ministry of Time is a secret state organization, the existence of which only a select few know. Employees of the institution are engaged in preventing unauthorized intrusions from one time to another in order to change history in someone's interests.
Three special agents from different eras stand guard over the Time Gate. Experienced soldier Alonso de Entrerryos is from the 16th century, student Amelia Folch represents the 19th century, and Julian Martinez is a paramedic from the 21st century. Day after day, brave guardians, risking their lives, keep watch and stop any attempts to change the past.
El desorden que dejas
Rating IMDB – 6.8
Genre: Thriller, drama, crime, detective
Production Spain / 2020
Directed by Roger Gual, Sylvia Ker, Carlos Montero
Cast: Inma Cuesta, Barbara Lenny, Tamar Novas, Aron Pieper, Roberto Enriquez, Federico Perez Rey, Alfonso Agra, Susana Dans
Raquel is going through a difficult time as her marriage has broken down. In an attempt to get her family life back on track, she agrees to her husband's proposal to move to another city and start over.
In the new place, she gets a job as a high school literature teacher. But instead of a warm welcome from her colleagues and students, she encounters a cold wall of anger and hatred. One day, someone even slips a threatening note into her purse. Raquel, frightened, cannot understand why she should have been treated in this way. She tries to find out the truth, and what she discovers is downright terrifying.
Alta mar
Rating IMDB – 6.8
Genre: Drama, crime, detective
Production Spain / 2019
Directed by Lino Escalera, Manuel Gomez Pereira, Carlos Sedes
Cast: Ivana Baquero, John Cortajarena, Alejandra Onieva, Eloy Azorin, Daniel Lund, Natalia Rodriguez, Ignacio Montes, Begoña Vargas, Antonio Durán "Morris", Eduardo Blanco
1940. An airliner takes Eva and Carolina Villanueva from war-torn Spain to South America. On the other side of the ocean the sisters are waiting for the fiancé of one of them. On their way to the port, the girls accidentally run into a strange woman who asks for their help. She assures them that she is escaping from her tyrannical husband and begs them to ferry her secretly to the ship.
Not assuming anything untoward, the sisters help the stranger. When the liner is on its way, a murder occurs on board. Eva and Caroline immediately recognize their recent acquaintance in the dead woman. Following the first murder, a second occurs. The passengers of the ship panic and wonder who the next victim will be.
Instinto
Rating IMDB – 6.0
Genre: Drama, detective
Production Spain / 2019
Directed by Carlos Sedes, Roger Gual
Cast: Mario Casas, Ingrid Garcia Jonson, Silvia Alonso, Miriam Gallego, John Arias, Bruna Cousi, Oscar Casas, Elvira Minges, Lola Dueñas, Marco Sanz
Marco Muara is a rich, successful young businessman with incredible charisma. He is the manager of one of the most successful innovative companies in the country. His subordinates adore him, and his competitors are afraid of him and respect him at the same time. Marco is so good looking that almost every girl dreams of being in his arms.
From the outside it seems that the young man is absolutely sure of himself. But this is only an appearance. Childhood traumas firmly hold the hero's psyche in their clinging embrace. Marco can get real satisfaction only by going to private clubs and with a partner, who is bound to have a mask on her face.
El Príncipe
Rating IMDB – 7.3
Genre: Action, thriller, drama, crime, detective, adventure
Production Spain / 2014
Directed by Iñaki Mercero, Javier Quintas, José Ramos Paino
Cast: José Coronado, Alex Gonzalez, Hiba Abuk, Rubén Cortada, Stany Coppet, Merce Montala, Maria Guinea, Pau Dura, Carla Diaz
In the small town of Ceuta, located on the northern coast of Africa, right on the border with Morocco, there are constant clashes between Muslims and Christians. In order to keep El Príncipe's most troubled neighborhood in check, local police sometimes have to resort to somewhat unlawful methods.
When the heat of passion exceeds all acceptable boundaries, the local police are sent to the aid of an experienced agent Morey. He will have not only to deal with the disappearance of a 15-year-old boy, but also to stop the activities of a terrorist organization.
Víctor Ros
Rating IMDB – 7.0
Genre: Thriller
Production Spain / 2014
Directed by Iñaki Peñafiel, Belen Macias, Carlos Navarro Ballesteros
Cast: Carles Francino, Tomas del Estal, Paco Tous, Juan Fernandez, Megan Montaner, Juanma Lara, Jorge Usón, Javier Godino, Esmeralda Moya, Paula Prendez
Madrid at the end of the 19th century. Young Victor Ros trades in petty thefts for a living. But he steals only from the rich and only so that his family does not die of hunger. A chance encounter with Inspector Armado Martinez changes his life forever. The noble and kind-hearted commissioner becomes sympathetic to the boy, takes him under his wing and teaches him the intricacies of police work.
Years later, the name of the grown-up Victor Rosa does not let the Spanish bandits and murderers sleep well. Using the latest methods of investigation and achievements of criminology, the detective calculates criminals in no time.
Mar de plástico
Rating IMDB – 7.1
Genre: Action, thriller, drama, crime, detective, adventure
Production Spain / 2015
Directed by Alejandro Bassano, Javier Quintas, Norberto López Amado
Cast: Rodolfo Sancho, Pedro Casablanc, Luis Fernandez, Nia of Blonde, Patrick Criado, Andrea del Rio, Mikel Fernandez, Will Shepard, Federico Aguado, Jesus Carrosa
Among Spanish detective series, this project stands out for its special intrigue and atmosphere. The inhabitants of the province of Almeria cannot boast of a happy life. The daily hard work in the greenhouses, the meager pay does not contribute to cheerfulness. And the invasion of illegal immigrants from Africa inflames the atmosphere even more.
The last straw is the murder of an innocent young girl. The situation threatens to spiral out of control. In order to prevent a riot, the authorities send an experienced detective Hector Aguirre and his team to help the local police. But will the outsiders be able to figure out the criminal's motives and identify him among the locals?
Punta Escarlata
Rating IMDB – 6.8
Genre: Drama, detective, thriller
Production Spain / 2011
Directed by Pablo Barrera, Guillermo Fernandez Groisard, Nacho Guillo
Cast: Carles Francino, Antonio Ortelano, Elena Ballesteros, Kira Miro, Juan Diaz, Nadia De Santiago, Alvaro Cervantes, Daniel Holguin, Victor Elias, Fernando Caio
Two young girls disappear without a trace in the coastal town of Scarlet Cape. Police have been searching for the missing for weeks without rest, but to no avail. The case gets a "cold case" status and goes into the archives.
It is only eight years later that the bodies of the unfortunates are found under strange circumstances. The case is assigned to two experienced detectives from the capital. The police begin to investigate and soon find out that almost all local residents may be involved in the old crime.