Surely you want to find the best cartoons about Christmas and the New Year for your children to introduce them to the wonderful stories about this unique holiday, which is celebrated by the whole planet, regardless of borders and disagreements. But adults, too, enjoy plunging into the magical, childlike and carefree atmosphere of this holiday.
We offer you a selection of exciting animated movies about Christmas, both brand new and time-tested, with a variety of plots and a wonderful atmosphere of the winter holiday. At the end of the list are some good old Soviet cartoons about the New Year.
Santaman
Rating IMDB – 3.9
Genre: Cartoon, Adventure, Family
USA production / 2022
Worldwide gross: $39 979
Directed by Bret Stern
Cast: D.C. Douglas, John Wiener, Bob Jurgens, Brett Stern, Bo Marie, Chaya Frates, April Barber, Alex Gaflawent, Antonio Antonelli, Johnny Dean
«Santaman» is a full-length adventure cartoon about the adventures of Santa on Christmas Eve. This time of year is a stressful job for the chief gift deliverer. And then some hooligans hurt Santa and took away his bag.
Angry Santa Claus turns into a ferocious SantaMan, capable of bringing up any naughty kids. As a superhero, Santa not only manages to give out presents before the deadline, but also reveals a real anti-Christmas plot with the help of two sneaky kids.
Scrooge: A Christmas Carol
Rating IMDB – 6.2
Genre: Cartoon, musical, fantasy, drama, comedy, adventure, family
UK, USA production / 2022
Directed by Stephen Donnelly
Cast: Luke Evans, Olivia Colman, Jesse Buckley, Johnny Flynn, Fra Fee, Jiles Terrera, Trevor Dion Nicholas, James Cosmo, Jonathan Price, Oliver Jenkins
This is another adaptation of Charles Dickens' "A Christmas Carol. Ebenezer Scrooge dislikes Christmas and the fuss associated with it. A real miser, he does not find for people not only an extra coin as a gift, but even a kind word.
And so his soul was chosen by the ghosts of the Past, the Present and the Future to give Scrooge a lesson in kindness and hope, and at the same time to help him fix the evil he has done.
The cartoon is based on the script of the 1970 film «Scrooge», slightly adapted to modern realities.
Paw Patrol: Mission Xmas
Genre: Cartoon
USA production / 2021
Directed by Charles E. Bastien
Cast: Kevin Chacon, Alyssa Cheetham, Justice Quiros, Alfred Molina, Madison Daniels, Dave Droxler, Hunter Jones, Leslie Valdes, Keegan Headley, Kingsley Marshall
«Paw Patrol: Mission Xmas» is a feature-length animated film from 2021. It is the story of how the characters, beloved by many children, saved the main winter holiday of the year.
Mayor Harold Hamdinger decided to ruin the holiday and prevent Santa from handing out presents. And he was close to succeeding. At the same time, Enrique of Encanto Island sends a snowstorm to steal all of Santa's gifts.
However, Santiago learns of these treacherous plans in time, and, together with Robops and the elf Percy, he engages in a battle with the villains to foil their plans.
This cartoon is the original holiday special within the «Paw Patrol» franchise.
Shaun the Sheep: The Flight Before Christmas
Rating IMDB – 7.3
Genre: Cartoon, comedy, family
UK production / 2021
Directed by Steve Cox
Cast: Justin Fletcher, John Sparks, Laura Aikman, Marcus Brigstock, Kate Harbour, Simon Greenall, Andy Nyman, Emma Tate, Richard Webber
«Shaun the Sheep: The Flight Before Christmas» is a short half-hour story about a farm getting ready for Christmas and experiencing many adventures.
The keeper, the local guard dog, is constantly trying to clean up the farm, but the adventurousness of the sheep is hard to beat. This time, Sean has to rescue little lamb Timmy, who almost became a wrapped New Year's Eve surprise by climbing into a gift box. And the other sheep complain that they got Christmas socks that were too small…
This cartoon is a half-hour gift from Aardman Studios for young fans of the Shaun lamb franchise.
Angela's Christmas (Dilogy)
Rating IMDB – 7.0
Genre: Cartoon, short film, adventure, family
Ireland, Canada production / 2017
Directed by Damien O'Connor
Cast: Malachy McCourt, Ruth Negga, Vivian Drew, Anya O'Connor, Brendan Mullins, Lucy O'Connell, Janet Moran, Bryn Gleeson, Pat Kinevane, Des Nealon
«Angela's Christmas» and «Angela's Christmas Wish» are two animated films from Netflix, the stories of a small, naive and very kind girl who lived in the early 20th century in a poor, large family.
In the first film, Angela decided to take home a statue of Jesus Christ from church so that he would not be cold and lonely on Christmas Eve. In the second, the girl made a wish for her family to move from Ireland to Australia. And, of course, miracles happen for those who truly believe in them.
The plot of the Angela cartoons is based on children's books by Pulitzer Prize-winning Irish author Frank McCourt.
Alien Xmas
Rating IMDB – 6.2
Genre: Cartoon, sci-fi, family
USA production / 2020
Directed by Steven Chiodo
Cast: Keith Farley, Dee Bradley Baker, Kalaya Rambo, Michelle Decaux, Barbara Goodson, Jessica Gee, Madison Rojas, Jacari Fraser, Caitlin Robrock, Steve Staley
A long time ago, an alien race of Klepts exhausted the resources of their own planet and decided to wander the cosmos, plundering alien worlds.
Upon reaching Earth, the leader of the Klepts, known as Supreme Ruler Zeth, instructs the alien X to travel to the planet and disable its gravity using a cunning device. Then all the stuff will "pop up" and Zeth can steal it.
X lands right in Santa's town, which is getting ready for another coming Christmas. He is spotted by the elves, and X pretends to be a regular doll and, in the hands of little Holly, takes a real Christmas journey, marveling at the goodness and beauty of the earthly holiday.
The Alien Xmas cartoon is based on the 2006 book of the same name by Stephen Chiodo and Jim Strine.
Klaus
Rating IMDB – 8.1
Genre: Cartoon, family, comedy, adventure
Spain, UK, USA production / 2019
Budget: $40 000 000
Directed by Sergio Pablos, Carlos Martinez Lopez
Cast: Jason Schwartzman, J.K. Simmons, Joan Cusack, Rashida Jones, Will Sasso, Neda Margrethe Labba, Sergio Pablos, Norm MacDonald, Evan Agos, Sky Alexis
«Klaus» is a Spanish feature-length New Year's Eve story from Netflix. Jesper is the spoiled offspring of a royal postmaster living in nineteenth-century Norway. Desperate to teach his son to be reasonable, his father sends him to an Arctic backwater where, as punishment, he must set up a post office and handle at least 6,000 letters.
Jesper fails to escape this nightmare, and he arrives in a town where everything is decidedly against him – the locals do not welcome the stranger, and the supposed post office quickly turns into chaos. The only ray of light for the boy becomes the local teacher Alva, who introduces him to the mysterious hermit Klaus…
This is the first animated film from Netflix to be nominated for an Oscar.
Elliot the Littlest Reindeer
Rating IMDB – 5.0
Genre: Cartoon, Family
Canada production / 2018
Worldwide gross: $2 195 706
Directed by Jennifer Westcott
Cast: Morena Baccarin, Josh Hutcherson, John Cleese, Martin Short, Christopher Jacot, Jeff Dunham, Samantha Bee, Jin Yoon, George Buse, Robert Tinkler
«Elliot the Littlest Reindeer» is a touching and uplifting Christmas family tale from Canadian director and screenwriter Jennifer Westcott.
One day the oldest reindeer in Santa Claus' harness, the legendary Rudolph, is about to retire and needs to find a successor. Santa's estate announces a competition for the fastest and most beautiful reindeer to replace Rudolph.
The news reaches the ears of Elliott, who dreams of leading Santa Claus's sled. Unfortunately, he's not even a reindeer, but a small horse, whose dream is laughed at by all the animals on the Christmas estate, except his best friend, the red goat. And he only has three days to prove that he's as good as any reindeer out there.
The Grinch
Rating IMDB – 6.3
Genre: Cartoon, fantasy, comedy, family
USA production / 2018
Budget: $75 000 000
Worldwide gross: $511 595 957
Directed by Yarrow Cheney, Scott Mosier
Cast: Benedict Cumberbatch, Cameron Seeley, Rashida Jones, Pharrell Williams, Tristan O'Hare, Kenan Thompson, Sam Lavagnino, Ramon Hamilton, Angela Lansbury, Scarlett Estevez
Dr. Seuss once wrote a Christmas tale about the evil green Grinch, who lived on a mountain near the invented town of Kotograd and did not know how to rejoice.
The Grinch was always annoyed by the Christmas cheer and joyful laughter of children, and so he planned to steal the holiday from the people. To carry out his plan, he got out into the world of bright entertainment, family kindness and general rejoicing. And a real Christmas miracle happened to him.
Illumination Entertainment, the American animation studio known to us for «Despicable Me» and «The Secret Life of Pets», has unveiled its 2018 version of the Grinch tale, dedicating it to all the children in the world.
Racetime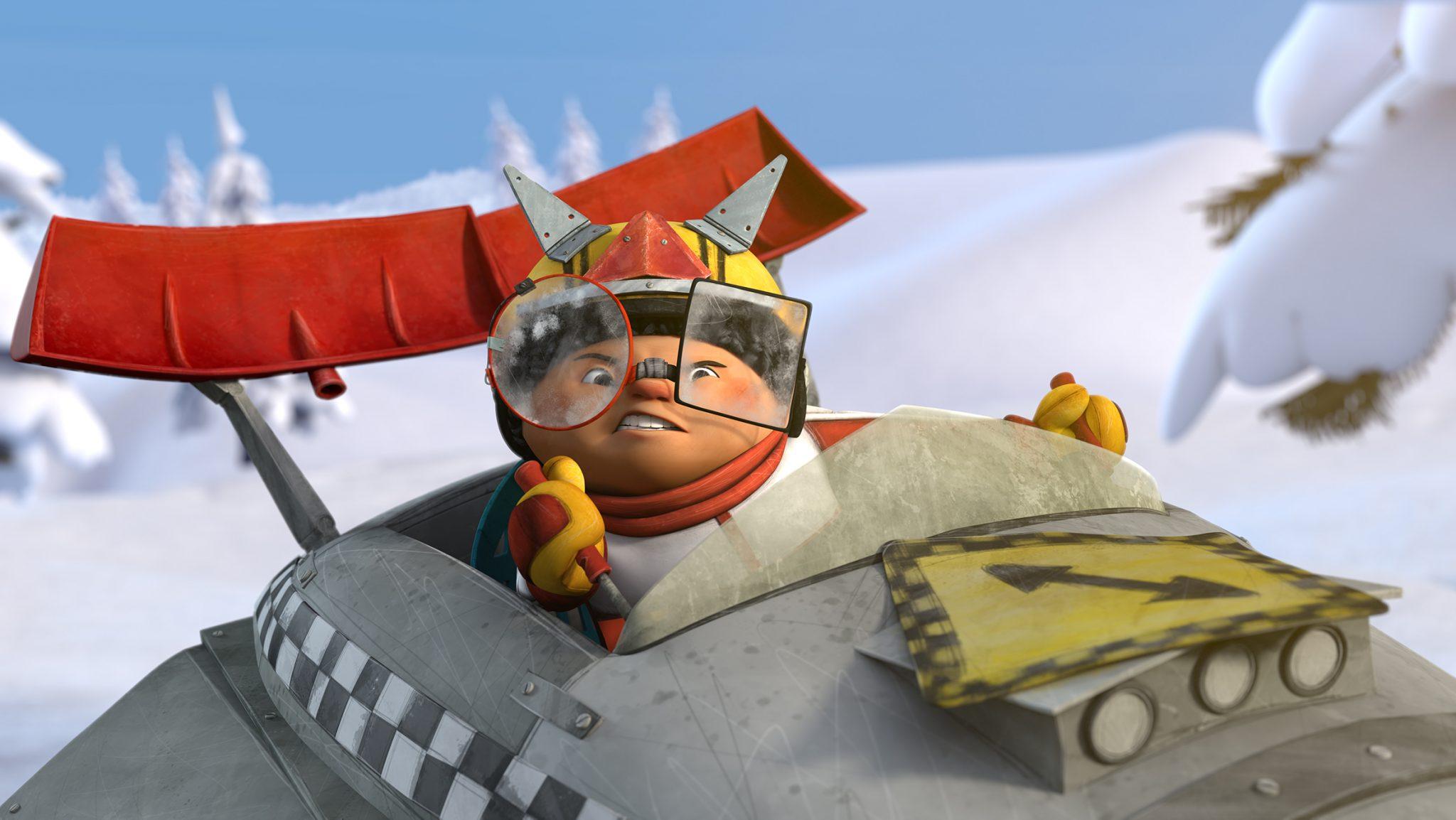 Rating IMDB – 5.5
Genre: Cartoon, musical, adventure
Canada production / 2018
Worldwide gross: $3 439 053
Directed by Benoît Godbout, Jean-François Poulet, François Brisson
Cast: Lucinda Davis, Dawn Ford, Dawn Shepherd, Tod Fennel, Angela Galuppo, Sonia Ball, Jenna Wheeler-Hughes, Holly J. Frankel, Heidi Lynn Weeks
«Racetime» is an absolutely children's feature-length animated film from the young Canadian film company Les Productions La Fete, filled with happy moments of winter adventure.
The events take place in a mountain snow-covered village, where the kids have a real sled racing competition. Frank's team is serious about preparation and training, but Jack's group dreams of winning by cheating. Still, only intelligence, ingenuity, and friendship will help the kids enjoy a wonderful winter holiday.
«Racetime» is the sequel to the not-so-successful 2015 animated film «Snowtime!». That story was spoiled by an overly gloomy ending.
All I Want for Christmas Is You
Rating IMDB – 5.4
Genre: Cartoon, comedy, family
USA production / 2017
Directed by Guy Wasilowicz
Cast: Mariah Carey, Breanna Ide, Henry Winkler, Laya DeLeon Hayes, Monce Hernandez, Issac Ryan Brown, Bria D. Singleton, Phil Morris, Lacey Schaber, Charles Adler
The young heroine of the full-length cartoon «All I Want for Christmas Is You» is named Mariah Carey. She has been dreaming of getting a puppy as a Christmas present for years. But her mom is obsessed with cleanliness and her dad is allergic to fur.
This year the school is having a fashion show to coincide with Christmas, at which you can only perform with your own pet. Mariah tricks the organizers by claiming that she's about to get a puppy and signs up for the event. So how does she get out of this situation?
Mariah Carey is a real-life American singer. She once wrote a song about an incident from her childhood, and this composition was the basis for a cartoon. Mariah Carey voiced the main character.
The Star
Rating IMDB – 6.2
Genre: Cartoon, fantasy, comedy, adventure, family
USA production / 2017
Budget: $20 000 000
Worldwide gross: $20 000 000
Directed by Timothy Reckart
Cast: Stephen Yang, Keegan-Michael Key, Aidy Bryant, Gina Rodriguez, Zachary Levi, Christopher Plummer, Ving Rhames, Gabriel Iglesias, Kelly Clarkson, Anthony Anderson
Timothy Reckart, the creator of this animated film with a slight religious bent, claims to have been inspired by the story of Christmas, where the animals who took part in the great and solemn celebration were unjustly left unsung.
The main character of the cartoon was Bo the donkey. Formerly a very willful animal, he simply enjoyed his own donkey stubbornness, harassing his old masters, until he fell into the hands of Mary and Joseph. He became their faithful companion on the way to Bethlehem, helped them avoid many dangers, made many friends along the way, who also protected Mary from all sorts of trouble and witnessed the Holy Night when the Son of God came into the world.
The main song of the cartoon, «The Star», written and sung by Mariah Carey, was nominated for a Golden Globe.
Olaf's Frozen Adventure
Rating IMDB – 5.6
Genre: Cartoon, musical, short film, fantasy, comedy, adventure, family
USA production / 2017
Directed by Kevin Deters, Stevie Vermeers
Cast: Josh Gad, Idina Menzel, Kristen Bell, Jonathan Groff, Chris Williams, John de Lancey, Laurie Frieser, Benjamin Dieters, Eva Bella, Ewan Agos
One of the most exciting cartoons of 2013 was undoubtedly «Frozen». The most vivid impression of young viewers was the good-natured snowman Olaf, who always comes to the rescue of his friends, even if he loses his head – literally.
In 2017, the cute holiday short "Olaf and the Cold Adventure" was released, in which the cheerful snowman and his reindeer friend Sven embark on an exciting journey to learn about Christmas traditions for his sisters and bring the holiday to Örendell.
Saving Santa
Rating IMDB – 5.3
Genre: Cartoon, musical, fantasy, comedy, adventure, family
UK, USA, India production / 2013
Worldwide gross: $9 278 821
Directed by Leon Jusen, Aaron Seelman
Cast: Newell Alexander, Noel Clarke, Joan Collins, Tim Conway, David Cowgill, Tim Curry, Holly Dorff, Mousy Drier, Pam Ferris, Martin Freeman
«Saving Santa» is a British Christmas fiction about time travel. Gone is the time when Santa huddled in a small hut at the North Pole. Now here is a real estate with a solid, innovative workshop, where the smartest elves create many inventions to make the work of Santa Claus and his staff easier.
One day a certain Neville Buddington plots to steal Santa to get hold of all the technology in his workshop, and only Bernard the elf can activate the magic secret of the Christmas sleigh, go back in time and foil the villain's plans.
This film is the feature-length debut of British Gateway Films in the world of animation.
Solan og Ludvig – Jul i Flåklypa
Rating IMDB -6.8
Genre: Cartoon, Family
Norway production / 2013
Budget: NOK 25 000 000
Directed by Rasmus A. Sivertsen
Cast: Kari Ann Grønsund, Trond Høvik, Trond Brenne, Kare Conradi, John F. Brungot, Toralv Morstad, Anders By, Jakob Oftebro, Eli Anne Linnestad, Eilif Hellum Noraker
Three friends – the cheerful goose Solan, the depressive hedgehog Ludvig and the inventor Reodor Felgen – are the protagonists of a full-length Norwegian cartoon film, living in a small village. One day, on Christmas Eve, all the residents encountered a sad anomaly: the holiday is coming soon, but there is no snow at all.
Reodor urgently invented a snow cannon, but he did not keep track of the device, and it was used by the evil Freeman, editor of the local newspaper. He caused a real snowstorm, and the village was covered in snow up to the roof. Solan and Ludwig will have to clean up the mess. Someone has to save Christmas and the locals…
The cartoon is based on the works of the Norwegian writer Kjell Aukrust.
Rise of the Guardians
Rating IMDB – 7.2
Genre: Cartoon, fantasy, action, drama, comedy, adventure, family
USA production / 2012
Budget: $145 000 000
Worldwide gross: $306 941 670
Directed by Peter Ramsey
Cast: Chris Pine, Alec Baldwin, Jude Law, Ayla Fisher, Hugh Jackman, Dakota Goyo, Hamani Griffin, Kamil McFadden, Georgie Grieve, Emily Nordwind
Did you know that the fairy tale characters Santa Claus, the Tooth Fairy, the Sandman, and the Easter Bunny are all Guardians of Dreams and protect children from nightmares?
The main enemy of the Guardians is the evil spirit Pitch, who feeds on children's fears. One day he decided to steal all the kids' dreams and hopes, so that they, left alone with their fears, gave real power to the villain.
And then Santa Claus, the Tooth Fairy, the Sandman and the Easter Bunny teamed up for the first time ever to stand together in defense of bright and kind dreams.
According to William Joyce, the author of the series of books «Rise of the Guardians» and the script for this cartoon, the idea of uniting the good magical creatures was suggested to him by his little daughter.
Niko – lentäjän poika (Dilogy)
Rating IMDB – 6.1
Genre: Сartoon
Finland, Denmark, Germany, Ireland production / 2008
Budget: €6 100 000
Worldwide gross: $21 822 495
Directed by Michael Hagner, Kari Juusonen
Cast: Olli Jantunen, Hannu-Pekka Björkman, Vuokko Hovatta, Vesa Vierikko, Jussi Lampi, Risto Kaskilahti, Minttu Mustakalio, Juha Veionen, Punti Valtonen, Elina Knichtilä
The «Niko – lentäjän poika» full-length animated film dilogy are two cute stories about the adventures of a teenage reindeer boy who dreams of learning to fly.
His name is Nico. Ever since, he has begun to dream that his father is a reindeer from Santa's sled. And then, in spite of frequent dizziness even from long jumps, Nico was determined to learn to fly. He became friends with the squirrel Julius and took lessons from him. And when it became known that Santa was in trouble, Nico gathered his friends and went to save the good wizard and his reindeer, his supposed father.
A couple of years later, Nico needed his flying skills again in order to get Johnny, his little half-brother, out of trouble.
Secret of the Wings
Rating IMDB – 7.0
Genre: Cartoon, fantasy, family
USA, India, UK production / 2012
Budget: $35 000 000
Worldwide gross: $59 500 000
Directed by Бобс Гэннауэй, Пегги Холмс
Cast: Bobs GannMay Whitman, Lucy Hale, Timothy Dalton, Jeff Bennett, Lucy Liu, Raven, Megan Hilty, Pamela Adlon, Angela Barthes, Matt Lanteraway, Peggy Holmes
«Secret of the Wings» is the winter installment of Disney Toon Studios' charming Tinker Bell fairy franchise. Strictly speaking, it's not about Christmas, but the sparkling and joyful atmosphere of a winter fairy tale is just what you need for the New Year's holidays.
Tinkerbell helps her friend Fauna get ready for winter and take the animals to another part of the magical forest – cold, covered in amazing white snow. Plucking up courage and wrapping herself in her fur coat, Tink crosses the border of the winter forest to learn about its wonders. And she nearly dies from the cold.
This is the fourth installment of the franchise, for which a bonus short film, Pixie Hollow Games, has been released.
Arthur Christmas
Rating IMDB – 7.1
Genre: Cartoon, comedy, family, adventure, fantasy
UK, USA production / 2011
Budget: $99 000 000
Worldwide gross: $147 419 472
Directed by Sarah Smith, Barry Cook
Cast: James McAvoy, Hugh Laurie, Bill Nye, Jim Broadbent, Imelda Staunton, Ashley Jensen, Mark Wootton, Laura Linney, Eva Longoria, Ramona Marquez
This is an American-British animated feature film with the original title «Arthur Christmas», in which Santa Claus is not some lonely magician. He is an entire clan, for whom the delivery of presents is a family business, passed down by inheritance.
The current Santa, Malcolm Claus, is preparing for his 70th Christmas by making full use of modern mail delivery technology. And his two sons, Steve and Arthur, vie for the inheritance.
The cartoon was highly rated by critics and audiences, and even won the honorable Golden Tomato award on the most scathing film critic site, Rotten Tomatoes.
Prep & Landing: Naughty vs. Nice (trilogy of short films)
Rating: IMDB – 7.6
Genre: Animation, short film, fantasy, comedy, adventure, family
Production: USA / 2009
Director: Kevin Deters, Stevie Vermeers
Starring: Dave Foley, Sarah Chock, Mason Cotton, David DeLuise, Peter Jacobson, Lino DiSalvo, Kevin Deters, Derek Richardson, William Morgan Sheppard, Nathan Greeneau
«Prep & Landing: Naughty vs. Nice» is a short series that consists of three computer animated short films from Disney: "Cooking and Starting," "Santa's Secret Service: A Gift for Christmas" and "Santa's Secret Service: Jackasses vs. Pajínek.
The first part tells the story of a new recruit, Lanny, who is placed at the disposal of Wayne the elf, who must teach him all the wisdom of the Santa Claus Postal Service. In the second cartoon, these same two elves must steal the box from Santa's room. And in the third story, the two main characters, with the help of Noel the charcoal-burner, must save Christmas.
L'apprenti Père Noël
Rating IMDB – 6.3
Genre: Cartoon, comedy, family
Australia, France, Ireland production / 2010
Directed by Luke Vinciguerra, Paulette Victor-Lifton
Cast: Julie Gaillé, Jean-Pierre Mariel, Laurent Deutsch, Bruno Salomon, Pierre-François Martin-Laval, Didier Brice, Benoit Alleman, Nathan Simoni, Fabiana Arrastia
Good old Santa doesn't want to retire, but rules are rules – it's time for him to retire, but first he must appoint a successor. The lucky one to be chosen out of millions of children must be named Nicholas, he must be an orphan, and of course, he must have a pure heart.
On the other side of the world, in Sydney, lives a little boy who is ideal for this responsible mission, but his insecurity and, most importantly, fear of heights, make him a worthless contender. Will Santa agree to help his apprentice overcome his fears and take his place with dignity?
This full-length animated film is based on the animated series of the same name.
A Christmas Carol
Rating IMDB – 6.8
Genre: Cartoon, fantasy, drama, comedy, adventure, family
USA production / 2009
Budget: $200 000 000
Worldwide gross: $325 286 646
Directed by Robert Zemeckis
Cast: Jim Carrey, Gary Oldman, Colin Firth, Cary Elwes, Robin Wright, Bob Hoskins, Steve Valentine, Daryl Sabara, Sage Ryan, Amber Gainey Meade
«A Christmas Carol» from 2009 is an adaptation of the famous Dickens story by Robert Zemeckis, who created a dark tale in the dark fantasy genre. Scrooge is a money changer and cheapskate who lives near a cozy little town. No one wants him, the children are afraid of him, and adults in one voice condemn the greedy recluse.
But one night, three bright spirits of Christmas and a drop of kindness will forever clear the black soul of Scrooge, who became a villain not by choice.
This is the third Disney adaptation of Charles Dickens' classic story.
Curious George: A Very Monkey Christmas
Rating IMDB – 6.3
Genre: Cartoon
USA production / 2009
Directed by Scott Heming, Kathy Malkasian, Jeff McGrath
Cast: Frank Welker, Jeff Bennett, Reno Romano, Jim Cummings, Elizabeth Daly, Gray Griffin, Debi Derryberry, Clyde Cusatsu, Alexis Lang, Annie Mumolo
George's first Christmas is just around the corner, and he still hasn't figured out what to get the Man in the Yellow Hat, unaware that his friend has the same problem. They live in an apartment in Manhattan and try to secretly figure out what would please the other.
The man suggests that George write a Christmas wish list, but he only draws geometric shapes. In turn, Monkey's attempt to make his friend a snowman out of tomatoes fails…
This cartoon is the Christmas special of the Curious George story series.
Olentzero y el tronco mágico
Rating IMDB – 5.7
Genre: Cartoon
Spain production / 2005
Budget: €1 300 000
Directed by Juanjo Elordi
Cast: José Ramón Argoitia
Olentzero y el tronco mágico» is a full-length Spanish New Year animated film directed by Juanjo Elordi. Olincero is the name of the Spanish Santa, a mythical character who watches over children all year through a magic log and, if they behave well, brings them Christmas presents.
Angie and Maria live in the heart of the Pyrenees of Navarre and look forward to another Christmas. But an evil industrialist shows up in the area, planning to tear down the village where the friends live, destroy the surrounding forest, and build a power plant. At the same time, he has stolen Olincero's log and all the children's wish letters…
The cartoon has two full-length sequels: «The Magic Hours of Olincero» and «A Christmas Legend».
The Polar Express
IMDB Rating – 6.6
Genre: Animation, musical, fantasy, comedy, adventure, family
Production: USA / 2004
Budget: $165,000,000
World Box Office: $306,133,860
Director: Robert Zemeckis
Starring: Tom Hanks, Leslie Zemeckis, Eddie Dezeen, Nona Gay, Peter Scolari, Brendan King, Andy Pellick, Josh Ely, Mark Mendonca, Rolandas Hendricks
The protagonist of the cartoon «The Polar Express» is a boy from a small American town who does not believe in Christmas. And then one day, on New Year's Eve, a wonderful train stops near his house. The conductor invites our hero to sit in the carriage for a ride to the North Pole.
He can find friends, experience adventures and learn an important lesson: you have to believe in a miracle, and only then it will happen.
This cartoon was listed in the Guinness Book of World Records as the first fully digital film. Tom Hanks voiced almost all of the roles in The Polar Express.
Tôkyô goddofâzâzu
Rating IMDB – 7.8
Genre: Anime, cartoon, drama, comedy, adventure
Japan production / 2003
Worldwide gross: $148 355
Directed by Satoshi Kon
Cast: Toru Emori, Aya Okamoto, Yoshiaki Umegaki, Shozo Izuka, Seizo Kato, Hiroya Ishimaru, Ryuji Saikachi, Yusaku Yara, Kyoko Terase, Mamiko Noto
«Tôkyô goddofâzâzu» is a truly amazing and unusual Christmas story from Japanese director Satoshi Kon.
At the center of the story are three vagrants living in the big city and digging through garbage for food. They are young Miyuki, who has run away from her abusive parents, alcoholic Jin and transvestite Hana, marginalized people who have no place in decent society.
But one Christmas, they find a newborn baby girl in the garbage and decide to find her parents. They wander around Tokyo looking for clues, encountering memories of their past lives along the way.
The cartoon was inspired by the 1948 film 3 Godfathers.
Eight Crazy Nights
Rating IMDB – 5.3
Genre: Cartoon, musical, comedy
USA production / 2002
Budget: $34 000 000
Worldwide gross: $23 833 131
Directed by Seth Kearsley
Cast: Adam Sandler, Jackie Sandler, Austin Stout, Kevin Nealon, Rob Schneider, Norm Crosby, Jon Lovitz, Tyra Banks, Blake Clark, Peter Dante
«Eight Crazy Nights» is an adult-only animated Christmas adventure, a black comedy from acclaimed comedian Adam Sandler.
On Christmas Eve 2002, a 33-year-old alcoholic and debaucher Dave Stone is arrested in the town of Duxberry. This guy has an impressive criminal record and a lot of idiotic behavior in the present. He didn't pay his tab at the diner, broke a holiday ice sculpture, stole a snowmobile and broke three fences.
The judge is about to put Dave away for 10 years, but Whitey Duvall, 69, a former basketball player, intervenes and suggests that he try to rehabilitate the troublemaker with community service for the good of big sports.
The film is produced at Happy Madison Studios, owned by Adam Sandler and is the comedian's debut work as a voice actor.
Rudolph the Red-Nosed Reindeer: The Movie
Rating IMDB – 5.8
Genre: Cartoon, musical, melodrama, adventure, family
USA, Canada production / 1998
Directed by William R. Kowalchuk Jr.
Cast: Eric Pospisil, Kathleen Burr, John Goodman, Whoopi Goldberg, Debbie Reynolds, Bob Newhart, Eric Idle, Richard Simmons, Alec Willows, Lee Tokar
«Rudolph the Red-Nosed Reindeer: The Movie» is a full-length American-Canadian animated musical about the fate of a funny reindeer born at Santa Claus' residence.
Rudolph was born with a clown nose–red and glowing–and because of it became an object of ridicule for all of Santa's menagerie. But over time, the reindeer proved to be better, kinder, and stronger than many of the animals around him, becoming the main reindeer in Santa Claus' team.
The red-nosed reindeer was first invented by regular manager Robert Lewis May in 1939 for an advertising campaign for a Christmas sale at Montgomery Wards department store. The character has since become one of the most popular Christmas symbols in the United States.
Annabelle's Wish
IMDB Rating – 7.2
Genre: Animation, musical, adventure, family
Production: USA / 1997
Director: Roy Wilson
Starring: Randy Travis, Jay Johnson, Jerry Van Dyke, Jim Varney, Roe McClanahan, Cloris Leachman, Aria Noel Curzon, James Lafferty, Charlie Cronin, Jennifer Darling
«Annabelle's Wish» is a full-length one-hour cartoon about a baby reindeer girl born on a common Tennessee farm on Christmas Eve. Thanks to a New Year's miracle, the little girl, named Annabelle, gained the ability to talk to people and became friends with a boy named Billy, who, on the contrary, temporarily lost the power of speech after inhaling smoke.
Annabel and her new friend experience a lot of adventures together, but the reindeer's main dream is to grow up and become a flying reindeer in Santa Claus's team…
The narrator of this magical story, adult Billy, is voiced by famous country singer Randy Travis.
The Nightmare Before Christmas
Rating IMDB – 7.9
Genre: Cartoon, musical, fantasy, family
USA production / 1993
Budget: $18 000 000
Worldwide gross: $50 003 043
Directed by Henry Selick
Cast: Danny Elfman, Chris Sarandon, Catherine O'Hara, William Hickey, Glenn Shadix, Paul Reubens, Ken Page, Ed Ivory, Susan McBride, Debbie Durst.
«The Nightmare Before Christmas» is a dark fantasy cartoon, the feature-length debut of American director Henry Selick.
The otherworld of Halloween is always darkly bleak. One day Jack Skellington, the king of this world, out for a wander through the woods, stumbles upon a path that leads to Christmas Town.
Amazed by the bright merriment of Christmas, Jack decides to fully experience the joy of Christmas. To do so, he kidnaps Santa Claus and takes his place.
The cartoon was nominated for an Oscar and a Hugo for visual effects and dramatic direction, respectively.
Father Christmas
Rating IMDB – 7.5
Genre: Cartoon, fantasy, comedy, family, short film
UK production / 1991
Directed by Dave Unwin
Cast: Mel Smith
«Father Christmas» is a British short animated film that has become a European classic of New Year's tales. It is a story about the domestic routine of a very recognizable old man in a red coat and white beard.
After another Christmas run with presents, Santa Claus returns to his cozy and quite modern home. He takes care of the garden, takes care of the reindeer, and goes shopping. And then he decides to go on a vacation trip to Europe.
This film is an adaptation of a couple of children's books by Raymond Briggs, the famous British cartoonist and author of graphic novels.
Sekai meisaku dôwa: Mori wa ikiteiru
Rating IMDB – 7.2
Genre: Anime, cartoon, fantasy, drama
Japan, USSR production / 1980
Directed by Kimio Yabuki
Cast: Shinobu Otake, Tokuko Sugiyama, Mariko Mukai, Ai Kanzaki, Ichiro Nagai, Masaji Amamori, Daisuke Ryu, Masato Yamanochi, Koji Yakusho, Kiyoshi Kobayashi
«Sekai meisaku dôwa: Mori wa ikiteiru» is a 1980 Soviet-Japanese animated feature-length anime based on Marshak's 1943 play of the same name.
The capricious young queen demands that her subjects bring her a bouquet of spring flowers in the middle of winter. Wanting to curry favor, one wicked woman sends her stepdaughter Anya into the frozen woods. There, the girl faints from the cold and regains consciousness by a warm fire. Twelve men have gathered around the fire, calling themselves the months of the year. They gladly help the quiet, polite girl.
The music for the anime was written by Russian composer Vladimir Krivtsov and performed by the National Philharmonic of Leningrad