Witch, sorceress, madwoman, fortune-teller – all the words they call women who possess unexplainable powers. Stories about them go back centuries, make you tremble with fear and freeze in anticipation of magic. And the suspense-filled witch films are capable of awakening a primal fear of the unknown in the hearts of their viewers.
November
Rating IMDB – 7.2
Genre: Fantasy, drama, melodrama
Estonia production / 2017
Budget: €1,450,000
Worldwide gross: $19,084
Directed by Rainer Sarnet
Cast: Rhea Lest, Jørgen Liik, Arvo Kukumägi, Katariina Unt, Taavi Eelmaa, Meelis Rämmeld, Dieter Lazer, Jan Tooming
The story takes viewers to a remote 19th-century village in Estonia, whose residents turn to supernatural forces for help. Here, ghosts roam the countryside, girls turn into wolves at night, and in the forests there is a devil who, in exchange for their souls, fulfills every wish.
Young Liina is hopelessly in love with the handsome Hans, but his heart belongs to the daughter of the local baron. To attract the boy's attention, the girl asks the witch to perform the ritual. She is ready to sacrifice much, just so her beloved would not go to someone else.
The picture, shot on monochrome film, was on the list of contenders for the 90th Academy Award in the Best Foreign Language Film category.
Suspiria
Rating IMDB – 6.7
Genre: Horror, fantasy, thriller, detective
Italy, USA production / 2018
Budget: $20,000,000
Worldwide gross: $7,942,093
Directed by Luca Guadagnino
Cast: Dakota Johnson, Tilda Swinton, Mia Goth, Angela Winkler, Ingrid Kaven, Elena Fokina, Sylvie Testu, Renee Soutendijk, Christine Lebutt, Malgosha Bela
Susie Bennion, a young dancer, comes to Berlin from the United States and joins the famous Tanz ballet company. The studio's chief choreographer, Madame Blanc, recognizes the talent of her new mentee and gives her the lead role in an upcoming production.
Susie is in anticipation of success and has no idea that the clouds are gathering over her. After all, dancing is a cover. In fact, something sinister lurks behind the scenes and witches are having a coven in the basement of the school.
To play the main character, Dakota Johnson studied ballet for 2 years. This role was originally offered to Natalie Portman by the creators.
Sennentuntschi
Rating IMDB – 6.5
Genre: Horror, Detective
Switzerland production / 2010
Worldwide gross: $34,991
Directed by Michael Steiner
Cast: Roxanne Mesquida, Nicholas Ofcharek, Andrea Zogg, Carlos Leal, Joel Basman, Hanspeter Müller, Rebecca Indermaur, Ueli Jaggi, Peter Yacklin, Daniel Rohr
The events unfold in a town located in the foothills of the Swiss Alps. Life here flows slowly, nothing extraordinary ever happens, and it seems that it will always be so. But the usual rhythm is interrupted by the news of the suicide of the local priest. The residents are in a panic, they do not understand what could make the minister of God to take such a step.
And then suddenly appears strange mute girl, fumbling with crucifixes and crosses. She is immediately accused of witchcraft and is about to be punished. The only one who keeps the townspeople from being massacred is policeman Roish. But as he tries to discover the identity of the stranger, he makes a frightening discovery.
This original witch-girl movie is based on an Alpine legend about a reanimated straw doll that shepherds make for their own pleasures.
Gretel & Hansel
Rating IMDB – 5.4
Genre: Horror, Fantasy
USA, Canada, Ireland, South Africa production / 2020
Worldwide gross: $22,051,055
Directed by Oz Perkins
Cast: Sophia Lillis, Sammy Leakey, Alice Krige, Jessica DeGauw, Fiona O'Shaughnessy, Donncha Crowley, Jonathan Gunning, Charles Babalola, Julia Dougherty, Jonathan Delaney Tynen
Sixteen-year-old Gretel and eight-year-old Hansel are brother and sister forced to flee their home because their own mother abused them and even threatened to kill them. In search of a better life, they wander the countryside and one day they stumble upon a hut in the woods.
There lives a lonely old woman who offers the lads shelter and a table in exchange for their help with household chores. The heroes gladly accept the offer. It doesn't even occur to them that the hospitable and sweet hostess is actually a cruel and bloodthirsty witch who has been killing children for decades.
Director Oz Perkins changed the title of the original Grimm Brothers tale because he wanted to show the story of Gretel growing up.
The Love Witch
Rating IMDB – 6.2
Genre: Melodrama, comedy, fantasy, crime
USA production / 2016
Budget: $1,000,000
Worldwide gross: $246,218
Directed by Anna Biller
Cast: Samantha Robinson, Jan Keyes, Laura Waddell, Jeff Paris, Jared Sanford, Robert Seely, Jennifer Ingrum, Randy Evans, Clive Ashbourne, Lily Howellman
Elaine Parks is a charming young witch with a thirst for love. She has recently been widowed, but that is no reason to stand idly by. Instead of being sad about her lost spouse, the heroine sets out in search of a new lover. And it is not in her nature to wait for the grace of fate.
Elaine takes the initiative into her own hands and turns to magic. With the help of spells, she lures potential suitors, and the rest is done with a love potion. Only one problem: none of the men are able to survive the power of witch love.
The whole film is a kind of reference to the newfangled religion of Wicca, based on the worship of the natural elements.
The Wretched
Rating IMDB – 5.8
Genre: Horror, Fantasy
USA production / 2019
Worldwide gross: $4,369,493
Directed by Brett Pierce, Drew T. Pierce
Cast: John-Paul Howard, Piper Kurda, Jamison Jones, Azi Tesfay, Tsara Mahler, Kevin Bigley, Gabriela Quezada Bloomgarden, Richard Ellis, Blaine Crocarell, Judah Ebner Paul
Seventeen-year-old Ben, whose parents are divorced, comes to his father's house for the summer vacations. He works part-time at the boatyard, meets the local youth, and has a great time. The only thing that bothers him is the married couple living next door.
Not long ago, they were behaving perfectly normally, but suddenly their behavior has become strange and frightening. Ben decides to follow the neighbors and soon realizes that an ancient evil has settled in their house. And now the whole town is in great danger.
Because of the total quarantine, the film was the only one released in the U.S. in May 2020.
The Autopsy of Jane Doe
Rating IMDB – 6.8
Genre: Horror, thriller, detective
UK production / 2016
Worldwide gross: $6,170,043
Directed by Andre Ovredahl
Cast: Brian Cox, Emile Hirsch, Ophelia Lovibond, Michael McElhatton, Oluen Catherine Kelly, Jane Perry, Parker Sawyers, Mary Duddy, Mark Phoenix
The tranquility of the small town of Grantham, Virginia, was shattered by a terrible crime. Several people had been murdered in their own home, and there was no sign of forced entry. And in the basement of the ill-fated mansion, police found the body of another girl with no obvious signs of violent death.
Pathologist Tommy Tilden is assigned to perform an autopsy and determine the cause of death of the victim. But when he takes the case, inexplicable, frightening events begin to occur in the morgue.
In 2016, Stephen King called this horror film his favorite among witch projects.
Darkness Visible
Rating IMDB – 5.6
Genre: Thriller, horror
UK, India, USA production / 2019
Directed by Neil Biswas
Cast: Sayani Gupta, Salome Gunnarsdottir, Jaz Deol, Neil Bhupalam, Seema Biswas, Kaushik Mitra
Ronnie was born and raised in India, but has lived in Britain for years. One day he receives a call from a cousin in Calcutta informing him that his mother is in a coma after a car accident. The worried boy jumps out of his seat and travels to his home country.
At the hospital, he finds his mother awake, but terrified. The woman begs him to return immediately or else he will be in big trouble. Trying to make sense of what's going on, Ronnie discovers the nightmarish truth about his own origins and how he's connected to an ancient evil.
The VVitch: A New-England Folktale
Rating IMDB – 6.9
Genre: Horror
Canada, USA, UK production / 2015
Budget: $3,500,000
Worldwide gross: $40,423,945
Directed by Robert Eggers
Cast: Anya Taylor-Joy, Ralph Eaneson, Kate Dickey, Harvey Scrimshaw, Ellie Granger, Lucas Dawson, Julian Richings, Batsheba Garnett, Sarah Stephens, Daniel Malick
The 17th century is upon us. Colonists are actively settling the land of North America. But not everyone feels comfortable in their new homeland. William, his wife Catherine and their four children are forced to leave the Puritan community because of disagreements. They build a house on the edge of a remote forest, and almost immediately frightening events begin to happen to them.
Pets become aggressive, crops become diseased, and finally, a newborn baby boy disappears under strange circumstances. Unable to explain what is happening, everyone begins to blame Thomasin's eldest daughter for the witchcraft.
The master of horror Stephen King admitted that this film plunged him into sheer horror.
The Last Witch Hunter
Rating IMDB – 6.0
Genre: Fantasy, action, adventure
USA, China, Canada production / 2015
Budget: $90,000,000
Worldwide gross: $146,936,910
Directed by Brack Eisner
Cast: Vin Diesel, Rose Leslie, Elijah Wood, Oulawur Darry Oulafsson, Rina Owen, Julie Engelbrecht, Michael Caine, Joseph Gilgan, Isaac De Bankole, Michael Halsley
Calder is an experienced hunter of all kinds of monsters, possessing immortality. Over the years he has dealt with hundreds of bloodthirsty creatures, but there is no end to them. These days he faces battle again.
Calder has learned that mystical forces are about to resurrect the powerful Dark Lord, capable of wreaking havoc and death on the planet. To prevent such a thing, the hunter teams up with the renegade witch Chloe and the young monk Dollan. But will they be able to stop the approaching disaster, or is it too late?
The film's script has been on the black list for several years, where projects doomed to commercial failure end up.
Maleficent
Rating IMDB – 7.0
Genre: Fantasy, Family, Melodrama, Adventure
USA, UK production / 2014
Budget: $180,000,000
Worldwide gross: $758,410,378
Directed by Robert Stromberg
Cast: Angelina Jolie, Elle Fanning, Sharlto Copley, Sam Riley, Isobel Molloy, Leslie Manville, Imelda Staunton, Juno Temple, Brenton Twates, Kenneth Cranham
Once upon a time, Maleficent was a kind and bright fairy who lived in an enchanted forest full of good magical creatures. She trusted people and believed that they would never betray or hurt. But her plans were not destined to come to fruition.
King Henry attacked the fairy's ancestral home, wanting to seize all the wealth. And Prince Stephen, whom the girl loved, turned out to be a traitor and a coward. Enraged, Maleficent vowed revenge. She summoned the dark forces, surrounded her lands with a wall of thorns and put a terrible curse on the newborn daughter of her former lover.
When Angelina Jolie was in costume and makeup, the children on the set were terrified of her.
Into the Woods
Rating IMDB – 5.9
Genre: Musical, Fantasy, Drama, Comedy, Adventure
USA production / 2014
Budget: $50,000,000
Worldwide gross: $212,902,372
Directed by Rob Marshall
Cast: Meryl Streep, Emily Blunt, James Corden, Anna Kendrick, Chris Pine, Johnny Depp, Daniel Huttlestone, Kristin Baranski, Tammy Blanchard, Lucy Punch
Once upon a time, Baker's father stole a precious thing from an old witch. In revenge, the witch put a curse on the man. She foretold that there would be no more children in the baker's family. The curse has come true and now the young Baker and his wife suffer from the lack of heirs.
To rid themselves of the spell, the couple agree to comply with the wicked old woman's demands. They set out in search of a cow as white as milk, a cloak as red as blood, hair as yellow as corn and a slipper as expensive as gold. But will this venture bring them happiness?
In 2013, Meryl Streep was offered to play witches in three different projects, but she chose "Into the Woods".
Rattlesnake
Rating IMDB – 4.6
Genre: Thriller, Fantasy
USA production / 2019
Directed by Zach Hilditch
Cast: Carmen Ejogo, Theo Rossi, Emma Greenwell, DeBrianna Mancini, Bruce Davis, Rio Alexander, Spencer Mabry, Josh Kemble, Alexandra Nell
Single mother Katharina goes on a trip across the country with her daughter Clara. During a forced stop caused by a flat tire, the girl gets out of the car and is bitten by a rattlesnake.
The woman realizes that she won't have time to take the little girl to the nearest hospital. Fortunately, she discovers a strange house, the owner of which declares that she can save the victim. The stranger does help Clara, but asks her to kill another man in return. If Katarina refuses, her daughter will die.
Witches in the Woods
Rating IMDB – 4.3
Genre: Horror, thriller
Canada production / 2019
Worldwide gross: $71,640
Directed by Jordan Barker
Cast: Hannah Kasulka, Craig Arnold, Sasha Clements, Corbin Blue, Alexander De Jordi, Humberly Gonzalez, Kyle Mack, Ian Matthews, David Lafontaine, James Gilbert
A group of friends decides to spend a weekend out of town. After packing everything they need, they set off, looking forward to a great time away from the hustle and bustle of the city. But about halfway there, they discover that the highway leading to their destination is blocked by the police.
Not wanting to go back, the characters take a secondary road leading through a deep forest. After driving a few kilometers, the guys realize that they are driving in a circle. Soon they realize that they are caught in a death trap set by supernatural forces.
Pari
Rating IMDB – 6.6
Genre: Horror, thriller, melodrama
India production / 2018
Worldwide gross: $129,898
Directed by Prozit Roy
Cast: Anushka Sharma, Parambrata Chatterjee, Rajat Kapoor, Ritabhari Chakraborty, Preeti Sharma, Mansi Multani, Dibuyendu Bhattacharya, Imran Rashid, Mohammed Shakir, Aasif Khan
Arnab and his parents are returning from a visit. On a country road, an elderly woman, who had come from nowhere, is run over by the wheels of their car. They take her to the hospital, but she dies.
In an attempt to find out the identity of the deceased, Arnab conducts his own investigation. Not far from the accident he finds an old house where he discovers a chained girl of incredible beauty. The guy falls in love with the stranger and doesn't realize that she is the bearer of demonic powers.
The film was banned from distribution in Pakistan because a special commission decided that it promoted black magic.
Vildheks
Rating IMDB – 4.8
Genre: Fantasy, adventure, family
Denmark, Norway, Hungary, Czech Republic production / 2018
Worldwide gross: $72,821
Directed by Kaspar Munk
Cast: Gerda Lee Kaas, Sonja Richter, Mae Simon Lifschitz, Vera Mi Fernandez Bachmann, Albert Werner Ronard, Sinje Egholm Olsen, Henrik Mestad, Kersten Olesen, Peder Holm Johansen, Martin Heilender Braker
Clara is a 12-year-old girl whose life is hardly unusual. But everything changes one day when she is scratched by a stray black cat.
Suddenly the girl realizes that she can understand animal voices. It turns out that the blood of ancient sorceresses flows in her. Moreover, Clara is destined to fight a powerful sorceress determined to destroy all life.
This is one of the best films for children about witches. It is based on the bestseller by Danish writer Lene Kaaberbol.
The Appearance
Rating IMDB – 4.7
Genre: Horror, thriller
USA production / 2018
Directed by Kurt Knight
Cast: Jake Stormoen, Christian Nairn, Adam Johnson, Michael Flynn, Bailey Self, John Lindsay, Nathan Stevens, Oscar Sanchez
At a time when all dissenters were burned at the fires of the Inquisition, the body of a novice is discovered in a monastery, having died a horrible death. The frightened monks are convinced that diabolical forces have intervened.
They conduct their own investigation and come to the conclusion that the red-haired Isabel from the neighbouring village is to blame for the crime. The girl is going to be burned. But at this time the young inquisitor, Mateo, arrives at the Abbey. He intends to look into what has happened himself.
The Convent
Rating IMDB – 4.1
Genre: Horror
UK production / 2018
Worldwide gross: $353,326
Directed by Paul Hyett
Cast: Hannah Arterton, Michael Ironside, Rosie Day, Freddy Carter, Claire Higgins, Dylan Gwynn, Ciaran McMenamin, Anya Marson, Shan Breckin
It is the 17th century. A young girl, Persephone, is falsely accused of witchcraft and magic and is about to be executed. Fortunately, the abbess of the local abbey intervenes in the unhappy girl's fate and takes her under her wing.
She sends the girl to a monastery where she must spend the rest of her life in constant prayer. But instead of the long-awaited deliverance, Persephone is plagued by nightmarish visions. And now she must fight for the salvation of her own soul.
The plot of the film is based on the story of the same name by American playwright Gregory Blair.
Muse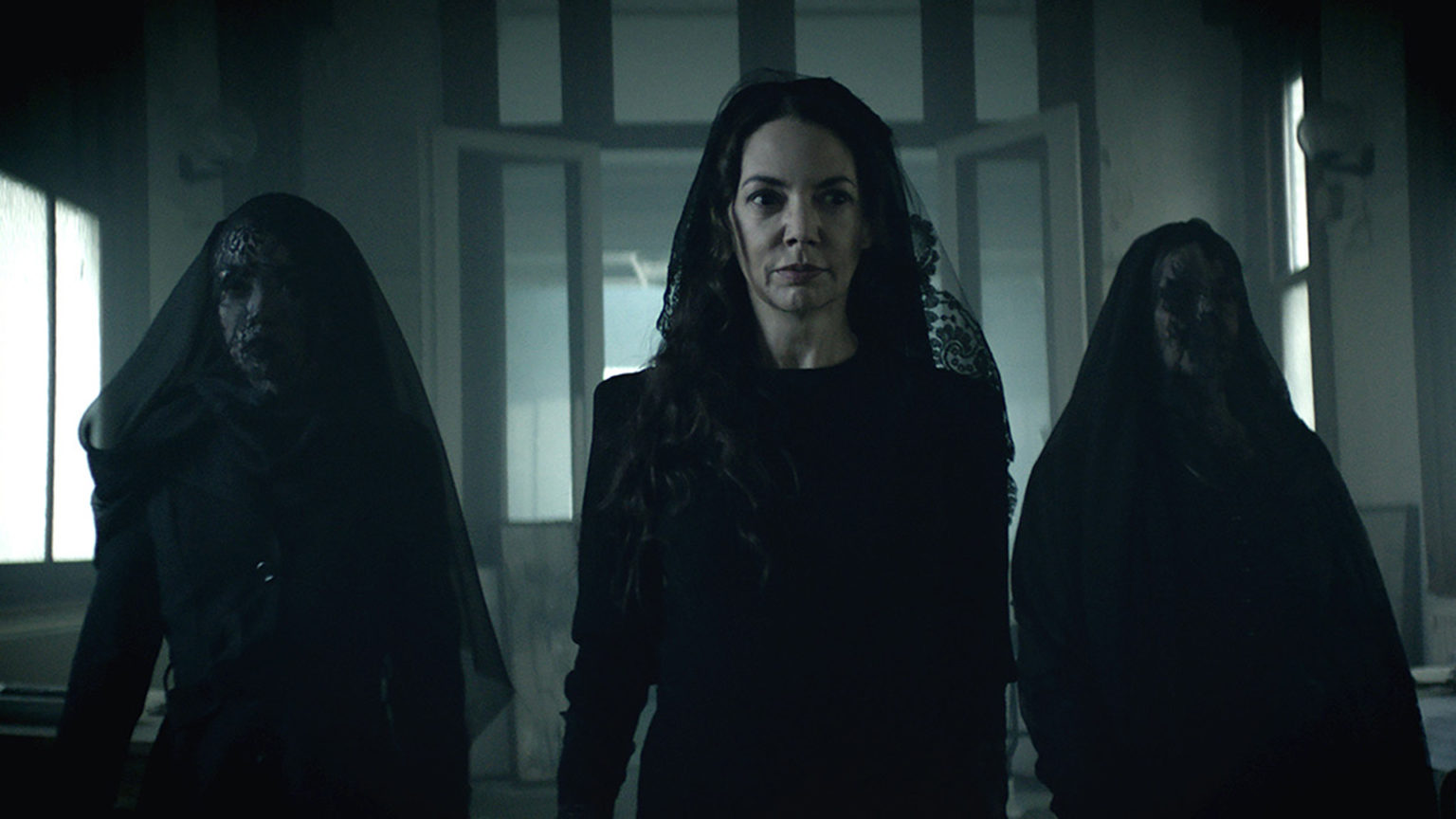 Rating IMDB – 5.4
Genre: Fantasy, thriller, detective
Spain, Ireland, Belgium, France production / 2017
Budget: €5,000,000
Worldwide gross: $1,346,352
Directed by Jaume Balaguero
Cast: Elliot Cowan, Franca Potente, Ana Ularu, Leonore Watling, Manuela Velles, Joanne Whalley, Christopher Lloyd, Callahan O'Connell, Sam Hardy, Stella McCusker
Samuel Solomon is a well-known and respected professor of literature. But he has been absent from the university for a long time. A year ago, his lover committed suicide, and since then the inconsolable man finds no peace. Almost every night he wakes up with a recurring nightmare. He dreams of a monstrous ritual during which a strange woman is brutally murdered.
One day, the hero accidentally finds himself at the scene of a brutal murder and is horrified to recognize the victim as the heroine of his nightmare visions. Now he has to find out the identity of the deceased. And at the same time to discover the terrible secret that hides the Greek muses.
Hagazussa: A Heathen's Curse
Rating IMDB – 5.9
Genre: Horror, Drama
Austria, Germany production / 2017
Worldwide gross: $21,487
Directed by Lukas Feigelfeld
Cast: Alexandra Kwen, Selina Peter, Claudia Martini, Tania Petrowski, Heimon Maria Buttinger, Thomas Petruo
The events take viewers back to the 15th century. In a small village in the foothills of the Austrian Alps, new residents appear – an elderly woman Martha and her 10-year-old daughter Albrun. Who they are and where they came from – no one knows.
The strangers settle in a cottage on the outskirts of the city. They lead an almost reclusive way of life, trying not to communicate with the local population. But this does not save them from the hostile attitude. The villagers are sure that mother and daughter have brought an ancient evil with them. Their confidence grows stronger when Martha falls ill with an unknown disease and dies. Now all the villagers' anger and hatred will be directed at the girl.
According to The Hollywood Reporter, this is one of the most stylish, ambiguous and mesmerizing horror movies about witches.
7 Witches
Rating IMDB – 3.5
Genre: Horror, thriller
USA production / 2017
Worldwide gross: $31,100
Directed by Brady Hall
Cast: Persephone Apostolou, Danica Golombek, Megan Hensley, Mike Jones, Rory Ross, Lorraine Montetz
Kate Boyle arrives on an isolated seaside island to celebrate her sister Rose's wedding. It comes as a surprise to her that her sister has decided to tie her life to a girl rather than a boyfriend. Aggie. Rose's chosen one, looks quite exotic. Instead of a white wedding dress, she wears a black gothic outfit. Everyone else in the wedding party is dressed in the same way.
There's no Internet or phone service on the island, and everything looks more than a little suspicious. Kate's fears grow by the minute. And soon she realizes that she is a guest not at the wedding, but at a witches' coven.
Don't Knock Twice
Rating IMDB – 5.1
Genre: Horror, fantasy, thriller, drama, detective
UK production / 2016
Worldwide gross: $2,081,591
Directed by Caradog W. James
Cast: Katie Sackhoff, Lucy Boynton, Richard Milan, Nick Moran, Pascal Wilson, Javier Botet, Puneh Hajimohammadi, Sarah Buckland, Jordan Bolger, Anya Marson
Chloe was just a baby when she found herself in an orphanage. Her mother was addicted to drugs and couldn't take care of her daughter. Nine years have passed since then. Jess has completely recovered from her addiction, has become a famous sculptor, and dreams of bringing her daughter back. But Chloe is not burning with the desire to live with the woman who abandoned her.
Nevertheless, she has to accept the offer, because terrible things begin to happen in the orphanage: teenagers disappear from their rooms under unclear circumstances. The frightened girl takes refuge in her mother's mansion, confident that nothing will threaten her here. But it is a mistake: the ancient evil, which she herself awakened by her rash behavior, follows her on her heels.
The Witches
Rating IMDB – 5.3
Genre: Fantasy, Comedy, Family
USA, Mexico, UK production / 2020
Worldwide gross: $26,900,000
Directed by Robert Zemeckis
Cast: Jazir Bruno, Octavia Spencer, Anne Hathaway, Stanley Tucci, Cody-Lay Eastick, Chris Rock, Brian Bovell, Joseph Zinemba, Josette Simon, Jonathan Livingstone
Charlie Hensen is a 7-year-old orphan boy. His mother and father died in tragic circumstances, and now he is left with only his grandmother Agatha. She takes her grandson to her house in the small town of Demopolis, Alabama. The elderly woman tries by all means to replace the boy's parents, trying to protect him from trouble and nightmarish memories.
But insidious witches interfere in her plans. They set out to destroy all the children, turning them into animals. Charlie barely escapes the cleverly set trap. Grandmother shelters her grandson in a prestigious hotel. However, she soon learns that witches have gathered there for a coven. Now the brave woman and Charlie have to devise their own plan, and at the same time prevent the evil witches.
Witching & Bitching
Rating IMDB – 6.4
Genre: Comedy, adventure, fantasy
Spain, France production / 2013
Worldwide gross: $7,422,695
Directed by Alex de la Iglesia
Cast: Hugo Silva, Mario Casas, Pepon Nieto, Carolina Bang, Terela Paves, Jaime Ordonez, Gabriel Angel Delgado, Santiago Segura, Macarena Gomez, Secun de la Rosa
Two friends, Jose and Antonio, decide to rob a pawnshop. They take Sergio, the son of one of them, as their henchmen. Having successfully carried out their plan, they try to flee the scene with the stolen valuables. But the police follow them on their heels.
Fleeing from pursuit the heroes accidentally find themselves in the town of Sugarramurdi. According to legends, witches have been living here since ancient times. Now the heroes' task is more complicated: they must get away not only from the police, but also from dangerous creatures with magic. But how to do it, if all local witches are incredible beauties and it is impossible to resist them?
Oz the Great and Powerful
Rating IMDB – 6.3
Genre: Fantasy, adventure, comedy, family
USA production / 2013
Budget: $215,000,000
Worldwide gross: $493,311,825
Directed by Sam Raimi
Cast: James Franco, Michelle Williams, Mila Kunis, Rachel Weisz, Zach Braff, Bill Cobbs, Tony Cox, Joey King, Stephen R. Hart, Abigail Spencer
Oscar Diggs, a circus magician and a ruthless con man, is caught in a terrible hurricane and finds himself in the magical land of Oz. There he poses as the great Wizard, long awaited by the locals. The gullible citizens hope that the stranger will save them from the Wicked Witch.
But Diggs, who has declared himself king, has no intention of picking a fight with the powerful witch. All he is interested in is fame and fortune. Nevertheless, he still finds himself caught up in the struggle between good and evil. But in order to survive, he will have to use all his knowledge and skills acquired in the circus.
James Franco, who played the main character, two weeks learning the art of tricks from a professional magician in Las Vegas.
Beautiful Creatures
Rating IMDB – 6.2
Genre: Fantasy, Drama, Melodrama
USA production / 2013
Budget: $60,000,000
Worldwide gross: $60,052,138
Directed by Richard LaGravenes
Cast: Alice Englert, Jeremy Irons, Emmy Rossum, Thomas Mann, Alden Ehrenrike, Viola Davis, Emma Thompson, Eileen Atkins, Margo Martindale, Zoey Deutch
Lena Duquesne belongs to an ancient line of powerful witches. Her mother is the most powerful witch in the area, and she herself is about to make an important choice. On her coming of age, she must choose between light and dark magic.
Her mother pushes her in the direction of Darkness, but her father is convinced that Light is the best fate for his daughter. The boy next door, Ethan Waite, stirs up the flames. The young people are in love with each other and dream of being together forever. But their desires do not fit the plans of powerful supernatural forces.
The film was shot in Louisiana, famous for its legends of witches and magic.
Snow White and the Huntsman
Rating IMDB – 6.1
Genre: Fantasy, action, drama, adventure
USA, UK production / 2012
Budget: $170,000,000
Worldwide gross: $396,592,829
Directed by Rupert Sanders
Cast: Kristen Stewart, Chris Hemsworth, Charlize Theron, Sam Claflin, Sam Spruell, Ian McShane, Bob Hoskins, Ray Winston, Nick Frost, Eddie Marsan
Events take place in the magical kingdom of Tabor. Under the rule of the good and fair King Magnus, the country lived and prospered. But after the ruler married the beautiful Rowena, everything went wrong. The king suddenly fell ill and died.
That's when it turned out that under the beautiful face hides an ancient bloodthirsty sorceress, keeping her youth by sucking the souls of young girls. Legend has it that only the daughter of the late king can destroy the wicked witch. But she herself is in danger.
Kristin Start beat out several dozen other actresses who tried out for the role of Snow White. Among the applicants were Alicia Vikander, Selena Gomez, Dakota Fanning, Lilly Collins and others.
Hansel & Gretel: Witch Hunters
Rating IMDB – 6.1
Genre: Horror, action, fantasy
USA, Germany production / 2012
Budget: $50,000,000
Worldwide gross: $226,349,749
Directed by Tommy Virkola
Cast: Jeremy Renner, Gemma Arterton, Famke Janssen, Pichla Viitala, Thomas Mann, Derek Mears, Peter Stormare, Bjorn Sundqvist, Rainer Bock, Robin Atkin Downs
The grown-up Hansel and Gretel, who miraculously escaped death at the hands of a bloodthirsty witch, embarked on the path of war against evil spirits. They wander through towns and villages, seeking encounters with messengers of the mystical powers and mercilessly destroying them.
But not all witches will die at the hands of brave hunters. The brother and sister know how to distinguish good from evil and never harm those who practice good magic. Every day they grow stronger and more desperate. But ahead of them awaits a terrible discovery and an encounter with the secrets of the past.
Other Witch Movies
Chilling Adventures of Sabrina(2018)
Season of the Witch (2010)
Dark Shadows (2012)
The Brothers Grimm (2005)
Practical Magic (1998)
Luna Nera (2020)
Witches of East End (2013)
House of the Witch (2017)
The Witches(1990)
The Witches of Eastwick (1987)
Salem (2014)
The Craft (1996)
Hocus Pocus (1993)
A Discovery of Witches (2018)
The Crucible (1996)