Salma Hayek is a Mexican-born American actress who is considered one of the smartest, sexiest and brightest women in Hollywood. The actress is not afraid of experimentation and is not shy about improvisation. Woody Harrelson said of her: "When the gods decided to give the earth some of its splendor, they called it Salma Hayek."
Add to this her incredibly active charity work and being at the top of Entertainment Weekly magazine's amusing but prestigious "25 Smartest People on Television" list, and you can see why we admire this woman!
We offer you a nice selection of the most interesting and rated movies with Salma Hayek.
The Hitman's Bodyguard
IMDB Rating – 6.9
Genre: action, comedy
Production: USA, Hong Kong, Bulgaria, Netherlands, Canada, UK, France / 2017
Budget: $30,000,000
Worldwide box office: $183,415,183
Director Patrick Hughes
Starring: Ryan Reynolds, Samuel L. Jackson, Elodie Jung, Salma Hayek, Gary Oldman, Joaquin de Almeida, Yuri Kolokolnikov, Tine Justra, Sam Hazeldine, Richard E. Grant
"The Hitman's Bodyguard is Patrick Hughes' 2017 action film, whose sequel, Hitman's Wife's Bodyguard, was released in 2021. In the first film, hitman Darius Kincaid agrees to testify against an international criminal in exchange for the release of his wife Sonia, played by Salma Hayek. Darius is assigned a disgraced bodyguard, Michael Brice.
In the second film, Sonja asks Bryce, whom she considers the best bodyguard in the world and almost her son, to help her get Darius out of the hands of bandits, and then they all go together to save the world.
Salma Hayek spoke highly of her film partners, Ryan Reynolds and Samuel L. Jackson, saying it was an honor to work with them.
Eternals
IMDB Rating – 6.3
Genre: fantasy, sci-fi, action, adventure
Production USA / 2021
Budget: $200,000,000
World Box Office: $402,064,899
Director Chloe Zhao
Starring: Gemma Chan, Richard Madden, Angelina Jolie, Salma Hayek, Kumeil Nanjiani, Leah McHugh, Brian Tyree Henry, Ma Dong-seok, Barry Keoghan, Lauren Ridloff
"Eternals" is the 26th KVM film about an ancient race from the Marvel Comics, a kind of sci-fi version of the appearance of the Olympic gods. Centuries ago, a group of eternal beings from the planet Olympus appeared on Earth to protect the planet from dangers and interplanetary deviant monsters.
It seemed that the eternals have exterminated all the monsters, but in the XXI century an unkilled deviant appears from the ground, and the Eternals need to urgently gather in a bunch to destroy the relic monster. Salma Hayek plays the role of Ayak, the group's spiritual leader.
Salma Hayek at first was not too eager to work in the project, fearing that she would be forced into the role of an old woman. By the way, in the comics Ayak is a male.
Like a Boss
IMDB Rating – 4.7
Genre: Comedy
US production / 2020
Budget: $29,000,000
World Box Office: $30,399,490
Director Miguel Arteta
Starring: Rose Byrne, Tiffany Haddish, Salma Hayek, Jennifer Coolidge, Billy Porter, Erie Graynor, Natasha Rotwell, Jessica St. Clare, Karan Soni, Jacob Latimore
A feminine, ironic comedy, a parody of colorful movies about the "brave, strong and independent. Mia and Mel have been inseparable friends since childhood. They set up their own cosmetics business, and for a long time they successfully developed it, until they accidentally find themselves in deep crisis.
They receive an offer from the arrogant head of a large cosmetic corporation, Claire Luna (Salma Hayek), who offers to solve the girlfriends' problems in exchange for a share of their business. Between the friends begins a real rift with long-lasting consequences.
Salma Hayek considered using Botox to create the image of an unflappable Claire, but gave up the idea.
The Hummingbird Project
IMDB Rating – 6.2
Genre: Drama, thriller
Production: Canada, Belgium / 2018
Worldwide box office: $878,199
Director Kim Nguyen
Starring: Jesse Eisenberg, Alexander Skarsgard, Salma Hayek, Michael Mando, Johan Heldenberg, Aisha Issa, Mark Slack, Sarah Goldberg, Frank Scorpio, Kwasi Songui
A Canadian-Belgian thriller about serious competition in the high-speed financial trading market. The stockbroker Vincent and his cousin Anton work at Eva Torres, and their boss Eva (Salma Hayek) claims that all staff ideas belong to her personally.
Tired of the boss's dictatorship, Vincent and Anton quit, infuriating Eva, and consider working on their own. But Eva constantly finds herself one step ahead of her brothers, throwing a spanner in their wheels.
She gets Anton arrested, who is using the software he wrote himself, but Eva has the rights to the code. What she doesn't know is that Anton has left a little trap in the software that could give Vincent an advantage…
The fiber company trained the actors to work with the cable, and they built a fully operational network in the film.
Il racconto dei racconti – Tale of Tales
IMDB Rating – 6.4
Genre: horror, fantasy, drama
Production: Italy, France, UK / 2015
Budget: €12,000,000
World Box Office: $5,497,104
Directed by Matteo Garrone
Starring: Salma Hayek, Vincent Cassel, Toby Jones, John C. Reilly, Shirley Henderson, Hayley Carmichael, Bebe Cave, Stacy Martin, Christian Lees, Jonah Lees
This Italian arthouse anthology tells three scary tales from the Baroque period, three stories with gorgeous visuals. Events unfold in three magical frontier kingdoms.
In the Valley of the Mists, a barren queen (Salma Hayek) longs to have a child and sends her husband-king after the heart of a sea monster to fulfill her dream. In the Wild Mountain State, the king engages in a strange breeding venture, raising a flea the size of a pig. And on the Lonely Cliff, the king falls in love with a marvelous female voice and becomes enraged when he discovers that he has fallen in love with an old woman. And magic intervenes in everything, turning every tale into a cautionary tale…
The plot of the stories is based on the tales included in the classic collection by Giambattista Basile.
Here Comes the Boom
IMDB Rating – 6.4
Genre: Comedy, sports
US production / 2012
Budget: $42,000,000
World Box Office: $73,100,172
Directed by Frank Koraci
Starring: Kevin James, Salma Hayek, Henry Winkler, Greg Germann, Bas Rutten, Gary Valentine, Jake Zurus, Reggie Lee, Mark DellaGrott, Joe Rogan
A wonderful comedy for fans of boxing and school dramas. Scott Voss is a 42-year-old small school teacher. He befriends music teacher Marty Streb, is in love with colleague Bella Flores (Salma Hayek) and is passionate about his work. The students reciprocate this kindly fat man with full reciprocity.
Then one day Voss learns that the school budget will be cut and his friend will be fired. To avoid this, he takes part in underground fights, where even the loser is paid an impressive sum. However, Scott does not want to be a victim and begins to train, changing his fate and defending the school he loves.
Several MMA stars took part in the film. By the way, the performer of the role of Scott, Kevin James, actually does mixed martial arts.
Lonely Hearts
IMDB Rating – 6.4
Genre: thriller, drama, melodrama, crime, biography, story
Production: Germany, USA / 2005
Budget: $18,000,000
World Box Office: $2,407,903
Director Todd Robinson
Starring: John Travolta, James Gandolfini, Jared Leto, Salma Hayek, Scott Caan, Laura Dern, Michael Gaston, Bruce McVittie, Dan Byrd, Andrew E. Wheeler
"Lonely Hearts" is a highly rated crime drama based on true events. Salma Hayek appeared as the villain Martha Beck.
Two detectives, Elmer Robinson and Charles Hilderbrant, investigate the suicide of a young woman and discover that she was in fact murdered. Soon the detectives discover the scammer Raymond Martinez Fernandez, who responded to marriage advertisements, seducing women and robbing them of their savings. But he was not a murderer until his partner was Marta Beck, a jealous, selfish and extremely cruel person.
Salma Hayek wore blue contact lenses, as the real Martha had blue eyes. True, to gain a hundred pounds (Martha's weight) for authenticity, the actress did not dare.
Ask the Dust
IMDB Rating – 5.7
Genre: Drama, melodrama
Production: USA, Germany / 2005
World Box Office: $2,460,057
Directed by Robert Towne
Starring: Colin Farrell, Salma Hayek, Donald Sutherland, Eileen Atkins, Idina Menzel, Justin Kirk, Jeremy Crutchley, Dion Busco, Donna Mosley
The story of this poignant melodrama is set in 1930s Los Angeles. Arturo Bandini (Colin Farrell) is an Italian and an aspiring writer. He is talented, but too insecure. One day he meets a Mexican woman, Camille Lopez (Salma Hayek), with whom he begins an affair.
They are both too complex, and their relationship is at first much more uncomfortable than enjoyable. But the lovers learn to overcome their differences, including cultural and national, and gradually gain confidence against the backdrop of historic world events.
The role of Camilla was offered to Salma Hayek eight years before filming began, and then she turned it down.
Bandidas
IMDB Rating – 5.7
Genre: Action, comedy, crime, western
Production: France, Mexico, USA / 2006
Budget: €32,000,000
World Box Office: $18,087,464
Directed by Joakim Ronning, Espen Sandberg
Starring: Penelope Cruz, Salma Hayek, Steve Zahn, Dwight Yoakam, Denise Arndt, Audra Blazer, Sam Shepard, Ismael 'East' Carlo, Gary Cervantes, Jose Maria Negri
"Bandidas" is a Mexican western starring Salma Hayek and Penelope Cruz. Maria (Cruz) is a simple-minded peasant girl, Sara (Hayek) is the daughter of a large landowner. The girls share a common sorrow and thirst for revenge – their fathers died because of the cruel Tyler Jackson, who took the land from its rightful owners by simply killing them.
The girls meet at the same Tyler bank, which they both decide to rob. Fighting at first, they team up and soon become apprentices of the famous robber Bill Buck, and then they terrify the greedy bankers by quietly committing grand thefts and giving money away to poor Mexicans.
For this role, Salma Hayek learned to ride a horse, which, she admits, was a very difficult thing to do.
After the Sunset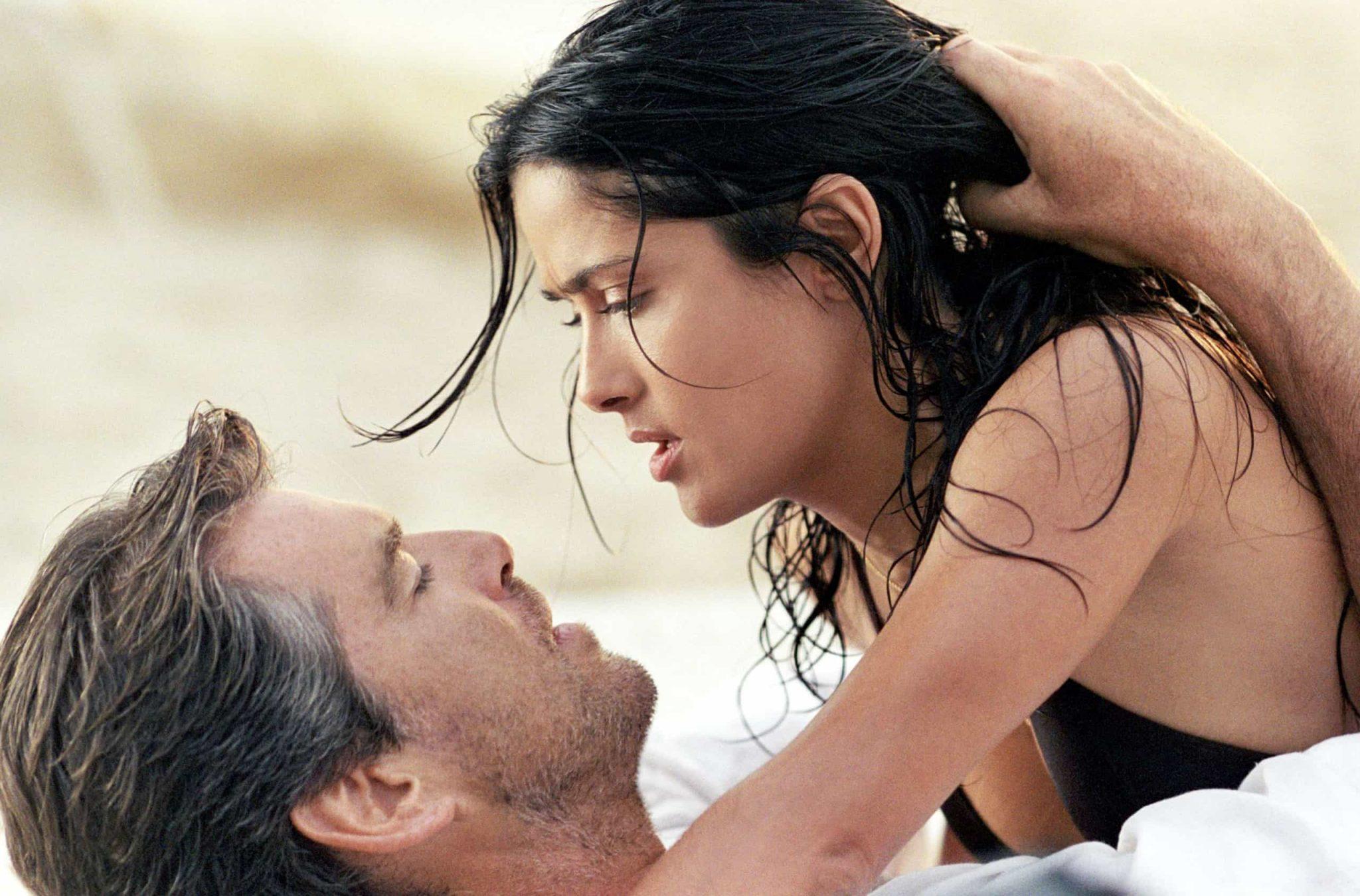 IMDB Rating – 6.2
Genre: Action, drama, comedy, crime
Produced by USA / 2004
Budget: $60,000,000
World Box Office: $61,347,797
Director Brett Ratner
Starring: Pierce Brosnan, Salma Hayek, Woody Harrelson, Don Cheadle, Naomie Harris, Chris Penn, Troy Garity, Obba Babatunde, Russell Hornsby, Mykelti Williamson
"After the Sunset" is an adventurous crime comedy starring Woody Harrelson, Pierce Brosnan and Salma Hayek. Professional crook and thief Max Burdett quits his criminal past and settles down on a tropical island with his lover, former partner Lola.
However their idyll does not last long – Max is pursued by the formidable FBI agent Stan Lloyd, who has not yet forgotten the humiliation from Max, because of which he was suspended. Not far from the island there is a jewel show on a luxury liner, and Lloyd is convinced that Max is planning to steal the main exhibit…
The beach house and pier where Lola (Salma Hayek) and Max (Pierce Brosnan) live was built especially for this film.
Frida
IMDB Rating – 7.3
Genre: Drama, Melodrama, Biography
Production: USA, Mexico, Canada / 2002
Budget: $12,000,000
World Box Office: $56,298,474
Director Julie Taymor
Starring: Salma Hayek, Alfred Molina, Valeria Golino, Ashley Judd, Geoffrey Rush, Edward Norton, Saffron Burroughs, Antonio Banderas, Diego Luna, Patricia Reyes Spindola
A beautiful biopic about the fate of the Mexican artist Frida Kahlo, played by the inimitable Salma Hayek.
In 1922 Frida almost lost the ability to walk and became disillusioned with people. The tragedy strengthened her spirit and allowed her to start painting. Soon she boldly goes to the famous Mexican artist Diego Rivera, demanding from him an honest critique of her paintings.
Soon they are husband and wife, conquering the world but unable to remain faithful to each other. Their love affairs are legendary. Once again, having quarreled with her husband, she leaves for her parents. The family hosts Lev Trotsky, who seeks asylum, and Frida becomes his mistress. Politics begins to interfere in the relationship of the star couple of artists…
During the filming, Salma Hayek herself drew several pictures and was, incidentally, nominated for an Oscar for this role.
In the Time of the Butterflies
IMDB Rating – 6.6
Genre: thriller, drama, melodrama, crime
Production: USA, Mexico / 2001
Directed by Mariano Barroso
Starring: Salma Hayek, Edward James Olmos, Mia Maestro, Damian Bichir, Pilar Padilla, Lumi Cavazos, Mark Anthony, Pedro Armendariz Jr.
A film based on the true story of the three Mirabl sisters from the Dominican Republic, charming women and revolutionaries known as "Butterflies," who fought covertly against Trujillo's bloody dictatorship.
The film begins with a scene in a prison cell where one of the sisters, Minerva (Salma Hayek) recounts the events that brought her here. The three girls of the Mirable family attended boarding school for five years. Even then, Minerva attracted the attention of Rafael Trujillo, an ordinary guy from a middle-class family. Later, when Trujillo comes to power, he draws the sisters closer to him, and after Minerva's rejection, death games and torture of loved ones begin, forcing the girls to become part of the resistance…
November 25, the day the Mirable Sisters died, was proclaimed a day of struggle against violence against women by the UN.
Dogma
IMDB Rating – 7.3
Genre: fantasy, drama, comedy, adventure
Produced by USA / 1999
Budget: $10,000,000
World Box Office: $31,117,471
Director Kevin Smith
Starring: Ben Affleck, Matt Damon, Linda Fiorentino, Salma Hayek, Jason Lee, Jason Mewes, Alan Rickman, Chris Rock, Bud Court, Barrett Hackney
An ironic reinterpretation of Christian canons in Kevin Smith's metaphysical comedy Dogma. A certain American pastor has figured out how to popularize religion. By walking through the archway of a certain church, anyone would receive absolution.
The two angels Loki and Bartleby, exiled forever to Earth for their sins by God himself, see this as a chance to return to heaven, although their return would violate the dogma of the immutability of God's word and the world would descend into chaos.
To avoid this, the angel Metatron recruits Christ's distant granddaughter, Bethany, who must stop the angels. She is aided in this by a couple of dorky prophets, the 13th apostle and the muse Serendipity (Salma Hayek), who left her career as a stripper for this mission. The most frustrating thing about this is that God himself hasn't come home after another binge…
The film provoked a real scandal among the faithful of the Roman Catholic Church.
Wild Wild West
IMDB Rating – 4.9
Genre: fantasy, action, comedy, western
Production USA / 1999
Budget: $170,000,000
World Box Office: $222,104,681
Director Barry Sonnenfeld
Starring: Will Smith, Kevin Kline, Kenneth Branagh, Salma Hayek, M. Emmett Walsh, Ted Levine, Frederick Van der Wal, Musetta Wander, Sofia Eng, Bai Ling
Charming cyberpunk with Will Smith, Kevin Kline and Salma Hayek. Events unfold in an alternate version of the United States just after the Civil War.
Genius villain Lovelace, a legless cripple who surrounds himself with a harem of kidnapped beauties, dreams of taking over the Southern states and killing President Grant. Lovelace has invented many nightmarish devices, becoming a true technomagician.
Two heroes, shooter Jim West and gentleman Artemus Gordon, with the help of cunning scientific devices resist the villain, and they are helped by the hot beauty Rita, who has been in the clutches of a giant mechanical spider.
The giant mechanical spider was the idea of producer John Peters. It was conceived for a Tim Burton movie that was never made: Superman Live.
Studio 54
IMDB Rating – 5.9
Genre: Drama, music
Production USA / 1998
Budget: $13,000,000
U.S. box office: $16,757,163
Director Mark Christopher
Starring: Ryan Phillip, Salma Hayek, Neve Campbell, Mike Myers, Sela Ward, Breckin Meyer, Sherry Stringfield, Ellen Albertini Dow, Cameron Matheson, Noam Jenkins
"Studio 54" is a real-life nightclub operating in Manhattan in the '70s and '80s. Director Mark Christopher, no stranger to the establishment and its regulars, has produced a drama about the fate of a fictional character, ordinary guy Shane O'Shea, who dreams of a beautiful life.
Living in Jersey City with his conservative father and two sisters, Shane longs to be across the river at Studio 54, a disco club, and one day he visits there with friends. He soon quarrels with his family, gets a job at the club as a waiter and moves in with his new friends Greg and Anita (Salma Hayek) in Manhattan. Shane's life becomes what he has dreamed of: endless freedom, sex, alcohol and drugs. But the guy didn't even know about the consequences…
In 2008, Mark Christopher released the director's version of the film, incorporating previously deleted scenes, including the love triangle between Salma Hayek, Ryan Phillippe and Breckin Meyer.
Fools Rush In
IMDB Rating – 6.1
Genre: Drama, melodrama, comedy
Production USA / 1997
U.S. box office: $29,481,428
Director Andy Tennant
Starring: Matthew Perry, Salma Hayek, John Tenney, Carlos Gomez, Thomas Milian, Siobhan Fallon, John Bennett Perry, Stanley DeSantis, Suzanne Snyder, Anne Betancourt
A light, relaxing romantic comedy starring Salma Hayek and Matthew Perry. Projectionist Alex Whitman goes to Las Vegas and accidentally meets the charming Isabel Fuentes. They break up after spending only one night together, and three months later the girl reappears in Alex's life and tells him she's pregnant.
The honest guy immediately marries Isabel, and then it turns out that their tastes, desires, and lives are seriously different. In a chaos of perplexity and disagreement, the newlyweds become convinced that they rushed into starting a family. But what if this is destiny?
Jennifer Lopez was offered the role of Isabel Fuentes, but she turned it down in favor of another project.
The Hunchback of Notre Dame
IMDB Rating – 6.1
Genre: Drama, melodrama
Production: USA, Hungary, Canada, Czech Republic / 1997
Director Peter Medak
Starring: Mandy Patinkin, Richard Harris, Salma Hayek, Edward Atterton, Benedikk Bligh, Nigel Terry, Jim Dale, Trevor Baxter, Vernon Dobcheff, Nicholas Grace
A beautiful adaptation of Hugo's famous novel by Peter Medak. Salma Hayek plays Esmeralda, a young beautiful dancer with three men in love. And their love is so different…
The poet Pierre Grengoire praises the beautiful girl who saved him as an image of freedom and kindness, the archdeacon Claude Frollo lusts after her, dreaming of taking her by force and power, and the poor bellringer, the hunchback Quasimodo, sees in her a beautiful hope for the warm closeness of kin, feeling Esmeralda's sincere sympathy. But neither of them will be happy with this love…
Terry Gilliam had planned to make the same story, but abandoned the project after the premiere of Peter Medak's film.
From Dusk Till Dawn
IMDB Rating – 7.2
Genre: Crime, horror, action, comedy
Production: USA, Mexico / 1995
Budget: $19,000,000
World Box Office: $25,843,817
Directed by Robert Rodriguez
Starring: George Clooney, Quentin Tarantino, Harvey Keitel, Juliette Lewis, Ernest Liu, Salma Hayek, Cheech Marin, Danny Trejo, Tom Savini, Fred Williamson
The cult thriller by Robert Rodriguez, the screenplay for which was written by Quentin Tarantino himself. Salma Hayek appears here briefly, but incredibly spectacularly. Her dance with the snake is one of the most memorable scenes in Tarantino's movies.
With the help of his brother Richard, the unstable Seth escapes from prison. To get across the border safely, they take a pastor and a couple of his children hostage, along with the family van. With their captives, the brothers stay at a roadside bar called From Dusk Till Dawn, unaware that they've ended up in the scariest place in all of Mexico.
Salma had a panic fear of snakes, but after learning that she would be replaced by Madonna if she turned down the role (which was untrue from Rodriguez, who longed to see the actress in the film), she spent two months with a therapist, getting rid of her phobia.
El Callejón de los Milagros
IMDB Rating – 7.4
Genre: Drama, melodrama
Production Mexico / 1995
Directed by Jorge Fons
Starring: Ernesto Gomez Cruz, Maria Rojo, Salma Hayek, Bruno Bichir, Delia Casanova, Margarita Sanz, Claudio Obregón, Juan Manuel Bernal, Abel Vulrich, Luis Felipe Tovar
"El Callejón de los Milagros" is Salma Hayek's first notable role, a Mexican melodrama directed by Jorge Fons.
A young hairdresser Abel falls in love with the beautiful Alma (Salma Hayek), but they are both poor and so Abel goes to work in America, together with his friend Chava, a fugitive from justice.
Abel is gone for two long years. Alma gets tired of waiting and agrees to marry old rich man Don Fidel. Unfortunately, the latter's untimely death leaves the girl with nothing, and she becomes an elite prostitute, succumbing to the persuasion of pimp Jose Luis. And then Abel returns home…
The screenplay is based on the book "Midah Street" by Nobel laureate Naguib Mahfouz.