One of the most famous Japanese directors is Kiyoshi Kurosawa, working mainly in the thriller, detective and horror genres. His works have a huge variety of plots, characters and conflicts unlike any other, with recurring themes of family, comas, ghosts and severe stress.
Kiyoshi Kurosawa (not to be confused with Akira Kurosawa, they are not even related) is compared to Kubrick and Tarkovsky, called the greatest director of modern Japan and the father of J-horror, although he can easily cope with other genres. We present you the best works of this unique creator, which will entertain, scare, teach and make you think.
Wife of a Spy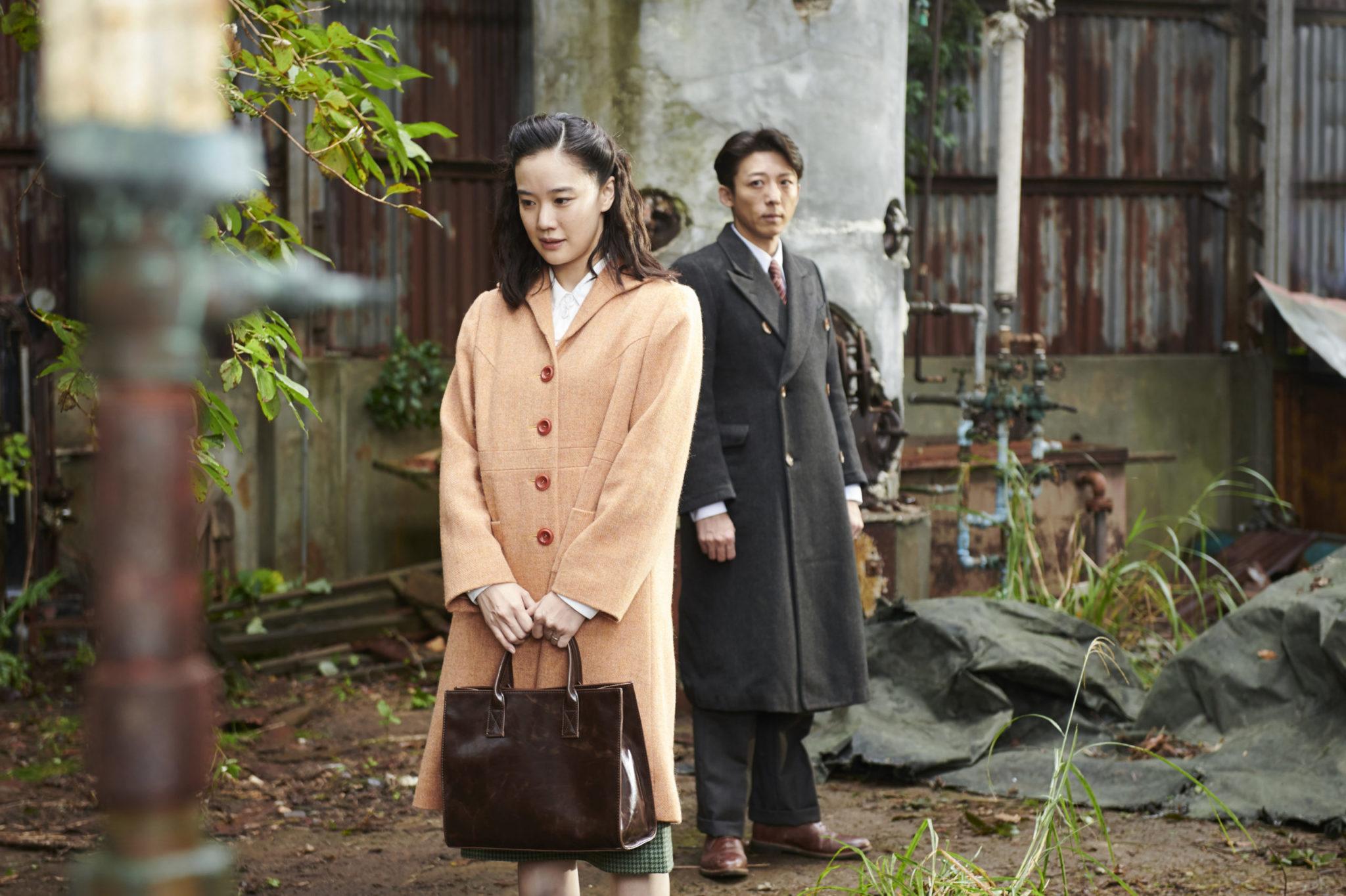 IMDB Rating – 6.6
Genre: Drama, History, Melodrama
Production: Japan / 2020
Worldwide box office receipts: $2,280,554
Director: Kiyoshi Kurosawa
Starring: Yu Aoi, Issei Takahashi, Masahiro Higashide, Ryota Bando, Yuri Tsunematsu, Minosuke, Hyunri, Takashi Sasano, Chuck Johnson, Niihi
In this war melodrama, atypical for the director, Kiyoshi Kurosawa tells the story of an ordinary married couple, extolling their loyalty, love and sense of justice. However, hidden at the heart of the story are monstrous real-life facts that few people know about.
In the 1940s, Yusaku Fukuhara runs a successful business in Japan. He is happily married to Satoko and often goes abroad for his business interests. Then one day he travels to Japanese-occupied Chinese Manchuria, from where he brings back a young woman and terrible evidence of Japanese war crimes. The woman is soon killed, and Yusaku and Satoko find themselves under the scrutiny of a former friend, Yasuharu Tsumori, who has become a police extremist.
This is Kurosawa's first historical film. The unit engaged in inhumane experiments on captured and kidnapped Chinese civilians is the infamous "Unit 731". Now on the site of the unit's laboratories, on the outskirts of Harbin, there is a museum.
To the Ends of the Earth 
IMDB Rating – 6.7
Genre: Drama
Production: Japan, Uzbekistan, Qatar / 2019
Director: Kiyoshi Kurosawa
Starring: Atsuko Maeda, Shota Sometani, Tokio Emoto, Adiz Rajabov, Ryo Kase, Muyassar Berdikulova, Maruf Atajanov
A movie filled with darkness, the darker side of culture shock, fear of the unknown and the strangers to the protagonist. This movie is a realistic portrait of loneliness and being lost.
Yoko (played by famous J-Pop singer Atsuko Maeda) is a young Japanese woman in a world travel show. She is filming her latest episode in Uzbekistan, a country she finds hostile. Although the inhabitants are mostly friendly to Yoko, the girl is imbued with fears and is often unable to control her own emotions.
The film was released to mark the 70th anniversary of the Alisher Navoi Grand Theater, built in Uzbekistan by Japanese prisoners of war.
Foreboding 
IMDB Rating – 6.0
Genre: Drama, sci-fi
Production: Japan / 2017
Director: Kiyoshi Kurosawa
Starring: Kaho, Shota Sometani, Masahiro Higashide, Ren Osugi, Eriko Nakamura
Before you is a movie about aliens, an orthodox story with a sad ending. The world is fragile and can collapse at any second, say the characters of this science fiction movie.
Etsuko, a young factory worker, feels something unsettling approaching. Soon strange things start happening around her and she doesn't recognize her husband. But that's just the beginning of it all. Three alien scouts have infiltrated Earth. Before the main invasion force arrives, these three abduct human bodies and gather information, stealing the emotions and thoughts of their hosts…
Another interpretation of this story was the movie "While We're Here" from the same year. It was filmed with a slightly different emphasis. Kurosawa was so keen on the concept that he created a mini-series called Premonition: The Invader on a Walk.
Creepy
IMDB Rating – 6.4
Genre: Thriller, Detective, Crime
Production: Japan / 2016
Director: Kiyoshi Kurosawa
Starring: Hidetoshi Nishijima, Yuko Takeuchi, Haruna Kawaguchi, Masahiro Higashide, Teruyuki Kagawa, Ryoko Fujino, Masahiro Toda, Toru Baba, Misaki Saiso
A tense crime thriller that begins with a classic story of personal drift. Forensic psychologist Koichi Tarakura resigns from the police force after an incident at work and moves with his wife Yatsuko to the provinces to teach criminology at a local university. At the same time Koichi is investigating the latest case of an entire family's disappearance, which happened 6 years ago.
Around the Tarakura couple live rather inhospitable people, and the only neighbors Atsuko and Koichi get to know are the strange, withdrawn Nishino, who lives with his young daughter Mio and his wife, whom nobody has seen because she is sick and never goes out. One day, Mio tells Koichi that Nishino is not her father and is a strange and creepy man.
The movie is based on the best-selling novel by Yutaka Maekawa.
Daguerrotype
IMDB Rating – 5.7
Genre: Horror, Fantasy, Drama, Melodrama
Production: France, Belgium, Japan / 2016
Director: Kiyoshi Kurosawa
Starring: Tahar Rahim, Constance Rousseau, Olivier Gourmet, Mathieu Amalric, Malick Zidi, Valerie Sibilia, Jacques Collard, Fabrice Adde, Thomas Kuman, Claudine Axe
A not-so-successful but definitely mesmerizing experiment by Kurosawa, who created this schizophrenia and ghost story in collaboration with French and Belgian filmmakers.
Events unfold within the gloomy walls of the mansion of Stéphane Legray, a famous photographer who takes full-length portraits using a Victorian-era technique, daguerreotype. Stéphane's wife has died and he is obsessed with creating portraits of her, using his daughter Marie as his model.
One day, young Jean shows up at the mansion as Stephan's apprentice and assistant. He falls in love with Marie and wants to free her from the dismal confinement in which the girl lives. However, strange events begin to occur in the house…..
For the Japanese Kiyoshi Kurosawa, this is the first movie made in France and in French.
Journey to the Shore
IMDB Rating – 6.3
Genre: Fantasy, Drama, Melodrama
Production: Japan, France / 2015
Director: Kiyoshi Kurosawa
Starring: Eri Fukatsu, Tadanobu Asano, Masao Komatsu, Mika Muraoka, Tetsuya Chiba, Kaoru Okunuki, Masaaki Akahori, Miho Fukaya, Yumiko Ise, Yo Takahashi
A poignant romance from the master of horror, featuring tragedy, a ghost and an amazing journey. The main character of the movie is a music teacher Mizuki. She is grieving for her husband Yusuke, who went missing at sea a few years ago.
Suddenly, three years later, he returns to her in the form of a ghost. Yusuke tells her that he drowned and his body was eaten by crabs, but he himself, a disembodied soul, traveled home to his beloved, meeting ghosts and living people along the way who helped him find his way. He invites his wife on a journey to meet the people who have been kind to him.
The movie made the list of the ten best motion pictures of the year according to the French magazine "Cahiers du cinéma".
Real
IMDB Rating – 5.8
Genre: Fantastic, Drama
Production: Japan / 2013
Director: Kiyoshi Kurosawa
Starring: Takeru Sato, Haruka Ayase, Jyo Odagiri, Shota Sometani, Keisuke Horibe, Yutaka Matsushige, Kyoko Koizumi, Kenta Hamano, Ayami Ishizawa
A futuristic science fiction movie set in a future where technology can be used to tap into the brain of a person lying in a coma. Kurosawa brings his dystopian fantasy world into the virtual universe of an alien mind.
Koichi and Atsumi are two lovers who have been together since early childhood. Then one day, Atsumi impulsively attempts suicide and falls into a coma. Koichi decides to attempt a complex treatment and taps into his lover's brain to discover the causes of her neuroses and bring her back to normal. Now they can communicate in a strange world filled with memories and quasi-life, ghosts and shadows.
This movie premiered at the 2013 Toronto International Film Festival.
Penance
IMDB Rating – 7.1
Genre: Detective
Production: Japan / 2012
Director: Kiyoshi Kurosawa
Starring: Hazuki Kimura, Manatsu Kimura, Kyoko Koizumi, Asumi Kikuchi, Kyoka Shibata, Chizuru Ikewaki, Masaaki Akahori, Sakura Ando, Yu Aoi.
A detective story about murder, its aftermath and repentance, Kurosawa's aesthetic masterpiece, a stylish and powerful story featuring the best Japanese actresses.
Four girls from 8 to 9 years old – Sae, Maki, Akiko and Yukoi, witness the murder of their friend Emiri. All of them have seen the killer, but none of them can remember his face.
The investigation comes to a dead end. Asako, Emiri's mother, curses the four girlfriends for this. Fifteen years later, each of their lives are shattered and the aftermath of Emiri's murder haunts them, albeit in different ways, and Asako reappears in their fate.
Some of the ideas of this series, based on Kanae Minato's novel of the same name, were later realized by director Kurosawa in his film Creepy.
Tokyo Sonata
IMDB Rating – 7.5
Genre: Drama
Production: Japan, Netherlands, Hong Kong / 2008
Budget: $2,500,000
Worldwide Box Office: $940,430
Director: Kiyoshi Kurosawa
Starring: Teruyuki Kagawa, Kyoko Koizumi, Yu Koyanagi, Kai Inowaki, Haruka Igawa, Kanji Tsuda, Kazuya Kojima, Koji Yakusho, Danden.
A heavy psychological drama about the devastation of a Japanese family facing the consequences of mass unemployment amidst the hiring of cheap immigrants. The main character of the story is Ryuhei Sasaki, who holds a good position in a Tokyo business.
He is unexpectedly fired, but he does not inform his family. Every morning he leaves the house in a business suit, pretending to go to work and trying to find some vacancy, queues up at charity canteens and returns home in the evening, dejected. At the same time, family relations become increasingly cold, creating more and more unresolvable conflicts.
The movie ends with the piece "Moonlight" by Claude Debussy, the third movement of his 1890 Bergamas Suite.
Retribution
IMDB Rating – 6.3
Genre: Horror, Thriller, Detective
Production: Japan / 2006
Worldwide box office receipts: $342,762
Director: Kiyoshi Kurosawa
Starring: Koji Yakusho, Manami Konishi, Tsuyoshi Ihara, Hiroyuki Hirayama, Ikuji Nakamura, Ryo Kase, Kaoru Okunuki, Hironobu Nomura, Jin Muraki, Hajime Inoe.
An impressive mystery-detective thriller starring Koji Yakusho in the title role. He plays a Yoshoki police detective investigating mysterious murders. First, the police find the corpse of a girl in a red dress drowned in a puddle. Strangely enough, a button from Yoshoki's coat is found next to her body, and the unfortunate girl's lungs are filled with seawater.
This crime is followed by the case of Sakuma, the doctor who drowned his son Yosuke, and then other murders. Once again, the victims' lungs are filled with salt water and the evidence points to Yoshoki, who begins to doubt his innocence and cannot remember certain days from the past. He is also haunted by the ghost of a woman in red, who screams and screams.
This film is part of producer Takashige Ichise's J-Horror Theater anthology.
Kazuo Umezu's Horror Theater: The Wish
IMDB Rating – 5.4
Genre: Horror
Production: Japan / 2005
Budget: $3,000,000
Director: Kiyoshi Kurosawa
Starring: Hidetoshi Nishijima, Tamaki Ogawa, Hisako Shirata
"Kazuo Umezu's Horror Theater: The Wish" is a 6-part anthology of horror films based on various manga by renowned Japanese author and musician Kazuo Umezu. The movies are all directed by different directors, Kiyoshi Kurosawa authored "House of Bugs", a cute piece told from two points of view.
Renji and Ruiko are an outwardly prosperous married couple. In reality, behind the facade of decency lies something else. Renji is a jealous husband, obsessed with morbid fantasies of his wife cheating on him, and he prefers to keep her locked up.
At least that's what Ruiko tells her cousin who comes to visit. Renji himself, on the other hand, complains to his mistress that his wife is a lunatic who doesn't want to leave the house and imagines herself a bug…
The entire anthology was distributed by Shochiku, Japan's oldest film company.
Rofuto
IMDB Rating – 5.5
Genre: Horror
Production: Japan, South Korea / 2005
Budget: $2,500,000
Director: Kiyoshi Kurosawa
Starring: Miki Nakatani, Etsushi Toyokawa, Hidetoshi Nishijima, Yumi Adachi, Sawa Suzuki, Haruhiko Kato, Ren Osugi, Noriko Eguchi.
One of Kurosawa's most formulaic works, which is quite comparable to the best Western horror films. Reiko is a writer in creative crisis, overcome by a strange ailment. She asks her publisher Kijima to find her a secluded house in the middle of nowhere where she can finish her book.
Soon she moves into an isolated cottage in the picturesque marshes and encounters the strange archaeologist next door, obsessed with preserving a recently found mummy, and the ghost of the girl who lived in the house before her.
Kurosawa shot each scene with two different quality cameras at a slight angle to each other, which allowed him to play with the visual effects of the footage.
Doppelganger
IMDB Rating – 6.3
Genre: Fantasy, Thriller, Comedy
Production: Japan / 2003
Director: Kiyoshi Kurosawa
Starring: Koji Yakusho, Hiromi Nagasaku, Yusuke Santamaria, Masahiro Toda, Hitomi Sato, Duncan, Akira Emoto, Hajime Inoe.
Black comedy or existential moral play? Kurosawa's works often mix multiple meanings, but the very meaning of their existence is questioned by his characters.
Michio Hayasaki is an inventor scientist who is developing a chair that will help paralyzed people regain partial mobility. Everything is falling out of his hands, his bosses are pressuring him, and his stresses are multiplying.
One day he sees a doppelganger on his doorstep. Michio thinks he is going crazy, but the double helps him in many things – to fight back against the bosses and to bring his invention to the ground. But is the doppelganger as good as he wants to appear?
The screenplay was written by Kurosawa himself and co-written by his longtime friend Takeshi Furusawa.
Bright Future
IMDB Rating – 6.7
Genre: Drama
Production: Japan / 2002
US box office: $5,166
Director: Kiyoshi Kurosawa
Starring: Jyo Odagiri, Tadanobu Asano, Tatsuya Fuji, Sayuri Oyamada, Takashi Sasano, Marumi Shiraishi, Hanawa, Hideyuki Kasahara, Ryo Kase, Miyako Kawahara.
Like many of Kurosawa's films, this story gradually reveals the unsightly and frightening face of everyday life and then adds otherworldly strangeness to the plot, making a sharp leap to nightmare.
Mamoru and Yuji are two young men who work together and live in the same apartment. It's hard to say what binds them together, but both are rigidly isolated from the rest of the world in their small apartment, where Mamoru grows jellyfish in an aquarium, and seems to patronize the helpless Yuji.
But one day their boss takes an interest in the buddies and imposes himself as a guest. He makes too much noise in the quiet existence of the friends and Mamoru kills him. And this is just the beginning of a tangled story….
The jellyfish were shot separately near Tokyo and digitally added to the movie.
Pulse
IMDB Rating – 6.5
Genre: Horror, Fiction, Thriller, Detective
Production: Japan / 2001
Worldwide Box Office: $282,451
Director: Kiyoshi Kurosawa
Starring: Haruhiko Kato, Kumiko Aso, Koyuki, Kurume Arisaka, Masatoshi Matsuo, Shinji Takeda, Jun Fubuki, Shun Sugata, Sho Aikawa, Koji Yakusho
A deeply metaphorical film in which Kiyoshi Kurosawa uses techniques unique to him, thickening the suspense to an almost palpable level and filling the plot with technophobia. This movie has been called a new classic of j-horror.
There are two related story lines in the plot. In one story, young Michi tries to investigate the suicide of her friend and sees his ghost. In the other, student Ryosuke discovers the phrase, "Do you want to see ghosts?" on his computer screen and contacts Harue, who researches paranormal phenomena on the internet.
In 2006, an American remake of the same name was released, which spawned two more sequels.
Kôrei
IMDB Rating – 6.7
Genre: Horror, Thriller, Drama
Production: Japan / 2000
Director: Kiyoshi Kurosawa
Starring: Koji Yakusho, Jun Fubuki, Tsuyoshi Kusanagi, Hikari Ishida, Kitaro, Ittoku Kishibe, Ren Osugi, Sho Aikawa, Daikei Shimizu, Kazuya Horiguchi.
Sound engineer Sato is the unwilling husband of a con artist posing as a psychic, Junko. When a little girl is kidnapped in a Tokyo suburb, the police, unable to find any evidence, turn to Junko.
Meanwhile, Sato is recording forest sounds for his show, and in the same forest, the same girl escapes from her kidnapper and hides in Sato's open car. He brings her home. But instead of calling a doctor and the police, Junko decides to keep the girl with him to supposedly help in her search and restore his reputation as a psychic. But everything goes wrong when the girl dies and her ghost begins to haunt Sato and Junko.
Kurosawa's movie is a free adaptation of the 1961 novel Seance on a Wet Afternoon by the British Mark McShane. When he made his version, he did not know that the novel had already been screened in 1964.
Karisuma
IMDB Rating – 6.8
Genre: Drama
Production: Japan / 1999
Director: Kiyoshi Kurosawa
Starring: Koji Yakusho, Hiroyuki Ikeuchi, Ren Osugi, Yoriko Doguchi, Jun Fubuki, Akira Otaka, Yutaka Matsushige, Sachiko Meguro, Masayuki Shionoya, Masahiro Toda.
A symbolic parable about a policeman and a tree called Charisma is a wonderfully surreal reflection on choosing one's path. Koji Yakusho plays Yabuike, a cop on the verge of burnout. Acting as a negotiator in a case involving the capture of a parliamentarian, he allows the death of a hostage and resigns.
He moves away from the city and wanders into a dying forest where a lone Charisma tree, brought from mainland Asia by the late director, grows near an abandoned sanatorium. A serious dispute is blazing around the unfortunate tree.
Jimbo, a female botanist, believes that Charisma is poisoning the forest and the plant must be destroyed. The gardener Kiriyama, who has spent his life caring for the tree, protects it as if it were his child. There is another group, the military, who want to take the tree for a collector. Yabuike tries to pick sides in this endless parade of obsessed weirdos….
The screenplay for this film, written in the early 90s, earned Kiyoshi Kurosawa a scholarship from the Sundance Institute to study filmmaking in the United States.
«Serpent's Path» end «Eyes of the Spider»
IMDB Rating – 7.0
Genre: Crime
Production: Japan / 1998
Director: Kiyoshi Kurosawa
Starring: Sho Aikawa, Teruyuki Kagawa, Shiro Shimomoto, Kaei Okina, Yurei Yanagi
After receiving a small budget to make the movie, Kiyoshi Kurosawa and screenwriter Hiroshi Takahashi each wrote their own version of the script based on a basic idea: a revenge-seeking father. As a result, they decided to turn their stories into two movies united by this one theme.
In "Trail of the Snake," a father avenges the rape and murder of his daughter with the help of a friend, a meek math professor. In Eyes of the Spider, a grieving father searches for his daughter's killer for 6 years, brutally kills him, and falls into the clutches of the Yakuza.
Both parts have the same cast and were filmed in parallel.
License to Live
IMDB Rating – 6.9
Genre: Drama, comedy
Production: Japan / 1998
Director: Kiyoshi Kurosawa
Starring: Hidetoshi Nishijima, Shun Sugata, Riri, Kumiko Aso, Sho Aikawa, Yoriko Doguchi, Ren Osugi, Hiromitsu Suzuki, Kosuke Toyohara, Koji Yakusho.
At times Kurosawa, whose career has been characterized by the horror genre, has made films far from his usual style, showing his versatile talent. Although this tragicomedy is densely packed with drama, Kurosawa makes the audience laugh more than cry, avoiding the cheap sentimentality usually associated with such films.
24-year-old Yutaka wakes up in a hospital room after 10 years in a coma. He has nowhere to go: his parents are divorced and separated, and his sister spends most of her time abroad. Non-conformist loner Fuhimori, an old friend of Yutaka's father, takes him under his wing, settles him on his fish farm and gives him lessons in adult life, helping him find his place in life.
This film (like all of Kurosawa's creations) won several prestigious film awards, and is the director's second collaboration with renowned actor Koji Yakusho.
The Cure 
IMDB Rating – 7.5
Genre: Horror, Thriller, Crime, Detective
Production: Japan / 1997
Budget: ¥ 1 000 000
Worldwide Box Office: $287,771
Director: Kiyoshi Kurosawa
Starring: Koji Yakusho, Masato Hagiwara, Tsuyoshi Ujiki, Anna Nakagawa, Misayo Haruki, Yoriko Doguchi, Danden, Ren Osugi, Masahiro Toda, Toji Kawahigashi
One of the most unusual and terrifying psychological thrillers in the history of cinema, a movie that Scorsese called "the most terrifying". Kurosawa shrouds the entire plot in a deep shroud of mystery and does not loosen the grip of tension until the last frames.
Kenichi Takabe is a police detective struggling to cope with the needs of his mentally ill wife. He begins investigating a bizarre series of murders. In each case, the killer is found near the disfigured victim, but none of the perpetrators have any motive.
Working alongside a forensic psychologist, Kenichi determines that the link to everything is the same person who came into contact with the killers shortly before the crime.
The movie became part of the "new wave" in Japanese cinema, along with "The Ring" and "Damnation". Pong Joon-ho, the famous South Korean director, called the movie "the greatest" and admitted that it defined his entire career.
Suito homu
IMDB Rating – 6.5
Genre: Horror
Production: Japan / 1989
Director: Kiyoshi Kurosawa
Starring: Nobuko Miyamoto, Shingo Yamashiro, Nokko, Fukumi Kuroda, Ichiro Furutachi, Toru Masuoka, Machiko Watanabe, Noboru Mitani, Juzo Itami.
After a few short films and a couple of erotic thrillers, Kiyoshi Kurosawa conceived and directed Sweet Home, a horror movie about a mansion that had a huge impact on global pop culture. Capcom game director Tokuro Fujiwara became interested in the story, and in December of that year, Sweet Home was released, which, along with the movie, served as the inspiration for the iconic Resident Evil franchise.
In the plot of the film, a documentary crew infiltrates the sinister mansion of deceased artist Ichiro Mamiya, who is rumored to have hidden several masterpieces in his home. The team wants to make a movie about Mamiya and at the same time find and restore his paintings, but encounter an angry ghost and black magic.
The movie differs slightly from Kiyoshi Kurosawa's original idea. Firstly, producer and actor Juzo Itami imposed his wife on the lead role and changed a few scenes, and secondly, Kiyoshi was unable to get artist Haruyasu Kurosawa for his project due to his busy schedule.