Japanese anime is steadily taking over the world, and one of its most popular genres was and still issekai. Isekai is about unwitting travelers to other worlds. These anime are easy to watch and entertaining. They show unusual fantasy worlds and allow you to follow the adventures of the main characters caught in unconventional situations.
Traditionally for Japanese animation, the best isekai anime offer many plots, talented drawing and memorable music. Relax, enjoy being in a different, better reality.
Paripi Koumei
Rating IMDB – 7.6
Genre: Anime, cartoon, comedy, music, fantasy
Japan production / 2022
Directed by Osamu Honma, Michiru Itabisashi, Yuki Morita
Cast: Ryotaro Okiahu, Kaede Hondo, Jun Fukushima, Shoya Chiba, Hibiku Yamamura, Natsuki Hanae, Narumi Kaho, Shizuka Ishigami, Yu Kobayashi, Mitsuaki Madono
The great warrior of the Three Kingdoms era, Zhuge Liang Kunming, took part in so many military conflicts that before his death he wished to be reborn in a world without war. His wish was granted.
Young and healthy, Kunming found himself in modern-day Tokyo in the midst of a Halloween celebration. In a nearby pub, he heard an angelic voice belonging to singer Eiko Tsukimi. Eiko's voice appealed to Kunmin so much that he decided to become her producer.
Zhuge Liang Kunming is a real historical character nicknamed "Lurking Dragon". The talented commander and statesman of the Three Kingdoms era is still revered in China. Thus, in Chinese, the surname and name Zhuge Liang eventually turned into the word "zhugeliang", which means a very intelligent, shrewd person.
Bakemono no ko
Rating IMDB – 7.6
Genre: Anime, cartoon, fantasy, drama, action
Japan production / 2015
Worldwide gross: $49 772 185
Directed by Mamoru Hosoda
Cast: Shota Sometani, Koji Yakusho, Kumiko Aso, Suzu Hirose, Mamoru Miyano, Aoi Miyazaki, Sumire Morohoshi, Keishi Nagatsuka, Kapei Yamaguchi, Kazuhiro Yamaji
Nine-year-old orphan Ren finds himself in a parallel world inhabited by strange beasts. The wise ruler of the magical city where the boy finds himself is ready to be reborn as a deity and is looking for a worthy successor. There are two candidates. They are the brave Pig-horn and the mighty Bear.
The pig-horn has a better chance of becoming the new Grand Master, because unlike his opponent, he has disciples. Wanting to prove that he is not a bad mentor either, Bear takes Ren under his wing.
In the first weekend of the show the anime ranked first at the Japanese box office and ahead of the American blockbuster «Avengers: Age of Ultron».
Re:Zero kara hajimeru isekai seikatsu
Rating IMDB – 8.1
Genre: Anime, cartoon, fantasy, adventure
Japan production / 2016
Directed by Masaharu Watanabe, Yoshinobu Tokumoto, Kazuomi Koga
Cast: Rie Takahashi, Yusuke Kobayashi, Keiji Fujiwara, Yuji Horie, Yukari Tamura, Satomi Arai, Minami Shinoda, Shizuka Ishigami, Takuya Eguchi, Tinatsu Akasaki
The protagonist of a hikikomori fantasy named Subaru Natsuki, returning from a store, is incredibly transported to a parallel fantasy world. Subaru is immediately attacked by unknown assailants, but is saved by a beautiful maiden. The girl's name is Emily, she is a half elf and a powerful mage.
Subaru challenges Emily to help her find the stolen artifact, but at the crucial moment they are killed. Here the boy discovers his ability to resurrect himself time and again from the place where he lost his life.
Hikikomori in Japan are adults who have completely abandoned social life and usually live off relatives. They have no jobs, no family, and spend all their time playing computer games and watching videos.

There are currently one million voluntary recluse in the Land of the Rising Sun, which is recognized as a national problem for the island nation.
Honzuki no Gekokujou
Rating IMDB – 7.8
Genre: Anime, cartoon, fantasy, adventure, drama, comedy
Japan production / 2019
Directed by Mitsuru Hongo, Takahide Ogata, Yoshiki Kawasaki
Cast: Yuka Iguchi, Mutsumi Tamura, Sho Hayami, Megumi Nakajima, Takehito Koyasu, Fumiko Orikasa, Tsuyoshi Koyama, Tomoaki Maeno, Sho Karino, Yuko Sanpei
Motozu Urano, a 22-year-old librarian, died at her workplace during an earthquake. The only thing the girl had time to wish for was to read more books in her next life.
Motozu was reborn in the Middle Ages in the body of five-year-old Main. But what about Motozu's dream? How can one follow a hobby in a world where the printing press has yet to be invented and books are an incredible luxury?
Like many Japanese anime, Honzuki no Gekokujou has an OVA series numbered 14 and a half. An OVA is a specific anime series format designed specifically for DVD and the Internet. The storylines either cover chapters of manga not included in the series, or represent individual stories of the main characters. The events of the main project are not affected by the storyline in the OVA.
Mushoku-tensei ~Isekai ittara honki dasu~
Rating IMDB – 8.4
Genre: Anime, cartoon, fantasy, adventure, comedy
Japan production / 2021
Directed by Manabu Okamoto, Hiroki Hirano, Takahiro Tamano
Cast: Yumi Uchiyama, Ai Kakuma, Konomi Kohara, Ai Kayano, Daisuke Namikawa, Tomokazu Sugita, Toshiyuki Morikawa, Megumi Toyoguchi, Hisako Kanemoto, Rinn
A grown-up and useless bum, after the death of his parents, dies under the wheels of a car. However, the story does not end there. A man comes to his senses in the body of a child, and in an unknown fantasy world. Now his name is Rudeus Greirat, and his new reality includes magic and sword fights.
The first season of the fantasy premiered on January 11, 2021, with the second season scheduled for release in the spring of 2023.
12 kokuki
Rating IMDB – 8.0
Genre: Anime, cartoon, fantasy, drama, adventure
Japan production / 2002
Directed by Tsuneo Kobayashi, Tetsuji Nakamura, Masakatsu Oyagai
Cast: Hoko Kuwashima, Aya Hisakawa, Kappei Yamaguchi, Tomoko Kawakami, Jin Horikawa, Aya Ishizu, Yuko Sasaki, Ai Sato, Takeru Watanabe, Takehito Koyasu
The world of the Twelve Kingdoms is populated by wizards, demons, and deities. Children here emerge from the fruit of magical trees, and the ruler is chosen by a sacred beast.
Sixteen-year-old Japanese schoolgirl Yoka Nakajima has been transported to the Twelve Kingdoms by a mysterious stranger. Now the girl will have to figure out why she came to this world, while protecting her life.
The animated series is based on a series of ranobes by the Japanese writer Fuyumi Ono. A ranobae is a type of Japanese literature, characterized by a fantastical plot and containing many illustrations. It is intended mainly for a teenage audience.
Yojo Senki: Saga of Tanya the Evil
Rating IMDB – 7.6
Genre: Anime, cartoon, fantasy, action movie
Japan production / 2017
Directed by Yutaka Uemura
Cast: Aoi Yuki, Saori Hayami, Kenyu Horiuchi, Shinichiro Miki, Tessho Genda, Nobuo Tobita, Hotu Otsuka, Ryuichi Kijima, Ryokan Koyanagi, Shinobu Matsumoto
A ruthless corporate tycoon at the moment of his death encounters a divine origin whose reality he denies. As punishment, the Creator locks him in the body of a blond girl named Tanya Degurshaf.
The man finds himself in a world where, along with technological progress, magic is actively developing. But the young nation is about to enter a war, and Tanya, who possesses magical powers, is subject to mobilization in the first ranks.
One of the most controversial Isekai anime lists. The franchise includes the 2017 series of 12 episodes, the 2019 feature film of the same name, and the 16-minute animated short The Witch in Pogo: Pasta in the Desert in 2021. The second season of Wicked Tanya's adventures is scheduled for release in November 2023.
Kono subarashii sekai ni shukufuku o!
Rating IMDB – 7.8
Genre: Anime, cartoon, comedy, fantasy, adventure
production Japan / 2016
Directed by Takaomi Kanasaki, Shunji Yoshida, Taro Kubo
Cast: Jun Fukushima, Sora Amamiya, Rie Takahashi, Ai Kayano, Tetsu Inada, Sayuri Hara, Shoto Kashi, Yoshiki Nakajima, Hitomi Nabatame, Miki Hase
The life of Kazuma Sato, a reclusive computer game enthusiast, was tragically cut short in a car accident. But the guy didn't go to heaven or hell. A pretty girl who introduced herself as a goddess named Aqua appeared before him. The divine creature invited Kazuma to be reborn in a world built on the principles of a computer role-playing game.
In 2019, the Isekai Quartet crossover was released based on the work. A crossover in anime is a project where elements and characters from several fictional universes meet. Thus, in "Isekai Quartet" the characters of four anime films are transferred to another world: «Kono subarashii sekai ni shukufuku o!», «Yojo Senki: Saga of Tanya the Evil», «Overlord» and «Re:Zero kara hajimeru isekai seikatsu».
No Game, No Life
Rating IMDB – 7.7
Genre: Anime, cartoon, adventure, fantasy
Japan production / 2014
Directed by Atsuko Ishizuka, Hideki Hosokawa, Kotono Watanabe
Cast: Yoshitsugu Matsuoka, Ai Kayano, Yoko Hikasa, Yuka Iguchi, Mamiko Noto, Yukari Tamura, Mugihito, Rie Kugimiya, Miyuki Sawashiro, Taketora
A brother and sister named Sora and Siro are brilliant players. Sora's intuition and Shiro's intelligence make up an unbeatable team. The pair receive an offer to go to a parallel world, where life is all fun and all disputes are solved by means of games.
The new world is populated by a variety of creatures. At the same time, humanity is in decline and forced into a single city. A brother and sister decide to revive the former greatness of humans.
The anime is based on Yu Kamiya's series of light novels-ranobes, which consists of ten works. The sixth novel, set 6,000 years before the first series, became the basis for the 2017 anime No Game, No Life: Zero.
Overlord
Rating IMDB – 7.7
Genre: Anime, cartoon, adventure, fantasy, sci-fi, action movie
Japan production / 2015
Directed by Masaki Matsumura, Kunio Wakabayashi, Ryoichi Kuraya
Cast: Satoshi Hino, Yumi Hara, Masayuki Kato, Sumire Uesaka, Shigeru Chiba, Manami Numakura, Kenta Miyake, Emiri Kato, Yumi Uchiyama, Hiroshi Shirokuma
2116. Due to declining popularity, the online multiplayer game Yggdrasil must be shut down. One of the players, who controls a character named Momonga, decides to stay in the game until the servers shut down at midnight.
However, a strange thing happens. The game menu disappears, as does the ability to leave the online site. With no family in the real world, Momonga decides to stay and build a life anew in the new reality.
The anime, based on a series of Kugane Maruyama's ranbae, currently consists of four seasons, the last of which was released on July 5, 2022. A fifth season of the series has been announced and is scheduled to premiere on January 11, 2024.
Tate no Yuusha no Nariagari
Rating IMDB – 8.0
Genre: Anime, cartoon, fantasy, adventure, action movie
Japan production / 2019
Directed by Takao Abo, Hitoshi Haga, Toshiharu Kudo
Cast: Kaito Ishikawa, Asami Seto, Rina Hidaka, Soichi Abe, Toshinari Fukamachi, Motoyuki Kawahara, Wakana Kowaka, Eriko Matsui, Yoshitsugu Matsuoka, Atsuyoshi Miyazaki
An ordinary Japanese game fan and anime otaku named Naofumi Iwatani, along with three other comrades, have been summoned to a magical world to save it from demons. All four heroes were given magical weapons – the Spear, Sword, Bow, and Shield. But immediately upon arrival, Iwatani was sneakily compromised by a local adventurer, and now the boy's comrades are in no hurry to unite with him.
Possessing only the Shield, which cannot be used to attack his rivals, Iwatani can only rely on his new companions. They are a half-coat girl named Raftalia and an intelligent talking bird named Philo.
In the anime, a great deal of attention is given to the openning. It's an introductory video sequence with musical accompaniment that lays down the key theme of the whole project. The songs for the openning are usually written on purpose. For Shield Hero Rising, the opening theme was performed by the Japanese boy band MADKID.
That Time I Got Reincarnated as a Slime
Rating IMDB – 8.2
Genre: Anime, cartoon, comedy, fantasy, adventure
Japan production / 2018
Directed by Yasuhito Kikuchi, Ryoma Ebata, Yasuhiro Ito
Cast: Miho Okasaki, Megumi Toyoguchi, Chikahiro Kobayashi, Asuna Tomari, Kanehira Yamamoto, Mao Ichimichi, Jun Fukushima, Makoto Furukawa, Takuya Eguchi, Hotu Otsuka
Satoru Mikami, an ordinary Japanese clerk, lived a rather mediocre and uneventful life. But during a meeting with a friend and his girlfriend, Satoru was stabbed to death by some madman.
Satoru wakes up in a cave and realizes that he is now … slime. He is invulnerable to the elements in his new body, feels no pain, and can absorb any creature while retaining their abilities.
A spin-off to the invariably top isekai anime was released in 2021 titled That Time I Got Reincarnated as a Slime: The Slime Diary."
Sword Art Online
Rating IMDB – 7.6
Genre: Anime, cartoon, sci-fi, fantasy, action, adventure
Japan production / 2012
Directed by Tomohiko Ito, Manabu Ono, Shigeki Kawai
Cast: Yoshitsugu Matsuoka, Haruka Tomatsu, Ito Kanae, Ayana Taketatsu, Miyuki Sawashiro, Ayahi Takagaki, Rina Hidaka, Shinya Takahashi, Hiroki Yasumoto, Soichiro Hoshi
The online game market is abuzz. A new multiplayer game has been released, featuring the colossal, hundred-level fortress of Aincrad. Thousands of players log in on the first day and encounter a surprise.
It is impossible to log out of the game until you reach the hundredth level of Aincrad. At the same time, an attempt to remove the virtual immersion helmet leads to the death of the player, and the death of the game character leads to the death of the gamer in reality. Now thousands of players are forced to go through the game from start to finish, at each stage really risking their lives.
Writer Reki Kawahara's series of early novels is one of the most screened at the present time. Of the twenty-six books, the anime has received eighteen.
Log Horizon
Rating IMDB – 7.6
Genre: Anime, cartoon, comedy, fantasy, adventure
Japan production / 2013
Directed by Shinji Ishihira, Junichi Wada, Kazunobu Fuseki
Cast: Joji Nakata, Takuma Terashima, Tomoaki Maeno, Emiri Kato, Daiki Yamashita, Nao Tamura, Yumi Hara, Ayahi Takagaki, Misaki Kuno, Eriko Matsui
The online role-playing game "Legend of the Ancients" has crashed and thousands of players from around the world are "stuck" in it. Gamers are in virtual reality, becoming their own game characters.
An experienced strategist Shiroe, for eight years of the game, nicknamed "all-knowing" creates a guild and begins to learn how to survive in the new world. He will be helped by his best friend and mighty warrior Natsogu, as well as the Akatsuki assassin girl.
The isekai genre is deeply rooted in Japanese culture. In the 18th-century tale of the fisherman Urashima Taro, the turtle he rescues invites the hero to a new and unfamiliar underwater world, the palace of the sea goddess Otohime.
Inuyasha
Rating IMDB – 7.9
Genre: Anime, cartoon, fantasy, action, thriller, drama, melodrama, comedy, adventure
Japan production / 2000
Directed by Yasunao Aoki, Masashi Ikeda, Megumi Yamamoto
Cast: Kappei Yamaguchi, Richard Ian Cox, Darren Plevin, Satsuki Yukino, Moneka Story, Kumiko Watanabe, Gillian Michaels, Kirby Morrow, Koji Tsujitani, Kelly Sheridan
The family of 15-year-old schoolgirl Kagome Higurashi has owned a Shinto temple for many years, one of whose premises contains an unremarkable well. That's where Kagome fell in when she was looking for her pet cat. She was dragged into the well by a centipede demon who had attacked her. When she got out of the well, she realized that she was in medieval Japan.
The protagonist of Feminist Issekai finds herself not just in medieval Japan, but in Sengoku Japan, or the Warring Provinces era. It was a century of political upheaval, military dictatorship, numerous feudal feuds, and peasant revolts.
Hataraku Maou-sama!
Rating IMDB – 7.6
Genre: Anime, cartoon, comedy, fantasy
Japan production / 2013
Directed by Naoto Hosoda, Hiroyuki Tsuchiya, Koji Kobayashi
Cast: Ryota Osaka, Yuki Ono, Yoko Hikasa, Nao Toyama, Hiro Shimono, Ito Kanae, Asuka Nishi, Azumi Asakura, Yuichi Iguchi, Katsuhisa Hoki
Enta Isla is a parallel world in which a demon named Sadao Mao tried to establish his domination. But the demon was defeated by the human hero Emilia. And Mao had no choice but to take refuge in twenty-first century Tokyo. He lost his magical powers and turned into a human, and to pay the bills he got a job in a fast-food cafe. Following Mao to our world, Emilia also went, who wants to finally settle accounts with the demon.
The main character has a speaking name: Mao means «demon king» and Sadao means «noble man».
Drifters
Rating IMDB – 7.6
Genre: Anime, cartoon, fantasy, adventure, action movie
Japan production / 2016
Directed by Ken'ichi Suzuki
Cast: Mitsuki Saiga, Naoya Uchida, Yuichi Nakamura, Takahiro Sakurai, Yutaka Aoyama, Ito Kanae, Junko Kitanishi, Shiho Kokido, Takeaki Masuyama, Junko Minagawa
Legendary Sengoku-era samurai Toyohisa Shimadzu is mortally wounded at the Battle of Sekigahara. Instead of dying, the warrior finds himself in a long corridor with many doors. A man with glasses is waiting for him there, offering Toyohisa to sign a contract.
After signing the papers, the samurai finds himself in a magical world inhabited by fairy creatures in addition to humans. Here Toyohisa meets other legendary fighters and becomes a member of a group called «Drifters».
The characters in the series are numerous real-life historical characters. For example, the samurai Toyohisa Shimadzu was born in 1570 and died in 1600 during the largest battle in Japan, the Battle of Sekigahara.
Gate: Jieitai Kanochi nite, Kaku Tatakaeri
Rating IMDB – 7.5
Genre: Anime, cartoon, fantasy
Japan production / 2015
Directed by Takahiko Kyogoku
Cast: Junichi Suwabe, Nao Toyama, Hisako Kanemoto, Risa Taneda, Haruka Tomatsu, Maaya Uchida, Kaito Ishikawa, Hiroki Yasumoto, Makoto Furukawa, Yoko Hikasa
Right in the middle of the Japanese capital, a portal has emerged from which hordes of mythical creatures burst into the world of modern Tokyo. With their technical superiority, Japan's self-defense forces easily deal with the attackers, pass through the gate and force the enemy empire to negotiate.
To prevent repeated attacks, the national government decides to send several units to the Special Region. A member of one of the groups is Yoji Itami, a reserve officer and avid gambler.
After World War II, the island nation was forbidden to have armed forces. Instead, Japan has a Self-Defense Force consisting of Land, Sea and Air Forces. These units are better trained and armed than the armies of many countries in the world. 
Isekai Shokudô
Rating IMDB – 7.1
Genre: Anime, cartoon, sci-fi, fantasy, comedy
Japan production / 2017
Directed by Masato Jinbo
Cast: Kazuhiko Inoue, Kikuko Inoue, Keiichi Sano, Takao Sano, Christopher Sabat, Monica Real, Caitlin Glass, Stephanie Young, Charles Campbell, Jenny Tirado
In the center of Tokyo, near the office streets, there is a small café with European cuisine called «House of the Cat». Six days a week, the doors are open to office workers, students, and the general public.
But on Saturdays, the café welcomes an entirely different kind of clientele. The door of the Cat House opens to a parallel world from which wanderers from many worlds visit the establishment.
The literary basis for the anime was a series of light novels by Junpei Inuzuki, published in 2015. In November 2016 a manga adaptation based on the novellas began to be published, and since September 2016 an anime. The manga was on Japan's bestseller list twice in 2017.
Hai to gensô no Grimgar
Rating IMDB – 7.4
Genre: Anime, cartoon, action, adventure, fantasy
Japan production / 2016
Directed by Ryosuke Nakamura, Tomotaka Shibayama, Tsuyoshi Hida
Cast: Yoshimasa Hosoya, Nobunaga Shimazaki, Chika Anzai, Fukushi Ochiai, Hiroyuki Yoshino, Haruka Terui, Mikako Komatsu, Daisuke Namikawa, Hidenobu Kiuchi, Mamiko Noto
A small group of players find themselves in an unknown parallel world. The young people do not understand how they found themselves in an alien world, and remember nothing but their names. But they are not the only people here.
The head of the local Legion of Volunteers chapter quickly brings the newcomers up to speed. They are in Grimgal, a magical place inhabited by many races as well as monsters hostile to humans. The newcomers are to become mercenaries and guard Grimgal's borders against aggressive creatures.
Isekai is currently one of the most popular genres of Japanese anime. Thus, in 2019, ten percent of all animated fantasy were issekai series.

Isekai protagonists enter other worlds in different ways. They can be reborn in their own or someone else's human body in another time era or universe, as well as become animals, monsters, and even objects.
Fushigi Yûgi
Rating IMDB – 7.8
Genre: Anime, cartoon, fantasy, drama, melodrama, adventure
Japan production / 1995
Directed by Hajime Kamegaki
Cast: Takehito Koyasu, Tomokazu Seki, Shinichiro Miki, Hikaru Midorikawa, Nobuyuki Hiyama, Yumi Toma, Nobutoshi Kanna, Nobuo Tobita, Ken Narita, Chika Sakamoto
Two friends, Miaka Yuki and Yui-Hongo, find a book in the library called "The Universe of the Four Gods," which transports them to another world. This universe is similar to medieval China. In it, four states coexist under the patronage of the sacred turtle, fire bird, water dragon and tiger.
In the new reality, the girls have to become priestesses of the gods, gather the Seven Heavenly Warriors and summon the deity itself to fulfill any three wishes. But in doing so, they must willy-nilly stand on different sides of the barricades.
The anime project consists of 52 episodes, and four OVA series have also been produced.
El Hazard: Wanderers
Rating IMDB – 6.5
Genre: Anime, cartoon, fantasy, melodrama, comedy, adventure
Japan production / 1995
Directed by Katsuhito Akiyama, Yoshiaki Iwasaki, Ikuro Sato
Cast: Stephen Bloom, Randy McPherson, Heidi Lenhart, Eddie Frearson, Michael Sorich, Robert Martin Klein, Leah Sargent, Melissa Charles, Julie Ann Taylor, William Knight
Three modern Japanese schoolchildren and their teacher find themselves in the magical universe of El Hazard. In it, two empires of equal strength coexist: intelligent bugs and humans. Once upon a time, internecine wars nearly destroyed this magical world, and many magical artifacts survived the conflict.
Humans, as a pledge of peace, keep control of the most powerful of them all – the Eye of God. One of the popadans, having heard about the ancient weapon, realized that possession of it would help him return to Earth.
In addition to the anime El-Hazard: The Wanderers, the OVA series El-Hazard: The Magnificent World, El-Hazard: The Magnificent World 2, and El-Hazard: The Alternative World were also released. And «Wanderers» presents an alternative version of events and differs significantly in plot from the OVA-series.
World Trigger
Rating IMDB – 7.5
Genre: Anime, cartoon, sci-fi, action movie
Japan production / 2014
Directed by Mitsuru Hongo
Cast: Tomo Muranaka, Yuki Kaji, Nao Tamura, Yuichi Nakamura, Kana Hanazawa, Rie Kugimiya, Hideyuki Tanaka, Jun Fukuyama, Nobuhiko Okamoto
In Mikado, Japan, right in the middle of the city, a portal to a parallel world opened. From there, invaders – creatures later dubbed "Neighbors" – descended upon the civilian population. Neighbors have advanced technology, and the weapons of earthlings against them powerless. But there were people who were able to adopt the aliens' technology and turn it against the treacherous invaders.
Four years later, local schoolboy Osamu Mikumo intervenes on behalf of an unsociable bespectacled boy, Yumu Kuga, who is bullied by bullies. Suddenly the boys are attacked by the Neighbors. During the fight, it is revealed that Yuma is not human, but an alien. So what is he doing among humans and why is he hiding from his own?
Based on the fantasy, «Peace Pulse: Mission Without Borders» was developed for the PlayStation Vita, and «Peace Mission: Breaking Borders» was developed for iOS and Android.
Haibane Renmei
Rating IMDB – 8.0
Genre: Anime, cartoon, fantasy, drama
Japan production / 2002
Directed by Tomokazu Tokoro, Itsuki Imazaki, Jun Takada
Cast: Ryo Hirohashi, Junko Noda, Eri Miyajima, Fumiko Orikasa, Kazusa Murai, Hunter McKenzie Austin, Erika Lenhart, Tsara Little, Carrie Savage, Karen Strassman
In the mysterious city of Gly, the Grey Wings live alongside ordinary people. They are girls who emerge from a cocoon, with gray wings behind their backs and a halo over their heads. There is a new addition to the Greywings family, a newcomer named Rakka appears among them. The girl receives a halo and begins to learn to live by the strict rules of the Greywings.
Rakka has a lot of questions. Why does she need wings if she can't fly with them? Where do the Greywings come from and where do they go? But no one can give her the answers.
Critics especially noted the unconventional musical accompaniment of the anime. It was composed by Japanese composer Ko Ohtani in the baroque genre with elements of jazz and Celtic music.
Somali and the Forest Spirit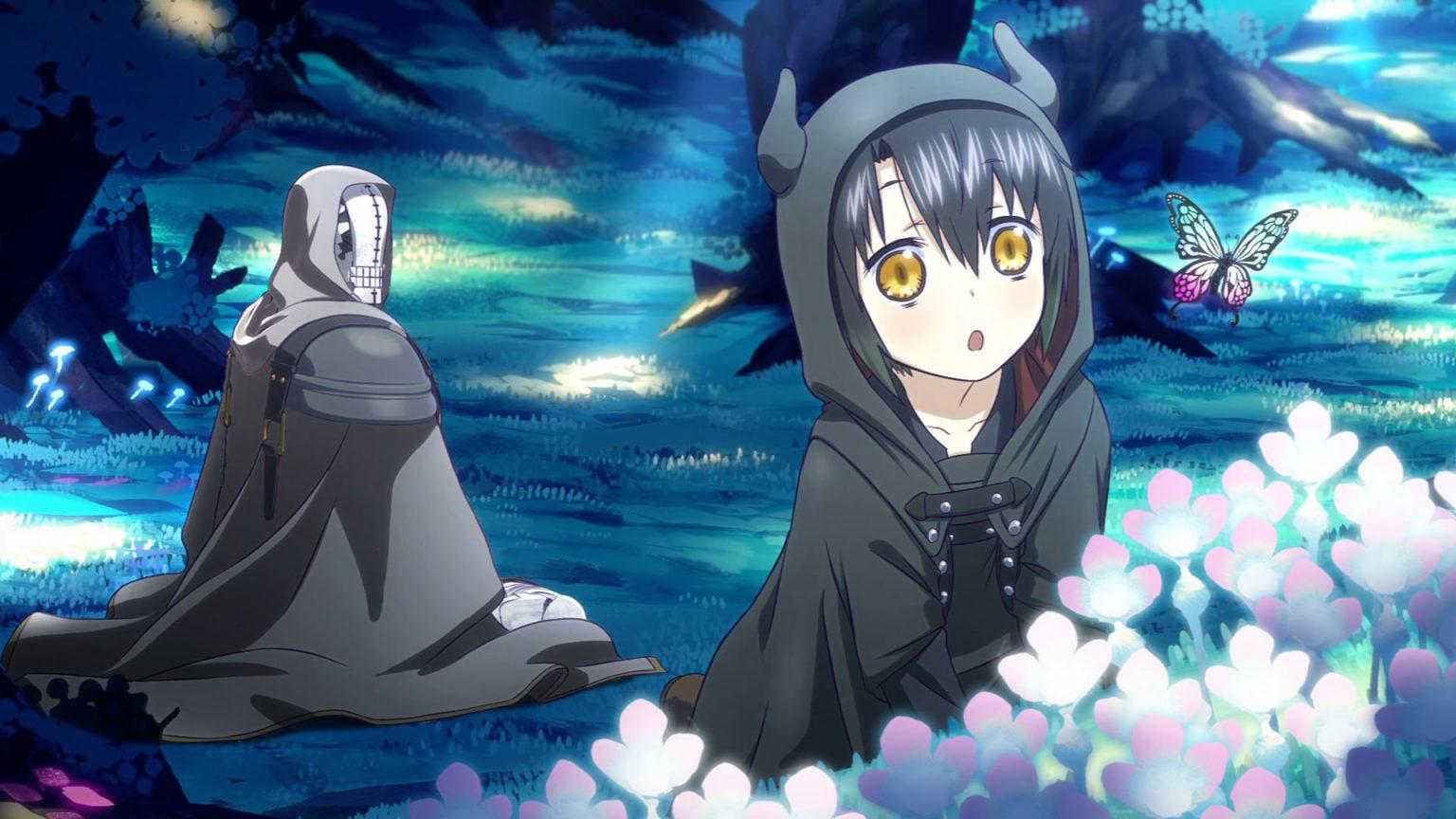 Rating IMDB – 7.5
Genre: Anime, cartoon, fantasy, adventure
Japan production / 2020
Directed by Kenji Yasuda
Cast: Inori Minase, Daisuke Ono, Hiroki Nanami, Tatsuhisa Suzuki, Yu Kobayashi, Saori Hayami, Sho Hayami, Yuki Ono, Rie Shibata, Tomokazu Seki
Among the many worlds there is a universe where golems, beastmen and demons have come to power. The human race in this world is in decline and is being exterminated en masse. A golem serving as guardian of the forest finds in its possession a little girl who has, unknowingly, survived this cruel world. The girl immediately calls the keeper of the forest "Papa" and thus finds a way to his hardened heart.
The golem begins to take care of the baby. But he has only one year to live, during which time the golem must find someone to replace the defenseless girl's family.
After the release of a trailer with a highly memorable visual style, the post-apocalyptic fantasy was named the most anticipated series of the 2020 winter season.
Tenchi Muyo! War on Geminar
Rating IMDB – 7.1
Genre: Anime, cartoon, adventure
Japan production / 2009
Directed by Koji Yoshikawa, Mitsuhiro Karato
Cast: Hiro Shimono, Madoka Yonezawa, Natsuko Kuwatani, Aki Inoue, Ayano Ishikawa, Ayumi Tsunematsu, Chiaki Kuriyama, Eri Taruta, Erika Sudo, Hiroki Yasumoto
A 15-year-old boy named Kenshi Masaki finds himself in the fantasy world of Geminar. There is a war going on in Geminar. The kingdoms are at war with each other, using huge humanoid robots as weapons.
Not everyone can handle such a complex mechanism, but Kenshi has a clear ability to do so. The cruel-hearted minister Babarun immediately figured out how to use the young man, and sent him to kill the beautiful Princess Lashara.
«Tenchi Muyo! War on Geminar» is an OVA-series and spin-off of the «Tenchi Muyô!» franchise. The main character named Kenshi Masaki is quite popular and is a character in a large number of anime.
Tsuki ga michibiku isekai-dôchû
Rating IMDB – 7.6
Genre: Anime, cartoon, fantasy, adventure
Japan production / 2021
Directed by Shinji Ishihira
Cast: Natsuki Hanae, Akari Kito, Ayane Sakura, Shinpachi Tsuji, Saori Hayami, Yuki Shin, Taku Yashiro, Yuna Kamakura, Kazuhiko Inoue, Saika Kitamori
High school student Makoto Misumi is very proud of himself. He is chosen and summoned as a hero to another fantasy world. But the goddess Tsukuyomi called Makoto ugly and exiled him to the very outskirts of the kingdom.
But before that, the deity gave him the ability to communicate with all living creatures. Now the boy will have to survive on his own in the backwaters of the empire, surrounded by orcs, dragons, spiders, and other inhuman creatures.
Teenage romance novels, manga, and anime, including those in the issekai genre, are used by Japanese authorities to broadcast to young people the image of the hardworking adult. As a rule, in such anime, the main character is a loser, starting to work on himself and succeeding in many areas of life.
PandoraHearts
Rating IMDB – 7.2
Genre: Anime, cartoon, fantasy, action film
Japan production / 2009
Directed by Takao Kato
Cast: Junko Minagawa, Yukari Tamura, Akira Ishida, Kana Hanazawa, Kosuke Toriumi, Ryo Hirohashi, Daisuke Ono, Azuma Sakamoto, Hideyuki Umezu, Kaori Fukuhara
The son of the Duke of Oz, Bezalia lives a quiet and well-off life, overshadowed only by the constant absence of his father. On his 15th birthday, Oz is arrested for no reason and cast into a parallel world called the Abyss.
In the Abyss, time flows very differently and demons reside. According to the villains' plan, Oz was supposed to die in the parallel, aggressive world. But he survived by enlisting the support of the strongest demon, a bloody black rabbit named Alice. After getting out of the Abyss with Alice's help, the boy realizes that ten years have passed in his world.
The plot of the fantasy has many references to Western European classical literature as well as to ancient Greek myths. The events of the franchise are so complex and the characters so numerous that there are three guide books to the story.
Sonny Boy
Rating IMDB – 7.6
Genre: Anime, cartoon, sci-fi, adventure
Japan production / 2021
Directed by Shingo Natsume
Cast: Aoi Yuki, Saori Onishi, Aoi Ichikawa, Chiaki Kobayashi, Hiroki Goto, Ami Naito, Kana Ogino, Hana Sato, Yoji Ueda, Shota Yamamoto
On August 16, just before the start of the new school year, a school building, along with 36 students, is transported to another world. There is total darkness around the school, and life is governed by completely different physical laws. Over time, the students realize that they have become the owners of superpowers.
Now, some are desperately searching for a way to return home, while others are uncontrollably using their new unexplored powers. Due to internal conflicts, the class is divided into two warring camps. Will they be able to unite to find a way back.
At the 25th Japan Media Arts Festival, the series won the Award for Outstanding Achievement in Animation.
Tsubasa kuronikuru
Rating IMDB – 7.3
Genre: Anime, cartoon, fantasy, action, melodrama
Japan production / 2005
Directed by Koichi Mashimo, Hiroshi Morioka, Masaya Kawamo
Cast: Miyu Irino, Yui Makino, Daisuke Namikawa, Tetsu Inada, Mika Kikuchi, Yu Mizushima, Maaya Sakamoto, Sanae Kobayashi, Akiko Hiramatsu, Sayaka Ohara
Sakura, the princess of the magical world of Clow, has lost her memory. Under the influence of an unknown force, the princess grew Memory Wings behind her shoulders and immediately scattered to different worlds with hundreds of brightly colored feathers. In order for Sakura to survive, it is necessary to gather every single feather.
The princess' childhood friend, archaeologist Syaoran, is called upon to carry out this arduous mission. The mysterious Witch of Dimensions, who is supposed to help him in his quest, calls on Syaoran's allies: the ninja Kurogane and the wizard Faya.
The manga on which the anime was based was produced by the group CLAMP. CLAMP is one of the most famous art groups in the Land of the Rising Sun and consists of female mangaka. There were originally twelve female artists in CLAMP, but now there are only four.
Shinchô yûsha ~ kono yûsha ga ore TUEEE kuse ni shinchô sugiru ~
Rating IMDB – 7.4
Genre: Anime, cartoon, fantasy, action, comedy
Japan production / 2019
Directed by Masayuki Sakoi, Yoshito Mikamo, Hiroyuki Tsuchiya
Cast: Aki Toyosaki, Yuichiro Umehara, Kengo Kawaneishi, Aoi Koga
Ristarte, a novice goddess, is given the responsible task of saving a highly complex world called Gaabrande. The goddess can summon any fighter from the human world to help her. Ristarta chooses an experienced gamer, Seiya Ryuguin, whose combat parameters are off the charts.
But in the course of communication it turns out that Seiyu is cautious to the point of mania. He won't engage in combat without triple armor, constantly regenerating magic points, and is extremely unsure of himself. Will Seiyu and Ristarta be able to work together and complete the mission?
Almost all isekai anime have long titles that describe the essence of what is happening in one sentence. «Shinchô yûsha ~ kono yûsha ga ore TUEEE kuse ni shinchô sugiru ~» is no exception. This is done to keep the viewer interested.
Meikyuu Black Company
Rating IMDB – 6.6
Genre: Anime, cartoon, comedy, fantasy, adventure
Japan production / 2021
Directed by Mirai Minato, Yamato Ochi
Cast: Katsuyuki Konishi, Misaki Kuno, Hiro Shimono, Satomi Sato, Wataru Takagi, Megumi Toda, Mao Ichimichi, Noriko Hidaka, Takuya Nakashima, Volkano Ota
With a little luck, Kinji Ninomiya, a Japanese man, was able to secure his future by successfully investing in the stock market. Now Ninomiya intends to spend the rest of his life loafing and enjoying himself. But that was not the case.
The young man enters a portal and finds himself in a parallel universe. Ninomiya is not destined to become a hero or ruler of the unknown world. In the new reality he is condemned to hard physical labor in the mine.
The first season of the series premiered on July 9, 2021, and the second season is scheduled to premiere in 2024.
Sora no otoshimono
Rating IMDB – 7.2
Genre: Anime, cartoon, comedy, melodrama, fantasy
Japan production / 2009
Directed by Hisashi Saito, Kiyotaka Isako
Cast: Jamie Marchi, Brittney Karbowski, Saori Hayami, Greg Ayres, Eric Vale, Terry Doty, Carrie Edwards, Carrie Savage, Carly Mosier, Tia Lynn Ballard
Tomoki Sakurai, a high school student, has been having the same dream since childhood. An unknown beautiful maiden asks him for help, complaining that she has been «taken over by the sky». Tired of dreaming, the boy turns to a paranormal specialist. He reasoned that Tomoki is connected to the celestial world, the entrance to which will open just this night.
Tomoki decides to spend the night under an ancient sakura tree. At midnight the sky opens and a beautiful girl with wings falls out. What will the meeting with the beautiful girl bring to Tomoki? Happiness or trouble?
Isekai Sora no otoshimono contains elements of the so-called «harem anime». This genre is characterized by the fact that the protagonist becomes the center of the romantic attraction of many characters of the opposite sex.
Ima, soko ni iru boku
Rating IMDB – 7.9
Genre: Anime, cartoon, sci-fi, action, drama, adventure
Japan production / 1999
Directed by Akitaro Daichi
Cast: Crispin Freeman, Dan Greene, Ted Lewis, Jack Taylor, Lisa Ortiz, David Moo, Akemi Okamura, Kaori Najuka, Gregory Abbey, Dana Halstead
Not all parallel worlds are beautiful and wonderful. There is a universe called Heliowood, where there is practically no water, society is underdeveloped, and people survive on subsistence farming. It is ruled by the brutal dictator Hamdal, who dreams of taking over the world. To do so, he needs a girl named Lala-Ru, who commands the forces of water. But the young sorceress has gone into hiding on a parallel Earth. In addition, she has a protector – an OYash named Matsutani Shuuzu.
One of the few isekai anime in the military drama genre. OYASH stands for "ordinary Japanese schoolboy" and is a typical anime protagonist.