Attention! After watching the movies from the selection of the best horror about ghosts, sleepless night is guaranteed. Are you ready? Let's go…
Evil
IMDB Rating – 7.7
Genre: horror, thriller, drama, crime, detective
Production: USA / 2019
Director: Robert King, Ron Underwood
Starring: Katja Herbers, Mike Coulter, Michael Emerson, Aasif Mandvi, Brooklyn Schuck, Skylar Gray, Maddie Crocco, Dalia Napp, Noah Robbins, Evelyn Jovine
A team of skeptics exposes "real miracles. They manage to find explanations where science is powerless. In these cases, religion triumphs: the man is possessed by a demon – the tricks of the devil, the magical healing – the hand of God.
But a young priest, a detective, and a simple laborer deftly steer the investigation in the direction of reality. Darkness, death, and the evil one are all just lies, pretense, amnesia, and calculation.
Throughout the series, there are puzzle pieces that the viewer will have to piece together by the end of the season. These are eight interesting pieces that the viewer will have to look for in each episode.
Extra Ordinary
IMDB Rating – 6.5
Genre: Fantasy, comedy, horror
Production: Ireland, Belgium, Finland, UK / 2019
Worldwide box office: $223,898
Director: Mike Ahern, Enda Logman
Starring: Maeve Higgins, Barry Ward, Will Forte, Claudia O'Doherty, Jamie Beamish, Rysterd Cooper, Carrie Crowley, Mary McAvoy
Among the unusual ghost horror films, the 2019 comedy horror Super (un)natural stands out. Rose, who is no longer young, lives in Ireland and works in a humble position as an instructor at a driving school. She once had a father who was famous and hosted a show about paranormal events. The popular TV host passed away as a result of strange circumstances.
After that, Rose hid her powers deep and for a long time. But after a while, a handsome widower appears on the horizon, wishing that the ghost of his dead wife would get away from him. She will have to transcend her principles and leave old fears behind in order to help her new friend. At the same time, the singer, eager to regain his former glory, finds an easy way to do so – witchcraft and black magic.
Interesting fact: There is a shot of Rose standing in front of Martin's house with the light pouring out of the window. This is a direct reference to the cult horror film The Exorcist, completely repeating the official poster.
Winchester: The House that Ghosts Built
IMDB Rating – 5.5
Genre: Horror, fantasy, detective
Production: Australia, USA / 2018
Budget: $3,500,000
Worldwide gross: $44,019,588
Director: Michael Spearig, Peter Spearig
Starring: Helen Mirren, Sarah Snook, Jason Clarke, Angus Sampson, Eamonn Farren, Laura Brent, Tyler Coppin, Jeffrey W. Jenkins
Horror stories about spirits get through to the bones. Thus, the horror film "Winchester: The House the Ghosts Built" tells about the life of the widow of the Winchester, who founded the most famous arms empire.
The heiress of a huge fortune, Sarah Winchester, cannot stop: she keeps building and building the house belonging to her family. The bizarre architecture is explained by the need to imprison the spirits killed with those very ill-fated guns. It is frightening to imagine how many souls suffer and crave revenge.
The board decides to hire Dr. Eric Price to evaluate Sarah's mental state…
The film is based on real events.
Insidious
IMDB Rating – 6.8
Genre: horror, thriller
Production: USA/2010
Budget: $1,500,000
Worldwide Box Office: $97,009,150
Director: James Wan
Starring: Lin Shay, Barbara Hershey, Lee Wannell, Rose Byrne, Angus Sampson, Patrick Wilson, Corbett Tuck, Ty Simpkins, Andrew Astor, Heather Tokuhini
The 2010 film "Insidious" is one of the top ghost horror movies. Josh and Renee, young parents with many children, excitedly move into a big new house, where they plan to live happily ever after. However, almost immediately mysticism, fear, and ghosts burst into their measured life.
Strange sounds, visions, the movement of objects for no reason, the abduction of their little daughter – all this is the intervention of some unknown forces. The spouses are sure it's the house itself, until their son Dalton slips into a coma. They have to go to desperate measures – they turn to a medium. And then it turns out that their youngest son is trapped in the netherworld.
The eerie, piercing track for the film was recorded with 33 violins.
A Ghost Story
IMDB Rating – 6.9
Genre: Fantasy, drama, melodrama
Production: USA / 2017
Budget: $100,000
Worldwide box office: $1,951,683
Director: David Lowry
Starring: Casey Affleck, Rooney Mara, McColm Sepas Jr., Kenneisha Thompson, Grover Colson, Lizbeth Cardenas, Barlow Jacobs, Richard Krause, Dagger Salazar, Sonia Acevedo
Death suddenly interrupted the young composer's life. Refusing to leave this world, he was left to watch the lingering flow of other people's days. A ghost settled in the house of a young woman, constantly filling her unseen days with his invisible presence.
Does he want to spend an eternity like this? Or is there some loophole that will finally allow him to find peace?
The film was shot a year before its official premiere, and the process was top secret. Absolutely no one outside the film set knew any details.
Realms
IMDB Rating – 3.6
Genre: horror, detective
Production: USA / 2017
Director: Derrick Gates
Starring: Ryan Kelly, Madison McKinley, Golf, Priya Suandokemai, Air Phantila
"The Haven of Fear" is a worthy representative of the horror genre. A couple of young burglars run into difficulties. They have to flee, taking three hostages. With police officers on their tail, they get into an accident, then have to leave on foot.
Hiding in the woods, the two criminals and the three innocents stumble upon an abandoned mansion, silently creeping out the uninvited guests. The robbers frantically try to decide on a sequence of future actions, and at the same time their hostages devise a plan of reprisal. But they are unlikely to escape… Something evil and unclean lives within these walls.
The Curse of La Llorona
IMDB Rating – 5.3
Genre: Horror
Production: USA / 2018
Budget: $9,000,000
Worldwide gross: $123,133,739
Director: Michael Chavez
Starring: Linda Cardellini, Patricia Velasquez, Raymond Cruz, Sean Patrick Thomas, Tony Amendola, Madeleine McGraw, John Marshall Jones, Marisol Ramirez, Janie-Lynn Kinchen, Irene Caen
A legend more than four centuries old comes to life in one of the scariest ghost horror movies, The Curse of La Llorona. La Llorona is a weeping woman grieving for her children. A long time ago, she drowned them with her own hands, and then took her own life as well. A fierce jealousy clouded the desperate mother's mind.
Since then, the evil spirit wanders the world, taking the souls of innocent children in the hope of bringing back her own. Having moved from Mexico to Los Angeles, she wanders the new land, spreading the fruit of her curse. And God forbid to hear her cries, for the tears of the weeper do not dry up and bring death.
Remarkably, this work came out from the hands of a different director, but is part of James Wan's "The Conjuring" series. However, the film is rated rather coldly by critics all over the world, although the story of La Llorona is popular.
The Witch in the Window
IMDB Rating – 5.8
Genre: Horror, Drama
Production: USA / 2018
Worldwide box office: $37,802
Director: Andy Mitton
Starring: Alex Draper, Aria Bareikis, Greg Nafton, Carol Stanzione, Charles Everett Tucker, Molly Slotower, Frankie Dunleavy, Adelaide Fitton, Naomi Fitton
The divorced Simon does not give up hope of reuniting with his family. His ex-wife Beverly is not too friendly, but still agrees to let her son and his father go to rebuild the old house. Their son Finn, a moderately cranky teenager, is not eager to go into the wilds to restore the old ruins. But things are moving along, and the relationship seems to be getting better.
However, more and more often the man and the boy start hearing strange noises. At first it turns out to be the electrician they called the day before. He told them about the sinister story of a woman who lived in the house and killed her relatives. The neighbors called her a witch, but she did not mind, she even liked it. As a result, mystical events are happening more and more often: as if with the revival of the house the witch becomes stronger…
El orfanato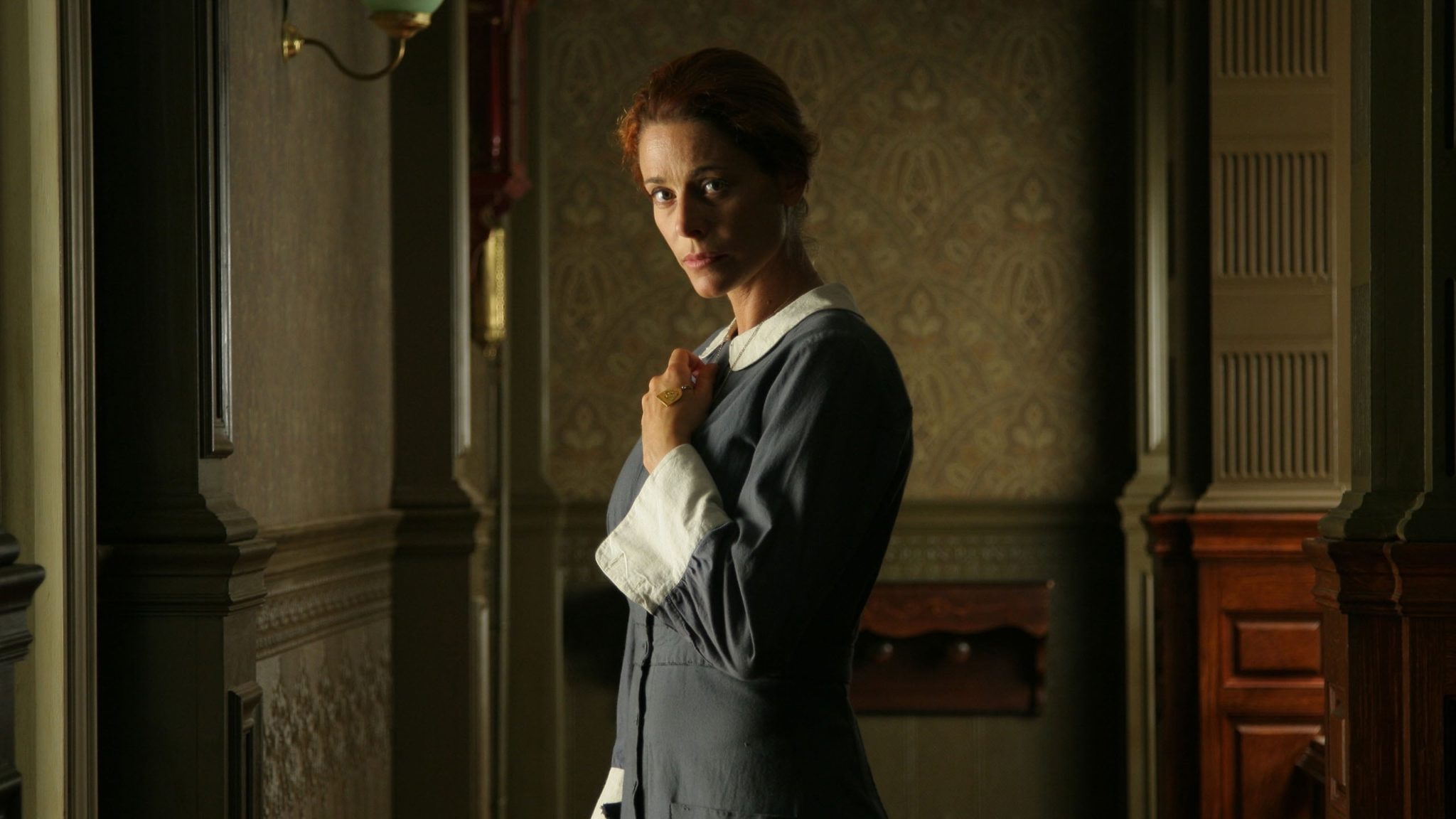 IMDB Rating – 7.4
Genre: horror, thriller, drama, detective
Production: Spain, Mexico / 2008
Budget: €3,400,000
World Box Office: $78,638,987
Director: Juan Antonio Bayona
Starring: Fernando Cayo, Belen Rueda, Montserrat Carulla, Mabel Rivera, Roger Prinzep, Oscar Casas, Edgar Vivar, Andres Hertrudix
Looking back at the best ghost horror movies, we want to focus on the 2007 film "El orfanato". Orphan Laura grew up in a place where her caretakers became parents and her friends became siblings. But out of that big family, she was lucky enough to go to a real one. The girl grew up, got married, and took in a boy for adoption. But even through the years, she has not forgotten the place where she lived for many years.
And so, together with her family, she decided to restore the abandoned orphanage. Laura's noble thoughts come to the fore and she forgets about her son, who has nothing to do but bond with an imaginary friend. On the day the orphanage opens, Laura's son goes missing…
"El orfanato" became the highest-grossing Spanish ghost horror film, surpassing even the famous "El laberinto del fauno". At the Cannes Film Festival, "El orfanato" received a 10-minute ovation.
The Possession of Hannah Grace
IMDB Rating – 5.2
Genre: Horror, thriller, detective
Production: USA / 2018
Budget: $7,700,000
Worldwide gross: $43,016,528
Director: Diederik Van Rooijen
Starring: Shay Mitchell, Gray Damon, Kirby Johnson, Nick Thune, Louis Hurtam, Stana Katic, Maximillian McNamara, Jacob Ming-Trent, James A. Watson Jr.
Horror stories about spirits are frightening, immobilizing, and creepy. The Possession of Hannah Grace is just such a horror film.
Megan Reed, having worked for the police not so long, has already developed panic attacks and hallucinations. She's given up drinking, the treatment helps, but her mind still suffers. Taking a job at the morgue, Megan takes the corpse of a strange woman on her first shift. She killed the priest who exorcised a demon from her, after which her father suffocated her with a pillow.
Hannah Grace's body terrifies the former policewoman. The girl begins to think there's someone in the morgue: footsteps, sounds, groans-and it's clearly not the motionless inhabitants of refrigerators. Or are the dead starting to come back to life?
The Lodgers
IMDB Rating – 5.1
Genre: Horror, thriller, drama, melodrama, detective
Production: Ireland / 2017
Worldwide box office: $916,727
Director: Brian O'Malley
Starring: Charlotte Vega, David Bradley, Moe Dunford, Eugene Simon, Bill Milner, Deirdrie O'Kane, Roshin Murphy, Anthony Murphy, Brendan O'Rourke, Emmett Kelly
The 2017 thriller The Lodgers falls into the category of atmospheric ghost horror films. Leading a reclusive life in an old mansion, Edward and Rachel have become accustomed to loneliness and strict rules. It's just the two of them: don't let anyone in the house and always be in their own bed by midnight.
Who taught the children this? Not their parents: they passed away of their own free will many years ago. So did their parents, and so did many generations in a row. The custody and upbringing of the two orphans is taken care of by certain residents who live under the building. Under their influence, the brother has convinced himself that he is never going to leave the estate. But the sister has other plans: she meets a guy…
The film was shot in Ireland at Loftus Hall Mansion, the most visited sightseeing building in the country.
The Conjuring
IMDB Rating – 7.5
Genre: horror, detective
Production: USA / 2013
Budget: $20,000,000
World Box Office: $319,494,638
Director: James Wan
Starring: Sterling Gerins, Steve Coulter, Shanley Caswell, Hayley McFarland, Ron Livingston, Lili Taylor, Patrick Wilson, Vera Farmiga, McKenzie Foy, Joey King
Ed and Lorraine Warren are spirit hunters who cooperate with the church and help people. They are approached by those to whom demons do not give a quiet life.
So, a large family, moving into a new house, almost immediately felt the presence of something evil. Lorraine confirmed their fears by telling the story of an evil landowner who made an alliance with the devil. Her curse falls on anyone who tries to take possession of her land. The spirited spirits enlist helpers to fight the evil. Meanwhile, the spirit tries to break the weakest member of the family.
Despite such an adult R rating, there are no smoking scenes of alcohol consumption, no violence, no profanity, no blood, no nudity and no bed scenes. This is due solely to the frightening scenes. "The Conjuring" is listed as one of the best horror movies about spirits.
Dead Silence
IMDB Rating – 6.2
Genre: Horror
Production: USA / 2006
Budget: $20,000,000
World Box Office: $22,217,407
Director: James Wan
Starring: Bob Gunton, Amber Valletta, Donnie Wahlberg, Zoe Ray, Laura Regan, Ryan Quanton, Judith Roberts
Lisa and Jamie move to a small, cozy town in search of tranquility. But, as in many such places, the local color and history impress the outsiders.
Refusing to believe in the mystical spirit of a childless old woman obsessed with dolls until last, Lisa becomes a murder victim. Suspicion, of course, falls on Jamie. Trying to find the murderer and to make sense of the veracity of the local legends, he becomes immersed in dangerous and bloody action. This spectacle is definitely being directed by someone.
James Wan, a fan of making creepy puppet movies, had planned a sequel to Dead Silence. However, the box office receipts in the end turned out to be unbelievably small, so it was just a one-movie affair.
Lights Out
IMDB Rating – 6.3
Genre: horror, thriller, drama, detective
Production: USA / 2016
Budget: $4,900,000
Worldwide box office: $148,868,835
Director: David F. Sandberg
Starring: Teresa Palmer, Gabriel Bateman, Alexander DiPersia, Billy Burke, Maria Bello, Rolando Boyce, Ava Cantrell, Ariel Dupin
The mystical thriller "Lights Out" is a brilliant representative of the horror genre. Rebecca's mother Sophia suffers from a mental disorder.
Imaginary friends are only normal in childhood. The creature comes only in the dark, when the lights are turned on – Diana disappears. Now Sofia's son suffers, and his adult sister is the only one who can help him.
The director focused on real special effects, almost completely abandoning computer graphics. Also, the mannequins were already in the basement of the house, which worked to the film's advantage: I didn't have to take anything anywhere.
The Boy
IMDB Rating – 6.0
Genre: Horror
Production: USA, Canada, China / 2016
Budget: $8,000,000
Worldwide box office: $64,188,367
Director: William Brent Bell
Starring: Lauren Cohan, Rupert Evans, Ben Robeson, Diane Hardcastle, Jim Norton, Jett Kline, James Russell
A young nanny from America accepts an invitation to work in England from an elderly married couple. They are very careful in selecting a candidate, because their son is quite demanding. But when the girl arrives on the spot, she is overcome with laughter and bewilderment. The fact is that there is no child, instead there is a doll, a beautiful human-sized doll.
The nanny remembers that she is paid decent money, forgets about common sense and tries to find an approach to her special ward. But as soon as she breaks one of the many strict rules, she becomes convinced of the doll's animality.
Crimson Peak
IMDB Rating – 6.5
Genre: Horror, thriller, drama, melodrama, detective
Production: USA, Canada / 2015
Budget: $55,000,000
World Box Office: $74,679,822
Director: Guillermo del Toro
Starring: Kimberly-Sue Murray, Javier Botet, Leslie Hope, Jim Beaver, Bern Gorman, Doug Jones, Mia Wasikowska, Tom Hiddleston, Jessica Chastain, Charlie Hunnam
Young Edith Cushing is passionate about writing, even though everyone around her says it's not a woman's job. She finds mystery detectives easy to write: witty, interesting, fascinating. Trying to break through the wall of male incomprehension, she meets a handsome, sensitive young man.
He is looking for funding for his invention to restore the Crimson Peak family estate with profits. The name sounds familiar to the girl. That's right, it's what her mother's ghost spoke of when he warned her daughter against disaster.
The role of Mr. Sharpe was originally intended for Benedict Cumberbatch, but he was later replaced by Tom Hiddleston. Before filming, he asked for his friend's blessing, as he did not want to spoil a close relationship. Cumberbatch was not offended at all.
Thir13en Ghosts
IMDB Rating – 5.6
Genre: horror, fantasy
Production: USA, Canada / 2001
Budget: $42,000,000
Worldwide Box Office: $68,467,960
Director: Steve Beck
Starring: Matthew Lillard, F. Murray Abraham, Ra Digga, Tony Shalhoub, Embett Davidz, Shannon Elizabeth
The horror film "Thir13en Ghosts" will definitely make you sleep with the lights on.
A famous collector of mystical objects leaves a legacy to his nephew after his death: a unique house made entirely of glass and filled with unknown mechanisms. Arthur immediately decides to move in with his daughter, young son and nanny.
However, a little later, when the excitement of the posh place has gone into the background, the new tenants discover a dozen ghosts in the basement. It turns out that Uncle Cyrus had designed the house as a vehicle for a large-scale mystical ritual. And, in fact, there must be 13 ghosts…
Interesting fact: The sword shown in Cyrus' collection is the katana of Highlander Duncan McLeod from the 1992 film Highlander.
Mama
IMDB Rating – 6.2
Genre: Horror, Fantasy, Thriller
Production: Canada, Spain, Mexico / 2013
Budget: $15,000,000
World Box Office: $146,428,180
Director: Andres Musketti
Starring: Sidney Cross, Jayden Gregg, Javier Bote, Jane Moffat, Daniel Cash, Megan Charpentier, Nikolai Coster-Waldau, Jessica Chastain
The two little sisters have been searched for several years. The father killed the mother and then killed himself. The girls were left in an abandoned cabin in the woods. It is not known how, but they lived there for five years. Finally, the search was successful: the emaciated, dirty, wild girls returned to their father's brother.
Not only them, but also the twin brother and his wife have to adapt. The most interesting thing is that all this time the girls were not alone: they were loved and cared for. They were taken care of by their mother…
The role of Mama was played by Javier Botet. He is a unique actor with abnormally long fingers and limbs. Everything is explained by a rare genetic disease.
Sinister
IMDB Rating – 6.8
Genre: horror, thriller, detective
Production: USA, UK, Canada / 2012
Budget: $3,000,000
World Box Office: $77,712,439
Director: Scott Derrickson
Starring: Ethan Hawke, Janet Zappala, Fred Dalton Thompson, James Ranson, Juliet Riley, Tavis Smiley, Michael Hall D'Addario, Victoria Lee, Rob Riley, Claire Foley
Here the documentary writer faces an ancient and insidious evil, presenting his family on a platter with his own hands.
Making money on detectives, the famous author tries to feel personally the atmosphere of the tragedy that took place last year somewhere in the province. Without telling his wife or anyone else, he buys the very house where the family was brutally murdered, and the youngest child is missing. Without realizing it, the writer launched a dangerous mechanism and condemned his family to certain death.
The box with video recordings, which somehow strangely happened to be in the attic, shows a certain creature. Then ruthless and unstoppable murders take place. And it's been going on for years. So his family is doomed, too?
According to studies, "Sinister" is the scariest movie. This conclusion was reached by the experts due to the fright rate of the audience during the screening, which was the highest in the history of cinema. After this film comes "Insidious" by James Wan.
The Woman in Black
IMDB Rating – 6.4
Genre: horror, fantasy, thriller, drama
Production: UK, Canada, USA, Sweden / 2012
Budget: $17,000,000
World Box Office: $128,955,898
Director: James Watkins
Starring: Jessica Rainey, Misha Handley, Sophie Stuckey, Harmon Molly, Emma Shorey, Sean Dooley, David Burke, Janet McTeer, Ciaran Heinds, Daniel Radcliffe
Looking for quality ghost horror movies? We invite you to watch the thriller "The Woman in Black" of 2012.
At the end of the 19th century, progress seems to be in place, but people still experience horror and numbness before inexplicable mystical events. Widower Arthur Kipps, on the assignment of a law firm, goes to a distant English village, leaving his four-year-old son with a kind nanny. The essence of his case is to make a list of all the deceased landlord's papers.
Everything about the place is too bleak: the scenery, the weather, the inhabitants, and even the children. Later, though, Arthur realizes that it is their cold hospitality that is connected to a chilling legend. A mysterious woman in black roams around, and whoever encounters her is doomed.
The son of the main character is actually Daniel Radcliffe's godson. The actor personally brought him to the casting, insisting on the boy's candidacy. That's why the father-son relationship was portrayed so authentically.
The Haunting in Connecticut
IMDB Rating – 5.9
Genre: horror, thriller, drama, detective
Production: USA, Canada, UK / 2009
World Box Office: $77,527,732
Director: Peter Cornwell
Starring: Virginia Madsen, Sophie Knight, Amanda Crew, Kyle Gallner, Adriana O'Neal, John B. Lowe, D.W. Brown, J.W. Rowling, and Dennis Hughes. Lowe, D.W. Brown, John Bluthner, Eric J. Berg, Ty Wood, Martin Donovan, Elias Koteas
The family moves to another house. It is closer to the hospital than their previous residence. The fact is that the son has been diagnosed with cancer, so constant treatment and medical supervision are needed. Their already unhappy situation, both financially and psychologically, is further marred by the fact that the new home has a creepy history.
Heartbreaking screams come from the basement, and the guy seems to have become obsessed and completely succumbed to the power of the sinister house.
The movie is based on a true story investigated by the same Ed and Lorraine Warren ("The Conjuring"). Although in the movie the house burns down in the finale, in real life it is still standing in the same place where it was. It was decided to put the fire in the script for the sake of credibility.
Grave Encounters
IMDB Rating – 6.1
Genre: horror, thriller
Production: USA, Canada, UK / 2009
Budget: CA$100,000
World Box Office: $3,613,222
Director: Colin Minihan, Stuart Ortiz, Vicious Brothers
Starring: Bob Rafi, Mervyn Mondeser, Shawn McDonald, Luis Xavier, Michelle Cummins, Arthur Korber, Mackenzie Gray, Juan Ridinger, Sean Rogerson
In "Grave Encounters," we are shown participants in a TV show who hunt for ghosts. For the sake of thrills and high ratings, the desperate guys are willing to stay all night in a building shrouded in scary legends.
Abandoned mental hospital at first does not make any disturbing impression: the stripped walls, dark corridors, quiet rooms and doctors' offices. It seems like an ordinary, empty building, but at some point the guests discover an ominous presence.
Participants of the show thought to show on camera struggle with imaginary spirits and poltergeist, but they had to actually confront the restless souls of the inhabitants of the madhouse.
This pseudo-documentary was shot in ten nights and two days.
The Autopsy of Jane Doe
IMDB Rating – 6.8
Genre: horror, thriller, detective
Production: UK / 2016
Worldwide box office: $6,170,043
Director: Andre Ovredahl
Starring: Emile Hirsch, Brian Cox, Ophelia Lovibond, Michael McElhatton, Oluen Catherine Kelly, Parker Sawyers, Jane Perry, Eve O'Hara
The horror film "The Autopsy of Jane Doe" is guaranteed to be one of your personal top ghost horror stories. Father and son are in their third generation of sending people to their final destination. The Tildens maintain a private morgue and crematorium.
Day after day, they wash traces of death off bodies, perform autopsies, record medical reports that sometimes help the investigation, and send the "guests" to their place of permanent residence – in the ground. Though some are sometimes burned.
An ordinary shift, evening. A familiar inspector shows the morgue workers a female corpse. The identity is unknown, how the girl died is unclear, and she was found under very strange circumstances.
The coroners have until the next morning to find out the cause of death. But Jane Doe won't reveal anything about herself. Even her father's extensive experience and his son's diligence will not help break the deadlock.
It is noteworthy that Stephen King himself was so impressed by the film that he compared it to the early Cronenberg and the Aliens series of films.
Aterrados
IMDB Rating – 6.5
Genre: Horror
Production: Argentina / 2018
Worldwide box office: $367,173
Director: Demian Runya
Starring: Arjel Chavarria, Maximiliano Guione, Norberto Gonzalo, Hugo Albrich, George L. Lewis, Elvira Onetto, Agustin Rittano, Damian Salomon, Natalia Señorales, Julieta Vallina
In a quiet neighborhood, a chilling event takes place. A young man is disturbed by the noise coming from the house next door. Angry that he is being kept awake, he tries to get through to the troublemaker. However, he was unsuccessful. When he returned, he was horrified to find his girlfriend dangling through the air in the bathroom and hitting the walls, dead…
A little boy, just buried after a car accident, rises from his grave and comes to his family home. He is frozen like this, sitting at the dinner table with a glass of milk in his hand.
Another resident of the same neighborhood tries to find out what is going on in his house while he sleeps at night. After setting up a camera, he discovers that there is apparently some kind of portal in the room behind the wall from which a terrifying creature sneaks in every night.
It is interesting that the budget of the picture was limited, and all the special effects were created by hand. The creators didn't resort to computer graphics. Most likely, that's what made the movie so realistic, creepy and really scary.
Paranormal Activity
IMDB Rating – 6.3
Genre: horror, detective
Production: U.S.A. / Movie series, 2007 – 2015
Budget: $15,000
Worldwide box office: $193,355,800
Director: Oren Peli
Starring: Kathy Featherston, Mika Slott, Mark Fredericks, Amber Armstrong, Ashley Palmer, Crystal Cartwright, Randy McDowell, Tim Piper
Of all the pseudo-documentary horrors about spirits, "Paranormal Activity" deserves special attention. A young couple lives in a house and at times feels an invisible presence. Everything began with the movement of objects and sleepwalking. To record the unusual events, Mika buys a video camera, sets it up in the bedroom and waits for the arrival of the evil spirit on goat legs.
At first not taking the entity seriously, the guy notices Katie's anxiety and some increase in paranormal activity. Not out of the blue, the young people cling to any possible way to get rid of it: they invite a priest, buy a Ouija board, try to remember when the demon began to get close to the victim and why.
Interestingly, Steven Spielberg was the producer of the film. Either because of this, or simply because of the high quality of the picture and the really scary moments, "Paranormal Activity" repeated the success of "The Blair Witch Project".пех «Ведьмы из Блэр».
Other Ghost Horror Stories Worthy of Attention
Down a Dark Hall (2018)
Mara (2018)
Still/Born
Personal Shopper (2016)
Pyewacket (2017)
The Other Side of the Door (2015)
Pay the Ghost (2015)
Haunter (2013)
The Taking of Deborah Logan (2014)
The Babadook (2014)