Films by Chinese filmmakers are easy and entertaining plots, which are diluted with original Asian humor and lively performance of oriental actors. Exoticism, color, curious characters, funny comic episodes mixed with martial arts, romance and fantasy are presented below in the best Chinese comedies of different periods.
Xi huan ni
Rating IMDB – 6.7
Genre: Comedy, melodrama
Production China / 2017
Worldwide gross: $30,996,615
Directed by Derek Hui
Cast: Takeshi Kaneshiro, Zhou Dongyu, Sun Yizhou, Ming Xi, Tony Yang, Chang Kochu, Gao Xiaosong
Charming Gu Sheng Nan is a chef at the Rose Hotel and Restaurant Complex and has an unspoken relationship with the general manager. But one day the promising plans for the future give a crack – the boyfriend announces a breakup. On top of it all, a real gourmet arrives at the hotel – the finicky Lou Jin, who is buying up old hotels in Shanghai.
As it turns out, only Gu Sheng can please him, knowing all the secrets of cooking perfect dishes. However, their first encounter occurred under rather unfortunate circumstances. Contrary to their different views and ridiculous situations, harmony comes between them when it comes to food.
This romantic Chinese comedy starring Zhou Dunyu and Takeshi Kaneshiro was based on the novel by Lan Bai Xie called "Finally I Understand You".
Zhong fan 20 sui
Rating IMDB – 6.5
Genre: Comedy, fantasy, music
Production China / 2015
US fees: $234,573
Directed by Last Chen
Cast: Yang Zishan, Gua A-Le, Chen Bolin, Wang Deshun, Luhan, Zhao Lixin, Yin Han, Li Yijuan, Lin Cong, Xia Zihan
Shen Meng Jun is a widowed, stubborn old lady living with her son, daughter-in-law, and two teenage grandchildren. One day she learns that her in-laws are planning to send her to an old people's home.
Depressed by the unpleasant news, the woman, wandering around town, accidentally stumbles upon a photo studio romantically named "Youth. After taking a picture as a memento, the still unhappy old woman has no idea that she is 20 again, and her soul is rushing towards the adventures!
The creator of the fantastic comedy was Leste Chen, a Chinese filmmaker who became famous among Asian cinema with such films as Love on Credit and One Hundred and One Proposals.
Fei chang wan mei
Rating IMDB – 5.9
Genre: Melodrama, comedy
Production South Korea, China / 2009
Budget: $3,000,000
Directed by Eva Jin
Cast: Zhang Ziyi, Fan Bingbing, Peter Ho, So Ji-sop, Yao Chen, Ruby Lin, Qian Cheng, Wang Ji, Zhuoyuan Song, Yi Cheng
Comic book creator Sophie, an easygoing, charming girl about to get married to promising, charming surgeon Jeff, suddenly discovers that he has met someone else – TV star Joanna.
Despite the unexpected surprise, Sophie is not ready to give up, and together with her friends and Gordon, the separated woman's ex-boyfriend, set out to divorce the couple in love, having developed, as they think, an ingenious plan.
Eva Jin is a writer and director of romantic comedy, and before filmmaking she excelled in drawing and music, which helped her a great deal in creating unusual animated sequences.
Da bing xiao jiang
Rating IMDB – 6.9
Genre: Action, comedy, adventure, military, history
Production China, Hong Kong / 2010
Budget: $25,000,000
Worldwide gross: $27,730,000
Directed by Ding Sheng
Cast: Jackie Chan, Wang Lihom, Yu Seung-jun, Lin Peng, Du Yuming, Jin Song, Xu Dongmei, Keng Luo, Yu Rongguang, Wu Yue
227 B.C. The armies of the Wei set out to conquer the territory of Liang. But they were ambushed on Mount Phoenix, which ended in a bloody massacre. After pretending to be dead, a simple soldier survived, given the chance to continue his existence.
But another general from the opposing army survived. In order to hand over his sworn enemy to the ruler and get five acres of black earth for a living general, the warrior from Liang had to take the noble commander prisoner and set out on a journey full of dangerous surprises.
If you translate the name of the Chinese comedy film literally, you get a Big Soldier, Little General, where the director was Ding Sheng, and over 20 years worked on the script Jackie Chan with the original intention to play the role of the general.
Ren zai jiong tu
Rating IMDB – 6.8
Genre: Comedy
Production China / 2010
Directed by Raymond Yip
Cast: Wang Baoqiang, Xu Zheng, Li Man, Zuo Xiaoqing, Zhang Xinyi, Zhang Chao, Ling Qiu, Jian Ma, Huang Xiaolei, Xiao Chen
Three days are left before the revered holiday, transport tickets are sold out in no time, but Li Chiguen, the CEO of a large toy factory, intends to be with his wife and daughter on New Year's Eve.
Having struggled to get a plane ticket, the businessman is unaware of the obstacles awaiting him on the way to his family. A canceled flight, a blocked train, a stalled bus, a ride on a tractor, and, best of all, in the company of a strange and simple-hearted fellow traveler, who will not let him get discouraged even in the most hopeless situation.
A literal translation of the comedy Lost on a Journey by director Weiman Yip, who made the famous but completely opposite film, Warlords, in 2007.
Yi ye jing xi
Rating IMDB – 5.5
Genre: Melodrama, comedy
Production China / 2013
Directed by Eva Jin
Cast: Fan Bingbing, Aarif Li, Daniel Hennie, Leon Lai, Xu Zheng, Pais Wu, Jiang Jinfu, Ni Hongjie, Liu Yanchen, Yang Qing
Unmarried 32-year-old Michelle, the best employee and director of an advertising agency, learns that she is pregnant. However, who the father is remains a mystery, because a month ago at a birthday party, after taking a lot of booze, she completely forgot what she was doing. The only thing left is to figure out the father of the future unplanned child.
Interestingly, the producer, writer and even director was Eva Jin, who, under the light, comedic genre, raised topical, important women's issues.
Jue zhan shi shen
Rating IMDB – 6.3
Genre: Drama, comedy
Production Hong Kong, China / 2017
Worldwide gross: $17,677,325
Directed by Raymond Yip
Cast: Nicholas Tse, Jung Yong-hwa, Ge Yu, Anthony Wong, Tiffany Tan, Bai Bing, Du Haitao, Terry Wang, Chim Xu-Man, Mingwei Hai
Tian Qi works as a chef in a diner, where huge lines gather every day for a delicious meal in a cozy atmosphere. At the same time, another highly esteemed chef, Paul An, prepares a feast for the royal family in France, after which he is invited to China to open a new restaurant on the same street where Tian Qi's eatery is located.
There is an immediate animosity between the talented chefs and the rival establishments, leading to a fierce display of their skills. To resolve the dispute, they agree to participate in the cooking show "Battle of the Chefs," and whoever makes it to the finals will have to fight with the God of cooking, which plays no small role in the fate of young, ambitious men.
The filmmakers of Hong Kong and China have chosen the charismatic and handsome Jeong Young-hwa, who is better known as a musician, to play one of the main roles. This is his first feature-length comedy film, and he has previously starred in soap operas and TV shows.
Zhuo yao ji
Rating IMDB – 6.1
Genre: Fantasy, comedy, adventure
Production China, Hong Kong / 2015
Budget: $56,000,000
Worldwide gross: $387,053,506
Directed by Raman Hui
Cast: Bai Baihe, Jing Boran, Jiang Wu, Elaine Jin, Wallace Chung, Eric Tsang, Sandra Ng, Tang Wei, Yao Chen, Yan Ni
People believe that monsters have no place in the human world. They banished them far into the mountain caves and forbade them to appear. After a while, a war broke out in the demon world, at the end of which, the ruler and all who were loyal to him were killed. The Queen of Monsters, meanwhile, was waiting for an heir, who, according to legend, should change the world and reconcile the warring parties.
Fleeing the assassins sent by the new ruler, she managed to move a special baby boy into a young boy named Yin Tian. Not knowing what to do with him at first, the young man soon became attached to the funny creature. Now his task is to protect the baby from the treachery of evil monsters and humans.
Fantasy comedy director Roman Hui directed the 2018 sequel Monster Hunt 2 with the same main characters, Bai Baihe and Jing Bozhan.
Jiong ma
Rating IMDB – 5.7
Genre: Comedy, adventure
Production China / 2020
Directed by Xu Zheng
Cast: Xu Zheng, Huang Meiying, Yuan Quan, Guo Jingfei, Jia Bing, Olga Magnitskaya, Godfrey Gao, Shen Teng, Johnny Huang, Nomen Eerdani
Peking businessman Ivan gets divorced and, not only that, his wife decides to take half of the firm and go to New York. In order to prevent the deal, Ivan rushes to the airport after his ex-wife, but realizes that the flight is impossible because his mother has the passport. On the verge of panic, the man rushes at full speed towards the railway station, from where his mother is to take the train to Russia to perform at the Bolshoi Theatre.
Not giving up hope to get back an important document, Ivan hops on the train and finds himself held hostage until the nearest station. The result is a journey with his mother that drags on for a full six days. On the way to Moscow, they have serious conversations and many adventures, including severe cold, a meeting with brown bears, and even a Russian wedding celebration.
Much of the Chinese comedy was filmed in Russia, where natural filming was done on Lake Baikal, in the Northern capital and Moscow.
Suo yi, wo he hei fen jie hun le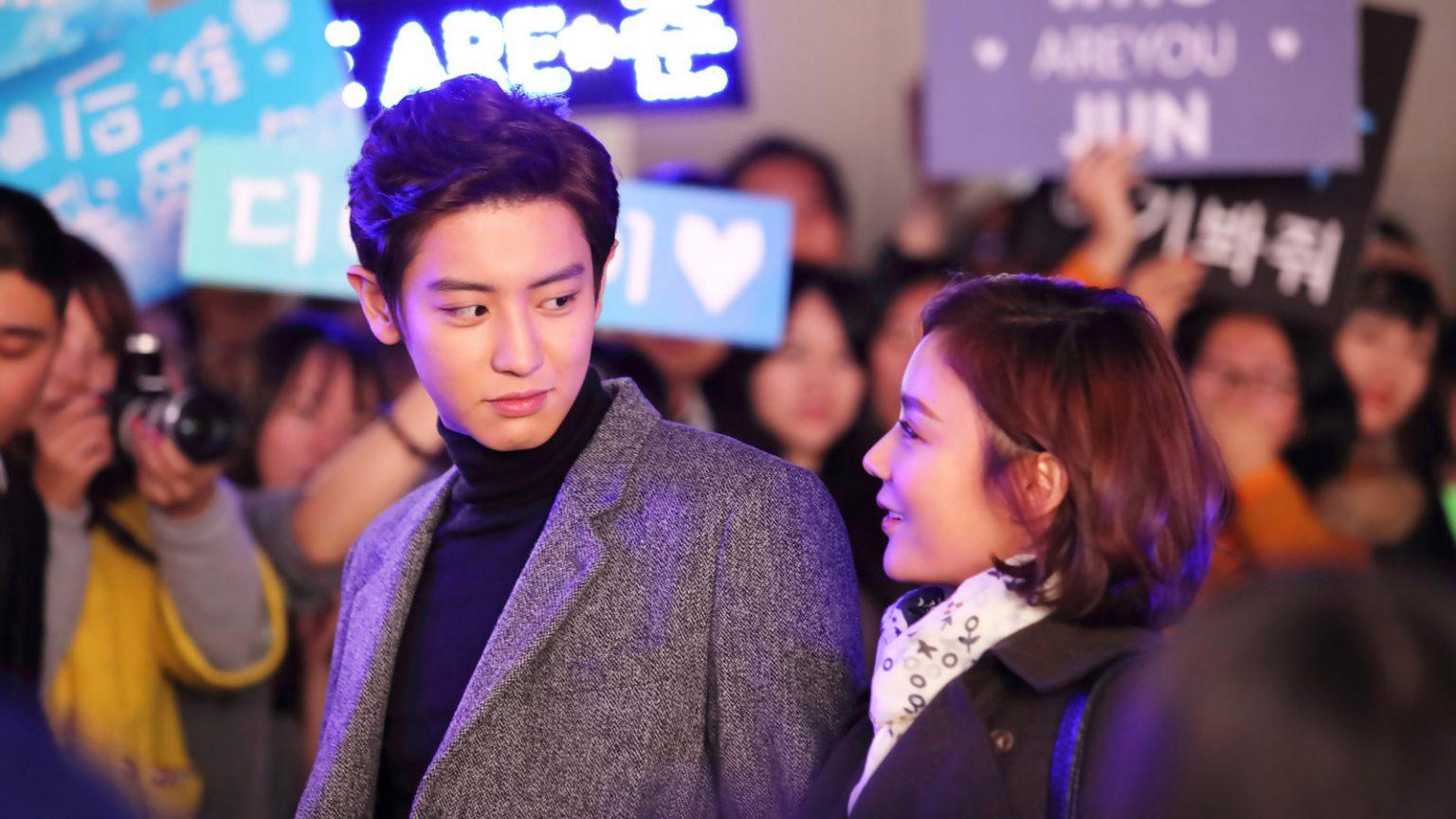 Rating IMDB – 5.8
Genre: Melodrama, comedy
Production China / 2016
Director by Kim Jae-young
Cast: Park Chan-yeol, Yuan Shanshan, Seohyun, Jiang Chao
One day, a popular gay man, Hu Jun, is hit by the camera of a nosy journalist, Miaomiao, during an argument with an attractive actress. On demanding to delete the provocative photos, the defiant presswoman hit Hu Jun on the head and ran away.
As a result, she is fired from her job and becomes an ardent anti-fan and only tries to do him harm. But how long will the feud continue?
A Chinese film comedy based on the novel of the same name by Kim Eunjong. In 2010, with the help of artist Chi Wang, cartoon comics (manhwa) with the same title were created.
Sa jiao nu ren zui hao ming
Rating IMDB – 5.9
Genre: Comedy
Production China / 2014
Worldwide gross: $11,875,495
Directed by Pan Ho-Chun
Cast: Zhou Xun, Huang Xiaoming, Xie Yilin, Sonia Sui, Choeni Qering, Michael Steven Kai Sui, Ni Mu-Xi, Zhang Zhe, Jarret Li Anderson, Cao Shiping
Since high school, Angie had been content with her friendship status and waited for reciprocal romantic feelings from Marco, who prioritized his studies over his career. But she waited for a former classmate to make a cute new acquaintance named Haley during a business trip.
Bewildered by the news, Zhang is confident that if she learns the art of flirting, she can snatch her lover from the clutches of the Taiwanese thingy. And in this she will definitely be helped by her experienced girlfriends, for whom there are no barriers in terms of male seduction.
Director and screenwriter Pan Ho-Chun was inspired by Laverman's motivational book, Everybody Loves Tender Women, when creating the Chinese film comedy.
Yi chu hao xi
Rating IMDB – 6.2
Genre: Comedy, drama
Production China / 2018
Worldwide gross: $198 326 350
Directed by Huang Bo
Cast: Huang Bo, Shu Qi, Wang Baoqiang, Zhang Yixing, Yu Hewei, Wang Xun, Li Qinqin, Li Yulun, Teddy Chan, Fang Xiaohang
News about a possible meteorite falling is broadcast on the radio, but the employees of a creative company are sure that it will not reach them, and they organize their annual corporate party by taking a floating bus to the seaside.
However, the colleagues have no idea that they will have to strengthen team spirit on an island, far away from civilization, because in the midst of team building, a giant wave hit the boat and sent it to the rocky shores to face unforeseen adventures.
Yi chu hao xi is Juan Bo's first debut directorial project, on the script of which he worked for more than 3 years.
Xi hong shi shou fu
Rating IMDB – 6.1
Genre: Comedy, melodrama
Production China / 2018
Worldwide gross: $366,961,907
Directed by Peng Damo, Yan Fei
Cast: Shen Teng, Vivian Sung, Ai Lun, Bao Bei'er, Moning Chan, Chang Yuan, Tzu-Chiang Chao, Michael J. Gralapp, Lambert Houston, Larry Hsien Ping Lang
Van Dujuy is an honest but not entirely successful 37-year-old soccer club goalkeeper. After refusing the competition's reward of conceding 3 goals, he concedes 5. But that was just a warm-up and the first test for the hapless goalkeeper, who suddenly discovers that he is the only heir to his great-uncle.
And to respect the wishes of the deceased is the law. And now, in order to inherit 30 billion yuan, Wang Duyu must spend a billion within a month, complying with a number of unrealistic conditions. In 30 days, the would-be billionaire is confident that he will surpass his grandfather and seize the fortune. But will it be so easy to cope with the challenge when everything is thought out in detail.
Fei Yan and Damo Peng are a directorial duo who made a comedy film based on a 1902 book called Brewster's Millions.
Bei Jing yu shang Xi Ya Tu
Rating IMDB – 6.5
Genre: Comedy, melodrama
Production China, Hong Kong / 2013
US fees: $6,945
Directed by Xue Xiaolu
Cast: Tang Wei, Wu Xiubo, Hai Qing, Mai Hongmei, Elaine Jin, Liu Yiwei, Wang Qian, Li Qi Hong, Jessica Song, Monica Song
Wen is a confident, willful beauty who has managed to charm a wealthy married businessman and has come to Seattle under the guise of a tourist to have a child with him. As fate would have it, she finds herself in Mrs. Huang's house, which is not a cheap place to live.
And when her lover Wen suffers a serious money crisis, the driver Frank, who has recently fallen out of favor with the girl, comes to her aid. How will the future of the huntress for a fat purse, and will she be able to recognize the real, sincere feelings?
A literal translation of the title of the hit film Beijing Meets Seattle, which grossed $85 million at the box office. After the film's release, tourists from China to Seattle skyrocketed, even though the romantic comedy was filmed in Vancouver.
Wo zhi nv ren xin
Rating IMDB – 5.5
Genre: Fantasy, melodrama, comedy
Production China / 2011
Budget: $5,000,000
Worldwide gross: $11,831,362
Directed by Chen Daming
Cast: Andy Lau, Gong Li, Li Yuan, Julian Chen, Li Chengru, Sophia Hu, Anya, Russell Wong, Kelly Hu, Wang Deshun
Sun Zigang has known how to please, flirt and masterfully seduce the weaker sex since he was young, but he is far from their mental organization. Holding an executive position in an advertising company and applying for the position of creative director, Sun is shocked, to put it mildly, that the long-awaited vacancy is occupied by a woman instead of him.
Meanwhile, by an unfortunate coincidence, the ladies' man gets electrocuted, after which he begins to hear women's thoughts. How will the hero dispose of this unusual gift and whether he can benefit from it?
This romantic comedy is a remake of the American film of the same name, released in 2000, starring Mel Gibson.
San qiang pai an jing qi
Rating IMDB – 5.7
Genre: Drama, comedy
Production China, Hong Kong / 2009
Worldwide gross: $37 610 946
Directed by Zhang Yimou
Cast: Sun Honglei, Xiao Shenyang, Yan Ni, Ni Dahong, Cheng Ye, Mao Mao, Julien Godefroy, Zhao Benshan, Na Wei, Wang Sisy
A noodle maker who runs his own store in small-town Texas learns of his wife's infidelity. To punish the lovers, he hires a hit man.
However, the deceived husband's crazy plan changes trajectory because the desperate wife has acquired a gun. And if there is a gun, it is bound to go off.
The tragicomedy is based on the original 1984 Coen Brothers film Just Blood. Despite its unusual cinematic techniques, the film was a box-office success and increased its budget threefold.
Gong fu guan lan
Rating IMDB – 4.8
Genre: Comedy, sports
Production China, Hong Kong, Taiwan / 2008
Budget: $10,000,000
Worldwide gross: $22 896 728
Directed by Chu Yinping
Cast: Jay Chou, Eric Tsang, Wang Gang, Charlene Choi, Chen Bolin, Baron Chen, James Z. Feng, Huang Bo, Eddie Ko
Fang Shiji, an orphan and rebel, despite his brilliant results in Kung Fu, is kicked out of the martial arts school for unworthy behavior. But the boy's fighting spirit and talent was noticed by manager Wang Zhou and offered a place on the basketball team. From now on the games will not be the same, as boring three-point shots will turn into a Kung Fu-style extravaganza.
It is interesting that the director of the film, in order to dilute the film with bright roles, invited NBA basketball player Yao Xing to star in the episode, but due to his injury the player had to refuse. However, he managed to persuade Chinese sports commentator Huang Jianxiang, who commented on the basketball game in the film, to take part.
Ren zai jiong tu: Tai jiong
Rating IMDB – 6.2
Genre: Comedy, аction
Production China / 2012
Budget: $5,000,000
Worldwide gross: $202,150,984
Directed by Xu Zheng
Cast: Xu Zheng, Wang Baoqiang, Huang Bo, Tao Hong, Fan Bingbing, Yedda Chen, Ron Smoorenburg
Scientist Xu Lan has finally completed an invention called Supergas, which, when added to any liquid, increases its volume. But to bring the project to fruition, he needs the approval of the director, who is in Thailand.
Despite the threat of breaking up with his wife, the inventor sets off on a long journey in search of his boss. He is followed by a colleague who has his own ideas about the miracle product. On top of everything else, Xu encounters an annoying fellow traveler on the plane, who is not easy to get rid of, not knowing that he will soon become a team with him.
Despite the low-budget and financial difficulties, the Chinese film comedy became one of the most successful in China in 2012 and collected a fee of more than 1 billion yuan.
Shen tan pu song ling zhi lan re xian zong
Rating IMDB – 4.9
Genre: Fantasy, thriller, comedy
Production China / 2019
Worldwide gross: $22,774,256
Directed by Yan Jia
Cast: Jackie Chan, Elaine Zhong, Ethan Ruan, Lin Peng, Austin Lin, Qiao Shan, Charles Luu, Lance Luu, Mark Luu, Pan Changjiang
Pu Xunlin not only writes mystical stories, but also takes part in them himself. Together with his apprentice Yan Fei and a company of peaceful monsters, he hunts down unclean forces, cleansing the world of demons and demonesses.
Pu Songlin is the real name of a writer who was born in the 17th century in Shandong Province and wrote, under the pseudonym of Liao Zhai, novels about wizards, werewolves and other evil spirits. He combined folk traditions, classics, the detective genre and mysticism in his fantasy stories.
Feng kuang de wai xing ren
Rating IMDB – 5.8
Genre: Comedy, fantasy
Production China / 2019
Budget: $50,000,000
Worldwide gross: $327,598,891
Directed by Ning Hao
Cast: Huang Bo, Shen Teng, Xu Zheng, Tom Pelphrey, Matthew Morrison, Yu Hewei, Lei Jiaying, Liu Hua, Deng Fei, Daniel Hugh Kelly
In order to establish diplomatic relations with Earth, the alien inhabitants send a starship with its representative to meet the Earthlings. However, the spaceship crashes and the alien visitor falls into an amusement park, where he is found by an animal trainer and mistaken for a rare monkey.
Now the alien has to pretend to be a monkey, because without his powerful hoop, which was taken from him by the circus staff, he is powerless. Considering humans to be inferior creatures, the pseudo-monkey develops a plan of revenge.
The alien film was based on the novel The Rural Teacher by the science fiction writer Liu Qixin. And Xu Zheng, who played and voiced the alien, also appeared in a cameo in the finale of the movie comedy.
Xin jing wu men 1991
Rating IMDB – 6.5
Genre: Comedy, аction
Production Hong Kong / 1991
Directed by Rico Chu
Cast: Stephen Chow, Kenny B, Corey Yuen, Vincent Wan, Sharla Cheung, Ng Man-Tat, Shin Fui-On, Chi Tang, Man-Biao Bak, Wu Fong
In search of a better life, Lau Ching rushes off the Chinese mainland to Hong Kong without a single yuan in his pocket. Short of arriving in the city of dreams, fate sets Lau up with a pickpocket who intends to steal his bag.
And thanks to a strong right hook, Ching ends up at a martial arts school, where he falls in love with Master Shifu's daughter. He is in a tricky situation thanks to jealous people, but only a life-or-death contest can help him defend his good name.
Just one scene in the film, where a Japanese man is forced to swallow a sign, resembles from afar a resemblance to Bruce Lee's film of the same name. One year later Fist of Fury-1991 2 was released
Lung hing foo dai
Rating IMDB – 6.9
Genre: Action, comedy, adventure
Production Hong Kong, Yugoslavia / 1986
Budget: $15,000,000
Directed by Jackie Chan, Eric Tsang
Cast: Jackie Chan, Alan Tam, Lola Forner, Rosamund Kwan, Ken Boyle, John Ladalsky, Robert O'Brien, Bozidar Smiljanic, Anthony Chan, Danny Yip
After an adventurer and treasure hunter nicknamed the Asian Hawk gets his hands on a rare sacred sword, he begins to have dangerous adventures. His former lover is kidnapped by a religious group, demanding in return to obtain and return all parts of the armor of God, the destruction of which, according to legend, will lead to the domination of the forces of evil.
Hawk, endowed with prodigious dexterity and ingenuity, brings his old comrade Alan along and devises a plan to free the hostage.
While performing a stunt in one of the episodes of the movie, where Jackie Chan is jumping from a wall to a tree, there was an accident. The actor fell and hit his head on a rock, after which he became deaf in one ear.
Zui quan
Rating IMDB – 7.4
Genre: Action, comedy
Production Hong Kong / 1978
Directed by Yuen Wu-Ping
Cast: Jackie Chan, Yuan Xiaotian, Hwang Jang-Lee, Ding Shek, Lam Kau, Linda Lin, Tino Wong, Xu Xia, Fu Chang Shih, Han Chang Wong
The unruly and brash Von Feihong was sent by his father to be re-educated by his drunken uncle, a master of his own Kung Fu style. The young man, unaccustomed to bullying and authoritarian treatment, escapes from his relative.
But faced with dangerous trouble, he comes back, and is willing to endure all humiliations just to learn the martial art further. Now Von Feihong's goal is not only to defeat the enemy, but also to prevent his father's murder.
Interestingly, for the sake of getting into the role of a drunken master, Jackie Chan did not take a single drop of alcohol, but only put his head down to the rush of blood to his face, making it red.